New Year's recipes by Skye Gyngell – for a perfect winter's feast
Chef Skye Gyngell's New Year's recipes are perfect for a crowd, but gorgeous just for two this December 31st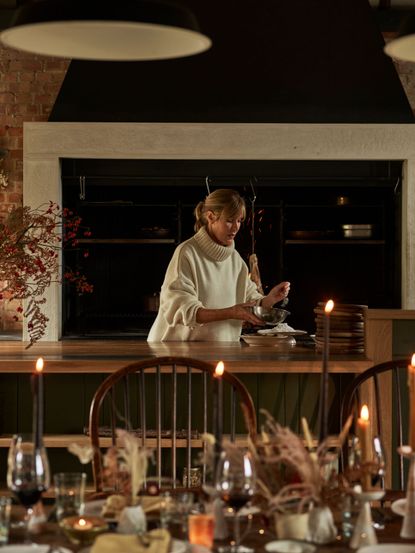 (Image credit: Future/Emma Lee)
You might be giving a little more thought to New Year's recipes this December 31st. After all, 2021 really is a year to welcome with enthusiasm. Whether you are cooking for a covid-safe crowd or just two of you, this is the ideal menu.
Australian chef Skye Gyngell and her team at Hearth, Heckfield Place, have devised a meal perfect for enjoying over candlelight as the night draws in. Skye first trained as a chef in France, afterwards moving to the UK. She is known for her work as food editor for Vogue and for winning a Michelin star at the Petersham Nurseries Cafe.
'This is a menu I would serve in the days following Christmas – when everyone is still gathered together – perhaps straddling lunch and dinner when the light is beginning to fade,' says Skye. 'It's simple, honest and comforting food – but still slightly
celebratory in feel.' Skye Gyngell.
We think that if you only cook elements of it, you're in for a treat. Happy New Year from H&G!
Why wait until New Year? We would serve these alongside more traditional Christmas recipes.
New Year's recipes – by Skye Gyngell
These New Year's recipes include everything from oysters to winter spiced eggnog, roasted lamb to slow-cooked chard. Bon appetit!
Oysters with picked elderberries and horseradish
The pepperiness of the horseradish and the sharpness of the elderberries are a nice contrast to the briny, cool freshness of the oysters. Shuck the oysters and arrange on crushed ice, add a small spoonful of horseradish cream and top with the pickled elderberries, and serve at once.
SERVES 6
Ingredients:
12 oysters (allow 2 per person) Crushed ice
For the pickle:
100g elderberries (fresh or frozen)
40g caster sugar
40ml red wine vinegar
40ml water
For the horseradish cream:
2 x inches of fresh horseradish
150ml crème fraiche
A few drops of red wine vinegar
A small pinch of salt
Method:
1. Place the sugar, vinegar and water into a small saucepan and bring to the boil. As soon as the sugar has dissolved remove from the heat and pour over the elderberries. Leave to cool and refrigerate until ready to use (can be made in advance).
2. Place the crème fraiche in a bowl. Peel and grate the horseradish, stir into the crème fraiche and add the red wine vinegar and salt to bring the flavours together.
Focaccia di recce with potato and porchini
This lovely dough is lighter and more buttery in feel than pizza dough – you can top it with almost anything. I love it with mozzarella, chilli and honey, as well as slow-cooked greens and anchovies.
MAKES 6 SMALL FOCACCIA
Ingredients:
250g plain flour
A pinch of salt
125g water
25ml extra virgin olive oil
250g mascarpone
For the topping:
3 small potatoes such as Roseval, finely sliced skin on
2 porcini, finely sliced
A little extra virgin olive oil, for brushing
Salt and freshly ground black pepper
1 tsp chopped rosemary
Freshly grated Parmesan
Method:
1. Sift the flour into a bowl. Make a well in the centre, add the salt, water and oil, and roughly knead. Add the mascarpone and knead for 5 minutes until you have a smooth dough. Cover and rest for 30 minutes.
2. Slice the potatoes into the finest possible rounds. Slice the porcini finely as well.
3. Divide the dough into 6 rounds. Flour a dry surface and using a rolling pin, roll out to inch thick. Arrange the potatoes first so that they are just slightly overlapping, followed by the porcini. Brush with olive oil and season with a little salt and pepper, then scatter lightly with the chopped rosemary.
4. Bake for 5 minutes at 200°C/Gas 6 or until the edges are golden brown and the potatoes are cooked through. Grate over a little Parmesan and serve immediately.
Lamb a la ficelle with potatoes and rosemary
The most difficult thing about this recipe is setting up your grill. At home it is easiest to attempt outside on a clear patch of ground where it is safe to build a tall fire. You then need to find a creative way to hang your lamb – an A-frame is probably the easiest but in theory you could even hang it from a tree as long as the branch is high enough not to catch fire.
If you'd like to keep it simple and roast the lamb in an oven, I'd suggest you cook it on top of your rack with the potatoes beneath so the lamb drips directly on to the potatoes, flavouring them with its beautiful juices.
SERVES 6
Ingredients:
1 leg of lamb on the bone
24 medium floury potatoes
Salt and black pepper
4 cloves of garlic, crushed
Olive oil
1 bunch of rosemary, chopped
Method:
1. Start by washing the potatoes and leave the skin on. Place in a pan and cover with cold water; salt well. Bring to the boil then turn off the heat immediately and drain. While the potatoes are cooking, place the crushed garlic in a bowl, pour in enough olive oil to moisten and add half the rosemary – stir well to combine. Toss the potatoes in half of the seasoned olive oil then place in a heavy-based baking tray (preferably ceramic). Set aside while you prepare the lamb.
2. Season the lamb generously with salt and pepper and rub with rest of the marinade. If cooking over a fire, tie the leg by making a loop of string around the thinnest part of the leg and securing well with a strong knot leaving enough length to secure the lamb six inches above a fire. Alternatively, roast in an oven with the potatoes for 11⁄2 hours at 220°C/Gas 7. Remove and let rest for 10 minutes in a warm place before carving.
Roasted squash with brown butter, honeycomb and sage
I grew up in Australia where pumpkin is a vegetable often eaten especially with roasted meats. It's a good companion to roasted lamb – sweet and earthy!
SERVES 6
Ingredients:
2 onion squash
Olive oil
1⁄2 tsp dried red chilli
Salt and pepper
12 sage leaves
11⁄2 tbsp honeycomb
3 tbsp brown butter
For the brown butter:
100g unsalted butter cut into cubes (room temperature)
Method:
1. Preheat the oven to 220°C/Gas 7. To make the brown butter, place a pan over medium heat and add the butter, stirring with a wooden spoon as it melts. Once melted it will foam and sizzle – allow it to turn golden brown – it should smell intensely buttery, nutty and rich. Remove from heat and set aside to cool.
2. Slice the squash in half and scoop out the seeds but leave the skin on. Place in a bowl and pour over the olive oil, add the dried chilli, salt and half the sage leaves and toss together well.
3. Place in a roasting tin and roast on the middle shelf of the oven for 40 minutes or until it is tender and slightly caramelised.
4. While it is cooking fry the remaining sage leaves in oil until crispy – drain on paper towels and set aside until you are ready to serve.
5. Remove the squash from the oven and place in a warm bowl. Spoon over the brown butter and honeycomb, scatter over the crispy sage leaves and serve.
Slow-cooked chard
The variety of chard known as Swiss chard is one of my very favourite vegetables and very underrated – cooked in this way is has a creamy, deep flavour that is very moreish.
SERVES 6
Ingredients:
2 bunches Swiss chard
Sea salt and freshly ground pepper
3 tbsp extra virgin olive oil
3 cloves of garlic, finely chopped
1⁄2 tbsp butter
Method:
1. Bring a large pot of well-salted water to boil. Wash the chard well under cold running water and shake off excess water. Strip the leaves from the stalks and cut the stalks into short lengths. Once the water is boiling plunge in the stalks and cook for two minutes. Remove using a slotted spoon and drain in a colander. Now add the leaves and cook for one minute, then drain thoroughly.
2. Place a saucepan on a low heat and add the olive oil, garlic and butter. Once the pan is warm add the chard leaves and stems. Add a good pinch of salt. Place a lid on the pan and cook gently over a low heat, stirring from time to time for 30 minutes or so. It should be very soft, almost creamy. Taste for seasoning and serve at once.
Bitter chocolate cake with prunes and armagnac caramel
This is an intensely rich and bitter chocolate cake that has a mousse texture.
SERVES 12
Ingredients:
500g dark chocolate
500g unsalted butter
500g caster sugar
8 organic eggs
1 shot of espresso
100g cocoa powder
1 tsp salt
For the prunes and armagnac caramel:
24 good quality prunes, pitted
5 tbsp Armagnac
125g caster sugar
200ml water
Method:
1. Preheat the oven to 160°C/Gas 3. Prepare a 30cm cake tin by greasing and lining with parchment paper and sealing the outside with foil.
2. Place the chocolate and butter in a bowl and place over a bain-marie, stir from time to time gently until melted and combined. Take off the heat.
3. Whisk together the sugar and the eggs on a medium speed until pale and pillowy. Gently fold a third of the melted chocolate and butter into the eggs and sugar, followed by the rest, one third at a time. Sift in the espresso, cocoa powder and salt and fold gently. Pour the mixture into the prepared tin. Fill a baking tray a third full of water and place the prepared cake in. Place on the middle shelf of the oven and bake for 35 minutes. Remove immediately and place on a wire rack. Allow the cake to cool completely before slicing. (This cake will keep well for a couple of days.)
4. Place the prunes in a bowl, douse in the Armagnac and leave to macerate for a couple of hours. Place the sugar and 75ml of water into a small heavy-based pan and place over a low heat. Stir once and then continue to warm without stirring until the sugar has completely dissolved. Now turn up the heat to high and cook until a deep caramel has formed. As soon as the colour is a rich caramel color pour over the remaining 125ml of water. Cook stirring continuously until the caramel has thinned and is smooth. Pour into a bowl and allow to cool. Pour over the prunes and set aside until you are ready to serve the cake.
5. To serve, slice the cake and arrange on a plate. Arrange a couple of prunes on top and around the cake. This is particularly delicious when served with the addition of a spoonful of thickened cream.
White chocolate and rosemary nougat
I love to end any meal with something small and very sweet but not cloying!
MAKES 24 SQUARES
Ingredients:
150g shelled pistachios
200g good quality white chocolate
125g unsalted butter
150g candied citrus peel
4 large, tender rosemary sprigs
1 vanilla pod, split lengthwise
440g caster sugar
125g honey
250g liquid glucose
60ml water
2 organic egg whites
Good pinch of salt
(You'll also need 4 sheets of rice paper)
Method:
1. Preheat oven to 110°C/Gas 1/4. Place pistachios on a baking tray and roast for 20 minutes.
2. Cut the chocolate into 1cm pieces and place in the freezer to chill. Cut the butter into 1cm pieces and place in the fridge to chill.
3. Chop the candied peel. Strip the leaves from the rosemary and chop finely. Remove the seeds from the vanilla pod. Set everything aside.
4. Line a shallow 20cm x 30cm baking tin with two sheets of rice paper, folding it up to cover the sides.
5. Place the caster sugar, honey and glucose into a heavy-based pan and add the water. Place the pan over a medium heat to dissolve the sugar and bring to a boil. Once it begins to boil continue to cook until the syrup reaches 135ºC.
6. While the syrup is cooking whisk the egg whites with a pinch of salt until the eggs break down. Then increase the speed and whisk until soft peaks form. Once the sugar syrup reaches the correct temperature remove from the heat and leave to rest for 5 minutes. Then with the mixer on a slow speed, slowly pour the liquid over the egg whites. Once added increase the mixer speed, which will help the mixture cool slightly.
7. When just warm whisk in the butter, followed by the rosemary and vanilla. Turn off the machine and fold in the pistachios, candied peel and chocolate. Pour the mixture into the prepared tin and press remaining rice paper on top ensuring any air bubbles are removed. Cover with parchment or oil lightly and chill in the fridge for at least four hours before cutting and serving. Serve with fresh verbena tea or mint tea.
Winter spiced eggnog
The glorious syrup for this recipe can be pre-made using spices that most people will have in their cupboards. It can be also be stirred into whisky for a twist on the traditional cocktail recipe.
SERVES 4
Ingredients:
2 medium free-range eggs, separated
50g Spiced Ginger Syrup (alternatively, you can use 50g caster sugar mixed with 5g ground allspice)
1 tbsp caster sugar
150ml whole milk
130ml double cream
120ml gold or dark rum
Freshly grated nutmeg, to taste
To make the spiced ginger syrup:
500ml simple syrup (make using 1 part water to 1 part caster sugar; mix and bring to boil, them simmer until the sugar is completely dissolved)
2g star anise
80g ginger
30g black peppercorns
2g cloves
5g ground cinnamon
12g coriander seeds
Method:
1. To make the Spiced Ginger Syrup, toast all spices barring the ginger in a hot pan for about 5 minutes – keep them moving. Crush the ginger.
2. Crush all dry ingredients once toasted. Add everything including the simple syrup to the pan and bring to the boil and simmer for 10 minutes. Allow to cool and leave to macerate for 24 hours or to taste.
3. Whisk the egg yolk with the Spiced Ginger Syrup (or the caster sugar and allspice mix, if using, but reserve one tablespoon) until fully incorporated. Stir in the milk, the double cream and the rum. (This mixture can be made ahead of time and kept in the fridge for up to 3 days.)
4. When ready to serve, whisk the egg white to stiff peaks with a tablespoon of caster sugar or the reserved tablespoon of caster sugar and allspice mix if not using Spiced Ginger Syrup.
5. Fold the stiffened egg white into the cream mixture. This will take time but persist until all the egg white is fully incorporated.
6. Serve in whatever glass takes your fancy. Grate a small amount of nutmeg over the top and float a star anise on top for effect.
Recipes and food styling: Skye Gyngell
Prop styling: Ali Brown
Photography: Emma Lee
With thanks to Heckfield Place and Hearth Restaurant
Sign up to the Homes & Gardens newsletter
Decor Ideas. Project Inspiration. Expert Advice. Delivered to your inbox.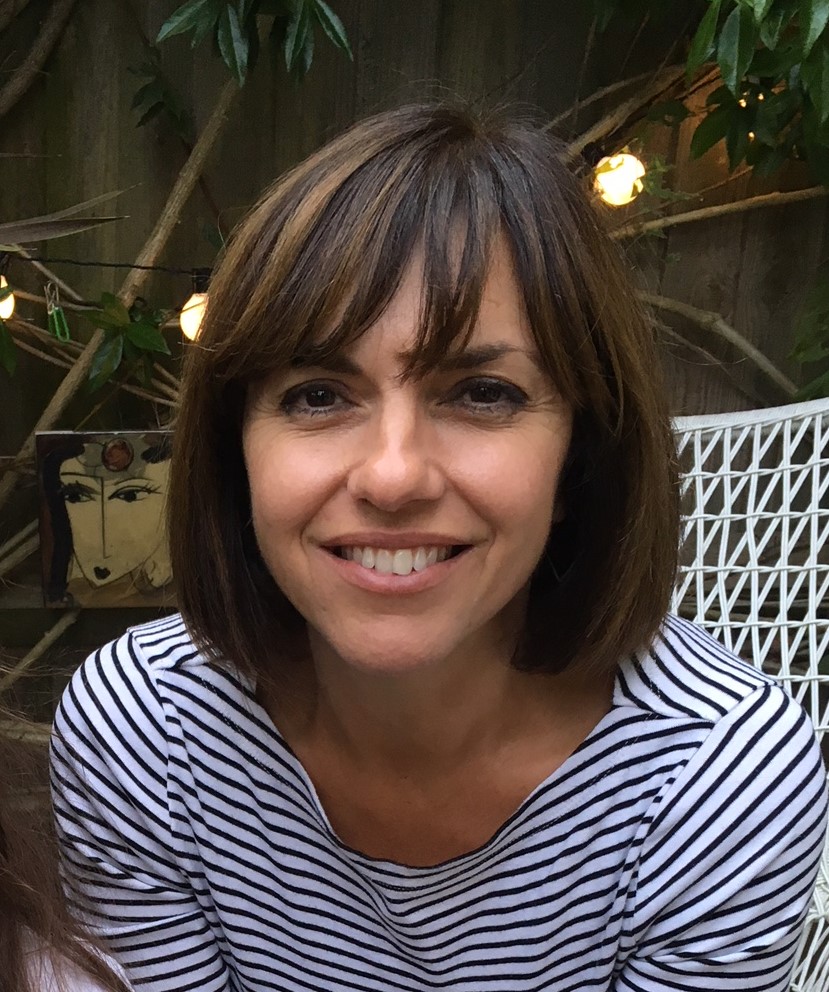 Lucy Searle has written about interiors, property and gardens since 1990, working her way around the interiors departments of women's magazines before switching to interiors-only titles in the mid-nineties. She was Associate Editor on Ideal Home, and Launch Editor of 4Homes magazine, before moving into digital in 2007, launching Channel 4's flagship website, Channel4.com/4homes. In 2018, Lucy took on the role of Global Editor in Chief for Realhomes.com, taking the site from a small magazine add-on to a global success. She was asked to repeat that success at Homes & Gardens, where she has also taken on the editorship of the magazine.