Tips for staging a bathroom – real estate expert tips when selling your home
These tips for staging a bathroom will help you put a finishing touch to a home that's ready for sale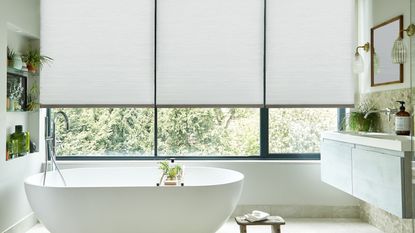 (Image credit: Thomas Sanderson)
Staging a bathroom before a house sale is not to be underestimated. While it's true that kitchens and living rooms are the most important rooms to stage well, bathrooms do matter when it comes to making the best possible impression on a buyer.
Staging a house well often makes the crucial difference when you want to sell quickly and at the best possible price. We've asked experienced realtors, home staging professionals and interior designers to give their top tips for making bathrooms sale-ready. Here's what they told us.
Staging a bathroom – top tips from real estate experts
The bathroom ideas that make a real difference to selling a home are often simple and don't require any significant remodeling or expensive additions. Residential architecture expert Isaac Cherrie from design and planning company BeforeBricks points out that 'less is more when it comes to successful home staging of any room, especially the bathroom.'
With that in mind, these are the bathroom elements to pay attention to when staging.
1. Keep decor to a minimum
This may seem surprising, but an under-decorated bathroom is always better for staging purposes than an over-decorated one. Marc Lyman, Realtor at Pacific Sotheby's International Realty, says that 'a less is more approach to decor and accessories to avoid the space feeling cluttered.'
He advises against putting too much on the bathroom counters – 'counter space is often limited and is best left somewhat open.'
Moreover, he advises 'keeping the scale of the bathroom in mind and avoiding decor that occupies too much of the space. Many bathroom spaces are relatively small, so you don't want decor that intrudes into or dominates the usable space.'
2. Ensure impeccable cleanliness
This will come as no surprise to home sellers, but when staging a bathroom, cleanliness really is akin to godliness.
Erin Dunlap, a real estate agent in the Denver metro area and author of the List in Progress blog, stresses that 'showing a pristine bathroom matters more than any other aspect of the staging or design.'
Her top tips are to 'put the toilet seat down, especially for photos, and ensure that every speck of dust is wiped away. Glass showers and mirrors should be completely streak-free.'
3. Invest in luxurious accessories
Paying attention to detail can make or break your bathroom's appeal to buyers. Erin recommends creating a stylish and tranquil scene in your bathroom. You start by hanging 'brand new, fluffy towels, whether you live in the home or not.' Then, 'place a candle or diffuser on the counter, but don't add scent to the room, since that can be off-putting to sensitive buyers.'
Erin cautions against putting out toilet paper, 'or you're inviting home shoppers to make use of the bathroom, which defeats the purpose of all that cleaning!'
Finally, consider staging 'a scene to highlight a beautiful bathtub; place a book and a washcloth on a wooden tray nearby. Style a brand new (empty) soap dispenser on the vanity or a small grouping of stylish glass or ceramic bottles for decor.'
4. Remove personal toiletries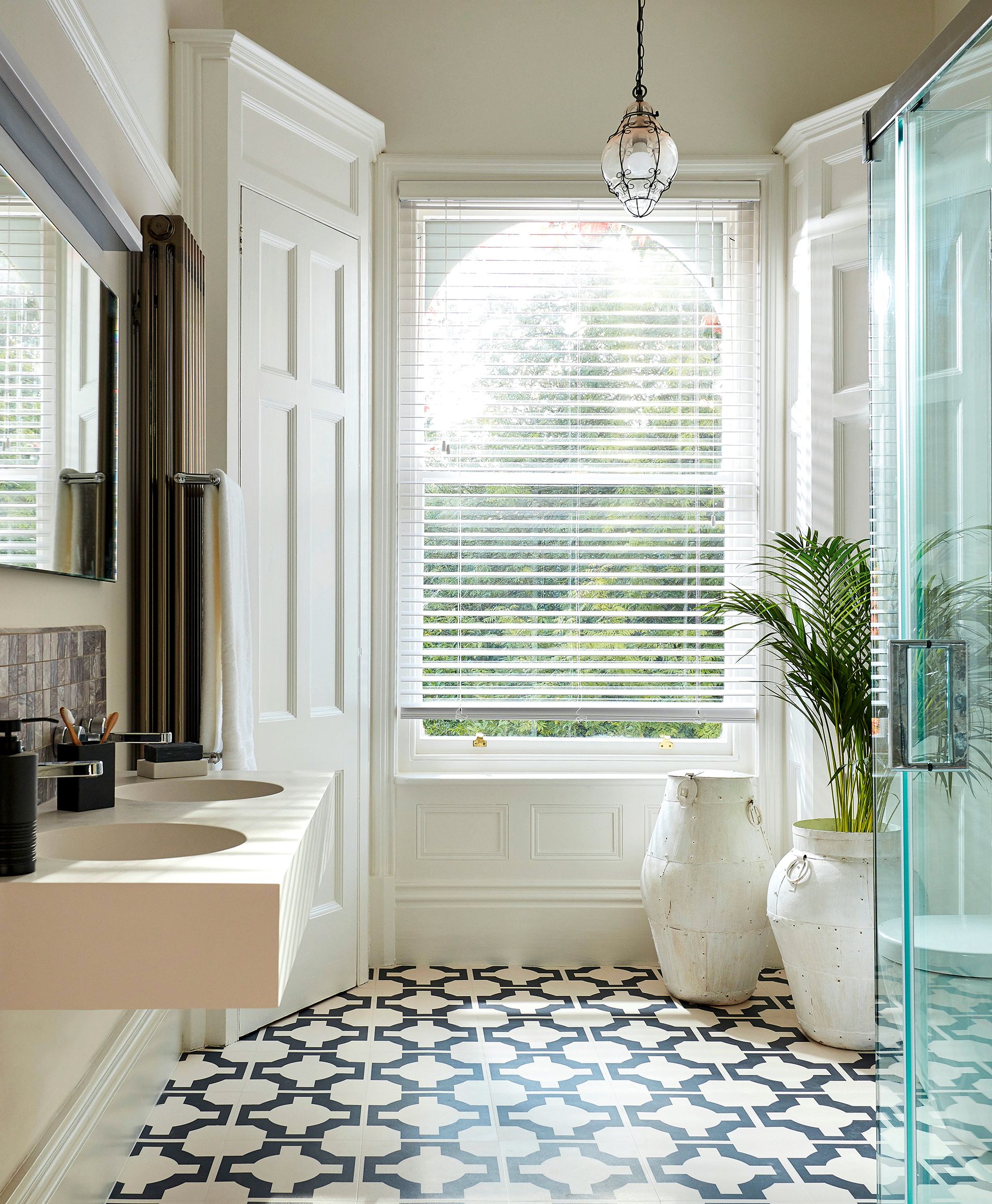 As Erin points out, 'most buyers want a bathroom to feel like a peaceful, immaculate sanctuary, whether it's a tiny en suite bath or a cavernous space with a soaking tub and fluffy robes.' Things that do not fit into that peaceful image are your shampoo bottles and other items of personal hygiene.
Marco Bizzley Certified Interior Designer at House Grail, puts it bluntly: 'No one wants to walk into the bathroom and see half-used soap or shampoo bottles in the shower. Please put all of these types of products away until after they leave.'
This also applies to leaving towels lying about – they should be neatly folded or put away.
5. Consider adding green accents
This may not be the first thing that comes to mind when staging a bathroom, but adding a plant can make a big difference, especially as part of small bathroom ideas.
Erin's top tip is to 'add greenery to the bathroom to instantly freshen up the space. Place a cute succulent on the counter or hang a plant in one corner; adding green accents to a small bathroom helps the space feel less sterile.'
These are all simple touches that don't require much effort but have a big impact on the way buyers view your space.
How do I stage a bathroom countertop?
To stage a bathroom countertop our experts agree: you want one that's as free from clutter as possible. Personal items are fine so long as they are stylishly housed in matching bottles, but not too many. As our real estate expert Marco advises: 'the only thing you want on the countertop is hand soap.'
What do buyers want in a bathroom?
Buyers want primarily 'a relaxing, spa-like feel' when they enter a bathroom, so all your staging decision should follow that principle. From color choices to towels and toiletries, a bathroom that will sell a home is neutral and tranquil, and its atmosphere is luxurious, regardless of the size of the room.
Sign up to the Homes & Gardens newsletter
Decor Ideas. Project Inspiration. Expert Advice. Delivered to your inbox.
Anna K. Cottrell is now a freelance writer, having previously been a Content Editor for Future's homes titles. She writes about interior design, property, and gardening. On H&G, she specialized in writing about property – buying, selling, renting – sustainability and eco issues.