Tips for staging a house – 5 ways to sell your home before Christmas
Real estate experts give their top tips for making a quick sale during the holiday season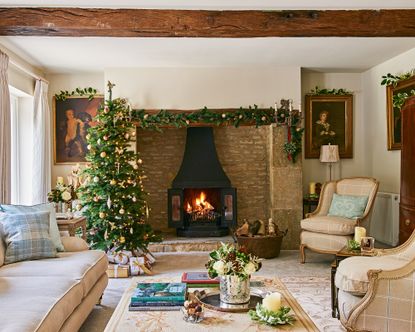 (Image credit: Future)
With only a few weeks to go until Christmas, you may be wondering if it's realistic to sell your house in time for the winter holidays. Experienced real estate experts have told us: 'yes, you can.' But you do need a bit of know-how to make your home more appealing to buyers during this time of year.
Staging a house is always important to make sure you sell quickly, but it is doubly so if you have a Christmas deadline in mind. Here are the top tips to make it happen – fast.
1. Create curb appeal
Unsurprisingly, curb appeal ideas come first when it comes to selling during the fall and winter. Kristina Morales, a realtor with over 20 years of professional experience, told us that 'updated landscaping is one of the most cost effective ways to boost your home's appeal. Replace dead plants, shrubs, flowers, and trees. Trim plants that need it. Keep your front yard walkway mowed and raked.'
Next, examine the exterior of your property for any obvious flaws that need addressing: 'peeling paint, rotting wood trim, gutters that need cleaning, anything that needs fixing should to be fixed now. A house with a dilapidated exterior will be crossed off most buyers' lists before they even go inside'.
2. Invest in good lighting
Ample lighting should be your top priority if selling you home in the winter. Khari Washington, a broker and owner of 1st United Realty & Mortgage, explains that the sun goes down a lot earlier, and many buyers will want to see homes after work. A seller should make sure every room in their house has ample lighting, and the exterior should also have efficient lighting throughout.'
Khari recommends investing in 'beautiful light fixtures and lamps with warm-toned lighting' as they 'can make a home feel cozy for the holidays.' Outside, 'beautiful solar garden lighting ideas and hanging lights will make the exterior look inviting, and exterior floodlighting will make sure that buyers can see everything.'
3. Keep the seasonal decor simple and tasteful
The big question for many buyers will be: to decorate or not to decorate? Will your Christmas decorating ideas endear or put off buyers? Molly Gallagher, who is a realtor and partner at Falk Ruvin Gallagher Team, recommends acknowledging the season, but 'in a way that doesn't overwhelm a buyer and adds to your home's appeal.'
You can 'start outside by filling outdoor pots with greens, branches and pinecones. This will add a nice warm welcome to your home and make a great first impression.' Next, 'inside your home, consider adding evergreen boughs – and bows – that are neutral or have a tasteful winter theme – white, burlap, silver or gold. Use fruits like pomegranates, apples, pears and lemons to decorate by placing them among evergreens in a bowl or along a mantle for a stylish and natural touch that smells delicious.'
Molly's top tip is 'to keep it simple, pretty and fresh.' Avoid decorations that are too bright and anything inflatable.

4. Put away all gifts
This may go against your family tradition, as some people really like putting gifts under the tree several weeks before Christmas, but Anna Franklin, interior designer and founder of Stone House Collective, cautions against this: 'We highly recommend not leaving out any gifts, whether they are wrapped or unwrapped. This can make the home feel too in-personal and hard for the potential buyer to imagine their own family in the home.'
5. Don't neglect the financial side
Finally, while the decorative aspects of home staging are important, they will go to waste if your home is unfairly priced. Dan Beaulieu, Real Estate Expert & Founder of Burlington House Buyers, points out that an unfair or an overly high price will push away all the potential buyers as no one is looking for negotiable prices in this small window of time.
However, if you put up a price that buyers find realistic, affordable, and competitive, you may get many more offers than expected. Comparing your home with other similar properties on the market can help you price it fairly, which can trigger the sale to be completed much quicker.'
With all of these professional tips in mind, it's perfectly possible to sell your home in time for Christmas.
Sign up to the Homes & Gardens newsletter
Decor Ideas. Project Inspiration. Expert Advice. Delivered to your inbox.
Anna K. Cottrell is now a freelance writer, having previously been a Content Editor for Future's homes titles. She writes about interior design, property, and gardening. On H&G, she specialized in writing about property – buying, selling, renting – sustainability and eco issues.