The 5 best bathroom remodel tips – to get the biggest return on your investment
Renovating a bathroom before selling? Here's what to focus on, according to a real estate expert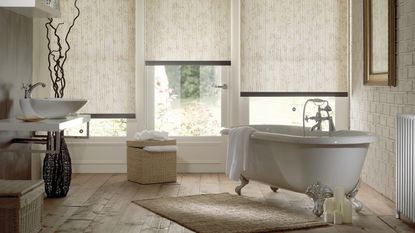 (Image credit: English Blinds)
If you're remodeling a bathroom with a view to selling a home, you may be wondering what the most important things to focus on are. Bathroom remodels are never cheap, and as with most home improvements, making a few strategic changes may work better than spending too much on a complete transformation.
Unsurprisingly, carefully-considered bathroom ideas and remodels are top priority for homeowners. In fact, Opendoor's Consumer Trends Expert and broker associate Beatrice de Jong, believes that a good bathroom remodel will 'increase a home's resale value.' Here are her top tips for getting the most from your bathroom makeover – and how to avoid any bathroom remodel mistakes.
1. Do a minimum remodel for a maximum return
Beatrice has many years' experience as a realtor in California, and her professional view is that a 'minor bathroom remodel, where you replace the flooring, tile, bathtub and sink vanity' is the most effective. Although it 'will set you back about $11,000', it also has been 'proven to recoup 100 percent of the price in the sales value.'
There are hardly any home improvements that give you quite the same impressive returns, so if you have the budget for it, then bringing a coherent design based on the latest bathroom ideas is guaranteed to impress buyers.
2. If doing a single swap, focus on the vanity
If you don't have the desire or time to do a full bathroom remodel and are looking for that one effective swap that will make a huge difference to the bathroom, it's time to explore bathroom vanity ideas.
Beatrice is confident that 'if you can only make one swap, going the extra step to replace a bathroom vanity ($300 and up) is a good idea if yours is looking outdated – or worn out. This change will elevate any room and add instant value.'
3. Consider changing the layout
Bathroom layout ideas may well be worth thinking about in small bathrooms. As Beatrice points out, 'sometimes it takes rearranging to make the most use out of your space.' You may even be able to keep the existing sanitaryware and fixtures, but avoid trying to DIY this type of project without experience.
Beatrice recommends that 'hiring a professional to handle the plumbing and electricity if you opt to change the footprint of the bathroom.'
4. Opt for a shower instead of a bathtub
This may come as a shock to homeowners who cannot live without a tub, but, according to Beatrice, 'deep bathtubs are not actually used by most homeowners, and can actually be seen by buyers as a pain to clean since you have to step inside.' If you are selling, you need to be looking at walk-in shower ideas, because 'walk-in showers appeal to a wider audience.'
If you already have a shower but it needs a little love, 'replacing the shower tiles will have a major impact on the bathroom's style.' This can be an all-over tile or even 'an interesting tile placement' on one of the walls that will help create 'a unique look.'
5. On a tighter budget? Focus on smaller details
If all of these options seem too time-consuming, or you were hoping to achieve results on a tighter budget, Beatrice recommends focusing on smaller upgrades, such as, 'a fresh coat of bathroom paint or replacing old faucets and showerheads.' These can go 'a long way without breaking the bank.'
Beatrice confesses to her fondness for 'the look of a brass shower head mixed with a matte black faucet at the vanity-sink.' Other ways to easily and quickly upgrade the bathroom include adding rugs – they 'give bathrooms a cozy yet contemporary look' – and accessories such as leather or woven baskets. Beatrice also points out that 'If your vanity is in good shape, try repainting it rather than replacing it.'
From full bathroom remodeling to small detail updates, the bathroom holds so much potential to sell your property – and attract buyers.
Sign up to the Homes & Gardens newsletter
Decor Ideas. Project Inspiration. Expert Advice. Delivered to your inbox.
Anna K. Cottrell is now a freelance writer, having previously been a Content Editor for Future's homes titles. She writes about interior design, property, and gardening. On H&G, she specialized in writing about property – buying, selling, renting – sustainability and eco issues.