8 outdoor rugs H&G's shopping editors don't want you to miss this summer
Shopping for outdoor rugs? Start your spending spree here...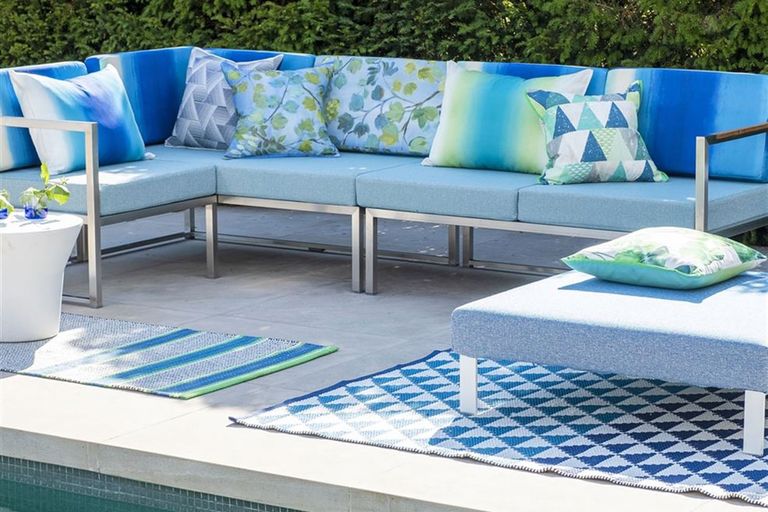 (Image credit: Designers Guild )
By Jo Bailey
A guaranteed way to make your garden feel more like an outdoor living space is to introduce an outdoor rug – or two. Designed to withstand the weather and the wear and tear they will get in a garden, they are a wonderful way to add colour, pattern and cohesion to a patio, deck or lawn.
This is our pick of this summer's best outdoor rugs – chosen for their practicality and, of course, their looks.
For more garden ideas to inspire your outdoor room, don't miss our dedicated picture gallery.
1. Amara Santa Fe Outdoor Rug, £795
The Santa Fe outdoor rug (from £795) at Amara) demonstrates that the trusty stripe is set to be a summer staple for another year running. On first glance, you may think this is a standard striped design, however on closer inspection you'll notice each line feels decorative and unique.
Designed by William Yeoward, this rug would make a classic, yet colourful, addition to your outside space – good enough to move indoors during the cooler months too. Its dimensions are 200 x 300cm; it is made from recycled PET.
Styling tip: striped designs can often work as a plain or semi-plain, add a touch of exuberance by mixing in multiple designs to your patio or terrace.
2. Maisons du Monde Adjoua Beige and Black Woven Outdoor Rug, £77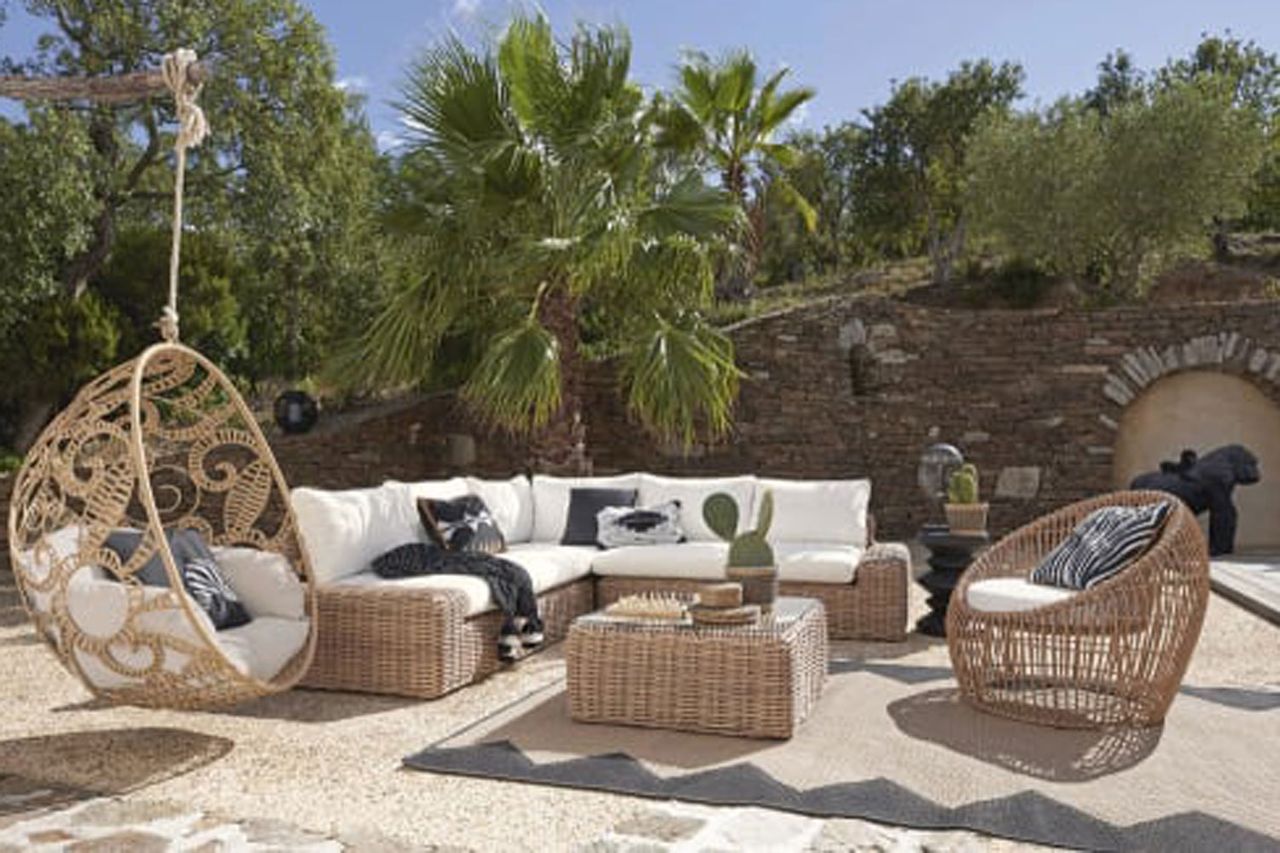 The neutral jute-style finish to the Adjoua outdoor rug from Maisons du Monde (£77) is a look that's ideal for the garden, providing comfort underfoot, whilst not detracting from the natural elements in the garden.
The Adjoua features a simple geometric design that runs down the length of the rug, providing interest yet keeping things clean. Its dimensions are 120 x 180cm; it's made from polypropylene.
Storage tip: Maisons du Monde recommend storing this rug indoors during the winter months to lengthen the life of the rug. In addition, they suggested rolling it up at night time too to avoid any discolouration.
3. Designers Guild Biscayne Cobalt Rug, from £95
The latest outdoor rug collection from Designers Guild has certainly got our attention. The charming and versatile design of the Designers Guild Biscayne Cobalt rug (from £95) has a classic look with simple pattern repeat in cobalt, turquoise and white – a design that won't date over time.
These rugs are lightweight and easy to clean – and not only that, they're reversible too. Its dimensions are 90cm x 150cm (small); it's made from PET polyester.
Styling tip: why only have one outdoor rug? Why not stagger or layer rugs to create the perfect outdoor haven.
4. La Redoute Madotto Indoor/Outdoor Rug, £95
Checks and checkerboard patterns have risen in popularity in recent months, perhaps due to the nostalgic appearance. If you're looking to emulate this coveted look within your garden then try the Madotto Indoor/Outdoor rug (£95) from La Redoute.
In natural shades of terracotta and jute, this rug will add a touch of rustic charm without overpowering your outdoor scheme. The Madotto rug benefits from being reversible as well as UV and water resistant – a must during those seasonal downpours. Its dimensions are 160 x 230cm; it's made from 100% recycled polyester.
5. Heal's Gan Diamond Kilim Outdoor Rug, from £719
You won't believe us when we tell you this rug has been designed for outdoor use. The Diamond Kilim rug for GAN at Heal's (from £719) is as every bit design-led as you would expect from high-end rug makers GAN, yet produced using synthetic materials that are perfect for the garden.
Breathe new life into your outside space with this zingy yellow design or the alternative in vibrant blues and pink. Designed by Charlotte Lancelot, this rug steps outside the realms of the norm – say goodbye to rectangular or circular rugs and welcome a diamonds to your home. Its dimension are 170 x 220cm (small); it's made from 100% recycled plastic.
6. Ferm Living Way Outdoor Rug, £235
Looking for an outdoor rug with a difference? The Way outdoor rug by Ferm Living (£235) is a sustainable design that's been made using recycled PET yarn woven into a two-tone design.
This design stands out due to its tactile and decorative fringing detail that runs along the outer edge at random asymmetric intervals. The Way rug really is a great way to personalise your patio and if you decide it's too good for your garden, it'll look just as good indoors. Its dimensions are 140 x 200cm; it's made from 100% PET handwoven yarn.
Styling tip: Ferm Living offers a number of colourways and have just added a line of outdoor cushions – all with a handmade feel – that will complement this design perfectly.
7. Cuckooland Jute Indoor/Outdoor Rug, £368
Outdoor rugs can often be bright in colour and bold in pattern, the Cooper rug (£368) from Cuckooland offers something a bit more paired back. Designed in the US, this rug is has been made from jute with subtle colours created using vegetable dyes.
The classic plaid design makes this rug extremely versatile for both a contemporary or classic space. The simple colours allows for a neutral setting to be created, yet open up the opportunity to add pops of colour elsewhere. Its dimensions are 244 x 305cm; made from jute.
8. Amazon Habitat Yellow Ochre Weather Resistant Rug, £31.95
The Habitat Yellow Ochre Weather Resistant rug (£31.95) from Amazon, in this perfect sunshine shade, will instantly bring summer vibes onto your terrace. The bold geometric design feels modern and fresh, the perfect backdrop to a pretty sun lounger or modular garden sofa. Its dimensions are 120 x 170cm; made from polypropylene.
Styling tip: rather than pairing with similar colours, treat this ochre hue as a neutral by introducing shades of blue, green or even orange as accent notes. A bold rug design truly opens up the options to be wilder in the garden.