Magnolia has a birthday sale! Here are 15 things we want to gift ourselves
It might be Joanna Gaines' birthday, but Magnolia's sale is a gift for us. Take a look at our experts' top picks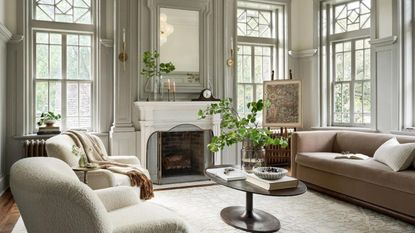 (Image credit: Magnolia)
Birthdays are the best. Gifts, wine, cake, I don't think I could name a better trio. So, when Magnolia announced a six-day sale for Joanna Gaines' birthday, I got some cake, and a cup of coffee (it's too early for wine), and scrolled through for their best gifts.
Magnolia makes such wonderful pieces, you end up creating so much more than a beautiful room; you craft a lifestyle. The quality and style of their products are unmatched. This means that when you're given 20% off, you should definitely invest in a little luxury for less.
I keep a general eye on Magnolia's products anyway, so have a very long wishlist. I've been trained in fragrances, so consider myself an expert on home scents and olfactive selection. I've also had a lot of practice sale shopping. But I couldn't keep this sale to myself. When I shared it with the Homes & Gardens team, our interiors and décor experts couldn't wait to get shopping. We have scoured Magnolia's birthday sale and this is what we are adding to our carts right now. Just add code CONFETTI at checkout for your 20% off.
15 things in Magnolia's sale we would like on our birthday
You can trust Homes & Gardens. Our expert reviewers spend hours testing and comparing the latest products, helping you choose the best for you. Find out more about how we test.
Beautiful Blooms: Florals + Vases
When I think of birthdays, I imagine lots of beautiful blooms and bouquets. They're an effortless way to elevate your living spaces and dried flowers can add color without the same upkeep as fresh flowers.
Dried flowers have a very sophisticated and vintage appeal, especially when arranged in an organic-looking vase. Styling them is an age-old craft, so if you need some help, we have an expert guide for decorating with dried flowers.
Ravine Black Ceramic Jug (was $64)
Our solved expert, Millie Hurst chose this as her top pick saying, 'I love the curved, organic lines and think some black decorative pieces are a great way to ground a scheme.'
She advised that we should be 'displaying earthenware on living room shelving, a side table or kitchen island' for a rural aesthetic that is homely and stylish.
This lemon wreath feels very Mediterranean to me. I can think of endless places in my house where it would look nice: on the door, on the mantle, over a mirror, in front of a window and I could go on.
If you already have some circular mirrors or frames, this would sit really nicely on the wall as another, greener aspect to your home aesthetic.
Bleached Woven Plant Stand (was $62)
If you're looking to redecorate your home, or simply update your style, these planters can make a big difference. I love the natural texture of this weave because it enhances the already very green and organic look of whatever plant goes inside.
If you need advice on what to put inside, I would say that most plants will look good. This is raised off the ground, so it would be a great opportunity to show off a cascading planter.
A Birthday Feast: Kitchen + Dining
A feast for the stomach should also be a feast for the eyes. After looking at Magnolia's kitchen and dining selection, I had been well-fed with visual delights. They have floral and natural styles or vintage and simple. Essentially, there's something for everyone.
San Miguel Cake Stand (was $80)
Whether it's topped with a cake or a simple ornament on the table, this cake stand is beautiful. It reminds me of the coast and warmer weather, probably because it's part of Magnolia's San Miguel collection.
The blue and white colors are delicate and have been hand-painted by Shaina Page, then printed onto the stand. If you like this, there's so much more to explore.
Shadow Floral Serving Bowl (was $74)
Magnolia has an entire collection of Shadow Floral serveware that I would happily buy today. The spring silhouettes serve up early elegance at the dining room table and each design is unique.
I love earthenware like this because they make lovely ornaments as well as practical dining pieces. This makes a lovely fruit bowl and serving bowl, so it's up to you how you use it.
Magnolia Antiqued Wood Storage Box (was $68)
I love adding some rustic wood to the home, so this storage box has my heart completely. It looks basic, but there is such beauty in simplicity.
This makes a great storage option for bread because the lid doubles up as a breadboard, but you could put any kitchen pieces in there to keep things tidy. It's practical and pretty – truly delightful.
Mirror, mirror on the wall
These are certainly the fairest mirrors of them all. Magnolia's range covers different styles, from beachy to boho. I love them all, but clustering together different-sized mirrors is a personal favorite: it's a really stylish way to add depth and interest to your walls.
Flora Round Mirror (was $258)
Crafted from mango wood and finished with antique brass, I have a real soft spot for this mirror. To me, it's both vintage and beachy, the perfect addition to any home.
I love playing with different shapes when it comes to mirrors and this porthole-style roundness is a welcome change from standard rectangles.
Archer Brass Metal Framed Mirror (was $188)
Adding a mirror like this is almost like having another window in the room. It's a great way to embellish your perceived space. The elegant arches make a great pairing with an entryway or mantel. The brass frame, because it taps into so many different style trends too.
Our expert, Zara, swears by mirrors for adding 'an eye-catching decorative interest to a room'. Whether you are looking for a simple style or something more ornate, they're an effective tool for interior design.
Teagan Natural Wood Rectangular Mirror (was $60)
This was our interior expert Zara Stacey's pick. Her advice for interiors is that 'keeping it simple' is always best. This style was Zara's favorite and she described it as 'an enduring, versatile piece that can adapt and grow with a home for years to come. The soft, rounded edges establish a subtle yet elegant design detail, and the rustic, natural wood finish creates a timeless look that can seamlessly integrate into spaces of all styles.
Dreamy Décor
The personality of every home is cultivated through details. I like having bold, simple statements, as you might guess from my selection. If you invest in a few stylish pieces, they help to create a sense of sophistication throughout your home.
Fluted Marble Bowl (was $148)
A true standout piece, this bowl is my favorite of them all. The elegant fluting makes the marble look mellifluous and soft, but, if you pick it up, you can feel the weight of this beautiful bowl.
It's handcrafted and ethically made from marble, which Magnolia sources from Arga, the home of the Taj Mahal. It's no wonder it's so stunning. It's almost too lovely to use, except it's really handy. Leave it empty, or fill it with whatever you need to.
Monet's Meadow 1 (was $298)
If walls could speak, they would choose this for home decoration. This impressionistic style would sit beautifully in any home. The light colors are uplifting and soothing, the perfect atmosphere for any home.
The floater frame has been crafted from natural wood for what Magnolia describes as a 'casually elegant look'. I couldn't have put it better myself.
Concrete Oversized Link (was $98)
A concrete statement for any home, I was drawn to this piece. I love urban, minimalist looks and this seems to meet that style. It looks modern and arty, so I would style it across a stack of books or by the door. I think it would fall really nicely, so you can't really go wrong.
It has been handcrafted by artisans in Honduras and makes a great feature piece in bigger homes.
It's not a birthday without candles
Birthdays, self-care, atmosphere: there's always a space for candles. Whether you're a scent savant or simply enjoy a beautiful home fragrance, these candles are wonderful. You can't go wrong with a classic candle, but for a little ambiance and earthiness, why not try some incense?
Fresh Start Candle (was $28)
A classic and a bestseller, for good reason, this candle is wonderfully light, uplifting, and invigorating. The main scent notes are grapefruit, salt, and minerals, so you can only begin to imagine how wonderful this is to have in your home. For a double wick, go for a 9oz size, but you can size up to the 26oz candle for a triple wick and more coffee-table look.
The cotton wick is lead-free and the whole candle has been crafted in the USA. Magnolia makes sure to use the finest quality waxes too, so they are reliably lead and phthalate free.
Magnolia Tin Bundle Box (was $110)
One of the best parts of sale shopping is thinking about the future. Whether you find a specific gift for someone or buy an easy-to-please present for all, you can get ahead and prepare for last-minute gifting.
This collection is designed to take you through the year, from lighter fragrances to spicy scents. each candle has 30 hours of burn time and all the same quality promises as the Fresh Start candle. This bundle is great for splitting up and gifting to different people too -- make sure to keep one for yourself though.
Saguaro Incense Cones (was $22)
Incense is an established way to scent your home. It diffuses aromatic, earthy notes into the home in a way that feels very natural and rustic. Even though it's an old tradition, incense is becoming increasingly popular, so these cones are a good investment.
Magnolia wanted to evoke the scents of America's National Parks, so have used cactus, desert florals, labdanum, and amber to bring that atmospheric, green, earthy scent into the room. They're crafted from wood pulp, so are eco-friendly too.
My Favorite
Choosing my favorite 15 products was hard enough, but, if you twisted my arm, I'd say you can't leave the Magnolia site without a vase and flowers. I have put one in my fireplace, to give the empty space a lift, but there isn't really anywhere they don't go.
I didn't get to include the candle holders and I would like to mention them here. They look very vintage and they're really increasing in popularity. Place them on different levels in the home to enhance the atmosphere.
I could do lots more honorable mentions, but I shouldn't, because I promised you a selection of the fifteen best buys. If you want to see more of what I love, you'll have to go to Magnolia before the sale ends.
FAQs
How do I make the most out of sale shopping?
You're in the right place to start. Sales are a great opportunity to get a little luxury for less. I would recommend that you approach sales with three different categories:
Needs
If you've been on the hunt for a nice gold box to put your trinkets in, or have been thinking about getting some hooks for the wall, now is the time to get them. You'll get great quality and style, without a full price tag.
Gifts
Thinking ahead is really helpful. If you see something that you know a specific person would love, buy it in advance. Candles, for example, make a great generic gift, so you can have one at the ready for last-minute presents.
Wants
What's a sale without a treat for yourself? If something catches your eye, now is the time to get it.
How long is the sale on for?
The sale started on 13th April and will be going on until 18th. If you use the code CONFETTI, you'll get 20% off full-price items.
Zara joined Homes & Gardens in February 2022 as a Content Editor. After graduating with a BA in English Literature from the University of Sheffield in 2017, she has worked at multiple independent businesses within the luxury retail and lifestyle sectors. Her role at Homes & Gardens unites her love, experience, and passion for the world of design and her desire to create inspiring written content. She enjoys writing about interior design, specializing in color trends, decorating ideas, and design inspiration.
Millie Hurst is Section Editor at Homes & Gardens, overseeing the Solved section of the website, which gives readers practical advice for their homes. She has six years of experience in digital journalism, having previously worked as Senior SEO Editor at News UK, both in London and New York. She joined the Future team two years ago, working across several homes brands as a news writer, before becoming Senior Content Editor at Ideal Home. With a background in busy newsrooms, she is always looking for original features, checking trending terms, and interviewing celebrities about their homes.
Laura is our eCommerce editor. Before Homes & Gardens she studied English at Oxford University. Alongside her studies, she qualified as a barista and trained as a master perfumer. This makes her our certified expert for all things coffee, candles, and fragrance. Laura has worked for luxury retail brands, reinforcing the importance of quality and style over quantity and fads. She looks for products which have been designed with thoughtful finishes.