WIN a wood-burning stove worth £1,995 in our Contura competition
Get your home ready for colder months ahead with this fabulous competition prize from Contura and Period Living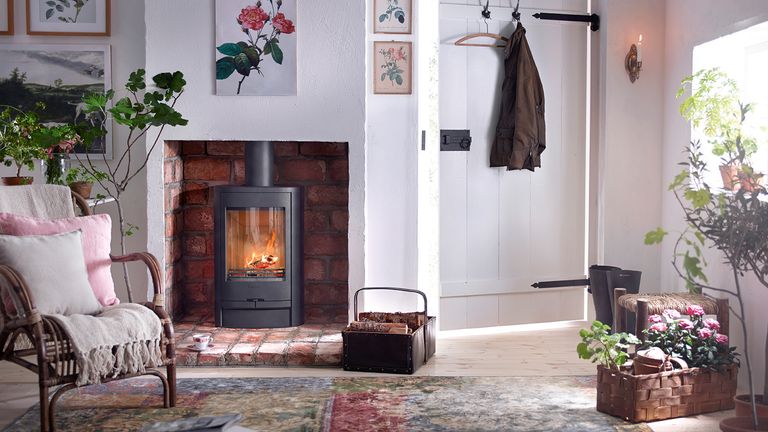 (Image credit: Contura)
Europe's leading wood-burning stove manufacturer, Contura, is offering Period Living readers the chance to win a stove worth up to £1,995.
Designed and assembled in Markaryd, Sweden, Contura stoves are known for their timeless design, efficiency and high quality. One lucky winner will be able to choose a stove that adds rustic style and cosiness to their home.
For those with an existing fireplace, the Contura i7 cassette stove can be inserted for a classic look to brighten up any home. Those wanting to add a touch of warmth with a more traditional design can opt for the freestanding Contura i5L – with shorter legs and the largest possible glass surface, offering an optimum view of the flames; perfect for meditative evenings spent curled up in front of the fire.
Contura stoves are DEFRA Clean Air Act Exempt, meaning they are approved for installation in Smoke Controlled Areas. They are also certified Ecodesign-Ready to meet all future stove requirements.
A wood-burner reduces particulate emissions by up to 90 per cent compared to a traditional open fireplace. Not only that, but the superior design of the Contura heat chamber means greater efficiency; two logs will burn for up to an hour in the stove, compared to only 15 minutes on an open fire; and while 80 per cent of the heat generated by an open fire escapes up the chimney, 80 per cent of the heat generated by a wood-burning stove is radiated into the room.
Enter to win a Contura wood-burning stove
As editor of Period Living, Britain's best-selling period homes magazine, I love the charm of older properties. I live in a rural village just outside the Cotswolds, so am lucky to be surrounded by beautiful homes and countryside, where I enjoy exploring. I am passionate about characterful interiors and heritage-inspired designs, but I am equally fascinated by a house's architectural elements – if I spot an elegant original sash window or intricate stained-glass front door, it fills my heart with joy. It's so important to me that original features are maintained and preserved for future generations to enjoy. My other passion is my garden, and I am slowly building up my planting knowledge, and becoming more confident at experimenting with growing my own. As well as editing Period Living, I am also co-editing the Country Channel of Homes & Gardens. In my previous roles, I have worked on Real Homes and Homebuilding & Renovating, writing about modern design and architecture, so my experience is broad – but my heart belongs to period homes.