Can you use a patio heater on a deck? Experts offer their safety tips
Keep warm on your deck with this advice on using a patio heater safely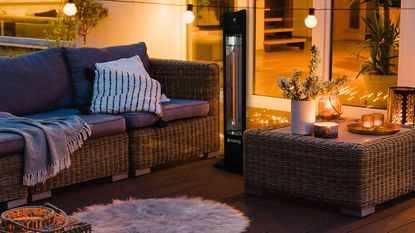 (Image credit: Lime Lace)
Investing in a patio heater can make your outdoor space far more useable throughout the year, but is it safe to use one on a decked space?
For those cooler evenings outdoors in spring and fall, using your deck for outdoor entertaining can take a little bravery due to the lower temperatures. You certainly don't want this excellent extension of your living space to go unused for several months of the year or longer. The solution? Patio heaters.
Before you rush to make a purchase, there are important guidelines to follow if you want to make sure it's safe to use a patio heater on a deck and get the most efficient use out of your heater.
Can patio heaters be used on decks?
Patio heaters are specifically designed for outdoor use and take the environment and placement into account, making them safe for use on a deck. This includes freestanding heaters in direct contact with the floor of your deck, according to Michael Kaloutas, the founder of Seal-A-Deck.
'The base of a freestanding heater doesn't get hot like the hood does, making it perfectly safe for use a wooden deck,' he says.
It's more important to ensure your chosen heater is suitable for outdoor use. Indoor heaters are generally ineffective in open outdoor spaces. Similarly, outdoor patio heaters should never be used inside due to safety risks.
There are safety precautions to take into account when installing a patio heater on a deck too. There are many different types to choose from, but your chosen heater should come with a set of safety instructions as guidelines for use. Following these instructions is key to ensuring patio heaters can be used safely on decks.
Can patio heaters be used on covered decks?
Considering the amount of heat patio heaters give off, it's understandable to wonder whether they are safe to use on covered decks or covered patios. The answer is yes, if there is enough clearance above the heater (depending on which type you choose).
The amount of space needed between a heater and ceiling is not a lot, according to Steve Levy from Heat Outdoors – about 12 inches. When it comes to electric heaters, Levy explains that 'it's projecting the heat out… there is no real danger to the areas surrounding it.'
There is potential for a heater to negatively impact the color of the ceiling or the quality of materials if it is placed too close. 'If you mount it too close to a white ceiling, over a period of time it is going to affect the color. If you have materials which are affected by low levels of heat you want to steer clear of them, such as soft plastics, polyethenes, and polystyrene tile,' says Steve.
When it comes to gas heaters, having a cover overhead can actually help keep the heat within the patio space rather than quickly escaping. However, gas heaters shouldn't be used in a completely enclosed area as necessary ventilation is required for them to run safely.
What type of patio heater is best for use on a deck?
Patio heaters are typically separated into gas and electric types. Each has its pros and cons, but most experts tend to prefer electric.
Trevor Andruss from Embers Living explains why he prefers infrared electric patio heaters. 'The biggest issue with gas heaters is it seems like they only work when you have a completely covered patio. In an open setting, although there is a lot of heat coming off a gas heater, it's just rolling up. It's not going to make you feel comfortable.'
Wall-mounted electric heaters also take up limited space compared to larger floor-standing gas heaters. 'The biggest problem with those freestanding gas heaters is that they just take up a lot of real estate. Overhead heaters allow you to keep good square footage,' says Trevor.
However, electric heaters need to be plugged in, which can be an issue if your deck is a long way from an electrical socket. It is possible to use extension cords to connect your heaters, but this isn't advised as it comes with additional safety precautions and unsightly cables that can quickly ruin a design.
If you go for a wall-mounted option, you'll obviously also need a wall to mount it on, and if your deck is located away from the house, this might not be possible. In this case, you would need to consider a freestanding electric option.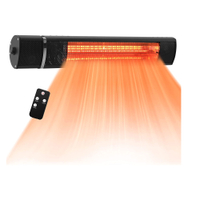 5 Sunday Living electric wall-mounted patio heater | $59.99 at Amazon
With an average reviewer rating of 4.2 out of 5, this infrared electric heater is designed to be wall-mounted so it can help to free up valuable floorspace on a small deck. It has three heat settings (500W/1000W/1500W), and can heat an area of up to 15 square feet. It's also got an IP65 waterproof rating, so is completely safe for outdoor use.
Gas patio heaters are generally considered a cheaper heating option (depending on the products compared) and gives off more heat than the smaller electric heaters. These designs can also be portable, so can be a better option if your deck is at the far end of your yard. But proper ventilation and safety precautions need to be followed if you choose to go this route for heating your deck space.
Ultimately, the right type for you will depend on your available deck space and access to electricity.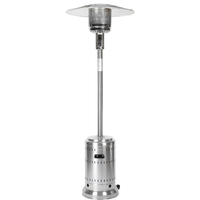 Amazon Basics gas patio heater | $170.38 at Amazon
A best-seller at Amazon, this freestanding gas patio is highly rated by reviewers and it's also a great price. It has a 46,000 BTU output, providing heat up to a 9 foot radius. In terms of safety features, it comes with a tilt safety auto-shut off valve, and a water box for weighting the base to prevent it toppling over on your deck. Pictured in the stainless-steel finish, it's also available in a powder-coated blue option if you prefer something a little different.
Safety precautions
Patio heaters certified for outdoor use should come with a range of built-in safety precautions, depending on the product.
They may have anti-tilt switches that turn the heater off if it tips over or timers that shut the heater off automatically to stop it from getting too hot. These are important features to look for when deciding on which patio heater to purchase for your deck.
There are also general safety guidelines to follow for both gas and electric heaters. The National Fire Protection Association (NFPA) outlines a few guidelines that cover both installation and use, as well as some general guidelines, including 'keep[ing] anything that can burn at least 3ft away from heating equipment,' and using propane heaters 'in accordance with their listing and manufacturer instructions'.
Alternative heating options for a deck
The simplest alternative to a patio heater is the original natural heater – fire. An outdoor fireplace will add ambiance, especially during those extra chilly evenings. However, they also need to be installed safely to prevent any fire hazards.
If you like the look of fire but don't want to install a full fireplace and chimney on your deck, you can try a gas backyard fire pit. These provide the same feel with a more modern look in a range of shapes and sizes to perfectly suit your patio design.
The most cost-effective and environmentally friendly way to keep warm on your deck is to simply layer up and keep a few blankets nearby. If you're worried about safety hazards and fire, this eliminates those concerns completely.
FAQs
How do you secure a patio heater to a deck?
During installation, it's vital to ensure your patio heater is completely stable to stop it from falling over and damaging your deck.
Strong cords or heat-resistant cable ties are useful for attaching heaters to your deck structure or deck railings. Freestanding heaters can be weighed down with sandbags or bolted into the deck if they will remain there long-term.
Make sure your patio heater is placed on a flat surface and away from high-traffic areas to limit the chances of it being knocked over. Experts recommend putting the heater away when it is not in use to stop wind or other external elements from knocking it over when you are not around.
---
Patio heaters can be used on both big and small decks, as long as they are certified for outdoor use and the proper safety precautions are followed.
Always read the instructions that come with your patio heater to ensure you are installing and using the product safely.
Sign up to the Homes & Gardens newsletter
Decor Ideas. Project Inspiration. Expert Advice. Delivered to your inbox.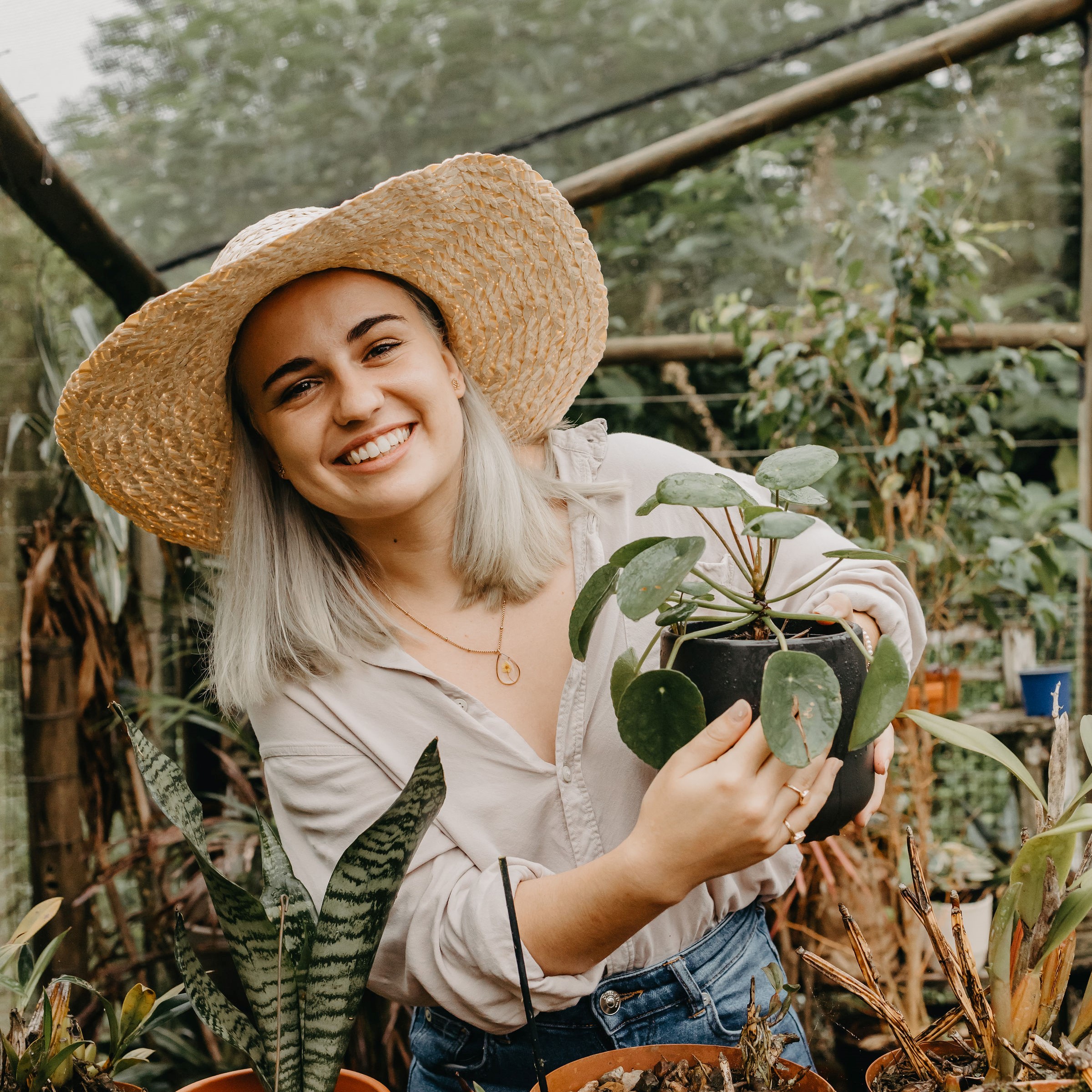 Contributing Editor, Gardens
Madison is a garden writer and editor, covering all things outdoors and lifestyle. After completing a BA in History and Political Science, she transformed her years-long passion for plants into a career writing for both digital and print publications. As garden editor of several print titles, Madison focuses on trends and developments in the continuously expanding gardening industry. When not typing away at her desk, she tends to her ever-growing houseplant collection and travels frequently, photographing and reporting on gardens around the world.