The decor of this colorful Yorkshire farmhouse is inspired by the surrounding moors
Design studio Dunning & Everard helped two poets turn their home on the windswept Yorkshire moors into something quite magical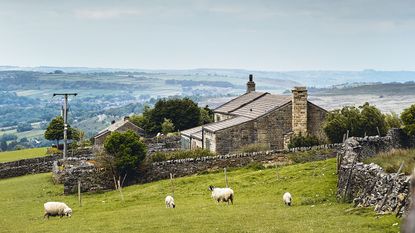 (Image credit: Future/ Brent Darby)
Sign up to the Homes & Gardens newsletter
Decor Ideas. Project Inspiration. Expert Advice. Delivered to your inbox.
Thank you for signing up to Homes & Gardens. You will receive a verification email shortly.
There was a problem. Please refresh the page and try again.
Given their inclination to write poetry inspired by the natural world, Lydia Macpherson and Nick MacKinnon's move to the windswept Yorkshire moors seemed an obvious transition.
When Nick retired from his job as a teacher at Winchester College, the couple, who are both poets, found themselves free to return to the landscape that Lydia's family had inhabited for generations.
Now considered one of the world's best homes, the property Lydia and Nick bought sits at the end of a track that climbs the hill towards Top Withens, the abandoned farm whose remote location before the stark and glorious moors beckon is said to have inspired Emily Brontë's Wuthering Heights.
'It was pretty much an impulse buy,' Lydia admits. 'We were staying with my family and walking to Top Withens one day when we noticed the house was for sale. We bought it intending to use it as a holiday home, but as Nick was retiring we decided we would live here full time. It was once owned by my four-times great-uncle in the 1800s and my family all live within a few miles, so we're extremely well rooted.'
Kitchen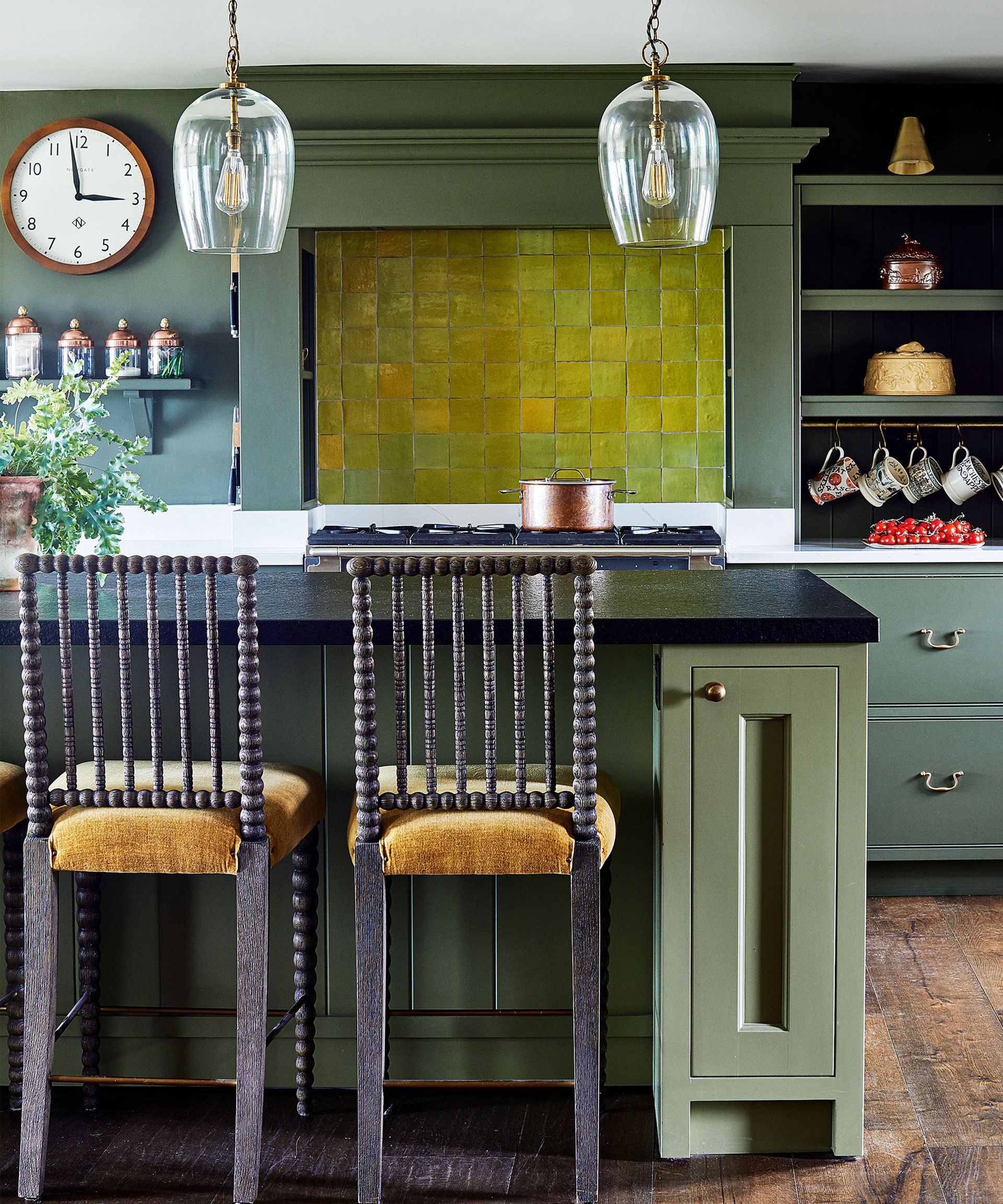 Calling upon the expertise of interior and architectural designer Stephanie Dunning of Dunning & Everard, the couple embarked upon a renovation and interior overhaul.
'Stephanie had designed our home in central Winchester, and she and the project manager Peter kept making trips up here to oversee our team of local builders,' says Lydia.
The Yorkshire house had once been three separate cottages, so over the course of two years it was reorganized to give it a more logical layout and flow. One of Stephanie's ingenious kitchen ideas was to level the kitchen, which had been in two parts divided by 'a perilous set of stairs', by digging down.
The space took on an L-shaped form with an extension creating a sunroom that provides jaw-dropping views from its huge windows.
The decorating palette throughout was designed to reflect the surrounding countryside. Mossy green is a strong accent color in the kitchen. Stephanie used the zingy lime color of the zellige-tile backsplash to add a punchy variation to the uniform green of the scheme.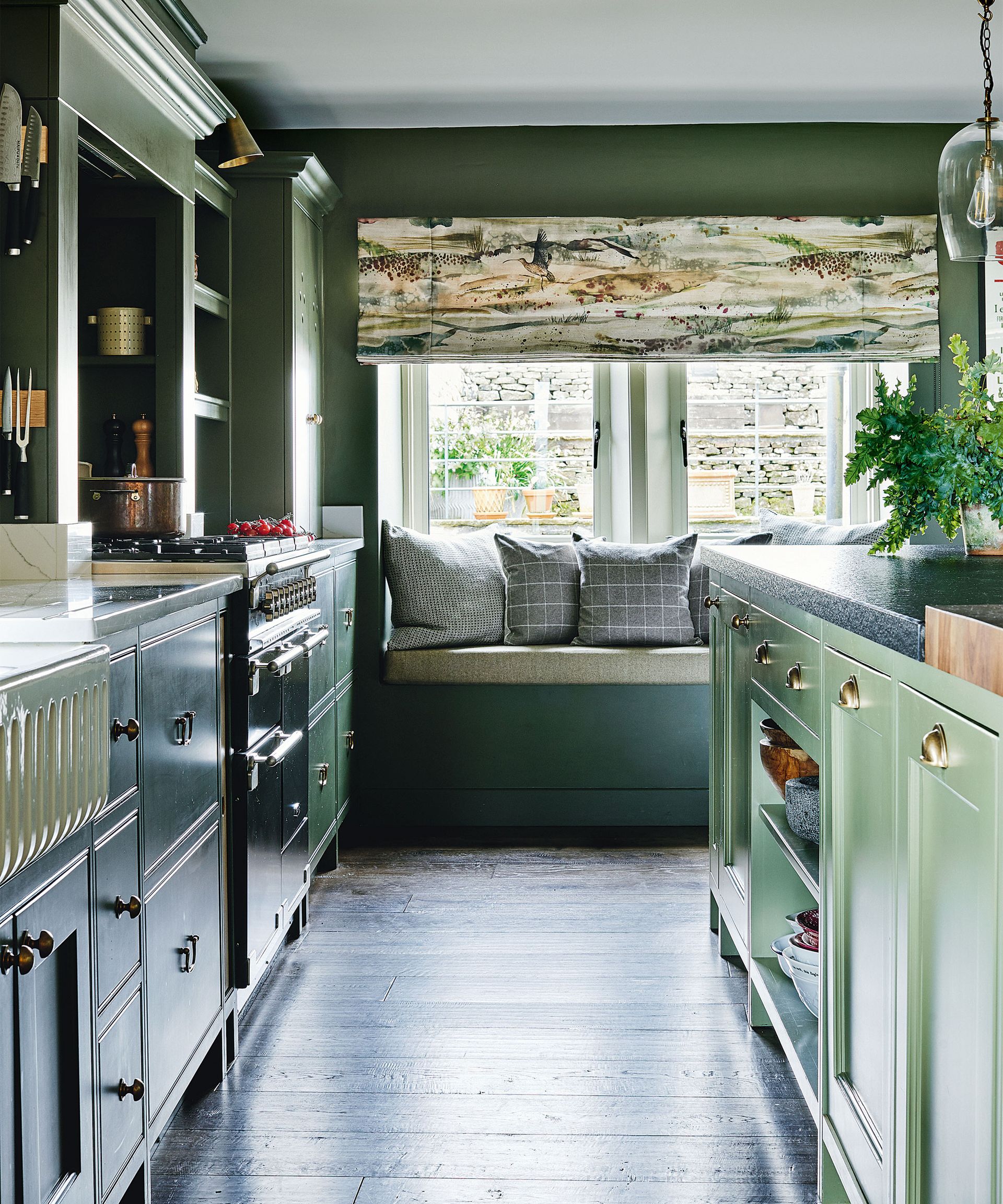 The all-over rich moss green is like a warm embrace. The kitchen blind fabric is bespoke and features curlews, one of owners Lydia and Nick's favorite birds.
Living room
In this space, one of the living room ideas was to remove a mezzanine-level 'minstrels' gallery', allowing the vaulted ceiling to impress with its full height.
Reflecting the surrounding countryside, the paint finish, which changes color according to the light and time of day, is Inspired by the heather on the moors, while the burnt orange reflects the dry bracken.
Velvet upholstery evokes a sumptuous mood, while the tall lamp bases add to the sense of grandeur.
Barn bedroom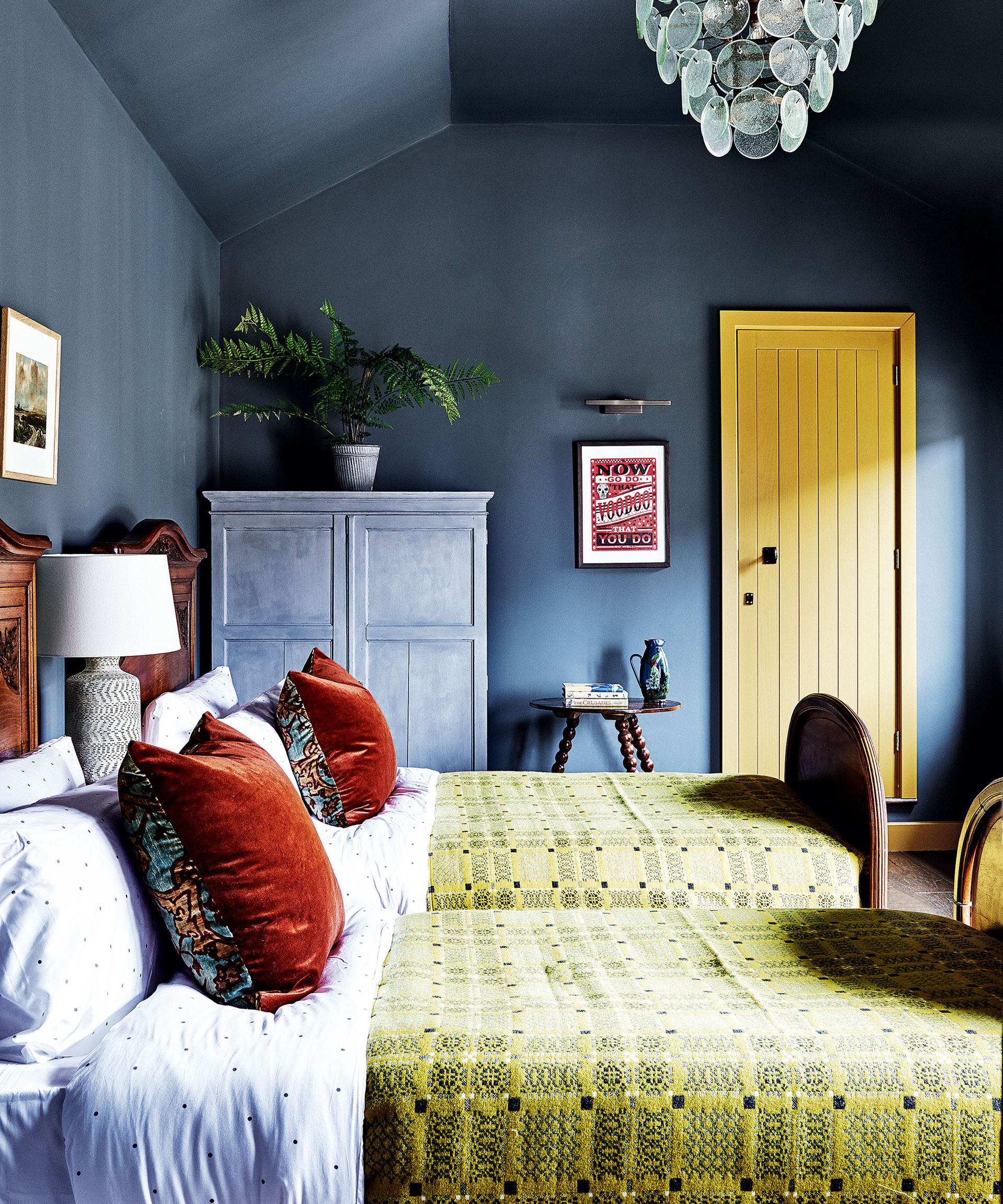 Outside, a breeze-block-lined storage barn was transformed into three guest bedrooms. Adventurous use of color is one of Stephanie's bedroom ideas. Here, a wall-to-ceiling brooding paint color is lifted by a mustard yellow on the woodwork.
Bedroom
Blue accents enrich this calming scheme where the huge, indulgent bed is the focus of the room.
'Being here is very inspiring to us as poets,' says Lydia. 'We're both lyrical in our style and write a lot about the natural world. We've never lived anywhere where you are so in contact with nature, every minute of every day. You can watch the dramatic weather sweep past, moving across the landscape and at night the skies are so starry. Quite often our only companions are birds and animals.'
Then again, such splendid isolation in such a beautiful location can't last forever and the couple are bracing themselves for the arrival of plenty of guests. 'Nick and I have five sons between us and friends from all over the world who are longing to visit, so we need to be able to accommodate plenty of people,' explains Lydia.
From solitude to the company of their large family and many friends, the house is now perfectly suited to both extremes of Lydia and Nick's lifestyle.
Interior design/ Dunning & Everard
Photographs/ Brent Darby
Text/ Juliet Benning
Sign up to the Homes & Gardens newsletter
Decor Ideas. Project Inspiration. Expert Advice. Delivered to your inbox.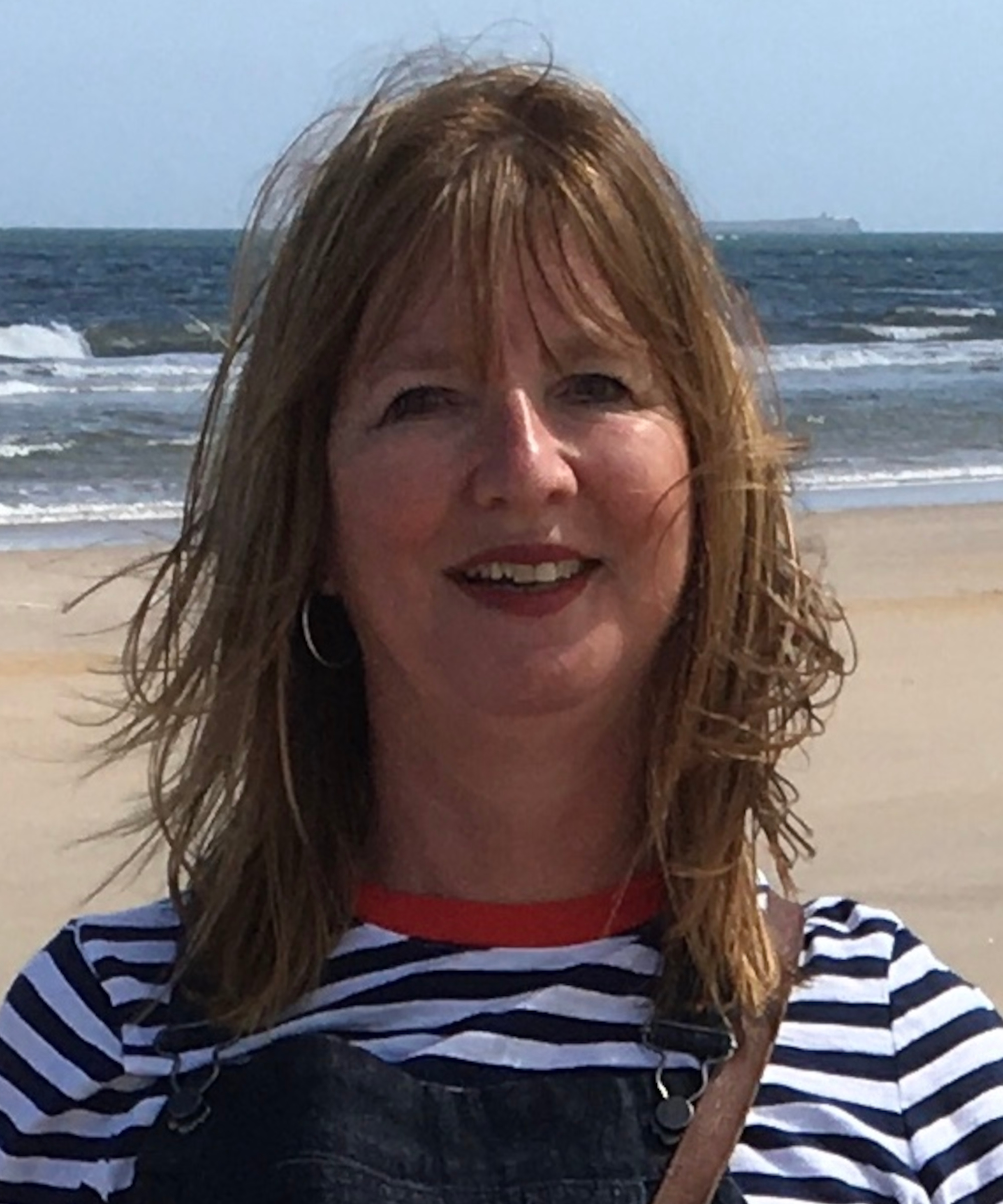 Interiors have always been Vivienne's passion – from bold and bright to Scandi white. After studying at Leeds University, she worked at the Financial Times, before moving to Radio Times. She did an interior design course and then worked for Homes & Gardens, Country Living and House Beautiful. Vivienne's always enjoyed reader homes and loves to spot a house she knows is perfect for a magazine (she has even knocked on the doors of houses with curb appeal!), so she became a houses editor, commissioning reader homes, writing features and styling and art directing photo shoots. She worked on Country Homes & Interiors for 15 years, before returning to Homes & Gardens as houses editor four years ago.