Explore a colorful and characterful Victorian vicarage decked out for the holidays
The home of Designers Guild's Amanda Back is spectacular at Christmas with festive flourishes enhancing the beauty of the former vicarage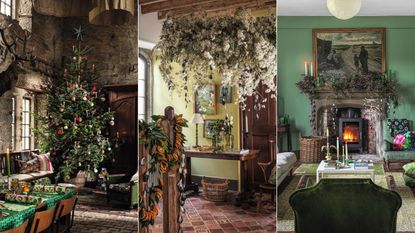 (Image credit: Jon Day)
This house has been decorated from our hearts,' says Amanda Back of the Victorian former vicarage that she shares with husband Dan and sons Xavier, 18, and Raffi, 14. 'We didn't sit down and create a plan; we only knew that we wanted it to feel warm and comfortable and neither grand nor stuffy.'
It's a sentiment that plays out beautifully across these schemes, especially at Christmas, when fires burn in the entrance hall and sitting room and surfaces are adorned with foliage foraged from the surrounding west Cornish countryside. Nor is it any surprise that this home is both a lesson in decorating with pattern and deeply rooted in nature's tones, given Dan's profession as a garden designer and Amanda's 35-year career at Designers Guild, where she is currently head of communications.
'Working with color and pattern runs through my DNA and has influenced my more adventurous design choices,' says Amanda. 'However, a palette of greens, coupled with chocolate woodwork, anchors our home – perhaps a surprising departure from blue, given our coastal location. But we both wanted our interiors to work across all seasons, so greens, ochres, and yellows felt right.'
The bones of this home, built by Victorian architect J P St Aubyn, are the perfect backdrop for the couple's mixture of vintage decor, collections of green glassware, and layers of hardy fabrics, including tweeds, sheepskin, linen and velvet.
Having spent many a season criss-crossing Cornwall in their 1970s camper van, the couple knew they wanted to put down roots and this Gothic-style building fitted the bill.
'There's a deliberate eccentricity to it, with its mix of round and mullion windows on the more austere north elevation, contrasted with a symmetrical façade on the south facing side,' says Amanda. 'That has very much fed the relaxed and creative approach behind our interiors.'
By the time the family bought this house in 2019, a kitchen, scullery and pantry had been turned into one double-height, brick-floored dining hall, undoubtedly the beating heart of the space.
'But the rooms felt a little monastic and so our task was to imbue them with character,' reflects Amanda. 'Each one needed a big piece to set the tone – such as the dining hall's huge armoire – but we also wanted our guests to feel relaxed enough to have supper in their walking boots.'
Handsome original features include the terracotta tiles in the entrance hall, imprinted with heraldic Cornish flags and the St Aubyn family coat of arms; wide oak floorboards, leaded mullion windows and an ancient fireplace or two.
'I'm always mindful that villagers would have streamed through these rooms on all sorts of occasions when it was a vicarage and so I wanted to preserve that sense of conviviality,' says Amanda, who trawled local antique shops, junk stores, car-boot sales and fairs to find fitting pieces.
'I don't mind things looking a little scruffy and I love the contrast between a reupholstered antique bench and a modern Marcel Wanders chair, for example.'
That flair for unexpected pairings is seen in every corner, from a collection of wall-hung blue-and-white Delft plates and tiles contrasted with rich, earthy tones to the farmhouse table combined with schoolhouse chairs.
At Christmas, the family gather early in the dining hall to open gifts around the tree before working up an appetite with a long country walk. 'Our home probably sums up Cornwall itself,' says Amanda. 'A little bit wild and rugged, but endlessly reinvigorating. It's become an emblem of everything we love.'
---
MEET THE OWNER
Amanda Back shares her style inspiration
SMALL CHANGE, BIG IMPACT
In the winter, when it's not easy to find flowers, I look for beautiful leaves and branches instead. I often use rosemary, sage or bay. Trees and foliage remind us of nature's rhythm, which to me feels very comforting.
DESIGN INSPIRATION
The landscape, the coast, nature and my boss and dear friend Tricia Guild.
I KNOW I'M A CREATIVE BECAUSE
As relaxed as I am at home, I can't help rearranging the cushions everywhere before going up to bed.
YOUR STYLE IN THREE WORDS
Relaxed, characterful, comfortable.
FAVOURITE CHRISTMAS RITUAL
Studding oranges with cloves and making Shrub - a wonderful Cornish drink.
WINTER MEANS
Long walks on the coast path, roaring fires, stews and dumplings, candlelight.
HOME MAKES ME FEEL
Calm, cosseted and grounded
You can book to stay at this wonderful home via trenowethhouse.co.uk.
Sign up to the Homes & Gardens newsletter
Decor Ideas. Project Inspiration. Expert Advice. Delivered to your inbox.