Bold color and striking artwork ensure a London townhouse makes a statement
HÁM Interiors' passion for alluring colors and materials has matched its clients' love of the creative to give a classic townhouse a stylish edge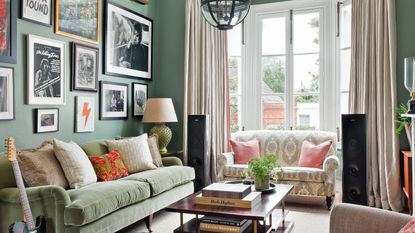 (Image credit: Alexander James)
Its reputation for classic-meets-contemporary spaces that are also refreshingly down to earth means that HÁM Interiors is a very sought-after design studio.
'We like homes to feel sophisticated and edgy but at the same time lived-in,' says Katie Cox, the youngest member of the family business, founded in 2011 by Tom Cox and his parents Nick and Pamela – both long-established interior designers and antique dealers.
The firm's latest project, a home on a leafy street in west London, an area well known for having some of the world's best homes, features HÁM's usual decorative flair but also the owners' rock 'n' roll vibe (it's no surprise to learn that they work in the entertainment industry). Think vibrant art and a desire for the less ordinary.
'Michael and Sara's art collection set the tone for the collaboration and they encouraged us to push boundaries, both spatially and decoratively – turning plain spaces into something individual,' says Katie.
Kitchen
In true HÁM style, the resulting interiors are confident. 'Nick has created elegant new bathrooms throughout, and in the airy basement he designed and built a bespoke kitchen that reflects the owners' passion for cooking,' says Katie.
There is statement use of color. Farrow & Ball's Arsenic has been used dramatically on the cabinetry and has created a bold interiors look. Kitchen ideas include units that almost look like chest of drawers, giving a more living room space feel to the cooking area.
Kitchen diner
This floor is where the family spend the most time.
'We designed the kitchen snug area to work as both playroom and after-supper hangout – with seagrass walls, deep-piled velvets and a touch of leopard print adding sophisticated comfort,' says Katie. A favorite Howard Hodgkin artwork, 18th-century Swedish antiques and one-off finds are used to create real personality in the basement kitchen dining area. Other dining room ideas include a patterned rug to define the dining area and introduce softness.
Living room
Upstairs on the ground floor, Katie and Pamela have transformed a clinical double reception room into a dark-green cocooning living room that optimises aesthetic and function. One end is dedicated to more formal entertaining, with deep handmade sofas, floor-to-ceiling heavy linen curtains and an oversized pendant lantern. Living room ideas include a striking wall of art that shows Michael and Sara's passion for music. Three picture lights make even more of a feature of the gallery wall.
At the opposite end of the reception room, a home office-meets-games room/library has turned trad on its head with bespoke bookcases and an antique Guéridon table teamed with a large abstract artwork, sourced from new online store Studio HÁM.
The modern and the classic sit side by side beautifully as every piece has a similar large-scale boldness.
Bedroom
Upstairs, the four bedrooms take on a calmer feel, with pared-back spaces that feature statement armoires, bespoke headboards and restful palettes. 'There is a definite change of pace from the more energising living areas below,' says Katie.
In the main bedroom, the pastel colours are grounded by the dark blue of the bedside table.
Daughter's bedroom
In the daughter's room, bedroom ideas include painting a vintage armoire in soft-hued Pink Ground by Farrow & Ball (opens in new tab), allowing it to take centre stage.
Bathroom
A delightful mix of patterns enliven the bathroom. Bathroom ideas include the introduction of bold artwork, such as the statement bird of paradise from Studio HÁM (opens in new tab).
Throughout, Katie and Pamela have played with pattern, scale and texture, layering inviting colours, fabrics and wallcoverings. Natural materials abound: checkerboard marble floor tiles from HÁM's collections, marble, granite and stone worksurfaces, sisal rugs and wide-planked floorboards. The addition of a few select antiques adds a time-worn patina.
The finished project is personal, punchy and fun – a true reflection of the owners' lifestyle and their obvious affinity with HÁM Interiors' style. 'We were lucky to have such a great connection with the owners. The house feels alive and there is a palpable energy here,' concludes Katie.
Interior design/ HÁM Interiors (opens in new tab)
Photography/ Alexander James
Text/ Ali Heath
Interiors have always been Vivienne's passion – from bold and bright to Scandi white. After studying at Leeds University, she worked at the Financial Times, before moving to Radio Times. She did an interior design course and then worked for Homes & Gardens, Country Living and House Beautiful. Vivienne's always enjoyed reader homes and loves to spot a house she knows is perfect for a magazine (she has even knocked on the doors of houses with curb appeal!), so she became a houses editor, commissioning reader homes, writing features and styling and art directing photo shoots. She worked on Country Homes & Interiors for 15 years, before returning to Homes & Gardens as houses editor four years ago.