A period home is a treasure trove of joyful color and finds from around the world
Behind the muted façade of Jeannie Fraise's Victorian house in San Francisco lies a distinctive and playful interior with an international feel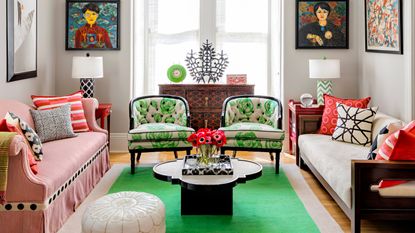 (Image credit: Vivian Johnson)
Sign up to the Homes & Gardens newsletter
Decor Ideas. Project Inspiration. Expert Advice. Delivered to your inbox.
Thank you for signing up to Homes & Gardens. You will receive a verification email shortly.
There was a problem. Please refresh the page and try again.
'Our home truly encapsulates my style as an interior designer and the personality, culture and treasures of my family and our travels,' says Jeannie Fraise. 'It's a cozy haven for us of joyful layered color and pattern.'
Home is a Victorian house built in 1884 in San Francisco, location of many of the world's best homes, and is where Jeannie, founder of Lotus Bleu, lives with her husband Christophe and their teenage children, Kai and Finn.
'We bought our home in 2000. It had been in the same family for 60 years and they hadn't updated during that time but had also not torn out any of the original architectural details, which we really appreciated,' says Jeannie. 'There wasn't even cabinetry or running water in the kitchen, just a small porch hanging off the back of the house with a sink, and the windows at the back didn't take advantage of the gorgeous view onto downtown San Francisco.'
Jeannie and Christophe did a renovation in 2000 that honored the home's past while renovating it from foundation to roof, including all new systems, a new kitchen, 2.5 bathrooms and a three-storey addition at the back with large windows to the city in order to make a larger primary bedroom, kitchen with family room, and lower-level rooms to be developed later.
'Four years ago, we decided to do a "round two", this time redecorating all the rooms with my favorite textiles and wall coverings, renovating the bathrooms, updating the kitchen, designing custom cabinetry throughout the house for better storage solutions, and finally properly completing the lower level including adding a fourth bathroom and office with guest bedroom and mudroom/activity room,' says Jeannie.
'We also added healthy home systems (water and air filtration systems plus solar panels and Tesla power batteries) and redid the entire backyard and deck to create great outdoor spaces. We included a pool with a swim jet for exercise and a workout room on the lower level.'
Key to the interior were clever storage solutions. 'We wanted good storage to make our typical San Francisco Victorian layout work better, healthy home systems, more spaces for the family to gather but also hang separately as our kids are now teens, and lots of color and playfulness, which is my signature style.'
And Jeannie was particularly keen to create a global feel in the house. 'My family is international, and I wanted to make sure our home celebrates that and showcases our favorite art, treasures, and textiles from our annual travels. Christophe and I met traveling around the world and we've continued with annual travels that have taken us to over 60 countries in Europe, Asia, Africa, the Middle East, and South America.' Artwork plays a major part in the interior as Jeannie's background is in art history. 'We have a special collection of Asian art by contemporary artists working in Vietnam, France and the United States.'
Kitchen
'I grew up with a red kitchen so painted ours red during the first renovation,' says Jeannie. 'In this iteration, we saved the kitchen cabinets, countertops and L-shaped layout from our first remodel but updated it with new doors on all the lower cabinets, new cabinet hardware, Heath tiles on the backsplash, and a new island that is really central to all the activity.'
Other kitchen ideas included wallpapering the backs of the upper glazed cabinets in a fun red and white grasscloth wallpaper from Thibaut. The stained-glass window hanging above the sink is an antique from Hong Kong.
Family room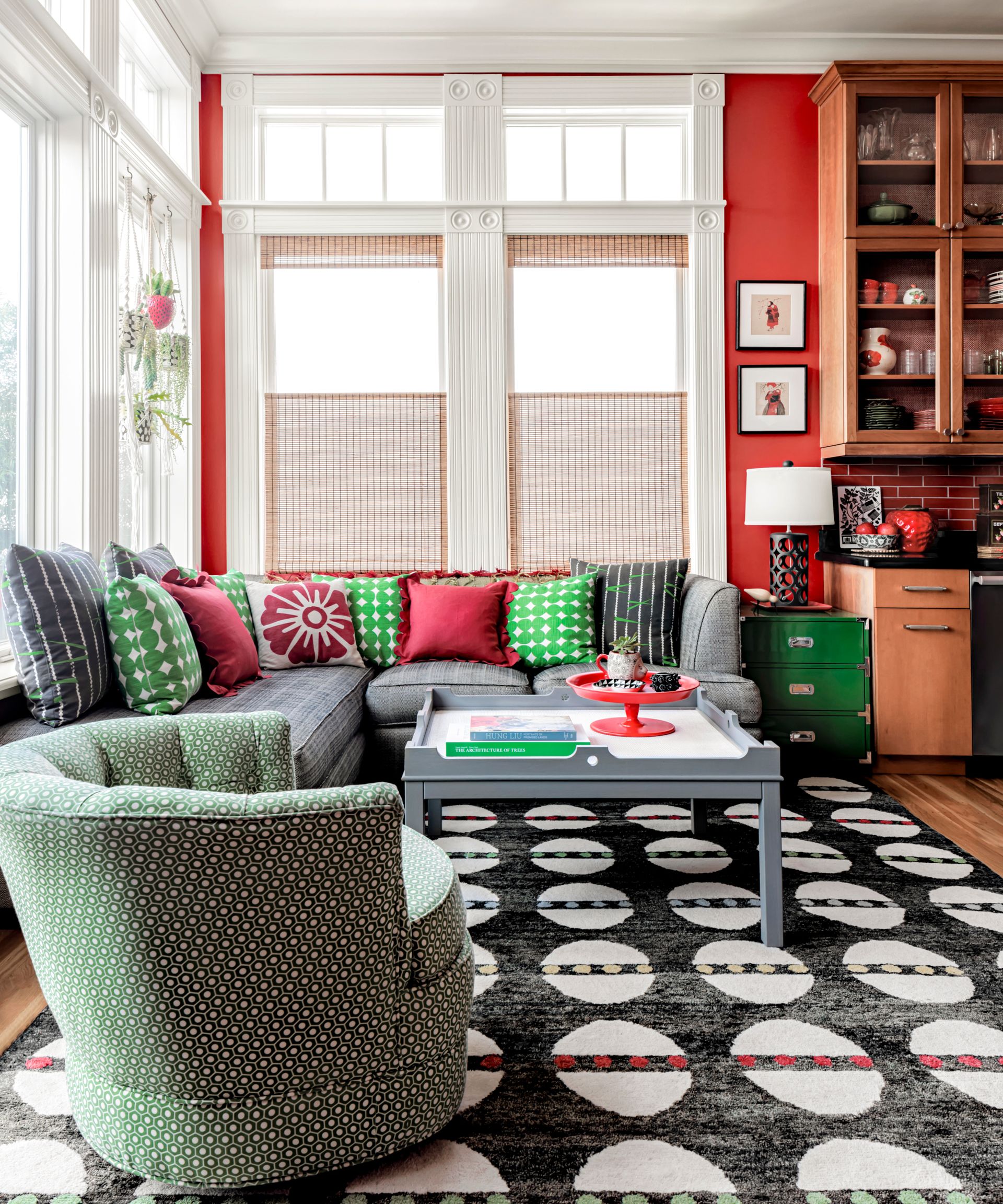 The family room side of the kitchen is the hub of the house and opens to a sunny deck. A black and white Christopher Farr rug designed by Kit Kemp with its red, green and yellow accents is the foundation of the space and ties together the color palette on this level.
The vintage barrel chair upholstered in a Studio Bon for Schumacher fabric adds a punch of green while pillows from South African designer Skinny Laminx, in addition to scallop ones from California's Carly Home, bring lively touches to the sofa.
Dining room
Dining room ideas included adding a built-in bench to a bay window to create a cozy dining space. 'We framed it with curtains and added red woven grass shades to the windows that face our neighbor's house,' says Jeannie. She teamed a glass dining table with playful pink painted chairs set against a red faux-bois wallpaper from Nobilis.
'The suzani pillows are from our Lotus Bleu market and they pop against a favorite black fabric from Christopher Farr Cloth,' says Jeannie.
Living room
'I always start my designs with the textiles and the red, hot pink and white custom pillows using Raoul Textiles fabrics in this room were key to the overall scheme,' says Jeannie. 'The vintage camelback sofa was in my family for decades and I had it reupholstered in a pink Designer's Guild fabric with metal button trim from Samuel & Sons.'
Black accented furnishings are teamed with pops of Kelly green, as well as red and hot pink, which set the stage for the rest of this level.
Living room ideas include creating a global feel, with an antique Tibetan cabinet in the bay window, vintage faux-bamboo chairs and a Moroccan-style pouf. 'Our art takes center stage with paintings by contemporary Vietnamese artists,' says Jeannie.
'I had a boutique for over 12 years with all my favorite textile and home décor brand, especially from my travels and to this day, still have an online market organized by region. The felt rug that grounds this room is from Muskhane. I discovered their beautiful shop in the Marais in Paris 20 years ago and carried their gorgeous French-designed modern rugs and accessories from Nepal,' says Jeannie.
Powder room
The powder room was the original pantry of the house and was transformed in the first renovation. The Chinoiserie wallpaper by French-inspired Pierre Deux textiles was put up 20 years ago and is in good condition still. 'It was sentimental to us, so it stayed, but we updated the vanity, mirror and sconce,' says Jeannie.
Main bedroom
Bedroom ideas include creating a wall of custom bookshelves and cabinetry with oak accents on one wall, which provide generous storage.
'The color palette of soft blues, turquoise and hot pink was informed by the painting above our bed by Vietnamese artist Nguyen Minh Thanh,' says Jeannie.
Main bathroom
Creating a global feel was one of Jeannie's bathroom ideas, and she took inspiration from Morocco, incorporating wooden cut-out frames influenced by doorway arches to frame the vanity unit and blue zellige tiles on the backsplashes.
Storage was key so custom cabinets and drawers were built. A laundry corner has three pull-out bins for darks, whites and delicates with hanging space above it for clothes to dry or be aired out to wear again.
The blue palette is continued from the primary bedroom with Galbraith & Paul wallpaper, lower cabinets painted blue to match the backsplash tiles and upper cabinets painted gray with grasscloth inserts. Carrara floor tiles create a timeless base.
Kai's room
Both children got updated teen bedrooms with full size beds and desks. 'They needed to each keep the orange Tibetan rugs in their rooms but could otherwise build new color schemes around them. Kai chose blue, so on the main headboard wall, we custom-colored a wallpaper designed by Kit Kemp for Christopher Farr Cloth in shades of blue, orange, and brown to go with his existing shades and carpet,' says Jeannie. Surrounding walls are wallpapered in a light blue grasscloth.
Finn's room
Finn chose lavender to go with the rug and existing pink bed. Jeannie created a feature wall with a patterned wallpaper from John Robshaw while the adjacent three walls are papered in a lavender grasscloth.
Deck
Jeannie created an outdoor family room on the deck with a cozy sofa upholstered in bright green flanked by club chairs and a cool marble-topped coffee table.
The deck railing was inspired by window and door lattice designs from a recent trip to Morocco. Landscape architect Sarah Warto of Boxleaf Design used red lacquered planters with tall shrubs and dangling vines to provide privacy,
Backyard
'The backyard is a tropical oasis for our family and friends,' says Jeannie. 'We gather to swim in the heated pool with swim jet and enjoy the sunshine during the day and stay cozy around the firepit in the evenings or on cooler afternoons.'
The installation of the pool was not entirely straightforward, however. 'It was hard for us to get a contractor willing to do one, especially as we live on a steep hill and an earthquake zone, so lots of special engineering was required.'
Exterior
Jeannie lives in a historical neighborhood with strict codes to protect the Victorian architecture. The house was painted gray with black accents and modern planters with lush greenery added. The color palette and the bright green front door welcome you and give a sneak peek of the interior scheme inside.
Interior design/ Lotus Bleu
Landscape architecture/ Boxleaf Design
Photography/ Vivian Johnson
Sign up to the Homes & Gardens newsletter
Decor Ideas. Project Inspiration. Expert Advice. Delivered to your inbox.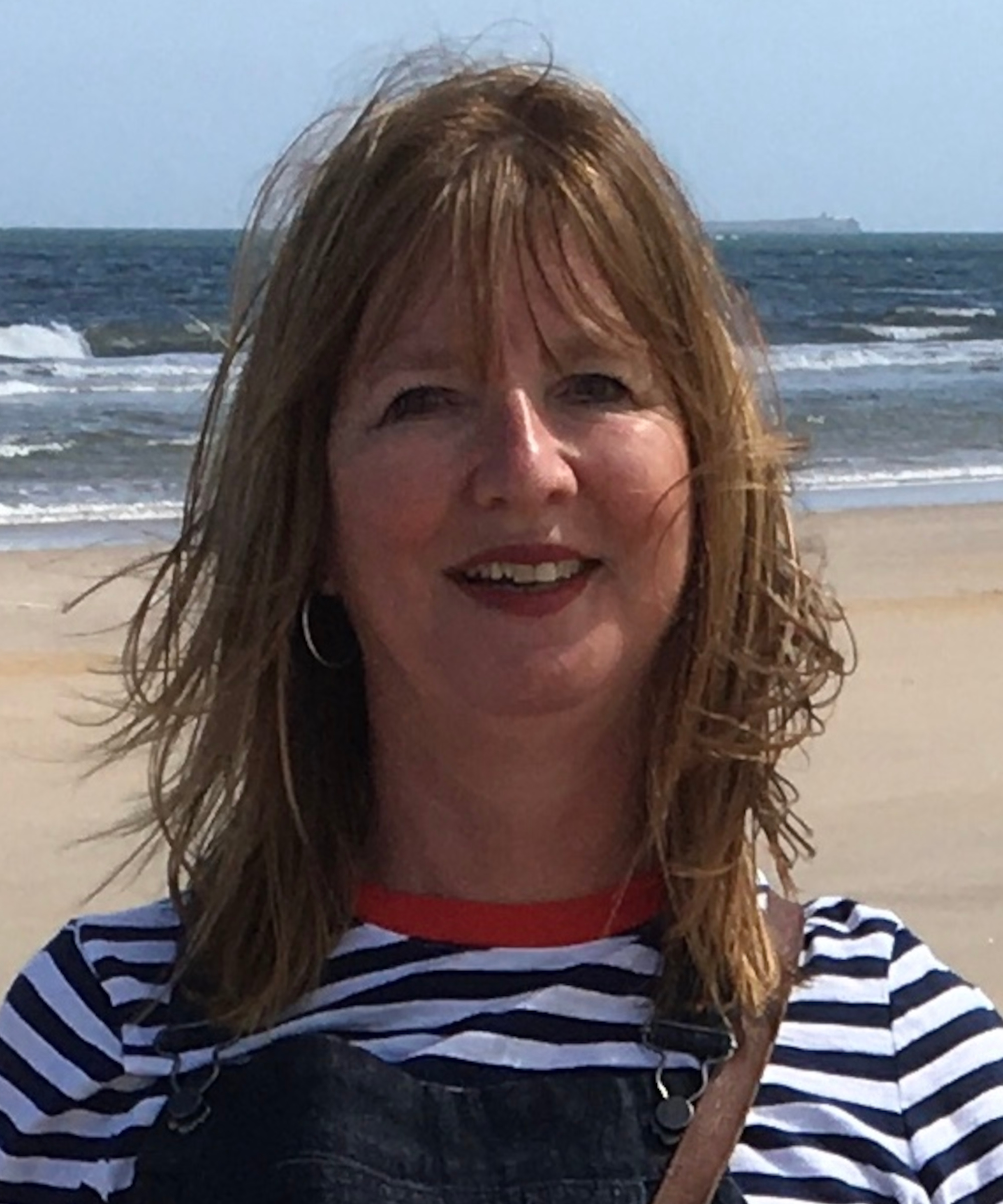 Interiors have always been Vivienne's passion – from bold and bright to Scandi white. After studying at Leeds University, she worked at the Financial Times, before moving to Radio Times. She did an interior design course and then worked for Homes & Gardens, Country Living and House Beautiful. Vivienne's always enjoyed reader homes and loves to spot a house she knows is perfect for a magazine (she has even knocked on the doors of houses with curb appeal!), so she became a houses editor, commissioning reader homes, writing features and styling and art directing photo shoots. She worked on Country Homes & Interiors for 15 years, before returning to Homes & Gardens as houses editor four years ago.