Small modern living room ideas – 9 ways to add a contemporary influence to a tiny space
Make a small modern living room feel up-to-date with the latest design trends and color palettes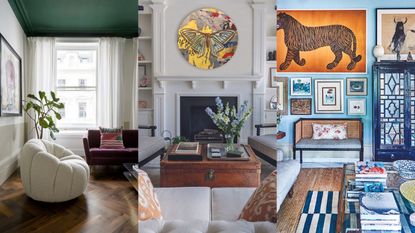 (Image credit: Future)
Small modern living room ideas and contemporary architecture can make a style statement while perfectly chiming with its environment. Success depends on using the right materials and opting for a sleek design that results in an effective blend of old and new within in a limited space.
Less is more, so be careful not to over design, especially in a small living room. Bear in mind too that very modern designs can sometimes feel stark and clinical, so balance this by introducing warmth with plenty of texture, wood and layered lighting to add interest.
The use of texture is vital when it comes to living room ideas, and no more so than in a modern living room.
Small modern living room ideas
Let our carefully-curated selection of small modern living room ideas inspire you to be brave with your color scheme, try a new layout or tackle the latest living room trends.
1. Create intimacy with furniture placement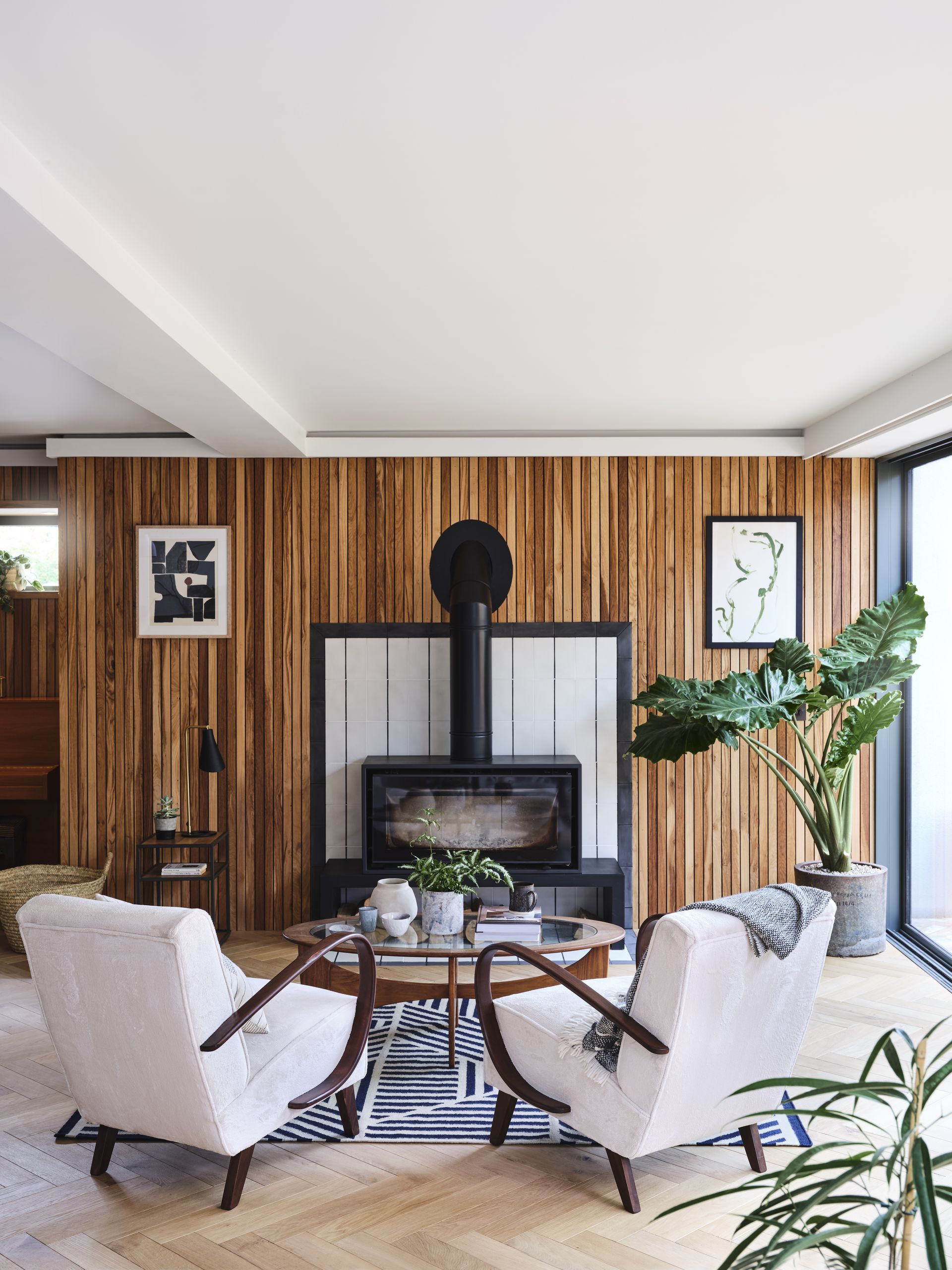 'With Scandinavian living room influences, Lee Thornley's cozy and small modern living room is made to feel intimate within the larger living space, with two 1850s cocktail chairs facing inwards towards a Stovax wood burner.
'Mylands' bright white Charterhouse™ No. 4 on the ceiling creates a sense of height and openness, complementing Bert & May's Grid Line tiles from the Modernist collection with a border of Old Iron herringbone behind the wood burner, and contrasts with the wooden floor and wall paneling to create a layered and welcoming space,' says Ruth Webber, creative director at Bert & May.
2. Go monochromatic with a hint of blonde wood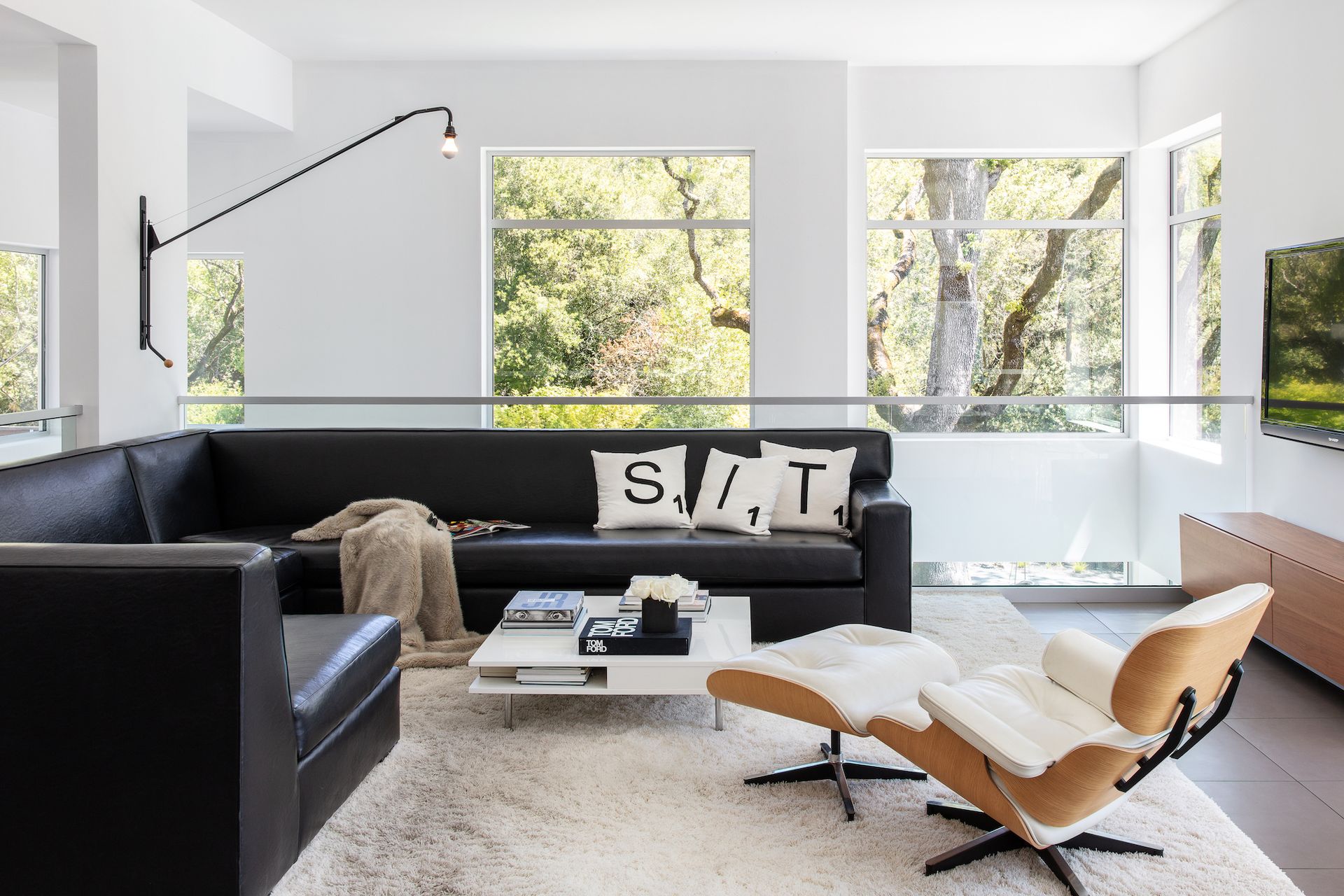 'Located in Orinda Hills, we designed this modern family room for a young family of five who wanted to invite their friends and family to sit and stay for awhile while not taking themselves or their home too seriously,' says Kriste Michelini, owner and founder of Kriste Michelini Interiors.
3. Create a low profile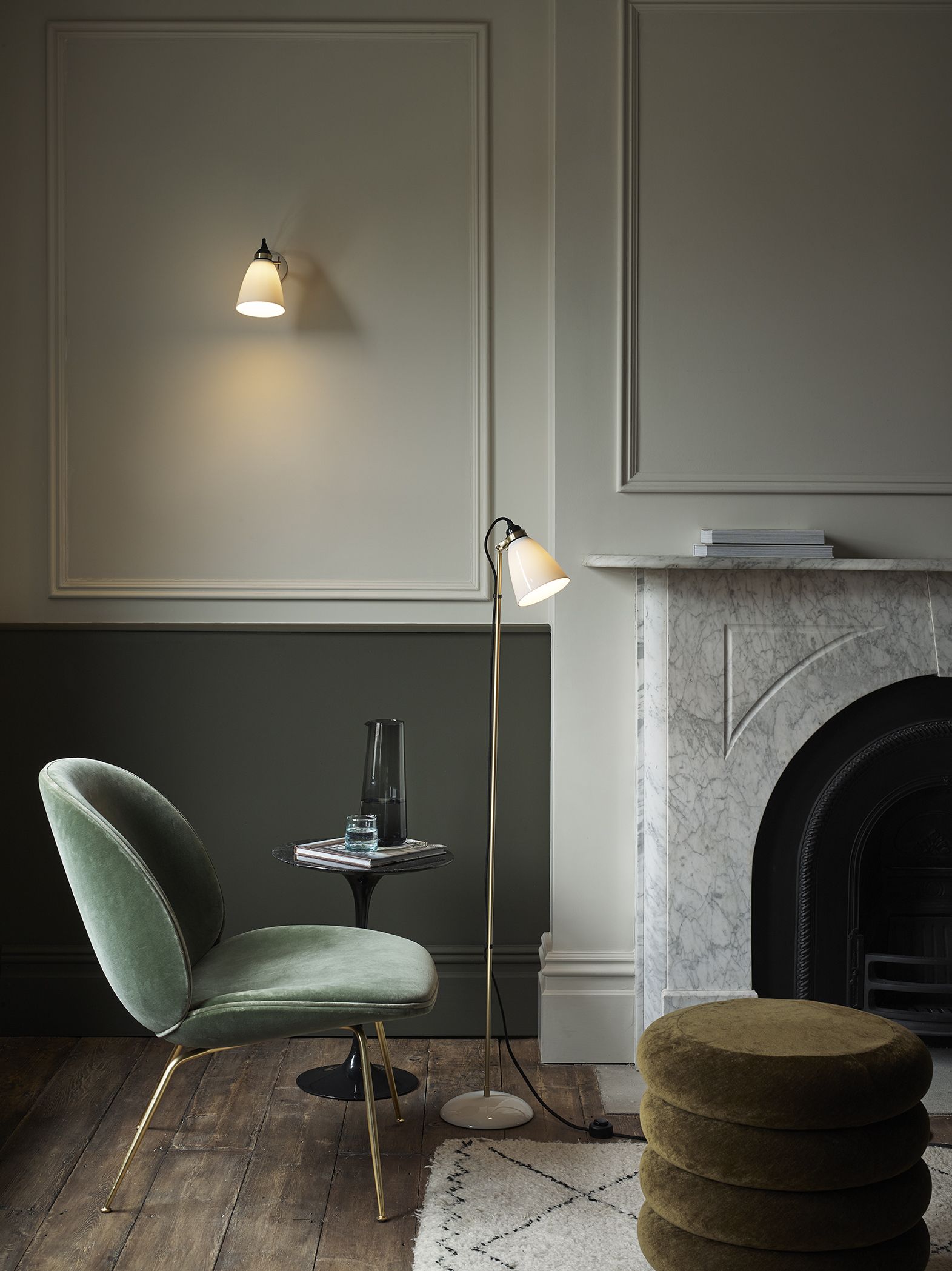 'Making a small modern living room work is about choosing the right key pieces – and paint application,' says Melanie Griffiths, editor, Period Living 'A dark color below the chair rail will focus the eye away from the size of the room. Match your lighting styles – the wall light and floor lamp are from the same collection in this contemporary living room – and keep shades small. Choose modern seating and side table too, slim legs will always work better than chunky.'
4. Pick furniture with slim legs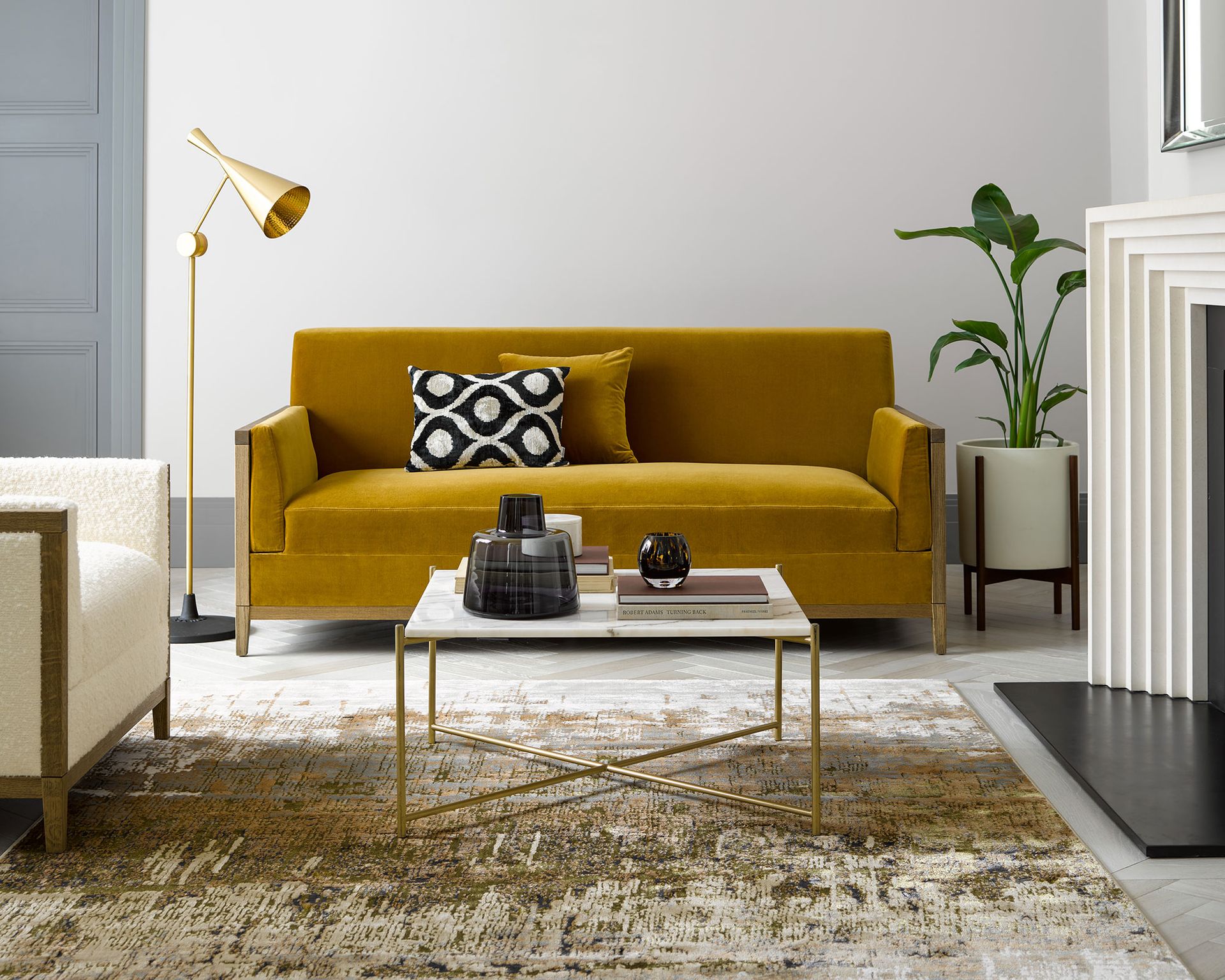 If you are short for space in a small modern living room, adding some height to your key pieces of furniture will help create an airy, open feel to help enlarge the room.
'There is something about being able to see more floor which creates the feel of spaciousness especially when you aren't spoiled for it,' says Patricia Gibbons, design team at Sofa.com.
5. Opt for a pared-back look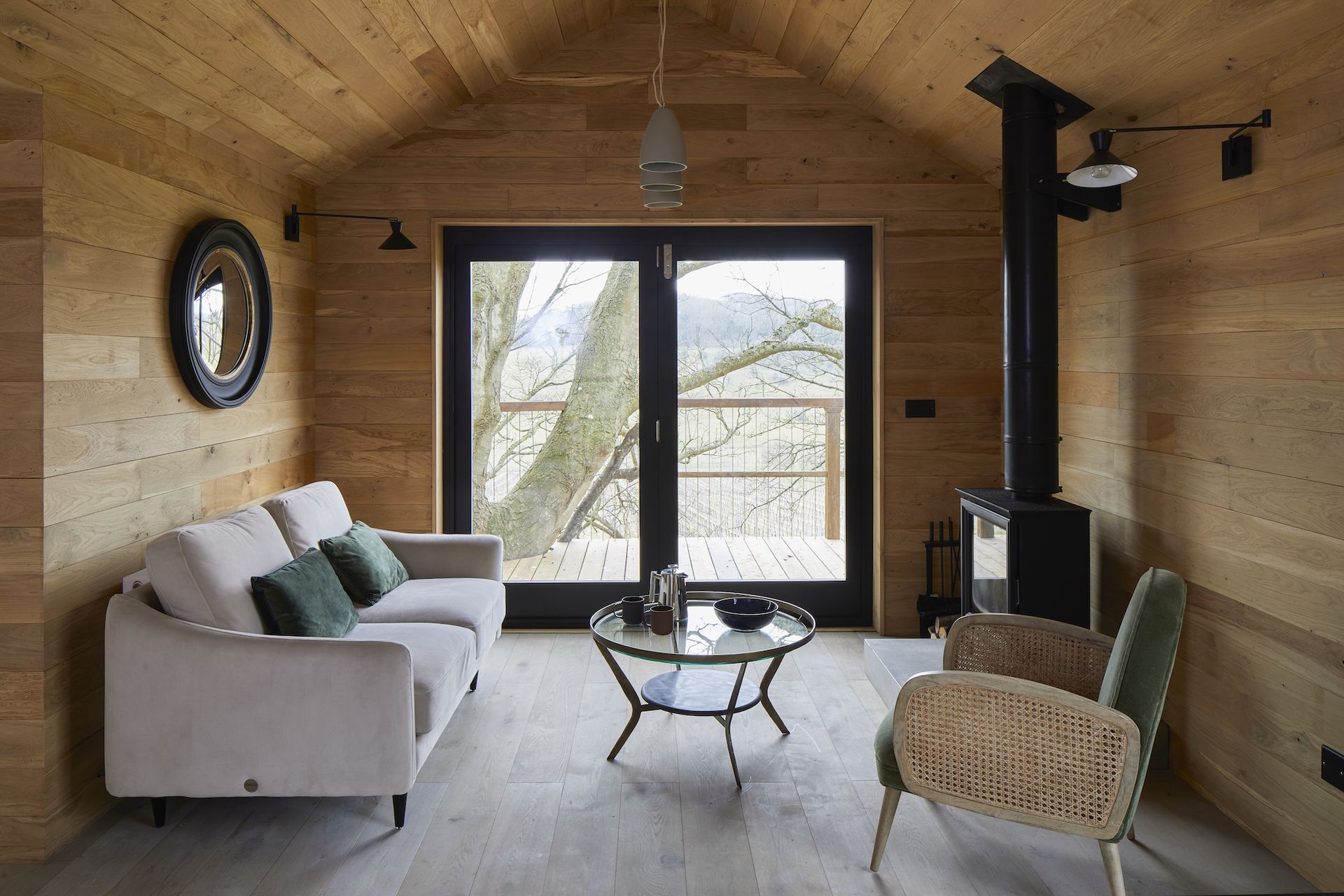 'When working with smaller modern living rooms, paring back the furnishing elements to the essentials will save on space,' says Alex Main, director of The Main Company. 'This will also draw attention to the materials used – opting for reclaimed wood injects warmth and has an organic textural feel, adding interest to a smaller space.'
6. Fit a sectional into a small space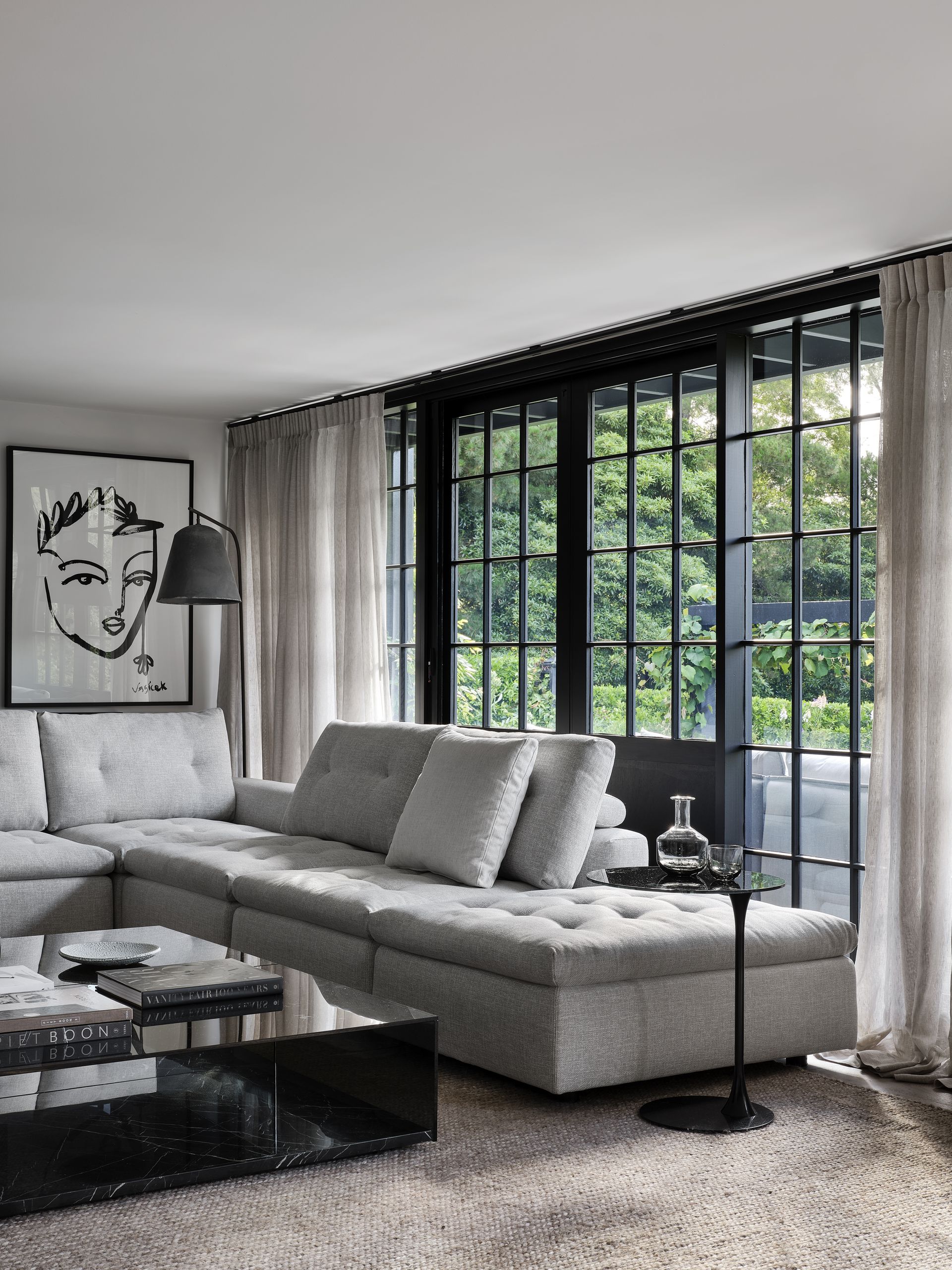 The key in a small modern living room is to ensure your living room furniture is suited to the space available. Nothing makes a room look smaller than filling it with undersized furniture.
In a modern living room, don't feel that your couch needs to sit against the wall,' say KING Living Design Studio. 'Pulling it off the wall will create the illusion of space and make the room look bigger. Consider a couch with slimmer profile arms to make the most of the living room seating. Another way to maximize seating is to choose a sectional with a chaise element that reconfigures into different arrangements. Adding a chaise allows you to have options for lounging and extra seating for entertaining.'
7. Keep your room free from clutter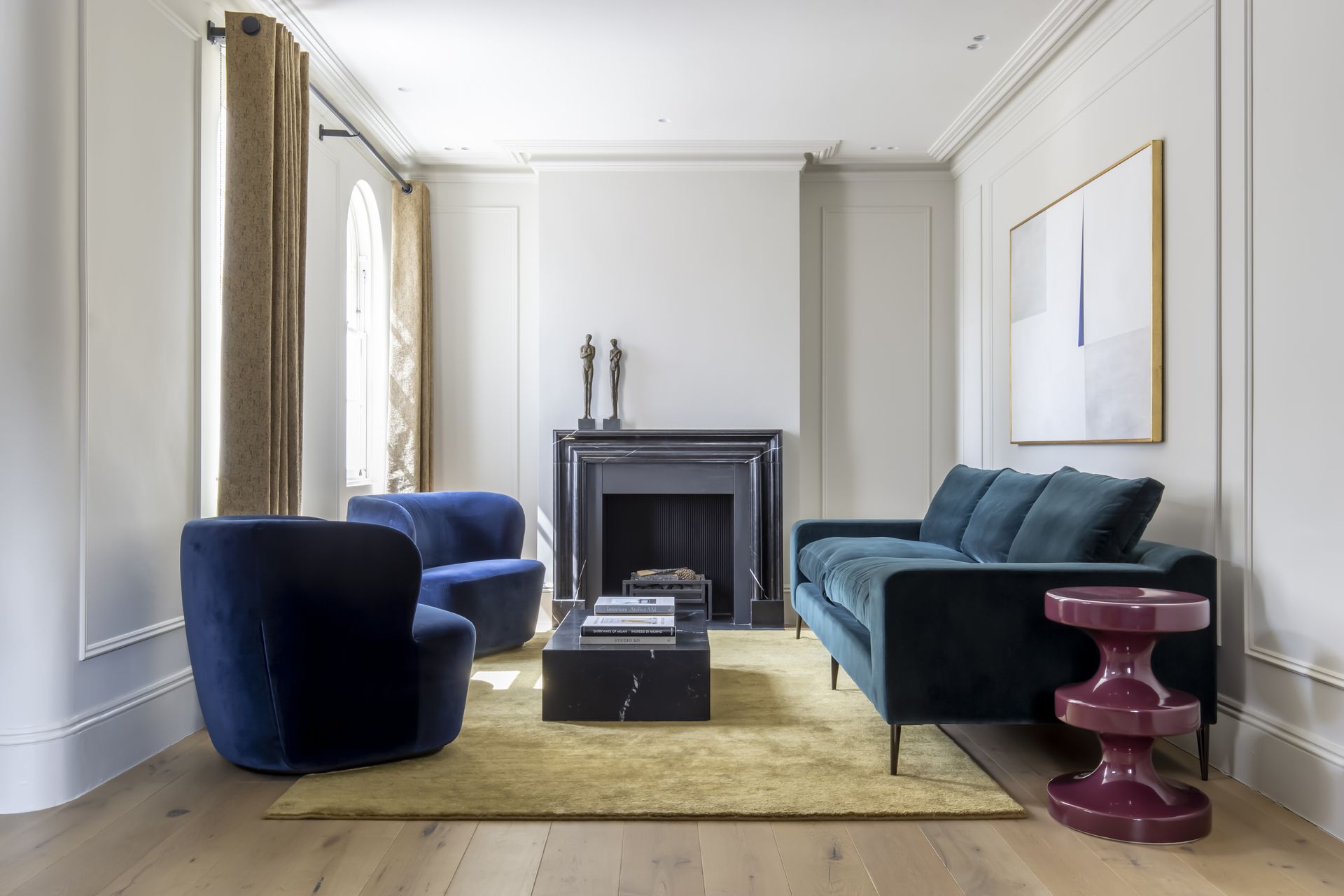 'If living space is limited, consider paring back your decoration with a simple configuration of furniture and keep accessories and clutter to a minimum,' says Tom Rutt, director at TR Studio. 'This of course doesn't mean a small modern living room has to lack personality. Choosing sleek furniture pieces in bold tones and rich textures can add lots of character without overwhelming a small compact room.'
8. Be maximalist but measured with accessories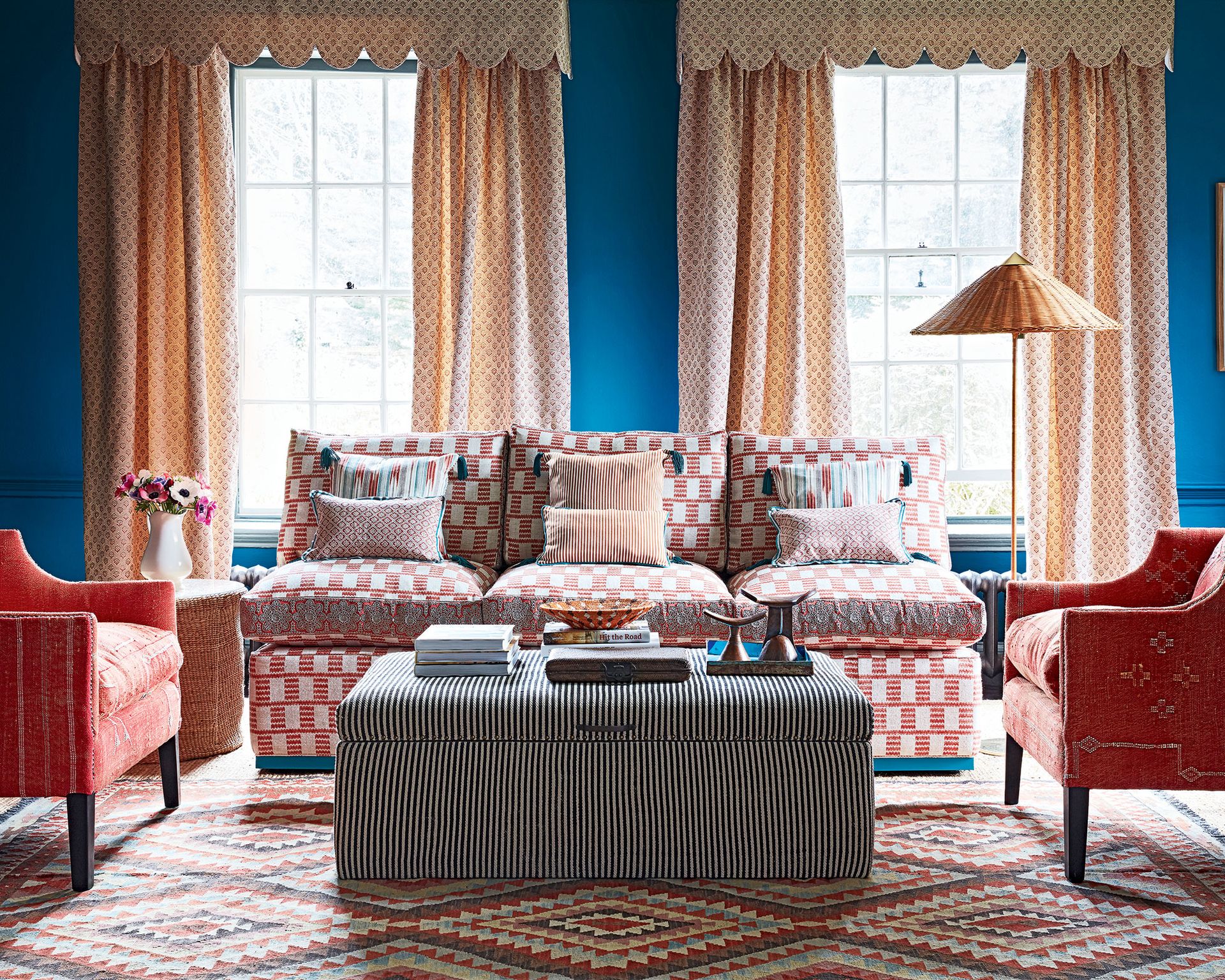 'Bold and beautiful, this small modern living room has interior design tips that will work in a smaller space,' says Andrea Childs, editor, Country Homes & Interiors. 'Don't over clutter with too much furniture – a couch and two armchairs are enough for most families, and choose a coffee table with hidden small living room storage. A floor lamp will use minimal space but give it a dramatic shade for impact and choose one side table for flowers or a table lamp.'
9. Pair low-slung furniture with bold design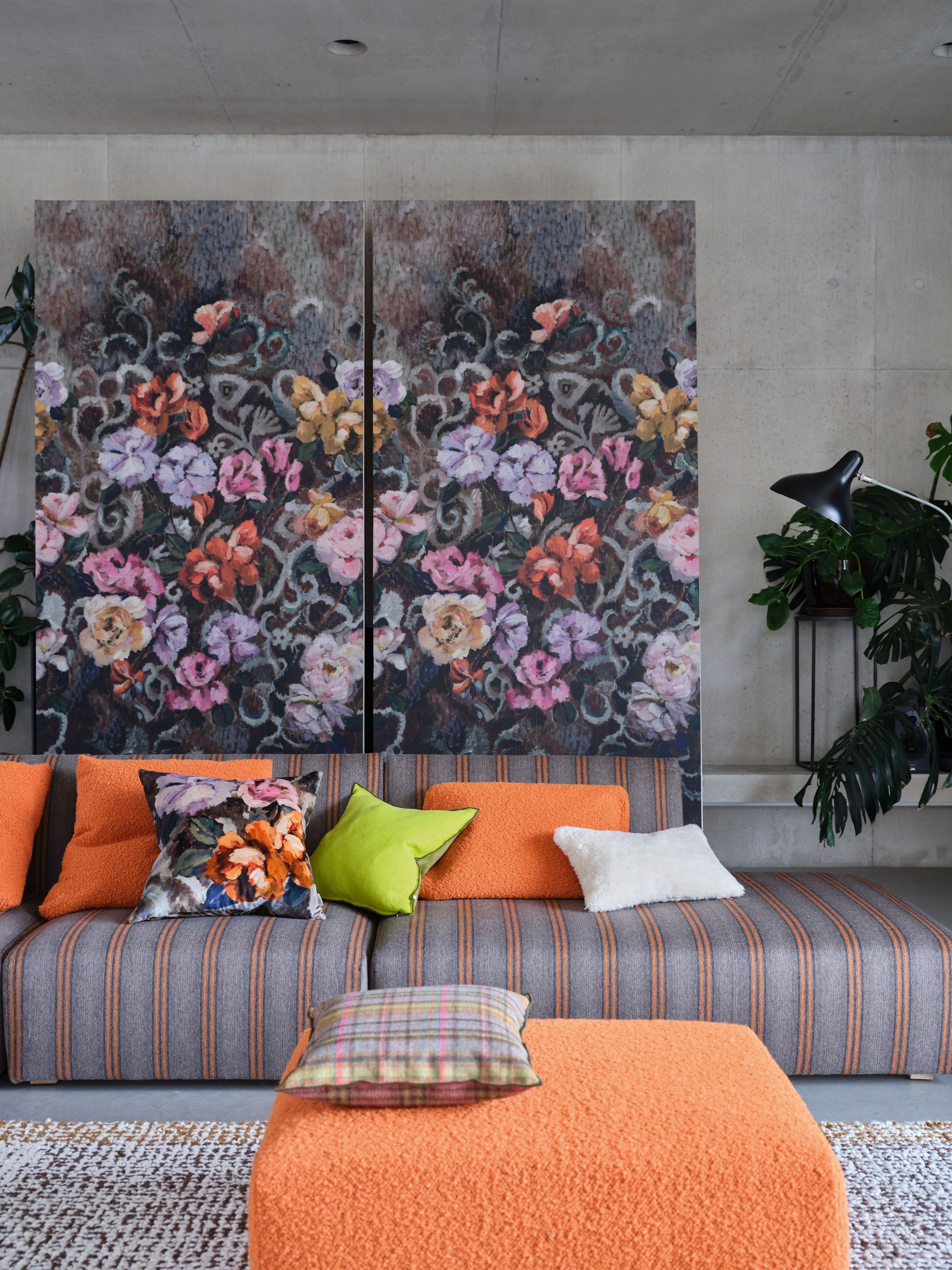 'Using low-slung furniture is a great way to create the illusion of space in a small modern living room,' says Jennifer Ebert, digital editor, Homes & Gardens. 'Choose a footstool that's the same height as the couch for cohesion and then go bold and bright with a stylized floral wallpaper – not only will it add a fabulous statement but it will keep the focus off the compact space.'
How do you make a small living room modern?
If you want to make a small living room look modern, first think about the color palette. Color schemes are similarly muted, with natural shades, such as white, cream, beige or grey – and black for the bold – the most likely color choices for walls, floors and artwork in particular. Small modern living rooms depend on a good supply of natural daylight, streamlined furnishings and fuss-free upholstery, too.
Sign up to the Homes & Gardens newsletter
Decor Ideas. Project Inspiration. Expert Advice. Delivered to your inbox.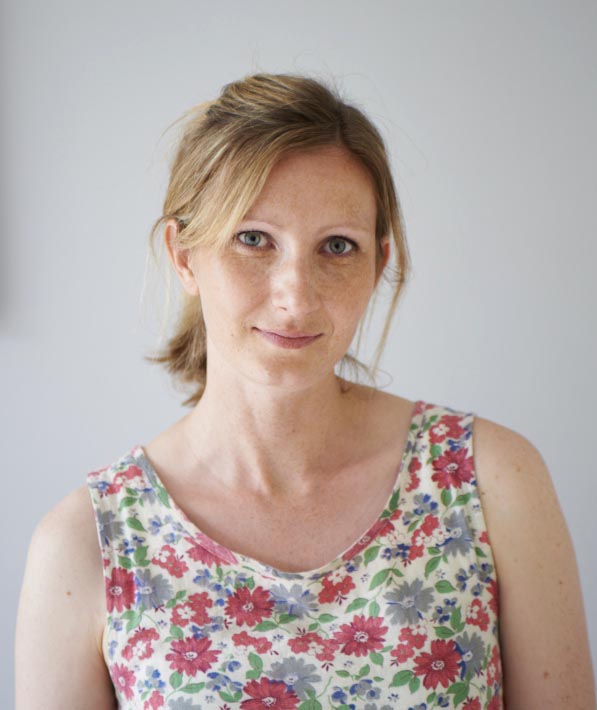 Sophie has been an interior stylist and journalist for over 20 years and has worked for many of the main interior magazines during that time, both in-house and as a freelancer. On the side, as well as being the News Editor for indie magazine, 91, she trained to be a florist in 2019 and launched The Prettiest Posy where she curates beautiful flowers for modern weddings and events. For H&G, she writes features about interior design – and is known for having an eye for a beautiful room.