3 ways to decorate your home with an eco-conscious approach
These are the easy ways to shop with confidence for eco-friendly interiors buys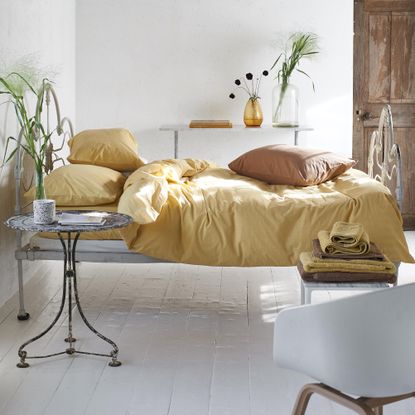 (Image credit: Designers Guild)
It is fair to say that as well as finding beautiful things to enhance our homes, making sustainable and eco-responsible choices has become of primary importance. I am no exception and am always trying to find ways to create in a more responsible way.
Fortunately, the interiors industry is making small but meaningful and determined steps to offer us all the ability to make the right choices when it comes to caring for our planet.
Interior Designer
Interior Designer
Tricia Guild
Tricia Guild OBE is the creative force of Designers Guild and has been at the forefront of interior design since starting the company in the early '70s. Internationally renowned for her passion for color, pattern and texture as well as her signature lifestyle brand and books, Tricia Guild has been setting the pace with her dynamic and innovative collections, instantly recognisable for her unique and contemporary style.
1. Eco-friendly paints
High quality, eco-friendly paints are a good place to start. Some of my favorite paint colors from Designers Guild Perfectly Plain Paint range (opens in new tab), including Emerald, TG blue and Chalk, are happily low VOC, washable and water based with absolutely no nasties, so you can paint away with a clear conscience.
2. Natural fibers
Natural fibers like paper, linen, cotton and wool are also good choices when it comes to decorating and especially do look for the Oeko Tex (opens in new tab) and Better Cotton (opens in new tab) symbols, such as those on our Cassia Cord fabrics (opens in new tab) (above) – both initiatives that work hard to ensure a responsible approach. Watkin (opens in new tab) (below) and Lisbon (opens in new tab) from Designers Guild are great collections to decorate with if you want to make an eco-friendly choice. They are as practical and stylish as they are useable and are sustainably produced too. I'm proud of their eco credentials.
When it comes to accessorizing, look for those simple fibers and textures again to add style at home. Our organic pure cotton bedlinen (opens in new tab) and coordinating Loweswater (opens in new tab) towels (below) are both Oeko Tex-approved and super luxurious whilst being sustainably produced. The bedlinen in six mouthwatering shades comes in fabric bags without plastic packaging which is helpful too.
3. Recyclable products and packaging
There are lots of accessories that one can use with confidence – some of my favorite home fragrance – Green Fig (opens in new tab) and Waterleaf all come in recyclable packaging and are made with soya wax, come in glass containers that can be repurposed too.
Recycling plastic bottles can create some wonderful new products that combine good looks with practicality too. The Saliya rug (opens in new tab) and the Cortez rug are firm favorites in our collection.