Christian Siriano unveils his first furniture collection with 1stDibs
The CFDA designer releases his inaugural collection, and it's a refreshing take on mid century profiles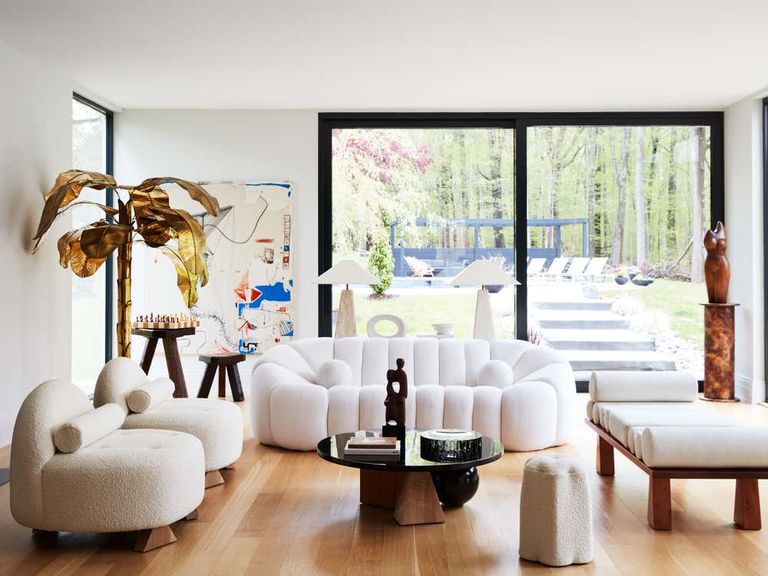 (Image credit: Tim Lenz)
It's official: with over a decade of fashion experience, CFDA designer Christian Siriano has now added interior designer to his impressive list of credits with the debut of his brand-new furniture collection – a partnership with 1stDibs. 
Hot off the heels of his new design firm Siriano Interiors, which launched last January, this collection is an extension of his original goal: to create uniquely bold spaces that are modern, playful, warm, and luxurious. 
'Interior design has always been a source of inspiration for many of my collections over the years,' said Siriano.
'Because of my love for fabrics and textiles, this new endeavor was something I realized I was really passionate about and wanted to take one step further. I want to not only dress people in Siriano, but I also want them to live in a beautiful Siriano-designed home,' he concludes.
So, for those looking to get their hands on a Siriano-designed room, the wait is over. Filled with stools, benches, and dining room chairs (to name a few), the entire furniture collection starts at $795 and is shoppable now.
Oh, and to help narrow down the options, we've gone ahead and rounded up our top TK items from the Christian Siriano x 1st Dibs collection below.
1. Begin by selecting this unique table
Lincoln Coffee Table, Low Coffee Table by Christian Siriano for $3,600, at 1stDibs
Every room needs a focal point, and this made-to-order wood coffee table designed by Christian Siriano is an exceptional suggestion. Designed in black lacquered maple, this standout statement maker is lust-worthy as ever and comes in at #1 on our must-have list. 
2. Elevate spaces with this chic chair
Lilian Club Chair, Ivory Bouclé Lounge Chair by Christian Siriano for $4,200, at 1stDibs
Elevate any space with the help of this midcentury chair. The bouclé fabric, specifically designed by Christian Siriano himself and comes available in a chic ivory shade that's impeccable as ever. 
3. Swap out sectionals for this sensational settee
Lola Settee, Bouclé & Black Lacquered Wood Settee by Christian Siriano for $3,995 at 1stDibs
Whether you're looking to replace your outdated bench or do not have space for a sectional, opt for this settee that's equally as delightful. Featuring a gray bouclé base and black lacquered maple, it's timeless and trendy, making it well worth the investment. 
4. Furnish rooms with this stylish stool
Lily Stool, Taupe Bouclé Stool by Christian Siriano for $795, at 1stDibs. 
This beautiful bouclé stool comes available in a slew of sensational shades — including navy, gray, and ivory — and is the delicate décor that elevates sections in seconds. 
5. Top of dining tables with this divine detail
Lana Dining Chair, Ivory Bouclé & Wood Chair by Christian Siriano for $1,750 at 1stDibs
Last but not least, top off dining room tables with this divine detail that will make all the difference: this classic chair. Crafted from red oak, this perfect piece features an ivory boucle seat and back cushion that is equally comfortable as it is chic. View Deal
Brittany Romano joins Future as their U.S. Shopping E-commerce Editor, residing on the Upper East Side in New York City. Originally hailing from Connecticut and a graduate of New England College, Brittany started her career as a fashion market assistant at Marie Claire, later joining AMI, where she designed a highly profitable commerce vertical. Noted for her award-winning content, she's covered everything from celebrity beauty hacks to the most lavish home decor; Brittany has maintained her penchant for the finer things in life. 
If a genie granted Brittany one wish, it would be for Kelly Wearstler to bring her vision to life and transform her living space, but until then? You'll find Brittany continuously evolving her chilled-out sophisticated style, shifting her attention to eclectic pieces (with a hint of retro), grounded by a rich understanding of history, focused on functionality, luxury, and quirkiness.
Find her on Instagram @Rammmyyy