Colorful console table trend – 2022 is all about nostalgic tones for your hallway
The colorful console table trend is a great way to brighten your entryway with a splash of sophisticated color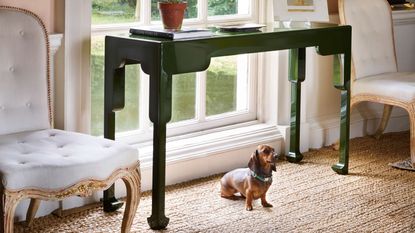 (Image credit: The Lacquer Company)
Generally overlooked, hallways are – quite literally – the doorway to your home. Usually, guests will experience the hallway as they enter and exit your property, so it's worth considering the lasting impression that this, often forgotten, space will have on them. That is where the colorful console table trend comes into play.
Typically narrow, a hallway can seem like difficult room to design. Not only due to space limitations but the need for practical elements, such as necessary storage. That said, these space and styling restrictions can be beneficial when thinking about hallway decor ideas, as it helps to reduce endless choices, therefore making decision time quicker and more meticulous.
When thinking of ideas for narrow hallways, it's worth considering your choice of furniture. If you're opting for a console table, you may wish to choose a design with a slim profile that allows for more floor space. Selecting console table styles with extra storage is another great way to help open up a space.
Like a downstairs toilet, the hallway is a great opportunity to be daring with design. Choosing a bold wallpaper or experimenting with your hallway color ideas can add personality to a space, while creating an optical illusion of the overall size of the room. If decorating with color is too much of a commitment, adding a colorful console table could be the perfect way to introduce some vibrancy to your home – ready to welcome your guests.
Colorful console table trend – how to get the look
To find out more on how to choose the perfect colorful pick – and how to style a console table – we spoke with the experts behind some of the most joyful designs around.
1. Gain style points by opting for decorative details
'Our customers have always loved our subtle colors but lately we have introduced more vibrant shades, and I have to say, people really like them.' says Matteo Scazzola, Furniture Manager, Chelsea Textiles.
Last year, the firm introduced the Bobbin Collection to their furniture range, offered to its customers in various color options. Finishes range from zingy yellows, to the more subtle shades of grey as shown here on the Bobbin console, $1,918.94/£1,450, by Turner Pocock for Chelsea Textiles. 'The colors are now used across our Mid-Century Collection, too', explains Matteo, highlighting the popularity of this colorful range.
When asked about what we can expect from Chelsea Textiles in 2022, Matteo adds 'We will introduce darker colors. Do not be afraid to try and don't conform to traditional schemes – be bold, if that is what you have in mind.'
2. Consider shape and how it will work in the space
Typically, the console table is the only piece of large furniture within a hallway space, so it's worth considering it's impact. We've already highlighted the importance of color consideration - shape can be just as important, as Mirka Gröhn, Designer & Fo-Founder, &New, points out 'We love playing with colors and color combinations for rooms, just as much as we love bold shapes.'
'Color is central to &New designs. At the moment I am really enjoying orangey red, yellowy white and bright green. Jo [Wilton, Co-Founder, &New] and I talk about color a lot and draw inspiration from architecture and nature. Inside your own home color can be scary. Sometimes it can feel overwhelming to choose "the right color" and people end up buying neutrals,' adds Mirka.
When introducing bold hues to a space, Mirka advises, 'start with a piece of furniture in a color that you love and then add more colorful pieces in one by one to test if they work together.' The firm's Giraffe console table, $1,588.09/£1,200, by Jo Wilton & Mirka Gröhn for &New, is a great example of how adding color and shape to a small space can make a real difference to the overall impact.
3. Create a considered space with tonal shades
This fall, we saw the launch of the Tanjina console table, $2,183.62/£1,650, by William Yeoward, a Moroccan-inspired piece that is offered in various vibrant shades. 'The shape of our Tanjina console was inspired by a piece that William had in his house in Gloucestershire,' explains Chris Grafham, CEO, William Yeoward.
'In terms of colors, we have always used a broad palette in our collections. We recently launched our own Paint collection with 114 shades. For our Tanjina consoles, we chose favorite colors from our Paint collection from across the spectrum to ensure our customers would find what they need,' adds Chris.
When discussing the firms customer trends, Chris shares, 'We have definitely seen more demand for color over the last few years.' adding, 'I think that we will see a lot more green being used generally. It is such a great color and there are so many shades. It feels really of the moment particularly paired with greys.'
'You don't have to turn your home into an Aladdin's cave but equally you do not need everything to be tonally the same.' advises Chris. 'For some, it is all about color and maximalism, while for others, color is used as an accent in what may be a more neutrally colored environment.'
4. Be confident with color and pattern
As a brand, Julian Chichester has always been bold with the color and material finishes of its designs. Often creating statement pieces that push boundaries. 'More is more, never be afraid to clash patterns and mix colors', states Jodie Hopkins, sales marketing director, Julian Chichester.
'Bringing color to furniture is most certainly a popular choice with our clients, having a line like our Colorist Collection and offering a bespoke/custom service, allows our clients to have the freedom to be bold yet retain the design.' explains Jodie.
The strong clean lines of the Triangle console, $2,681.22/£2,026, by Julian Chichester, mixes traditional craftsmanship with a vibrant and textured teal faux shagreen tabletop. 'We are most definitely seeing a surge in confidence with color from clients, in particular with custom pieces,' says Jodie.
When asking about upcoming trends, Jodie adds, 'We're still seeing lots of muddy greens and calming blues coming through on our lacquer pieces alongside more of those striking bold patterns the fabrics chosen for our upholstery goods. Up and coming we're seeing rich spice colors, rusty oranges, reds and terracotta earthy tones.'
5. Get interior inspiration from nature
'In line with this year's blossoming trend of more daring color choices in the home, 2022 will capture the color explosion of 2021 but with the softening of bright hues and nostalgic tones,' says Solenne de la Fouchardiere, Founder and Designer, Ochre.
The firms Wisp console table, $4,351.36/£3,288, Ochre, takes inspiration from fall ingredients 'such as quince, truffle and blackcurrant' describes Solenne. This supple leather table, a material synonymous with the brand, is offered in various color options, to help transform a simple entry table into a statement feature. 'An easy and elegant way to add both warmth and interest to a hallway entrance,' adds Solene.
6. Think about materials as well as finishes
When it comes to vibrant furniture, lacquer is most certainly one of the best finishes to choose due to it's light-bouncing properties that reflect color with ease – even in darker spaces and corners.
When discussing the Gazebo console table, $3771.71/£2,850, by Veere Grenney for The Lacquer Company, James Lowther, the firms founder, shares 'We wanted to offer our clients both bright punches of color as well as darker options. We have noticed an increase in demand for more daring colors especially as lacquer lends itself very well to brighter shades.'
He adds, 'We believe the interest in bright lacquer is a trend that is here to stay for some time to come and we suggest using our bright colored pieces as an accent when styling rooms.'
Sign up to the Homes & Gardens newsletter
Decor Ideas. Project Inspiration. Expert Advice. Delivered to your inbox.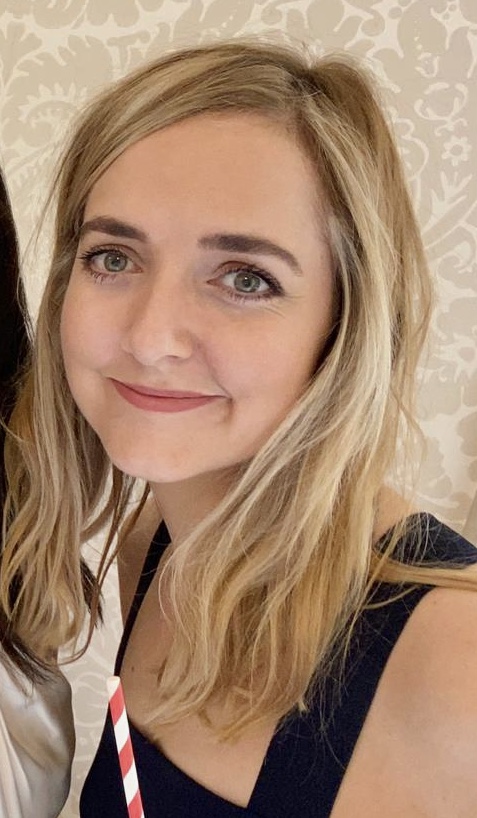 Jo Bailey has been Deputy Editor of Homes & Gardens since late 2021, overseeing all features for the print edition. Previously, she worked as the News & Shopping Editor across H&G and Livingetc - one of Future Plc's sister brands - this is where she learnt to discover the best news stories, latest trends and honed her understanding of Homes and Gardens' over 100-year-old brand.
Before joining Future Plc, she worked as an interior stylist for over ten years, specialising in commercial photo shoots for luxury clients such as; Design Centre Chelsea Harbour, The Romo Group, Christopher Farr Cloth and Heal's. She has worked closely with Homes & Gardens and Livingetc for over a decade, having styled and produced editorial shoots and events for both titles over the years.