Fragrance-zoning – it's the new stress-relieving technique you need to introduce into your home
This sweet-scented self-care regime will reduce your anxiety using aroma, and you're going to wish you had known about it sooner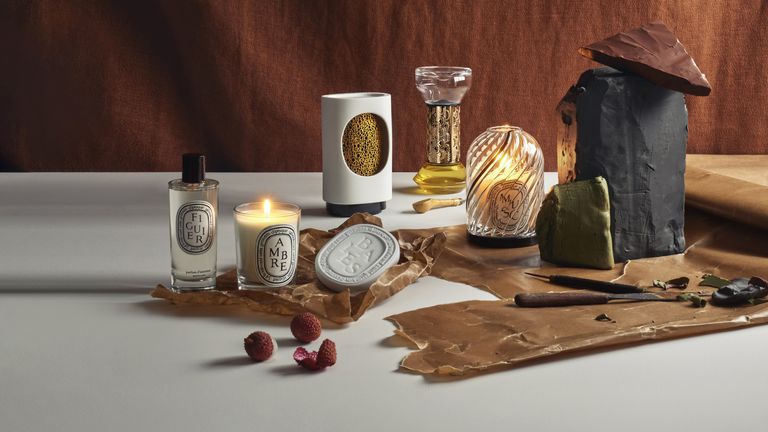 (Image credit: Diptyque)
By Megan Slack
If we weren't already spending all our time inside during previous winters, we certainly are this year. The cooler temperatures are not the only factor keeping us inside this February, as current restrictions encourage us to work, rest, and play, all in the same four walls.
While there are some perks to combining your home office with your sleeping space and home bar (post-Zoom margaritas, anyone?), this set-up makes it increasingly difficult to differentiate between professional and personal life. Meaning, therefore, it is hard to switch off, or on, in many cases.
There is, however, a way to create a new structure in your home, that will allow you to set up boundaries between the different areas in your life – through the power of aroma.
See: Home office ideas – wonderful ways to decorate that are smart, practical and stylish
Also known as 'scent-scaping', fragrance-zoning is the trend that will entirely transform your domestic routine.
The method allows you to separate your day by dividing your home up with various scents. This encourages you to associate one room with work and another with rest or play, meaning you are more productive when working from home, and calm when it comes to sleep.
'Currently, our homes may have taken on plenty of additional purposes, functioning as offices, classrooms, work out spaces, all while remaining the same size as before. This all comes at a time when we need our homes to be a sanctuary of calm more than ever,' emphasizes Emma South, Fragrance & Lifestyle Expert at Jo Malone London.
She continues, 'scent has such a close relationship to memory that it influences our mood and perception in a profound yet often unconscious way.
The art of home scenting is about channeling this to add to the spatial dimensions of a property, creating and delineating new spaces within open-plan kitchen areas, and also helping to structure the day, creating scented signals that direct us from work to leisure, day to night.'
Want to try fragrance-zoning but are not sure where to begin? We've rounded up suggestions from the most prominent scent companies around the world to set your fragrance-zone in motion:
'The key to successfully fragrance-zoning your home depends on finding a scent that accompanies your plan for that time of the day. For example, you may look to an energizing, fresh fragrance to revitalize your senses to work alongside your coffee as you begin work in the morning, while a muskier scent will help you detox and fall asleep when night falls,' says Mark Winstanley, Chief Creative Officer at The White Company.
'Scent is so personal and such a strong trigger for mood and memory as well as a tool you can use to relax or to revive. Ginger and citrus notes are invigorating, and the choice of many as a work from home scent.'
'At the same time, soft lavender and juniper are associated with winding down whether this is in your bathroom or bedroom,' he explains.
'Diffusers, whether traditional or electronic, deliver a constant fragrance level that is perfect for the day. Augment your scent to encourage relaxation – candles are an ideal complement to bath soaks and salt in a bathroom, and the gentle flickering of a flame is quite hypotonic.
'To help you sleep, a soothing spritz of lavender or eucalyptus on your pillow or your robe as you step out of the bath. Morning likely calls for something zestier and rejuvenating.'
Emma, the Fragrance & Lifestyle Expert at Jo Malone, also offered her suggestions for the fragrances that, she believes, will create the perfect fragrance-zoned home.
'If you seek energy and inspiration, I would recommend invigorating scents, such as the effervescent character of our Jo Malone London Grapefruit Home Candle, which will leave your home filled with a distinctively zesty aroma. With its abundance of sun-kissed grapefruits, complimented by rosemary and peppermint, finished with a twist of earthy moss, this uplifting and refreshing candle is perfect for a kitchen or living room.'
'For bedtime, a mist of the Jo Malone London Lino Nel Vento Linen Spray on bed sheets aides the perfect night's slumber, evocative of linen blowing in a Lavender breeze. Each individual will have different scents that relax them, but lavender has a universal claim in this arena as being one of the few scents proven to have soporific qualities and reduce anxiety.'
So, fragrance-zoning allows you to indulge in new candles and diffusers, brightens your home, eases anxiety? We're bringing this trend into our lives right away.
Megan is a News Writer across Future Plc's Homes titles. She has a background in national newspapers in the UK and has experience in fashion and travel journalism, which she previously practised whilst living in Paris and New York City. Her adoration for these fashion capitals means she particularly enjoys writing about upcoming styles and trends for Homes & Gardens. Megan also loves discovering vintage pieces in her spare time, meaning her decor is largely influenced by the beauty of the jazz age.