Frank Lloyd Wright's Usonian-style home hits the market for the first time ever
The Carr House in Illinois was built in Wright's signature aesthetic, with flat roofs, floor-to-ceiling windows and wood panelling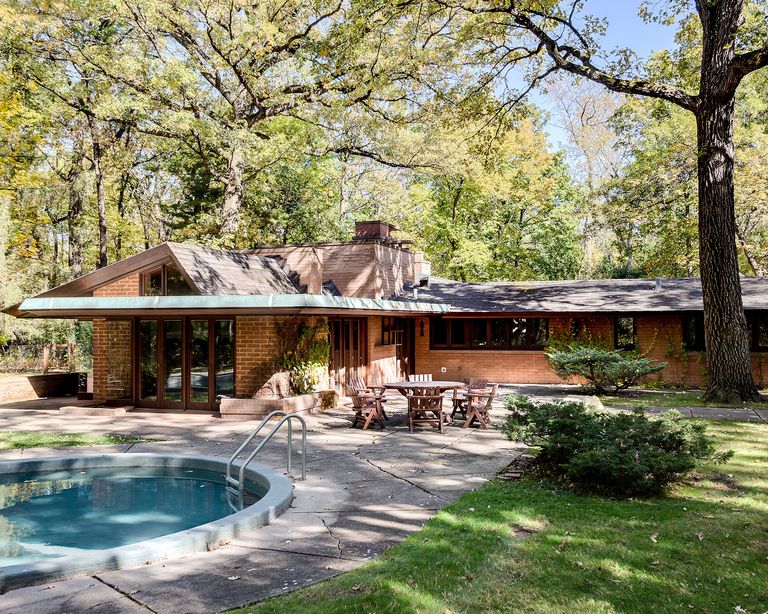 (Image credit: Matara Media for Jameson Sotheby's International Realty)
Frank Lloyd Wright is a name more famous than most when it comes to architecture and design. Ask the average citizen to name a famous American architect and you can bet that their answer will be Frank Lloyd Wright – and for good reason.
Designing 1,114 architectural works of all types – 532 of which were realized – he created some of the most innovative spaces in the United States. The Solomon R. Guggenheim Museum and Fallingwater being some of his most noted accomplishments.
With a career that spanned seven decades before his death in 1959, Wright's visionary work cemented his place as the American Institute of Architects' 'greatest American architect of all time.'
This Illinois home in Glenview, known as the Carr House, was originally built in 1950 and has never been publicly listed before, though it's been featured in numerous publications.
Owned only by two families since completion, this home has been kept out the public eye by it's very private owners.
Take a tour below – and when you're done, hop on over to our page dedicated to the world's best homes for more.
Situated on an expansive three-acre lot, the 2,973-square-foot single-story home employs much of Frank Lloyd Wright's signature aesthetic, including floor-to-ceiling windows throughout and a mix of red-brick and Honduran mahogany wood paneling inside.
The iconic property features four-bedrooms, three-full and one-half bathroom – with an in-ground heated pool and a shed built in the style of the home. Carr House harmoniously blends the outdoors in and offers a floor plan suitable for entertaining.
The main common areas have been designed for entertaining, with an eye-catching lofted, wood-paneled ceiling in the main living room; a sunken lounge/relaxation area – all surrounded by floor-to-ceiling windows; and a cozy kitchen with a butler's pantry.
The prolific home is available through listing agents Erica Goldman and Christopher Stephens of Jameson Sotheby's International Realtyfor $1.695 million.