Richard Neutra's Kaufmann House is for sale – and it is a Mid-century icon
The legendary home – a modernist masterpiece cemented in history through famous photography – is up for sale at $25 million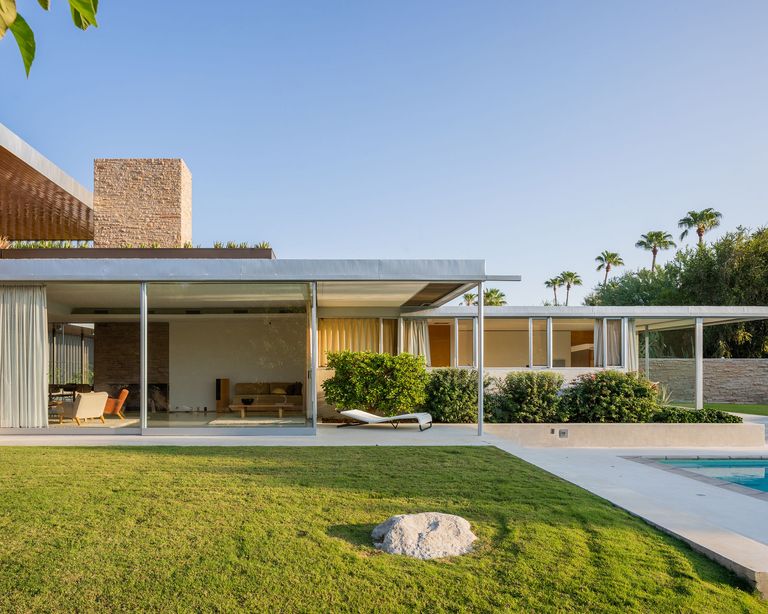 (Image credit: Daniel Solomon for Vista Sotheby's International Realty)
There are few houses in the US that are so iconic that their names are more recognizable than the Hollywood stars that have graced their doors, and Richard Neutra's Kaufmann Desert House is one of those legendary homes. 
The Kaufmann House was designed in 1945 and built in 1946 by Austrian-born architect Richard J. Neutrals for Edgar J. Kaufmann Sr. – an American department store tycoon – as a winter vacation residence away from his Pittsburgh home. A decade earlier, the same entrepreneur commissioned Frank Lloyd Wright to build Fallingwater in Mill Run, Pennsylvania.
Richard Neutra is one of the most important modernist architects of the 20th century. 
After moving to the united States from Vienna, Austria, in 1923, Richard Neutrals world with Frank Lloyd Wright and Rudolf Schindler until 1930 when Neutra formed his own practice. 
Although Kaufmann initially considered Wright for the 'Desert House', he commissioned Neutrals, who employed a more modernist and International Style approach using glass, steel, and some stone in the design. 
Fascinatingly, Neutra used the same stone masons that Wright and Kaufmann had employed for Fallingwater a decade earlier. 
The design of the Kaufmann House is cruciform and balancing. At the centre of the house are the living room and dining room – the heart of the home. 
Other wings of the house branch out like a pinwheel in each of the cardinal directions. 
Like many modernist residential homes from this period, the property is a one-story structure that subtly accommodates the site by steeping up slight on three levels. 
Centred above the main entrance is an outdoor room that Neutra called 'The Gloriette' – from the 12th century French for 'little glory'. From this elevated space are stunning views of Mount San Jacinto. 
The home's large swimming pool is one of the most recognizable features of the Kaufmann House. 
Shortly after completion, the Palm Springs house grew to fame through Julius Shulman's 1947 famous black-and-white photograph depicting its sleek exterior with the towering San Jacinto Mountains as the backdrop. 
In 1970, it once again made its mark as the setting for Slim Aarons' significant shot known as 'Poolside Gossip.'
The Kaufmann House has had several owners. The house was first sold by the estate following Kaufmann's death in 1955. Beginning in the early 1990s, the current owner restored the home back to its original ouster with the help of Julius Shulman, Albert Frey, architects Marmol Radziner and many others. 
The Kaufmann House is now considered to be an architectural landmark and standard, as well as one of the most noted homes of the 20th century. 
Lauded for its unique and trendsetting modern restoration, the Kaufmann House has garnered recognition from the American Institute of Architects California and have been awarded numerous prizes. 
The home is available via Vista Sotheby's International Realty for $25 million.