Design house: an historic lakefront Tudor with a dark, Gothic interior
This elegant Tudor home in Seattle has been given a sympathetic revival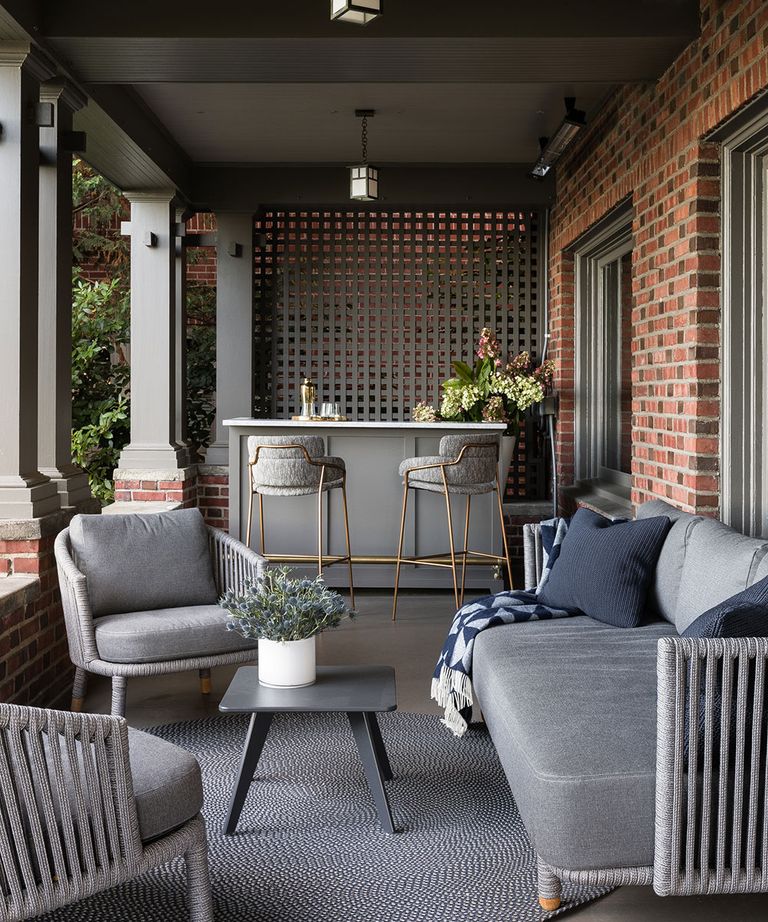 (Image credit: Haris Kenjar)
A young couple moving back into the husband's childhood home –a historic lakefront Tudor with a dark, Gothic interior – had ambitions for a light and bright contemporary environment.
Why not take the tour? Then see more of the world's best homes on our dedicated page.
The property
Responsibility for a generational change of ownership brought emotional as well as design challenges, but with respectful intentions the client and design team were able to shift the spirit of the once formal space.
Layering the property with new materials such as marble, bronze and light painted finishes enabled the excessive ornamentation – found in arches, paneling and period tile – to be reimagined. With a focus on comfort, scale and sculptural form, custom contemporary furnishings helped connect the clients' desire for modern living with the storied history of the home.
While the clients would have been thrilled at the opportunity to live in a glass box with a white interior, they knew and conveyed to the design team that any change to the interior architecture could cause family grief. The charge, therefore, was to modernise and brighten the environment, while leaving the original woodwork unpainted throughout.
For interior inspiration, the client favoured pops of colour with an Italian sensibility; he was drawn to a futuristic, Northern European slant and a constricted, clean palette.
Living room
The dark oak beams and paneling weighed in every consideration. The home's main living space needed connectivity and an open plan feel.
The clients wanted rooms that lived together with inviting purpose, entertainment, comfort and intimacy all key to the plan. The overarching design inspiration was based on an open and inviting boutique hotel lobby, with dining and club rooms adjoining.
The interior renovation began with lightened hardwoods, the removal of excessive oak pediments, light-painted plaster and a fully reimagined focal fireplace, a custom Mondrian-inspired marble and bronze configuration.
Many of the custom furnishings – from the bronze handrail, to the dining and coffee tables and vintage chairs – echo the curve of the home's original Gothic arches.
Hallway
The entry hall holds a monumental Lindsey Adelman light fixture above a Hoedemaker Pfeiffer-designed bronze handrail and delicate brass and slump glass console. A striking oil painting by Johnny Abrahams creates another entry focal point.
The living room has a custom room-size Minotti sectional and marble coffee table. Mohair-covered Edward Wormley chairs and an Hoedemaker Pfeiffer-designed metal cube table.
A B&B Italia glass bar cabinet and Louise Nevelson Nevelson lithograph help anchor the space. Subtly patterned silk and wool custom carpets were added to all spaces.
Dining room
The dining room walls and ceiling were clad in patterned rice cloth, while the den received a geometric-print cork wallcovering. Throughout, geometric and circular shapes appealed to the clients.
An ebonized Belgian brutalist credenza with Carrera top provides the backdrop for a custom Hoedemaker Pfeiffer-designed walnut and brass dining table with gentle curves. The slab was handpicked with the client in Portland and fabricated in Seattle.
Italian and Spanish midcentury chairs were reupholstered in leather and linen to complete the setting. A wall-sized oil painting by Jordan Kasey adds depth and impact to the room. The sultry mood of this space suggests a modern English clubroom.
Vintage Swedish club chairs remade in oxblood leather contrast with a large format photograph by Isaac Layman hung above a teal Chesterfield. Golden shearling and Italian printed velvet pillows accent the seating.
A Tom Dixon brass and glass side table adds another modern layer.
Terrace
The covered terrace became an adjacent al fresco bar and cocktail lounge.
Kitchen area
The kitchen received a built-in banquette.
Bathroom
A new integrated-marble powder room was added to the entry.
See: An elegantly renovated 17th-century farmhouse in Dorset, designed by Sims Hilditch
Wine cellar and playroom
A stairwell vestibule was newly panelled and painted, opening the main floor to the previously-unused lower level now containing a guest apartment, play rooms, and wine cellar.
Often, distance and a fresh perspective on heritage reveal a hidden youthfulness waiting to appear. The interior design team cultivated a sophisticated, comforting and respectful new gathering place—creating the home the clients had dreamed of, while preserving memories intact.
Interior design / Hoedemaker Pfeiffer / Tim Pfeiffer
Hoedemaker Pfeiffer, hoedemakerpfeiffer.com