Look inside the 'most expensive apartment' in New York – which sold this week
The diamond of Billionaires' Row: look inside the jewel of the concrete jungle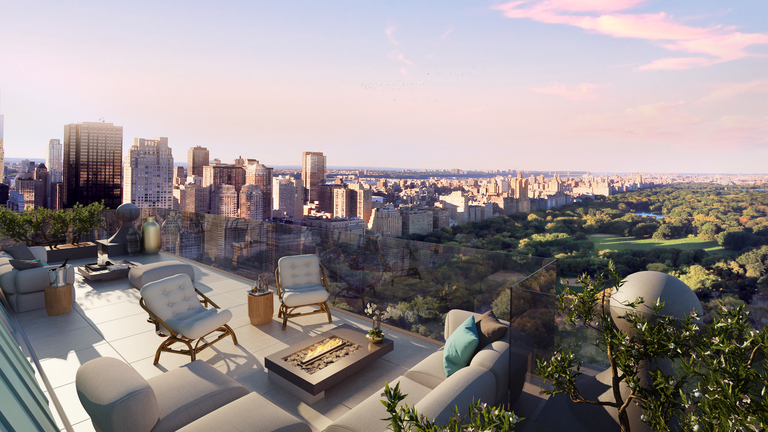 (Image credit: SPAN Architecture & Viewpoint.co.il)
By Megan Slack
What can $40 million buy you in New York City? The answer, is a penthouse apartment, in one of the most esteemed buildings in Manhattan. The likes of Luciano Pavarotti and Frida Kahlo are among the prestigious tenants of Hampshire House, the striking 1930s structure that pierces the sky above Central Park, where you will find this magnificent home. 
Sold by the luxury real estate agents, Concierge Auctions, the penthouse has space for five bedrooms and five bathrooms, which are blessed with sweeping windows that frame the epitome of the apartment: the view.  
New York is a stage for those in the penthouse of 150 Central Park South, where observers can bathe amongst the skyscrapers in the most iconic city on earth. While the architects purposely designed the award-winning apartment to frame the metropolis in all its majesty, the optimum viewing experience is from one of the four terraces. 
The city never sleeps, and neither would we if we had access to the view from this apartment. 
See: Obama house: tour Barack and Michelle's new Martha's Vineyard home
Beyond the 1,125 square feet of this three-story penthouse, all residents of this Neoclassical kingdom have exclusive access to the building's private gym and spa. 
Suddenly our home-gym doesn't seem as chic as we thought. 
Meanwhile, Fifth Avenue, the Lincoln Center, and Carnegie Hall are just a stone's throw away, so you are in a prime position for indulging in the city's rich cultural scene, in a post-pandemic world. 
See: Grade I listed home with views over Regent's Park
The penthouse sold at auction this week, after Shawn Elliott, Managing Director of Ultra-Luxury Team, advertised the apartment on the Concierge Auctions site as the chance to be the next 'king or queen of Billionaires' Row', which is an opportunity that will 'simply will never exist again.'
Photos: to SPAN Architecture & Viewpoint.co.il