Introducing the Homes & Gardens bedroom range with Naturalmat
We're thrilled to reveal our collaboration with Naturalmat, which combines sustainable materials with serious style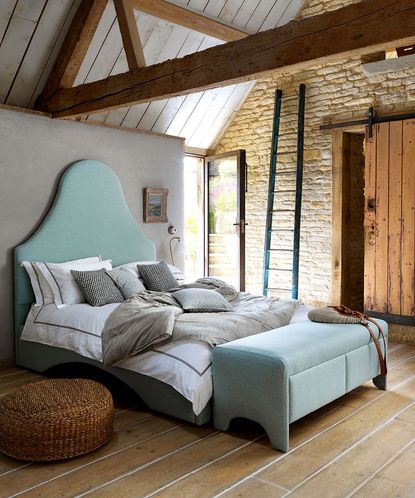 (Image credit: Simon Brown/Naturalmat)
We've long been fans of Naturalmat for its laudable sustainable ethos – it won the Queen's Award for Sustainable Development – and its dedication to craftsmanship. Plus, the fact that its mattresses and bedding are utterly cosseting and comfortable, so we're delighted to have designed a range together.
Featuring three statement beds with matching storage solutions, alongside luxury organic bedding and bed linen, we think it's your best chance at a perfect night's sleep.
Sweeping curves
We're so taken by the Rosemoor bed, with its shapely curves that start on the headboard and flow down to the bed base. Padded with layers of organic lambswool, it is both a stylish and comfortable focal point.
Shop now: Rosemoor bed, from £1,400 for a small single, Homes & Gardens at Naturalmat (opens in new tab)
Extra bounce
An extra-high back with contemporary buttoning is seriously chic. the Clovelly's bed base is topped with a thick, springy sheet of coir for an extra layer of comfort. We've thought through every last detail, so the storage bench features one large drawer instead of a lift-up lid.
Shop now: Clovelly bed, from £960 for a small single, Homes & Gardens at Naturalmat (opens in new tab)
Sheets ahead
From a Global Organic Textile Standard (GOTS) certified mill in India, these crisp ultra smooth and soft sheets are ethnically and sustainably planted, grown, woven and sewn.
The thread count is 500 and they wash beautifully. We love the two-tone edges.
Shop now:500 Thread Count Organic Bed Linen Set (opens in new tab), from £186,Homes & Gardens at Naturalmat
For the little ones
A mini version of our stately Clovelly with its big buttons and dainty feet, the Buckland is an extending single-size bed for children. Complete the look with the treasure chest-style storage box. Choose from a range of 18bright cotton linen covers.
Shop now: Buckland bed, from £790, Homes & Gardens at Naturalmat (opens in new tab)
Plenty in store
Elegantly raised off the ground to match the Rosemoor bed, this box is a real beauty.
Shop now: Rosemoor storage bench, from £850, Homes & Gardens at Naturalmat (opens in new tab)
Editor-in-Chief, Homes Audience
Amy Cutmore is Editor-in-Chief, Audience, across Future's Homes portfolio. A homes and interiors journalist of 20 years standing, she has spent much of that time writing about technology, appliances and kitchens. While other people count how many countries they've visited, Amy tots up how many countries' washing machine factories she's toured (it's eight by the way, from South Korea to Slovenia). She can't leave the house without a decent pair of noise-cancelling headphones, and is always ready to explain an acronym – be it QLED, DAB or HDMI.