The lazy – and surprisingly stylish – bedding trend that's all over Instagram
Your steam iron's days are numbered – the Parachute Home linen bedding trend is all about slack style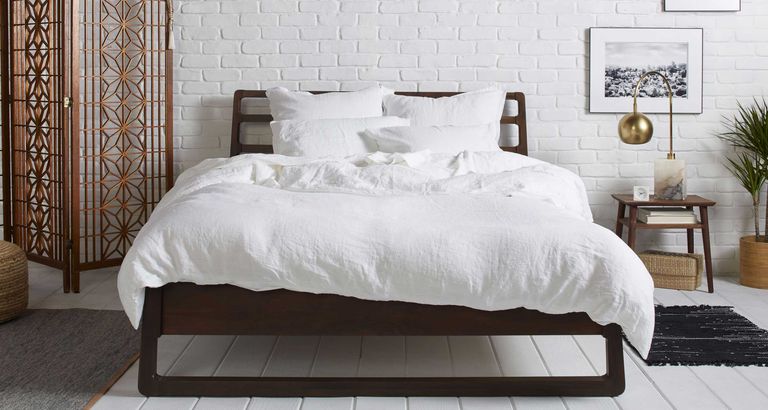 (Image credit: Parachute Home)
No-one likes ironing bedding. It always feels like an endless task where you become swamped in far too much fabric and end up feeling just as overheated as the iron itself. And God forbid you have a California King... 
Well, it appears that – thanks to West-Coast bedding brand Parachute Home – ironing is out. The just-got-out-of-bed look is trending and with that, we all breathe a huge sigh of relief. 
A simple glance at the brand's Instagram account and you'll see its loyal following declare how much they adore their creased and crumpled linens using #myparachutehome. And we have to admit, in a year when everything has been so different from before, we're rather taken by them, too.
Scroll down to take a look at just some of the brand's fans and check out our pick of the best Parachute Home pieces to make that unmade dream a reality. We challenge you not to want to skip the ironing to try the look at home (and regain that lost hour of your life back).
Parachute Home's linen bedding trend
'But can you feel the coziness and softness of my bed!? All I want to do is snuggle up in bed and do nothing more. With the decreasing temperatures a warm comfy bed makes a whole of difference in your sleep!' says @callmeflowerchild.
'As a kid i was infamous for asking my mom for "five more minutes"... but now that i have all this cozy bedding from @parachutehome I'm gonna need at *least* another hour,' admits @wesleytaylor.
'I'm so in love with the color of our bedding from @parachutehome,' enthuses @skyaprille. 'We have been using linen only for the past 2 years and absolutely love getting ours from them.'
Want to read more about the latest bedroom trends? Check out these stunning looks for inspiration
'Our bedroom just got an extra cozy update thanks to @parachutehome. I was so excited to finally try out the softest linen on the market! It's an unique texture of 100% European flax that keeps you cool in the summer and warm in the winter.'
Take a look at out top picks from Parachute Home to recreate the cool and creased look at home or head straight to the Parachute Home website and browse at your leisure.  
Get the lazy look – H&G's favorite Parachute Home picks