Kelly Hoppen reveals her favorite Christmas decorating tips – and two are bombshells
Appearing on This Morning this week, Kelly Hoppen gave a Christmas decorating masterclass that was as notable for its surprises as it was for its advice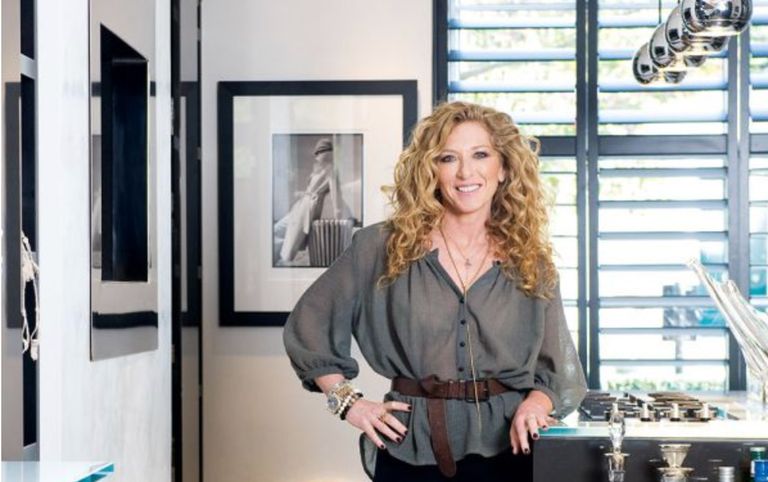 (Image credit: Oliver Gordon)
By Lucy Searle published
Interior designer Kelly Hoppen is renowned for her understated East Meets West style, defined by clean lines, warm minimalism and neutral shades.
So it was with some surprise that we listened to her Christmas design tips yesterday because, while they were perfectly tasteful – as you would expect – Kelly made two unexpected admissions when talking about everything from Christmas table ideas to Christmas tree decorating to gift wrapping.
The first was, we think, the most astonishing, as Kelly, who is known for her elegant designs, admitted that when it comes to Christmas decorating, 'the more lights, the more tinsel, the better'.
This chimes with other designers we have talked to about Christmas tree trends this year – and it certainly chimes with the mood of the nation: that we need color and exuberance in our celebrations this year, of all years.
Read on for Kelly's other Christmas decorating secrets – and her final surprising admission.
Make more of your Christmas tree with natural foliage
Kelly emphasized how you can make a Christmas tree look more impressive, fuller and larger with sprigs of foliage, either from the garden or the local florist. She suggested eucalyptus – you can buy freeze dried eucalyptus that's a beautiful deep red for contrast and texture – and pussy willow branches. Both, of course, are wonderful to have year round on display in vases but can easily be repurposed for Christmas. We suggest using florists' twine to bind the sprigs to the branches right at their bases.
See more: Christmas foliage ideas – decorating ideas with greenery
Then, of course, you can layer your usual – or new Christmas decorations on top, including, according to Kelly, lots of tinsel and tree lights. Kelly also went on to say that combining new baubles with those made by your children or grandchildren – or collected by the family over the years – can make your Christmas tree display really special.
If you are going to add to your collection this year, we would suggest the John Lewis Pop Art Rainbow Bauble – it's very pretty but, importantly, 25% of the retail price goes to support the NHS.
Coordinate your Christmas tree with your table setting
This, says Kelly, helps to make your Christmas color scheme feel more cohesive, giving your home a smarter, more elegant look during what can be a somewhat chaotic, busy period.
To complement her Christmas tree decorating advice, Kelly added sprigs of pussy willow and eucalyptus to the table centerpiece, but rather than place it in the center of the table, she put it to one end, where it could be admired by diners, but wouldn't dominate the table and make it difficult for guests to see each other.
Kelly's Christmas table ideas were – as you might expect – an elegant silver and white, created with her favorite buys from The White Company, including beaded placemats and matching beaded coasters. She also added pinecone placecard holders (above).
To this, Kelly added candlesticks – candlelight being the perfect match for silver and glassware, which will capture its glinting reflections.
Kelly also demonstrated how to use more traditional Christmas colors, using gold feathers, natural dried hare's tail, red glassware and tree baubles – plus a few pieces of brightly colored festive fruit – to add warmth to the Christmas dining table display.
Rethink how you wrap gifts
Gift wrap can sometimes be an afterthought, but once the presents are under the tree, they will have a big impact on the look of the room, so wrapping paper and accessories should be chosen to complement your entire scheme.
However, many gift wraps have plastic particles in them, so opting for eco-friendly gift wrap or simple brown paper is the best option. Etsy has a beautiful range of recyclable gift wrap and brown paper wrap and gift bags.
We are also very taken with the trend for Furoshiki, the Japanese art of wrapping gifts with fabric (above), which can be simply created with fabric offcuts you can use again and again, or with scarves or napkins that you can retrieve or, of course, give as extra gifts.
Kelly stressed the importance of ribbon – and suggested it is a wonderful way to coordinate your gift wrapping and add color and pattern to plain brown paper, for example. And for children's gifts? She suggests printing off your children's favorite cartoons to wrap with.
'My wrapping is atrocious,' admitted Kelly – yes, that was the other surprise, we were convinced she would be en pointe with gift wrapping.
Thanks to This Morning for hosting Kelly Hoppen's Christmas decorating tips.
My first job was writing a DIY column for a magazine for the over 50s (which seemed a long way off back then). I then moved to a DIY magazine as deputy ed, then freelanced my way around the homes departments of most women's magazines on the market before working on Your Home and Family Circle magazines as homes editor. From there, I went to Ideal Home magazine as associate editor, then launched 4Homes magazine for Channel 4, then the Channel 4 4Homes website before going back to freelancing and running a social media business (you can see where I had kids from the freelancing gaps!). I was tempted back to the world of big business by the chance to work with the great team at Realhomes.com, where I was Global Editor-in-Chief for two and a half years, taking it from a small website to a global entity. I've now handed the reins of the website to our American managing editor, while I take on a new challenge as Editor-in-Chief of Homes & Gardens.