The most popular luxury family holiday destinations
From digital detoxing in the Maldives to adventure-seeking in Mauritius...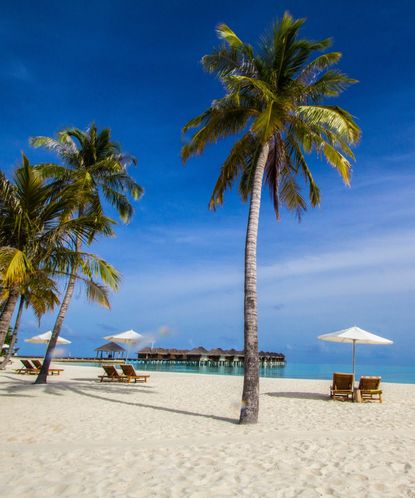 (Image credit: Kuoni)
The Maldives tops the list of luxury family holiday destinations for 2020, followed by Mauritius and Thailand, according to a new report from travel specialist Kuoni.
Four European destinations place in the top 10, with Greece taking the top spot as the 4th most-booked destination in Europe and Italy, Spain and Portugal also featuring.
See: The most beautiful hotels in the world
The Worldwide Travel Report also revealed a 10% rise in family bookings for 2020, and an 8% rise in family bookings that include three generations of a family travelling together (e.g. grandparents, parents and children).
Kuoni's family travel experts report that these multiple generation holidays are often paid for by grandparents to celebrate a big occasion – and Africa safaris are the top choice.
Anecdotally, travel experts at Kuoni report that children are driving the agenda as never before, with young travellers central to selecting the holiday and many paying a close eye on the environment, conservation projects and how animals are cared for in destinations. Ready for some luxury holiday inspiration? Of course you are...
See the Top 10 Family Destinations For 2020:
The Maldives is famed for its stunning white-sand private beaches and pure blue waters, making it a true escape for any family looking to get back to nature or enjoy a digital detox.
Grandparents can enjoy champagne by the pool while parents can take their children to venture into the crystal-blue waters amongst turtles and whale sharks. This is a perfect opportunity to spend quality family time without the distraction of technology.
2. Mauritius: Adventure into relaxation
The stunning island of s makes for the perfect luxury family holiday for anyone looking for equal opportunity to relax on the beach or adventure into lush rainforests. Beyond powdery white-sand beaches, you can explore local fishing villages, nature reserves and golf-resorts.
Mauritius is ideal for parents looking to relax whilst offering their children adventure. Kids' clubs offer activities to keep the little ones busy such as crab-searching, creating local instruments and enjoying water sports.
3. Thailand: Exotic exploration
Thailand is renowned for its fascinating and friendly culture, touristic trails and glorious beaches. Perfect for families looking to explore new cultures and religions,Thailand boasts beautiful cities, villages and temples.
Families can interact with the diverse wildlife both above ground (but don't ride any elephants!) and diving underwater and enjoy delicious Thai cuisine. Parents can unwind with renowned Thai massages on the beach whilst children sculpt sandcastles nearby.
4. Greece: Magical Mediterranean
Greek culture values the importance of family, so where better to reconnect with your children than this beautiful and easily accessible destination? Indulge in luxury hotels, maritime cuisines and stunning beaches.
The whole family can explore Greek islands via speedboat or yacht and hike up trails and mountains. Translucent waters and colourful coral reefs provide perfect conditions for diving or snorkelling.
5. USA: Big, bold and beautiful
The USA's sheer size accommodates for almost any type of holiday your family is looking for. Explore national parks, take in mesmerising coastlines and discover iconic cities. California and Florida offer wonderful family holidays, including adventures in theme parks, water parks and beaches.
Alternatively, you can explore world-famous skyscrapers, marvel at musicals and take in iconic landmarks in New York City.
See: Luxury new hotel openings in the US for 2020
6. Mexico: Costal delights
With coastlines on the Gulf of Mexico, The Caribbean and Pacific, Mexico has a wide range of beautiful beaches to explore. The perfect destination for families with teens, the Yucatan coast offers crystal-blue waters by day and vibrant live music by night.
Families with teenagers can also discover the dramatic clifftop ruins of Tulum and ecological parks make for the perfect adventure. If your children are younger, you can visit quieter parts of the coastline which offer a chance to soak up sunshine whilst enjoying water sports.
7. UAE: Luxury thrills
Dubai truly has something for everyone, from luxurious shopping in the city to adventure-themed parks and powder-sand beaches. The city's sensational sky-rise buildings, luxurious hotels and huge modern shopping malls will wow the entire family.
If you opt to stay in one of Dubai's fantastic resorts, parents can relax in the spa and enjoy golf whilst kids' clubs keep the little ones busy. Desert safaris, waterparks, the world's tallest building Burj Khalifa and the world's largest indoor snow park will satisfy the thrill-seeker in every family member.
8. Italy: Escape to the countryside
Italy boasts some of the most beautiful landscapes in Europe, with lush hillsides and dramatic cliff top hotels on offer. If you're seeking golden shores, you can snorkel and enjoy exhilarating watersports in Sardinia, or visit Forte village, a nearby location offering a wide variety of activities for the family to indulge in.
Children's Wonderland is at the centre of the village and features children's shows, pools and other tailor-made activities. If you're after even more adventure, you can visit cities rich in culture and history, where children can marvel at the Roman ruins of Pompeii, amphitheaters and other historical ruins.
9. Spain: Family fiesta
Spain is one of the most popular family-friendly destinations in the world, from the volcanic island of Tenerife to the deep-blue waters of the Costas. Hotels are welcoming and accommodate for the needs of multiple generations within the family.
Grandparents can enjoy massages in the spa and fine dining, whilst children explore land, water and culture-based activities. The whole family can enjoy Spain's delicious cuisine as fine-dining is offered by several Michelin-star restaurants, and take to the waters for boat trips to explore the stunning island beaches with year-round sun.
10: Portugal: Atlantic escapade
Gorgeous Atlantic coastlines and A pleasant climate make Portugal an ideal choice for any family vacation. Algarve's hidden coves and beautiful beaches are surrounded by unusual orange cliffs covered in pine trees.
The entire family can explore the world's finest golfing destinations, which accommodate for all levels from beginner to advanced. Young minds can be entertained at kid's clubs whilst parents enjoy the spa and pools, before meeting for dinner to enjoy Portugal's famed seafood cuisine.
Sign up to the Homes & Gardens newsletter
Decor Ideas. Project Inspiration. Expert Advice. Delivered to your inbox.
Ruth Doherty is an experienced digital writer and editor specializing in interiors, travel and lifestyle. With 20 years of writing for national sites under her belt, she's worked for the likes of Livingetc.com, Standard, Ideal Home, Stylist and Marie Claire as well as Homes & Gardens.