The UK's smallest house is just 6ft wide – find out about its fascinating history
Its last inhabitant was a 6ft 3in fisherman!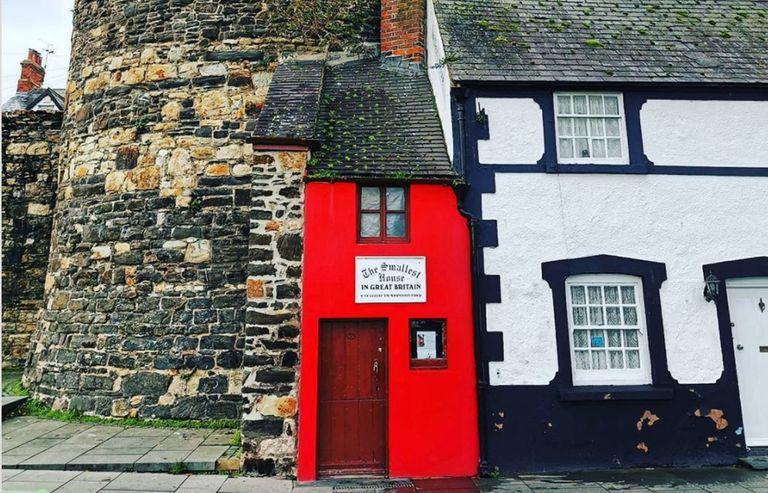 (Image credit: The Smallest House)
By Lucy Searle
At just 6ft (72 inches) wide, the UK's smallest house – known, fittingly, as The Smallest House – is around a foot (12 inches) narrower than America's smallest house, The Spite House in Alexandria, VA, which measures 7ft (84 inches) across. The Smallest House, in Conwy, Wales, is significantly smaller all round, in fact, at just 10ft 1in (122 inches) high and 10ft (120 inches) deep.
Despite its diminutive proportions, this 16th century property is just about large enough for occupation, with a living area and, admittedly basic, cooking facilities, and a bedroom upstairs. And while it's more suited to one occupant, back in the 19th century, it was known to have been occupied by couples.
Read on to find out more about this fascinating home.

See more: America's most expensive house: Don't miss the chance to tour this awesome home
Unlike other of the world's smallest homes, often created as spite houses to confound or annoy neighbors, The Smallest House was created with good intentions – as an infill between the cottages on either side. Like those houses, its back wall is the town of Conwy's medieval town wall, built at the same time as nearby Conwy Castle (bottom), between 1283 and 1289. Conwy Castle and the town walls were built at the behest of King Edward I of England, following his conquest of the principality of Wales.
The Smallest House was last occupied back by a tenant fisherman called Robert Jones in 1900, after which it was declared unfit for habitation, along with neighboring properties. Robert Jones was, by the way, rumoured to be 6ft 3in tall – and, yes, the ceilings were too low for him to stand up in.
The house on Conwy Quay was saved from demolition, along with the properties to its right, and quickly became a tourist attraction. Those to the left were eventually demolished, transforming the terraced Smallest House into an end-of-terrace overnight.
The property's then owner, also called Robert Jones, declared the house The Smallest House in Great Britain, which was backed up by The Guinness Book of Records. Today, the house is still in the Jones family and is run as a tourist attraction, although it is currently closed due to the pandemic.
Inside, there's a living room with an open fire and a water tap behind the stairs that lead up to the first floor. Upstairs, there's a small bedroom, with a small storage niche.
The house will be open again spring to autumn post-pandemic – you can't miss it: it's painted vivid red and a Welsh lady in traditional clothing stands outside when the house is open and tell visitors about the history of the house. You can go in, but you can't go upstairs to safeguard the building's structural integrity. You can, however, view the bedroom from a step ladder!
Who owns the smallest house in Great Britain?
The smallest house in Great Britain is owned by Jan Tyley. Her great-great grandfather Robert Jones was the last owner of The Smallest House while it was inhabited.
Where is the world's smallest house?
The world's smallest house is somewhat different to the historic Smallest House in Conwy. Built at the Femto-ST Institute in Besançon, France by nanorobotics researchers, it measures just 20 micrometers long – that's 0.02mm long. Safe to say, it's not habitable.
My first job was writing a DIY column for a magazine for the over 50s (which seemed a long way off back then). I then moved to a DIY magazine as deputy ed, then freelanced my way around the homes departments of most women's magazines on the market before working on Your Home and Family Circle magazines as homes editor. From there, I went to Ideal Home magazine as associate editor, then launched 4Homes magazine for Channel 4, then the Channel 4 4Homes website before going back to freelancing and running a social media business (you can see where I had kids from the freelancing gaps!). I was tempted back to the world of big business by the chance to work with the great team at Realhomes.com, where I was Global Editor-in-Chief for two and a half years, taking it from a small website to a global entity. I've now handed the reins of the website to our American managing editor, while I take on a new challenge as Editor-in-Chief of Homes & Gardens.