Watercolor wallpaper is having a moment – the experts explain the new, sophisticated take on a classic look
The trendiest wallpapers are awash with watercolor brush marks – designers share how to make them work for you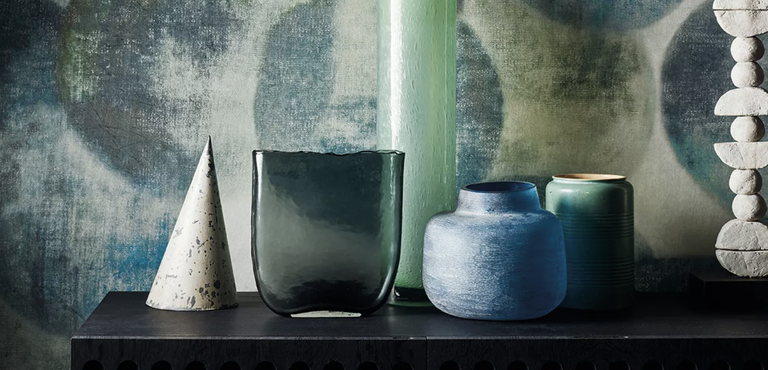 (Image credit: Black Edition)
By Megan Slack published
It's no secret that we're entirely obsessed with wallpaper – with its spectrum of kaleidoscopic colors, audacious patterns, and bold textures that inject interest throughout our interiors. We're particularly hooked on one particular style of wallpaper design at present – and it's the perfect wallpaper for art lovers and interior lovers alike.
See: Wallpaper trends – the most stylish ways to dress your walls
Enter: an update on watercolor wallpaper – this season's most popular statement for walls that allows us to express our individuality in a colorful way.
Watercolor wallpaper subtly celebrates faraway shores, creates an atmospheric zone, and, in some cases, can even bring London's National Gallery to your living room.
Why is watercolor wallpaper trending?
Watercolor wallpaper isn't new – but the latest takes on this style are.
According to Founder of Christopher Farr Cloth, Michal Silver, watercolor wallpaper brings a 'wonderful sense of movement of pattern into a space' and exquisitely works alongside light to create a 'sense of luminosity' throughout our interiors.
As designers focus on rich blue and green hues in their watercolor wallpaper designs, this alluring sense of movement mirrors tropical shores, which feed into another ever-growing trend.
Similarly, founder and designer at Andrew Martin, Martin Waller, revealed that wallpaper sales had recently risen by 30% as we all look to spread elements of elegance and escapism across our walls – and watercolor wallpaper allows us to do this – in the most aesthetic way possible.
How to style watercolor wallpaper in your home
In all its greatness, the watercolor wallpaper trend can be hard to get right. These are works of art, after all. So, H&G caught up with the industry experts who shared their thoughts on this wholly aesthetic craze and their tips for making it work in our homes.
See: Wallpaper ideas – gorgeous decor for every room
1. Create the illusion of space with leading lines
If you're looking to make a small room feel bigger or a large room even bigger, Michal Silver suggests using abstract watercolor wallpaper strategically to extend a space.
She urges us to choose watercolor wallpaper with feature lines that draw the eye horizontally to elongate the room.
However, Michal also reminds us not to choose solid lines, 'as they show the natural flow of the paint as it moves over the paper. I would use these designs all over the room, keeping the rest of the interior quite minimalist to allow the patterned walls to be the main focus.'
2. Choose colors to create an atmospheric setting
Head of Design at Osborne & Little, Johanna Bright similarly praises a watercolor wallpaper backdrop for its 'natural fluidity and versatility,' which contributes to a serene, therapeutic zone that we all crave from our homes.
'Drawn more figuratively, different brush marks combined with watery backgrounds will bring depth and detail to wallpapers to create a serene and atmospheric setting,' she suggests.
3. Pick paint colors to complement not contrast
While watercolor wallpaper is celebrated for its vast range of fearless patterns and color, Linwood's Head Stylist Katrin Cargill reminds us not to overlook a key styling tip in working with color.
'A clean sweep goes a long way,' Katrin shares. She urges us to look towards 'undulating, dramatic patterns,' such as The Wave, Ocean (below) that look 'even more beautiful with the dado, skirting and door painted in just the right shade of blue. The more of one single color you use, the most powerful it becomes.'
See: Hallway wallpaper ideas – smart statement wallpapers for your hall
4. Turn your home into a globally renowned gallery – through your wallpaper
If abstracts aren't your thing, consider watercolor wallpaper with a more realistic look.
You could go to London, or you could bring London to you – all through watercolor wallpaper – or rather, Andrew Martin's new collection with the National Gallery in London. Whether you pay tribute to Monet or Rousseau or opt for any art wallpaper, the benefits remain the same.
'Not only do these watercolor-inspired wallpapers add a range of rich, intense hues to your interiors, but they also add a sense of depth and texture,' shares Design Director at Andrew Martin, David Harris.
Creating a gallery wall through wallpaper? It's possible with this trend.
5. Let watercolor wallpaper be a room's backdrop
See more: Living room wallpaper ideas – ways to decorate your walls
After investing in watercolor wallpaper, it is, perhaps, only inevitable to want to enjoy the colors and patterns without any furniture in the way. However, according to Martin Waller, we should be doing the opposite.
'Don't worry about furniture obstructing parts of a large design – it doesn't matter if you can't see it all. The Renaissance painters discovered that they didn't have to show figures in their entirety; they understood that the brain intuitively fills in the gaps,' he says.
Megan is a News Writer across Future Plc's Homes titles. She has a background in national newspapers in the UK and has experience in fashion and travel journalism, which she previously practised whilst living in Paris and New York City. Her adoration for these fashion capitals means she particularly enjoys writing about upcoming styles and trends for Homes & Gardens. Megan also loves discovering vintage pieces in her spare time, meaning her decor is largely influenced by the beauty of the jazz age.