Breville Grind Control Coffee Maker review
The Breville Grind Control Coffee Maker delivers fresh, flavorful coffee and provides granular control over your brew settings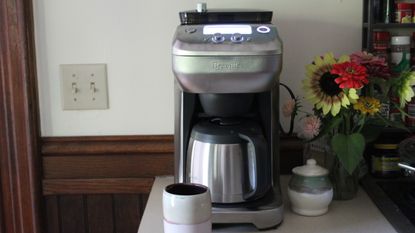 (Image credit: Camryn Rabideau)
It's tough to beat the convenience of the Breville Grind Control Coffee Maker, which automatically grinds fresh beans for every cup – or carafe – of coffee. The machine is versatile and has an attractive design that will look great on your counter, and we found that it makes a delicious cup of Joe. However, because it has a more complex design than most drip coffee makers, there is a chance that it can break sooner than expected.
Reasons to buy
+

Built-in grinder

+

Adjustable brew strength

+

Single serving option

+

Large water reservoir

+

Programmable

+

Attractive design
Reasons to avoid
-

Hard to pour from carafe

-

Potential for long-term grinder problems
Most coffee enthusiasts will tell you that the best brews come from freshly ground coffee beans, so I was fascinated to test the Breville Grind Control, which has a built-in burr grinder on top, so that you can automatically grind fresh beans for every pot of coffee that you make.
The Breville Grind Control Coffee Maker has several other features that help it to stand out among the best coffee makers I have tested. It can brew up to 12 cups of coffee at a time, but it can also make single servings and dispense them right into your mug. It offers integral control over your brew with eight-strength settings and custom grind size.
While its specs are certainly impressive, I wanted to see if the Grind Control Coffee Maker delivers on its promise of a great cup of coffee, so I tested it over the course of two weeks. I used the coffee pot daily, experimenting with its different settings to get a sense of the machine's strengths and shortcomings, and at the end of testing, I was impressed with the coffee maker's versatility, as well as the delicious drinks it made.
About our Review
About our Review
Camryn Rabideau
Camryn Rabideau is a freelance writer and product reviewer who has been testing small kitchen appliances for several years. She's tested everything from toasters to oil infusion machines, and she drinks a cup (or two) of coffee every morning to help power through her days, so she can easily tell the difference between a good and mediocre brew.
Breville Grind Control Coffee Maker Specifications
Water tank capacity: 60 fl. Oz.
Hopper capacity: ½ lb.
Carafe size: 12 cup
Dimensions: 8.5 x 12.5 x 16.3 in.
Grinder type: Burr
Weight: 16 lb.
Settings: Single serving or carafe; 8 brew strengths
Warranty: 1 year limited
Includes: Coffee maker, thermal carafe, Gold Tone filter and cleaning brush
Setting up the Breville Grind Control Coffee Maker
The Breville Grind Control Coffee Maker arrived in a medium-sized box, and it was packaged in styrofoam with lots of plastic. Once I removed it from the packaging, the setup was extremely simple. All I had to do was remove the remaining pieces of cardboard and tape on the machine, and it was essentially ready to go. This coffee maker has a sleek stainless steel design, and it's about the size I would expect for a 12-cup coffee maker. I will say that the exterior smudges fairly easily, and after a few days of use, there were unsightly fingerprint marks where I frequently touched the machine. However, you can easily buff them off with a microfiber cloth if it bothers you.
Naturally, one of the selling points of this coffee maker is its built-in bean grinder, which is located on top of the machine (the H&G team has reviewed the best coffee grinders too, so we're pretty expert in what makes these quality buys). It has a clear lid that you simply lift off, and you can adjust the grind settings using the small knob located next to the hopper. If you ever need to remove the hopper, there's a knob inside that you can turn to unlock it from the base. This coffee maker also comes with a 12-cup stainless steel thermal carafe, which sits snugly on the base. The lid of the carafe is made from a lightweight plastic, and it feels somewhat flimsy next to the metal construction of the rest of the machine.
Using the Breville Grind Control Coffee Maker
Calibrating the Grinder
Before you start using the Breville Coffee Maker, it's a good idea to calibrate its grinder. According to the brand, this helps to adjust grinder output times to compensate for coffee beans of different origins, age, and roasts. To do this, you press the "Menu" button and scroll down to "Calibrate." You'll want to make sure the machine's filter is empty, clean, and properly in place, then you can press start.
When I used this setting, the grinder ran for 10 seconds, dispensing ground coffee into the filter. From there, I was able to weigh the grounds using my kitchen scale. Once you have a weight measurement, you input it back into the machine—for instance, when I calibrated the grinder with our preferred coffee beans, it yielded 18 grams of coffee grounds. The whole process only took a minute, and you'll want to do it if you start using beans of a different shape, size, or roast to ensure your coffee tastes as good as possible.
It's worth noting that the burr grinder offers a variety of fineness settings—ranging from 1 to 5—that you can experiment with. The brand notes that for smaller volumes of coffee, a fine grind, such as settings 2 or 3, usually works best, whereas for larger volumes (aka a full carafe), a medium-coarse grind, like 3 to 5, works best. We used setting 3 throughout testing, and it worked extremely well for our needs.
Carafe Mode
In my house, we make a carafe of coffee each morning, so the Breville Coffee Maker got plenty of use over the course of two weeks. To get the machine ready for use, you fill the bean hopper with coffee beans—it can hold up to ½ pound at a time—and fill up the 60-ounce water reservoir, which is accessible via a flip-up compartment on top of the machine. Unlike models such as the Wolf Gourmet Coffee Maker, which require you to use an exact amount of water for the desired number of cups, the Grind Control Coffee Maker allows you to simply fill the reservoir up to the top, and it automatically uses as much water as needed. I love this feature, as it often meant I could brew several cups or carafes before needing to add more water to the machine.
When you're ready to brew a pot of coffee, all you have to do is make sure the machine is in carafe mode, then select how many cups you want to make, anywhere between four and 12. You can also adjust the brew strength between levels one and eight, which indicates to the machine to use less or more coffee grounds. (Or, if you want to use pre-ground coffee, twist the Strength dial all the way down, which allows you to put ground directly into the filter and bypass the grinding stage.) I played around with the strength settings a bit, and there's a noticeable flavor difference between settings. We decided that level five is best for our tastes. Once you've selected your brew strength, it's just a matter of pressing the "Start" button.
As soon as you start the machine, it begins grinding up beans—the noise is fairly muted, and it didn't wake my partner if he was still asleep a few rooms away. I did notice that the beans tend to fall into the grinder from the front of the hopper, and you have to periodically push beans at the back of the hopper to the front. Otherwise, they get stuck.
As it brews, the machine's LCD screen has a count-down timer that lets you know exactly how long it will be until your coffee is ready. The machine pre-heats the water and then brews your coffee, and it usually takes around 5 or 6 minutes to brew five cups. If you need your daily dose of caffeine ASAP, you can pour a cup of coffee while the machine is still brewing—the Brew Pause feature temporarily stops the flow of coffee when the carafe is removed. However, you need to put it back in less than 20 seconds, or the coffee basket may overflow.
When the machine finishes brewing, it beeps a few times to let you know it's done, and then it goes into standby mode after a few minutes. From the very first time I used the machine, I found the stainless steel carafe quite frustrating to pour from. You have to tilt it completely perpendicular to the counter to get any liquid to come out, and if there's only a small amount of coffee in it, you practically have to flip it upside down. This is due to a large lip on the inside of the carafe, and it's one of my least favorite things about the machine.
Single Cup Mode
In addition to brewing full pots of coffee, the Grind Control Coffee Maker can also be used to make just one cup at a time. To enter single cup mode, you simply press the knob labeled "Cup/Carafe," and the LCD screen will indicate the change.
When I tested this setting, I was surprised to find that you can actually adjust the serving size to suit your needs. By rotating the same dial, you can select from seven drink sizes, ranging from 235 to 590 milliliters. I did think that it was strange to have the sizes listed in milliliters—drink sizes are most commonly measured in ounces, so I found myself doing the conversions on my phone when picking a size.
When using the single-serving mode, you can forego the carafe and simply place your mug under the coffee dispenser. If you're brewing into a taller travel mug, you can even remove the drip tray to accommodate the taller height—a thoughtful detail! Once you hit start, the brewing process is the same as in carafe mode. The machine grinds the beans, pre-heats the water, infuses the coffee grounds, then brews your drink. There's a count-down timer that lets you know exactly how long it will take, and when the brewing is complete, the machine dispenses the coffee right into your mug.
I used this setting several times during the course of testing, as it's ideal for those times you just want a single cup of coffee. I frequently opted for this mode in the afternoon when I needed a midday pick-me-up, and my partner made use of it when he left early to go golfing, as it was particularly handy to be able to brew directly into his to-go mug.
We both agreed that the coffee quality was the same in both operation modes, and the brew was much stronger and more flavorful than what you'd get from a pod coffee maker. The only time the coffee quality suffered was when the bean hopper was too low—the machine wasn't able to grind enough beans, and the coffee was watery as a result.
Cleaning and maintenance
Each time you use this coffee maker—whether for a single cup or full carafe—you have to empty the grounds out of the filter. There's an "Open" button on the left side of the control panel, and when you press it, the filter compartment pops open. I will say that the compartment flings itself open quite quickly, and it startled me the first time I did it. You'll want to use caution so it doesn't smack you.
Inside the compartment is the removable coffee basket, which houses the filter. The machine comes with a Gold Tone filter that you can rinse out and reuse, but you can also use flat base basket-style paper filters for easy cleaning. When emptying the filter, you'll also want to rinse out the basket itself, as grounds tend to get stuck in the chute and along the rim. During your daily cleaning, the brand also recommends checking the coffee chute disc for any build-up. The stainless steel disc is visible when the swing-out door is opened, and if there are grinds stuck to it, the machine might not perform properly.
You also have to rinse out the carafe after each use, which is slightly inconvenient thanks to its large rim. I tend to dump out any remaining coffee then rinse it with warm water, and then I use a sponge to give the interior a quick scrub. It's pretty awkward to do because the opening is small, and it's just another reason this carafe doesn't get top marks in my book. None of the components are dishwasher-safe either, so you do have to wash them by hand.
While we didn't have any problems with this machine during several weeks of testing, it's worth noting that some reviewers do report issues with the bean grinder after several months of use. The most common problem is that the grinder chute gets clogged after use, which makes the machine much more time-consuming to maintain. Keep this in mind as you shop, especially considering the coffee maker only has a 1-year limited warranty.
How does it compare?
My everyday coffee maker is the Philips 3200 Series Fully Automatic Espresso Machine w/ LatteGo, which is another one of the best coffee makers we've tested. The LatteGo retails for around $800, whereas the Breville has a lower price tag of $330. Both machines have a built-in bean grinder, and the LatteGo is able to make espresso-based drinks with its milk-frothing system.
However, when it comes to coffee, the Breville Grind Control Coffee Maker is definitely the superior machine. It offers more control over your coffee with a wider range of brew strengths, as well as more individual serving sizes and the ability to brew a full carafe. Additionally, both my partner and I preferred the taste of the coffee from the Breville machine, as it was stronger and more flavorful.
We've also tested the Breville Precision Brewer Thermal Coffee Maker, Breville's other drip coffee maker option, which also rated slightly higher. This model is a great choice if you don't require a built-in grinder, and it offers six different brew modes, including ones for cold brew and brewing over ice, allowing you to prepare your coffee in a variety of ways if customization like water temperature and flow rate is what gets you excited when it comes to brewing. The Precision Brewer is even approved by the Specialty Coffee Association for reaching the Golden Cup Standard—the Breville Grind Control isn't. Plus, it's roughly the same price point as the Grind Control model so it will fit within your budget.
Homes & Gardens Verdict: Is the Breville Grind Control Coffee Maker worth it?
The Breville Grind Control Coffee Maker retails for $350, which is a bit higher than similar grind-and-brew machines. We love this machine's versatility, which makes it easy to brew coffee that's exactly to your tastes, and it's extremely convenient to be able to brew either a full pot of coffee or just one serving. Plus, the coffee was always rich and flavor-packed, in part thanks to using freshly ground beans.
However, we were only able to test this coffee maker for a few weeks, and a significant number of users do report that the machine can develop problems over time. Keep this in mind before you purchase—it's a lot of money to spend on an appliance that might break down in a year or two.
Where to buy
Contributing Reviews Editor
Camryn Rabideau is a writer and product reviewer specializing in home, kitchen, and pet products. In her five years as a product tester, she's tested hundreds of items first-hand, including many, many kitchen appliances for Homes & Gardens. Camryn does her product testing from her small homestead in beautiful Rhode Island.