I tested the Everdure 4K, and it's the perfect choice for my small yard
The Everdure 4k excels in searing, smoking, and smart controls.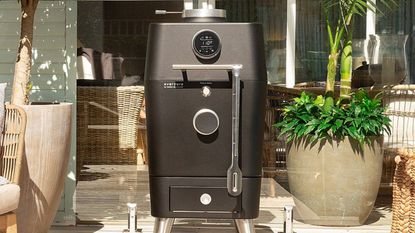 (Image credit: Everdure)
The Everdure 4K is an expensive choice, but no more so than rivals from Weber or Kamado Joe. It's smart-controlled, easy to assemble (and move around) and even comes with a pizza stone. In short, I've yet to find something this grill can't do.
Reasons to buy
+

We love the look

+

Cleaning is easy

+

Assembly takes minutes

+

Works with or without electricity

+

Side slot for easy refuels

+

Meat probe included

+

Comes with a pizza stone and storage slot
Reasons to avoid
-

Cooking space isn't huge

-

Not as insulated as a Kamado grill

-

Ongoing app difficulties
You can trust Homes & Gardens. Our expert reviewers spend hours testing and comparing the latest products, helping you choose the best for you. Find out more about how we test.
Sign up to the Homes & Gardens newsletter
Decor Ideas. Project Inspiration. Expert Advice. Delivered to your inbox.
Thank you for signing up to Homes & Gardens. You will receive a verification email shortly.
There was a problem. Please refresh the page and try again.
The Australians know a thing or two about grilling, so when the Australian brand Everdure partnered with Michelin Star Chef Heston Blumenthal to bring out a line of grills, it had all the ingredients of a recipe for success. I've tested the Force and the Fusion, so when the brand offered me the chance to try out the flagship 4K grill, I jumped at the chance.
This grill will usually cost around $2,000 (although at the time of writing it's on sale at Amazon) so it's by no means a small investment. If you are looking for a more capable grill though, it's likely that you're researching alternatives from brands like Weber and Traeger that will cost about the same amount.
I've reviewed over a dozen options on the hunt for the best grill that money can buy, and right now, this is the one to beat in my house. Find out more with my full Everdure 4K review.
Everdure 4K on test
Everdure 4K Specifications
Swipe to scroll horizontally
| | |
| --- | --- |
| Model: | Everdure 4K |
| Size: | 27 x 21 x 45 inches |
| Fuel type: | Charcoal |
| Features | Electronic Ignition, Temperature Probes, Smart Display, Pizza Stone |
| Grill size | 21-inch grilling diameter |
Our Head of Reviews Millie has undergone our five-step certification process to become a qualified Customer Advisor for grills. She's tested over a dozen grills from a range of market-leading brands, and keeps in touch with Weber, Everdure and other leading grill companies to stay up-to-date on the latest market trends. She also has an eye for consumer research and loves looking into shopping trends to make sure her reviews are as helpful as possible.
Millie is familiar with every type of grill on the market, having tested gas grills, kettle grills, Kamados and American-style smokers. She's also keen to ensure that our grill reviews are ongoing, meaning we'll always try and test the longevity of a BBQ and update our reviews to reflect how well it lasts after a few years of regular use.
Is there another grill you'd like Millie to review? Drop her an email below and we'll try our best to put it to the test!
Unboxing the Everdure 4K
The Everdure 4K comes in a comparatively petite box, and to my relief, it's already pretty much assembled. You need to set the base up and slot the inside together, a process that took two of us half an hour. The grill is 150 pounds, so while it's not lightweight, I found it a lot more portable than I was expecting.
The two of us lifted it onto the base and were then able to shimmy it to a corner of our compact garden. The Everdure 4K looks big online, but it's pretty neat. This does mean you're limited in cooking space, but even when cooking for a crowd of ten we were able to cook a shedload of food without much trouble.
Assembling the inside of the grill is also pretty intuitive. Both stainless steel and cast iron grill plates are included, and will store inside the lid when you aren't using them. You can use these plates to create different cooking zones or styles of cooking, and the manual has a guide for everything from convection cooking to using the included pizza stone. There is also a slot on the rear of the grill that holds the stone when not in use, but make sure you buy a cover for the grill (unfortunately not included) to prevent this and the power cord from getting wet, which would definitely damage performance.
Full disclosure: I dislike app-controlled products. Years of testing experience has shown me that apps tend to be glitchy, and requiring a smartphone connection can often mean the product will become outdated far quicker thanks to the software behind the product. Most of all, I just don't see the appeal of using an app to control a charcoal grill. Part of the fun is experimenting.
The bad news is that the Everdure 4K does have an app, and the online reviews are not very positive. Most say it crashes often or struggles to connect via Bluetooth. Even worse, I can't comment, because I simply could not find the Everdure app on the Google Play store.
On the plus side though, I didn't have a single moment in testing this grill where I felt that it would've been improved by an app. If I were buying this grill, I'd see it as an optional extra for the techy-minded, and something not worth worrying about for those who avoid anything with 'smart' in the title.
Cooking on the Everdure 4K
Test 1: Burgers and sausages
Eight burgers and eight sausages filled up the Everdure 4K's grilling surface. The grill recommends you use lumpwood charcoal, but we had briquettes to hand. Having tested with both lumpwood and charcoal, I'll be sticking to lumpwood going forward. It burned a lot slower and also hit the temperatures we were looking for far faster.
For this test we did find that the briquettes burned out quite fast. In a Kamado, which has outstanding ceramic insulation, we could've cooked for a lot longer. With that said, I really enjoyed being able to set up the grill and simply press the ignition button to get our charcoal burning. It worked really well, too, and if you need to top up on fuel the Everdure includes tongs that slot perfectly into a side hatch, so you won't need to disassemble a hot grill to stoke the fire.
Test 2: grilling chicken
We waited for the grill to cool a little before adding our chicken quarters. Because the display shows the temperature of the grill interior, it's really easy to track the heat consistency of the grill. By this point our briquettes had almost burnt out, which was perfect for achieving a slower roast to prevent the chicken from drying out. Again, there was plenty of space for our party of six.
Test 3: Slow roasting pork
For my second attempt at using the Everdure 4K, I bought lumpwood charcoal. This is definitely the way to go - it provided slow but consistent burning that left me with more than enough heat to slow-roast our pork belly for two hours.
In this test I used the temperature probe that comes with the Everdure 4K, and arranged our grill for slow roasting, as advised in the quick start manual. This involved elevating my meat a bit higher to maintain some distance from the flame, and I did this with the steel roasting rack.
I knew our target temperature for the pork, so leaving it with the probe in allowed us to prepare some side dishes in the kitchen and not even have to lift the lid on the grill to see how our meat was doing. It took just under two hours of slow roasting to hit our desired temperature, leaving a soft inside with a smoky exterior.
Cleaning the Everdure 4K
After three uses we decided to deep-clean the grill. A lot of ash had fallen to the bottom of the grill, near the ignition ring. The ring lifts to the side and you can lift the dish beneath it out, making it easy to empty out even the finest of residue.
As for the charcoal grates, these scrubbed clean very easily with some soapy water and wire wool. We also noted that these grates were incredibly high-quality, without much sticking across our tests. After some more use we've noted that it's continued to season, and the included tool to lift the grates away allowed us to keep our hands clean while maintaining the grill.
Should you buy the Everdure 4K?
The Everdure 4K is a huge step forward for those who love charcoal cooking but who would still value the convenience of the smart features you'd typically find with a gas grill. From a smart monitor that shows real-time temperature both inside the grill and your temperature probe, to the side-hatch that makes it easy to refuel, it seems like Everdure really did think of everything when designing this grill.
I'm excited to test the pizza stone that comes with this grill, which means you could treat the 4K as a pizza oven as well as a grill, and I'll keep this review updated when I do. For now though, the only downside I can find is that pesky app problem. Even if I could get hold of the app, I don't think the grill needs it to make your life easier. However, if the thought of app-compatibility does appeal, you should definitely bear this in mind before buying.
Sign up to the Homes & Gardens newsletter
Decor Ideas. Project Inspiration. Expert Advice. Delivered to your inbox.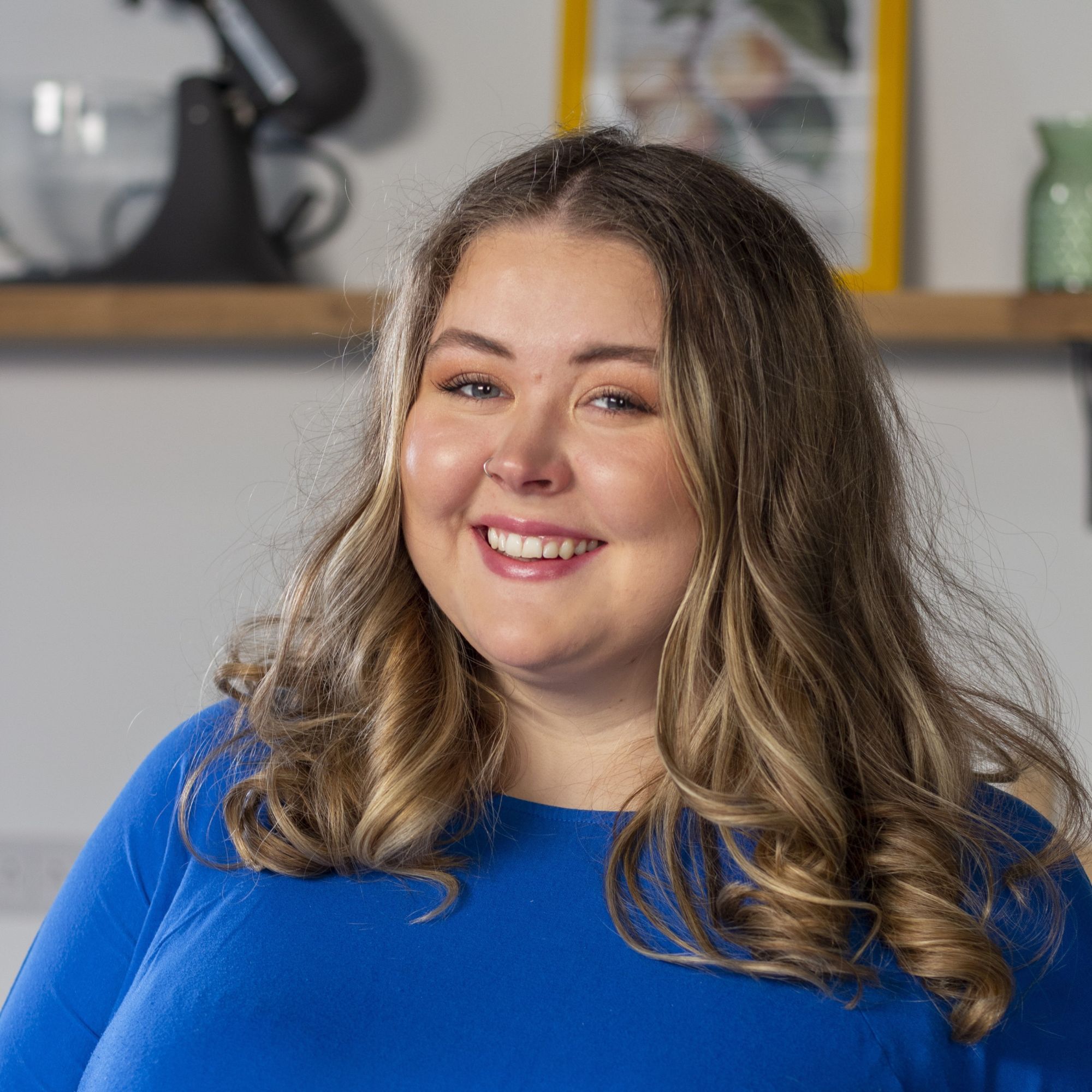 Millie Fender is Head of Reviews on the Homes and Gardens Ecommerce team. She specializes in cooking appliances, such as the best kettles, and also reviews outdoor grills and pizza ovens. Millie loves to bake, so she will take any excuse to review stand mixers and other baking essentials. When she's not putting products through their paces in our dedicated testing kitchen, Millie's reviews are conducted at home, meaning she uses these products in her own day-to-day life.