Instant Pot Duo Plus review: an electric pressure cooker for easy one-pot meals
An affordable and versatile countertop cooker with multiple uses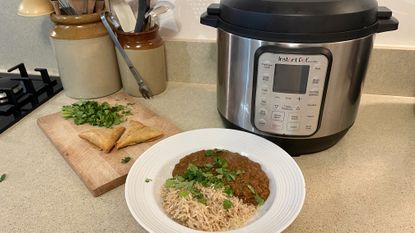 (Image credit: Helen McCue)
The Instant Pot Duo Plus is an uncomplicated multi-cooker with easy and safe pressure release features. It performs well and offers endless possibilities for speeding up your meal prep with pressure cooking. Or soften meat and develop rich flavors with slow cooking. Either way, it's an excellent addition to your kitchen that can do so much more, but without a steep price tag.
Reasons to buy
+

Available in 3-, 6-, or 8-quart capacity

+

Dishwasher safe parts

+

Easy steam vent switch

+

Intuitive to use

+

Multiple cooking modes
Reasons to avoid
-

Cooking pot isn't non-stick

-

Lid gets very hot to the touch
You can trust Homes & Gardens. Our expert reviewers spend hours testing and comparing the latest products, helping you choose the best for you. Find out more about how we test.
It's hard to escape the Instant Pot craze. The clever Canadian invention is way more than a simple electric pressure cooker, it's a multi-cooker that can replace several appliances in one. And there's a reason it's become a common household name – it's so practical, and it's good!
The Instant Pot Duo Plus is a popular model among the best Instant Pots that's available in three sizes. It strikes a good balance between offering a useful range of functions while remaining straightforward to use. Plus, with the addition of some safe and smart design features, it makes pressure cooking a breeze, even if you're a novice.
I used this Instant Pot at home in my own kitchen and made a range of different meals and foods to put it through its paces. While it's primarily a pressure cooker, I enjoyed the slow cook and sauté functions too. Everything I cooked in this Instant Pot was a success, and with just one pot that can go in the dishwasher afterward, it simplified my cooking as well as the cleaning up - all while creating tasty meals.
About this Review
About this Review
Helen McCue
Helen has a background in Home Economics, and as such food and cooking form the backbone of her varied 20-year career. She is a freelance writer specializing in home appliance reviews, but she's most at home when trying out the latest kitchen gadgets.
She tried this Instant Pot at home for several weeks, making meals for herself and her husband, as well as batch cooking and filling up the freezer. Instant sent her this product for the review and allowed her to keep it afterwards.
Instant Pot Duo Plus Product specs:
Power: 1,000 Watts
Dimensions: 12.9 x 13.4 x 12.2 inches (6-quart model)
Capacity: 3, 6, or 8 Quart
Modes: Pressure Cook, Sauté, Slow Cook, Sous Vide, Yogurt, Sterilize, Warm
Smart programs: Soup/Broth, Cake, Egg, Rice, Bean/Grain, Porridge/Oatmeal
Accessories: stainless-steel cooking pot, steam rack, spare sealing ring
Who will the Instant Pot Duo Plus suit?
People who don't want lots of different pans to clean. The sauté function means you can soften onions and garlic or brown meat in the Instant Pot before slow cooking or pressure cooking, keeping mess and clean-up to a minimum. Here's to one-pot cooking!
People who don't want or require an air fryer bundled in. Unlike some of the later Instant Pot designs, this one doesn't feature air frying or any other 'dry' cooking methods such as roasting or broiling.
People who are unsure of pressure cooking. If the idea of pressure cooking confuses you or you're worried about getting burnt when releasing the pressure, you'll enjoy the easy switch to vent the pressure. It means you don't have to put your hand on the steam valve to open it, so it's way less daunting.
Unboxing the Instant Pot Duo Plus
The 6-quart model showed up in a compact box with a helpful handle on the top that made it easy to move around. Inside the box, the Instant Pot was kept safe by two cardboard inserts that can go straight into my recycling.
Aside from the main unit and lid, there's a removable stainless-steel inner pot, a steam rack, and a spare sealing ring. The user manual contains all the basic information needed to operate the Instant Pot. But there's very little help regarding cook times. For recipes, inspiration, and cooking tables, I had to head to the Instant Pot website. But there's also an Instant Pot app, as well as countless recipes online on food blogs – Instant Pot has such a huge fan base that you can lose hours browsing through online recipe ideas.
It doesn't take up much space on my counter, so I'll be leaving it out for the next few weeks while I give it a try. But, it's not the most stylish appliance so I probably wouldn't leave it on display permanently. Thankfully It's not too heavy or cumbersome to move around, so if you don't plan to leave it out on the counter, it's easy to lift in and out of a cupboard between uses.
First impressions of the Instant Pot Duo Plus
At first glance, the control panel appears to be cluttered with buttons, but this actually means you can immediately see all the settings without having to scroll through the options on the screen. The main functions that are easily accessible are pressure cook, slow cook, sous vide, yogurt, and sauté. The rest of the buttons are for the smart programs, which are essentially pre-programmed pressure cook settings. Once I learned this, I realized it's a very simple appliance.
The adjustable time and temperature settings are clearly laid out on the control panel and I love that there's a keep warm option that will keep your food warm at the end of cooking until you can get to it. Or you can use this setting to warm your food from cold.
The delay start feature means the pot can be loaded with food in the morning and you can set the timer so it'll be ready as you walk in from work. A great feature as long as you don't allow raw meat to sit in it for hours on a warm day. Because as lovely as it is to come home to a hot, freshly cooked meal, nobody wants food poisoning bundled in!
Setting up the pot is very simple, the manual advises washing the stainless-steel inner pot and then running a test with water, which is a great way to get to know the pressure cooking function, especially if you haven't used an Instant Pot or electric pressure cooker before.
Thankfully this model has a simple design, the lid twists to lock and as it does, the steam vent automatically seals ready for pressure cooking. Then, when it's time to release the pressure, it's as easy as sliding the switch to the vent position and waiting for the float valve to drop so you can open it up. A cover on the steam vent prevents splashing and all in all it's much safer and easier to operate than the old stove-top style pressure cookers that can be quite frightening to the uninitiated.
Pressure cooking dahl
I'd say pressure cooking is the main function and it's the one I used the most. First I made a dahl, a lentil stew – it's a regular dinner in our house. I batch cook it and we either eat it several nights in a row or freeze some portions. I usually let it bubble away on the stove for at least three hours, to allow the spices and flavors to infuse properly. And because I'm not attentive and don't stir it regularly enough, it usually sticks to the base of my pot, making it a nightmare to clean.
To cook it in the Instant Pot I simply added the dry green lentils, coconut milk, garlic, chopped tomatoes, and spices to the pot. I decided to use the bean/ grain program, which cooks on high pressure for 20 minutes. The lid automatically seals for pressure cooking and the screen displays a bar that illustrates the cooking stage.
Preheating took 20 minutes, then it started counting down the 20-minute cook time. After that I left it to depressurize naturally. The user manual says for foods that expand during cooking – like lentils – natural pressure release is the way to go, this took 25 minutes. So the whole process took just over an hour, but it was completely hands off. I didn't have to keep an eye on it or keep remembering to stir.
When I opened it up, the lentils were thoroughly cooked and the dahl was tasty. But I left it in the Instant Pot for another couple of hours, even when switched off the pot retained the heat and the flavors continued to develop during that time, the lentils softened further too. Afterwards it was very similar to the result I get when simmered on the stove for hours, but I imagine it used far less energy, plus I didn't have to worry about it burning!
Pressure cooking rice
To go with my dahl I pressure-cooked wholegrain basmati rice. I found this table on the Instant Pot website, it recommends around a 20-minute cook time and a 1:1 rice-to-water ratio. But, having cooked brown rice in other Instant Pots I've learned from experience that it needs a bit more water. So I added 19oz of water to my 16oz of rice.
I selected the rice program which defaults to high pressure, and I increased the time to 20 minutes. The preheat took around 10 minutes, then at the end of cooking, I allowed it to depressurize naturally for 10 minutes, before sliding the switch to the vent position to release the last of the pressure.
During cooking the top of the lid gets hot so you have to take care not to touch it, luckily the handle stays cool, as do the sides and the control panel. The cooked rice was just perfect, all the water was absorbed and the rice had a great chewy texture typical of brown rice.
Pressure cooking soup
I made a butternut squash soup using the soup/broth preset. I didn't sauté any of the ingredients first, I just threw everything into the Instant Pot. My ingredients included butternut squash, onion, garlic, ginger, carrot, apple, chili, nutmeg, stock, and coconut milk.
The preheat took 20 minutes, but the cook time was just 10 minutes and as soon as it was done, I flicked the switch to vent and depressurized it fast. Then, all it needed was a quick blitz with an immersion blender and I had a fantastic fresh soup with minimum fuss.
Slow cooking beef bourguignon
I followed this recipe for beef bourguignon, sauteing in the Instant Pot. Frustratingly, some of the flour and meat stuck to the base of the pot, but this loosened off later in the cooking process. Then instead of pressure cooking (as suggested in the recipe), I switched it to slow cook on high for four hours. I left the pressure release switch in the vent position to allow excess steam out and help it thicken.
After popping out to run some errands I got home later than expected, thankfully the keep warm function kicked in and kept it warm for a further three hours. The finished stew had a nicely thickened beef gravy with soft meat and a rich flavor. By the time I got around to serving it, it was a pleasant 145°F and I was grateful that I hadn't needed to mess around reheating it, despite being delayed.
Sautéing Brussels sprouts
My favorite way to cook Brussels sprouts is to slice them in half and slowly sauté in butter, the Instant Pot was perfect for this task. I put the lid on at the start to keep the steam in and help kick start the cooking process, then I left it off so they'd become lightly charred, it worked well.
Sautéing tomato sauce
To make a home-made tomato sauce, I preheated the sauté function to a medium heat. This took four minutes. Then I added oil and softened chopped onion for 3 minutes. After adding chopped tomatoes and seasonings, I turned it down to a low temperature for 7 minutes, stirring frequently.
Instead of leaving it on to continue cooking, I turned it off and closed the lid, this way it carried on cooking slowly in the residual heat inside the pot. The great thing is, unlike cooking on the stove, the Instant Pot is insulated, so the heat stays inside for much longer than in a standard cooking pot. When I opened it up again an hour later it was still warm and the tomatoes had finished breaking down, creating a tasty fresh sauce.
Cleaning the Instant Pot Duo Plus
The stainless-steel cooking pot isn't non-stick, so it does sometimes need a bit of a scrub. But I found that even though some foods stuck to it, nothing was too tricky to clean off, especially if it's left to soak briefly first.
The inner pot and the lid are both dishwasher safe. The various parts, such as the sealing ring and steam release valve have to be disassembled from the lid before it goes in the dishwasher. But it's good practice to do this frequently anyway, to ensure there are no blockages in the steam release system.
At the back of the Instant Pot there's a small condensation collector that can fill with water depending on what you're cooking. This just needs to be emptied and rinsed out regularly. The rest of the Instant Pot can be wiped with a damp cloth.
How does the Instant Pot Duo Plus compare to other Instant Pots
The Duo Plus is one of the more basic models from Instant, with 9 different cooking modes. However, it is a slightly upgraded version of the Instant Pot Duo. The Duo is the budget choice, but it'll still get the job done. However, if you opt for the Duo, you'll be missing out on the safer and easier steam release features that are one of the big benefits of the Duo Plus.
Instant also offers an easy comparison chart to decipher among the six different models currently available.
If you're looking to go all out, the Instant Pot Pro Crisp with Ultimate Lid is the latest model available from the brand. It features 13 cooking functions including air frying and broiling as well as the latest automatic pressure release features. And it's the only model that can do all of this without switching lids. It'll set you back an extra $100 but it's worth it if you're looking for the best Instant has to offer.
Alternatively, if you want a model that offers smart cooking programs, the Instant Pot Pro could be the one for you. It can do everything the Duo Plus can do, but with 28 customizable smart programs as well as the option to save your five favorite settings, it's just a bit cleverer. But with that being said, all the extra options can make it feel overly complicated and it's only worth the extra money if you'll use these features.
Should you buy the Instant Pot Duo Plus?
If you're looking for an electric pressure cooker, you can't go wrong with the Duo Plus. It's an easy-to-use countertop cooker that represents great value for money, combining the functions of the best slow cookers, rice cookers, pressure cookers, and more. With three capacity options, there's a model for everyone, no matter how many people you usually cook for.
It's not the top-of-the-range model you can buy from Instant Pot, but that doesn't mean it's not great at what it does. It makes pressure cooking simple, so even if you find the thought of it daunting or confusing, it won't take you long to master it with this appliance. And with the other functions bundled in, it'll also replace your slow cooker, yogurt maker, and sous vide - I'm converted.
Instant Pot Duo Plus: Where to buy?
Sign up to the Homes & Gardens newsletter
Decor Ideas. Project Inspiration. Expert Advice. Delivered to your inbox.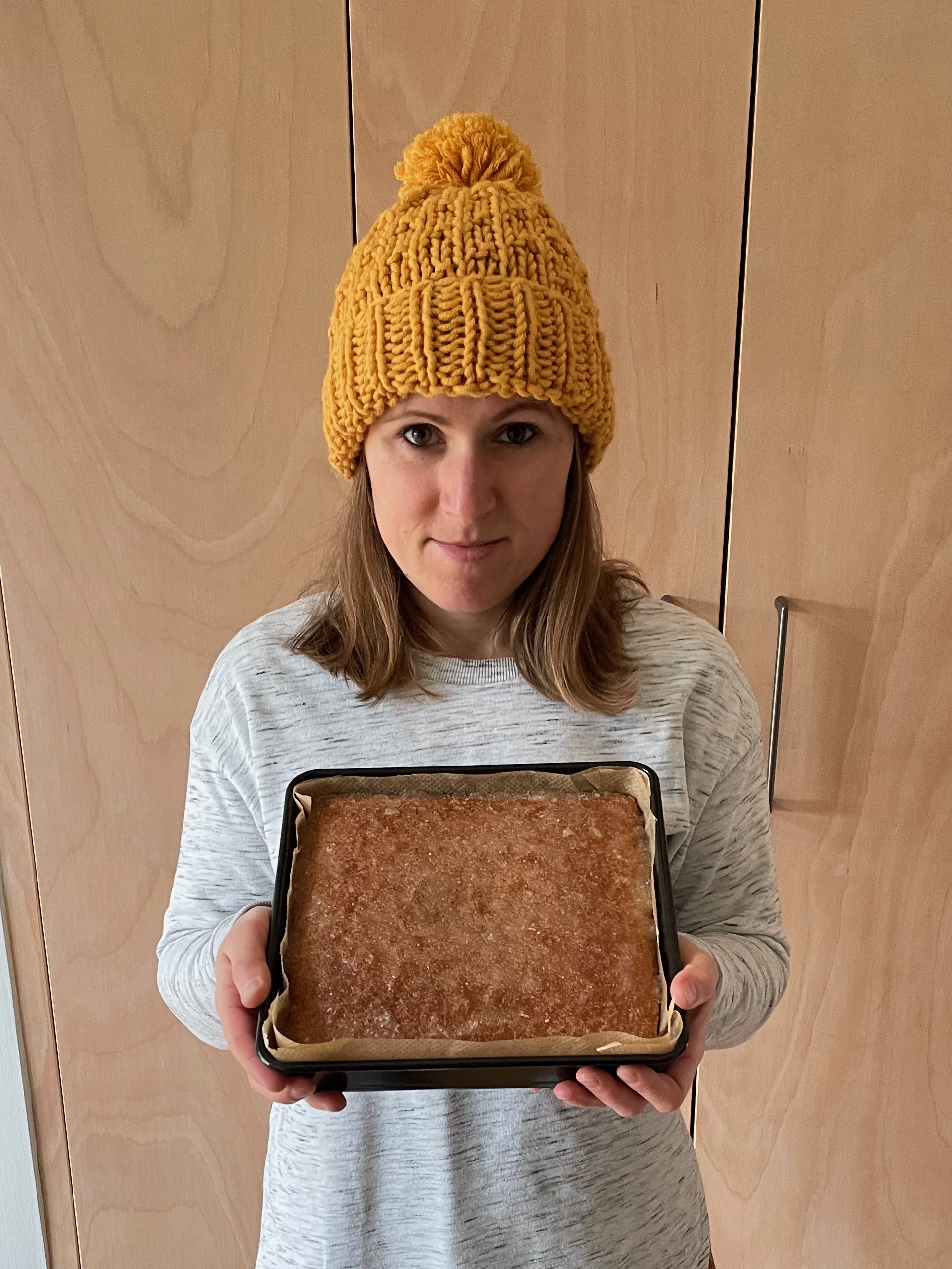 Helen McCue is a freelance contributor who trained as a Home Economist. After starting her career in the food industry, she moved into home appliance reviews, utilising her cooking skills and experience to put all kinds of products to the test, and over the years has reviewed hundreds of home and kitchen appliances for a variety of publications.
Having completely renovated her current house, Helen reviews kitchen appliances from her open plan kitchen at home in a beautiful Berkshire village. When she's not working, Helen can be found enjoying the local countryside or dreaming about her next house renovation project.