Design house: A bright and contemporary apartment in south London
When renovating and extending into the loft of this top-floor apartment, interiors decision-making went hand-in-hand with architectural changes for this home owner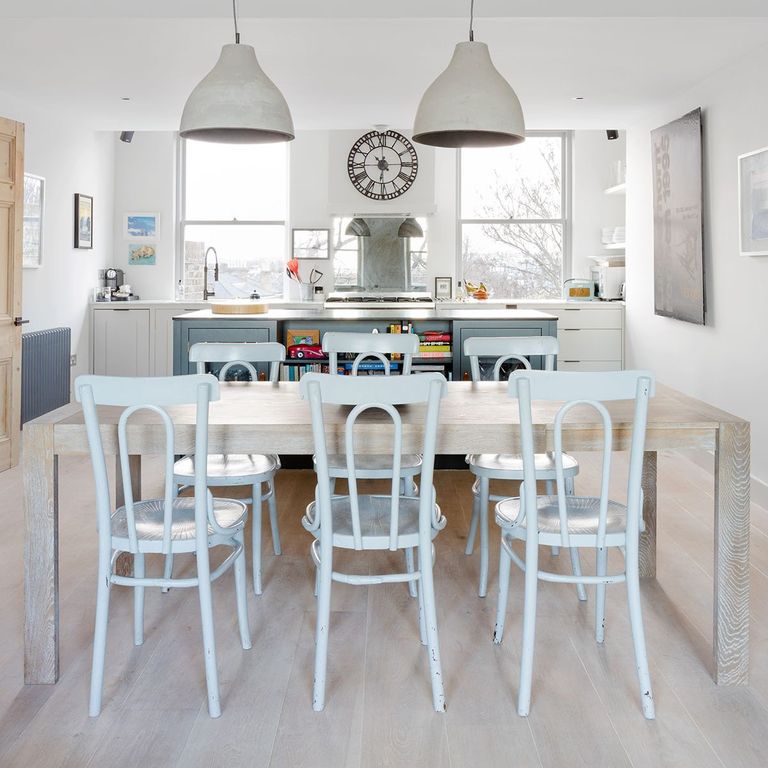 (Image credit: Andrew Beasley)
'Flats have the tendency to feel small and I wanted my home to look architecturally interesting with a sense of light and space,' says the owner of this south London apartment. 'I knocked three rooms into one kitchen-diner/living area, painted all the walls white and used a dark-grey shade on the kitchen island, steel staircase, doors and window frames to give a sense of contrast.'
See ourThis eclectic home in London is a mix of dark and dramatic furnishings
The property
Having used a loft conversion company in his previous homehouse and been disappointed with the 'bland and generic' the homeowner was keen to create impact this time round. Ben Hawkins from architecture and interior design practice Granit was approached and suggested a more modern design.
Ben's plan for the flat included a steel staircase that draws light down through the interior. A side dormer creates space for the stairs, which has open treads and a glass balustrade disperses the light, The steel is spray-painted in a charcoal grey to match the shade used elsewhere.
Living area
Three rooms were knocked into one to create the living, dining and kitchen space. Flooring is simplified with engineered oak which was treated with lye to remove the pigment and lighten the timber. 'Using wood was important to create a sense of warmth and texture, says the homeowner. Furniture and furnishings continue the monochrome theme and help to create separate zones. 'As it's a large room I had to think about how to segment the space,'he says.
Kitchen-diner
The dark-grey island divides the kitchen from the dining area. The builders were asked to customise the island with glass doors and shelves to make it look like a smart piece of furniture.
This charcoal grey then nods to the original fireplace in the living area and inspired the lighting choices. In the dining area oversized pendant help to anchor the table in the open –plan room, while slate and marble kitchen worksurfaces echo the Victorian marble fire surround in the living area.
Bedroom
IQ Living carried out the building work on the flat, which was stripped back to a shell and reconfigured to add a new bedroom and en suite. The brick wall was left exposed in thie new space and the homeowner began to execute his interior ideas, taking cues from Hilary Robertson's book Monochrome Home.
'It encouraged me to add contrast with a darker tone, though I tried to avoid black as that absorbs too much light.'
See ourAn urban retreat in London, owned and designed by Louise Bradley
Bathroom
The stone used in the bathroom echoes the other natural materials used throughout the apartment. As ever, a clever use of mirrored panel above the bath helps to create a more spacious feel in this minimal space.
En suite
Throughout the house, the homeowner was influenced by memories of childhood holidays when it came to choosing colors and materials. This is also true of the sleek en suite bathroom where pebble floor tiles which are a reminder of happy times on the beach in Norfolk.
Photography/ Andrew Beasley
Architecture/ Granit