Design house: A traditional alpine home in Combloux, designed by Tor Vivian
Set high in the mountainous landscape of Haute-Savoie, this traditional 19th-century farmhouse has been stylishly reinvigorated thanks to its owners' passion for pattern, color and characterful art and antiques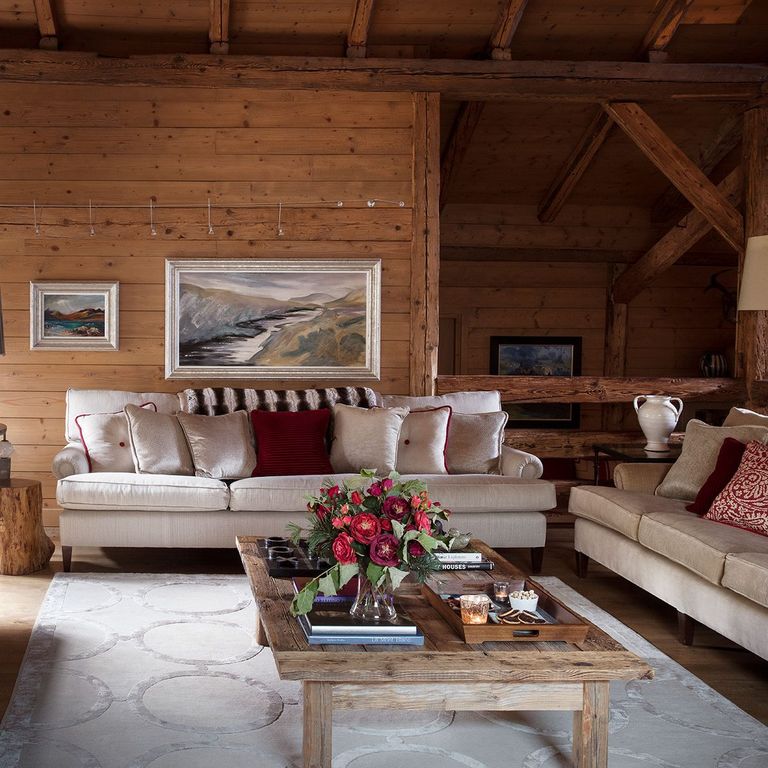 (Image credit: Paul Raeside)
The owners' first family holiday abroad, a family skiing trip to Megève in the French Alps, in 1981, was such a success it led to numerous repeat visit, and ultimately inspired the owner to buy a small flat in the resort.
Later, the owner married a jazz singer, with whom he has two daughters and, true to family traditional, the skiing holidays continued. However, his beloved flat quickly became too small for them all, and he and his wife decided to buy a house instead.
See: more inspiring house tours in our Spaces section
The property
'We were very excited about looking in Megève but there was nothing large enough available, so we extended our search to Combloux, a resort in its own right, just three miles away. It is smaller and quieter than Megève, but it is very sweet and just as nice, and is known as 'La perle du Mont Blanc because it has such incredible views of the mountain,' says the homeowner.
It is an old farmhouse and has a really generous main living area and five bedrooms, each with adjoining shower rooms. 'There is also a garden, which we wanted for the children,' says the owner. The views of the mountain are spectacular, and although it feels quite isolated it is just a five-minute walk to the shop to buy croissants in the morning. 'We also liked the fact that it is a proper, nineteenth-century Haute-Savoie farmhouse rather than a purpose-built chalet,' explains the owner.
Living room
Striking art work by Richard Hoey brings personality to the main living space of this farmhouse. 'I spotted this piece in a gallery on London's King's Road,' says interior designer Tor Vivian. 'The chimney breast is the perfect spot for it.'
Dining room
The large elaborate was the starting point for this scheme, with its opulence balanced by the clean lines of the red leather dining chairs.
Entrance hall
Warming notes of the could red appear in various forms throughout the farmhouse. 'It looks so good and is immediately comforting against the wood,' says Tor.
Living room
'It is really important to spend as much as you can afford on sofas,' says the owner. 'Trying to save money is a false economy. This is especially true of a home where you need somewhere very comfortable to rest after a day's skiing.'
Kitchen
The compact but efficient kitchen, with a small bar at the front, is set to one side beneath the roof of the main living area. Tor put in new lighting and a utensil rack to supplement the traditional pine cabinetry and a hardwearing but smart-looking hammered black granite worktop and splashback.
Snug
To give new life to the shelving unit, which was inherited from the previous owner, it was lined with a cowhide-effect wallpaper.
Hall
Tor used strong color and a carefully considered collection of furniture and accessories to personalise the traditional farmhouse interiors.
Main bathroom
Although the existing bathrooms were new and in good order, 'we added freestanding wooden vanity units with simple basins for a slightly more traditional look', says Tor.
Main bedroom
An elegant bureau, with a view of the first-floor terrace, provides Nick with a pleasant spot to work when at the chalet. To make the room feel cosy yet tranquil, the owner has chosen wool curtains, plenty of faux fur and a luxurious rug with an extra thick wave-patterned pile.
Daughter's bedroom
Touches such as the pom-pom trim on the curtains give this cheerful scheme a playful feel without making it childish.
Photography/ Paul Raeside