5 steps to Kelly Wearstler's masterful mantelpiece decoration
Be enticed to make this outrageously stylish mantelpiece decoration. Designed by Kelly Wearstler, it's perfect for fall, Thanksgiving, Christmas and beyond...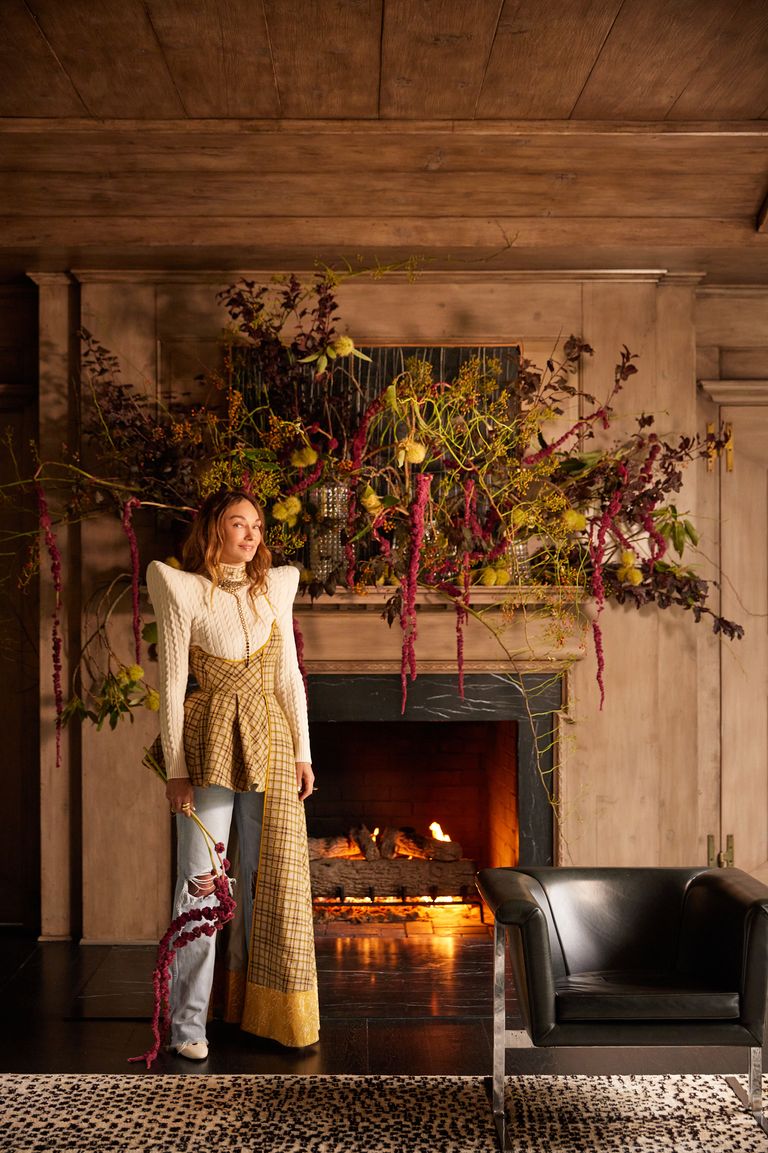 (Image credit: Kelly Wearstler)
By Lucy Searle
If you are hankering after a mantel decoration that's just a little more eye-catching than usual, search no further. This one is both outrageously stylish – and simple to recreate in just a few steps.
And while you may want to copy this most scene-stealing of Christmas decor ideas to the letter, you can use your own selection of Christmas foliage ideas to populate the vases, too.
Below, interior designer Kelly Wearstler reveals to H&G how to recreate the look.
'The fireplace is the centerpiece of my living room. I love to dress it up with seasonal mantelscapes robust with natural elements of the moment,' says Kelly.
How to make Kelly Wearstler's mantelpiece decoration
You can buy many of the items shown at Kelly Wearstler, or of course, you can use what you already have at home.
You will need:
Four vases of varying sizes and heights
Young tree branches
Chestnut, plum and rosehip foliage
Stones or gravel from the backyard
Trailing plants, such as amaranth
Seedheads
Seasonal blooms
1. Clear the mantelpiece
Artwork can stay – it can add color and layering to your mantelpiece decoration.
2. Place vases on your mantelpiece
'To start, I choose vessels to house the organic vignette,' says Kelly. 'Here, transparent vases in a variety of scale offer range of height and depth and let the entire fall floral fantasy take center stage.'
Fill the vases with water if the plants you are using aren't dried or faux; put handfuls of small stones in the vases to anchor any that are likely to topple – these will help keep stems from moving about too.
3. Add the tallest branches and stems first
Add 'blooming branches – a bountiful mix of chestnut, plum and rosehip – give structure, and framework with raw, moody gestures of statuesque trees,' says Kelly.
Continue building up this first layer of tall planting until you have filled the vases by around half.
4. Build up trailing plants, seedheads and seasonal blooms
Continue to add 'an interplay of greenery and draping, deep purple amaranth add to the alchemy of textures and stunning visual interest,' says Kelly.
5. Finish your mantelpiece decoration with mid-height plants
Continue to add to the mantelpiece decoration until the display is balanced – you will need to step back to take it in from across the room to ensure plants are evenly distributed. Adjust until you are happy with the mix of tall, trailing and mid-height fillers and the distribution of colors.
'Soulful autumnal energy ignites an interior,' concludes Kelly. She's so right.
Visit Kelly Wearstler on Pinterest to see more festive styling tips.
My first job was writing a DIY column for a magazine for the over 50s (which seemed a long way off back then). I then moved to a DIY magazine as deputy ed, then freelanced my way around the homes departments of most women's magazines on the market before working on Your Home and Family Circle magazines as homes editor. From there, I went to Ideal Home magazine as associate editor, then launched 4Homes magazine for Channel 4, then the Channel 4 4Homes website before going back to freelancing and running a social media business (you can see where I had kids from the freelancing gaps!). I was tempted back to the world of big business by the chance to work with the great team at Realhomes.com, where I was Global Editor-in-Chief for two and a half years, taking it from a small website to a global entity. I've now handed the reins of the website to our American managing editor, while I take on a new challenge as Editor-in-Chief of Homes & Gardens.