Best chef's knives: master the art of chopping, filleting and dicing with these perfect picks
In the market for the best chef's knives, money can buy? Our team of experts recommends these 7 must-have's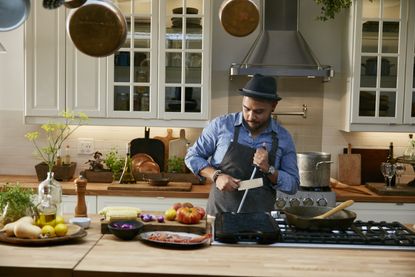 (Image credit: Getty Images)
Are you an aspiring chef? If so, it is crucial to invest in one of the best chef's knives money can buy, as a strong contender is a foremost tool you need for food preparation.
Mainly coming with an 8-inch blade, a chef's or cook's knife is an all-rounder, able to chop or cube, peel or mince, dice or slice everything from tough vegetables and meat to delicate fruits and herbs.
Here, we select our seven favorite chef's knives, from budget picks to premium blades to heavy-duty workhorses. While each may fulfill certain criteria or be ideal for a particular task, what they all have in common is their role as your go-to blade and best friend in the kitchen.
See more: Best kitchen knives – 7 perfect picks to sharpen your culinary skills
Best chef's knives 2020
You can trust Homes & Gardens. Our expert reviewers spend hours testing and comparing the latest products, helping you choose the best for you. Find out more about how we test.
1. MAC MTH-80
Best chef's knife overall
Specifications
Material: Japanese AUS8 steel
Type: Stamped
Rockwell rating: 59
Size: 8 inches
Warranty : 25-years
Reasons to buy
+
Comfortable to hold
+
Excellent at all food prep
+
Hollow recesses on blade avoid food sticking
Reasons to avoid
-
Expensive
-
Might feel too lightweight for some tasks
Are you in the market for a Japanese chef's knife? If so, this MACH MTH-80 is our top pick. Weighing just 6.5oz, it is lightweight for repetitive chopping tasks, while its wooden handle makes the MAC MTH-80 comfortable to hold and well-balanced.
The hollow recesses on the blade avoid chopped or diced food sticking to the knife as it smoothly glides through whatever you happen to be preparing, from the hardest root vegetables to raw meat.
Additionally, it is not only sharp but intricate enough to thinly slice the most delicate fruit. However, you may prefer a model with a bit more heft for heavy-duty tasks like cutting through bone.
The razor-sharp yet sturdy blade will withstand years of use, with just some regular sharpening required.
The MAC MTH-80 is one of the pricier models on this list, but for those that want the best, it more than justifies its price.
2. Victorinox Fibrox Pro Chef's Knife, 8-Inch
Best affordable chef's knife
Specifications
Material: Stainless steel
Type: Stamped
Rockwell rating: 56
Size: 8-inch
Warranty: Lifetime
Reasons to buy
+
Excellent value for money
+
Well-balanced
+
Non-slip handle means very safe to use
Reasons to avoid
-
Not the most attractive design
-
Lacks heft
-
Large handle not as suited to small hands
This might not be the most attractive of the chef's knives we're featuring here, but what the Victorinox Fibrox Pro Chef's Knife lacks aesthetically, it makes up for with value and excellent cutting prowess.
This all-rounder chef's knife lets you turn your hand to any food prep task with ease and skill: chopping, mincing, slicing, or dicing even the toughest meat and vegetables. Its tapered knife edge is ground to hold a sharp edge longer for superb performance and durability, with an extra-wide blade for balance, as well as useful for scraping items into your pot or tin. The Fibrox Pro Chef's Knife also has a flat spot at the heel and a curved front, ideal for rocking.
The blade is lightweight at just 6.1oz. The plastic handle is comfortable to hold while offering a non-slip grip, even when wet, so this is a great choice if safety is a factor for your purchase, and is well-suited to the beginner home chef.
3. Global Classic Chef's Knife, 8 inches
Best lightweight chef's knife
Specifications
Material: Stainless steel
Type: Stamped
Rockwell rating: 56-58
Size: 8-inches
Warranty : 2 years
Reasons to buy
+
Good value for money
+
Sharp blade
+
Stylish design
Reasons to avoid
-
Handle too small for some
-
Not the best for heavy-duty tasks
This sleek, Japanese knife looks gorgeous and is a joy to use. Lighter than traditional European-style knives and with a thin, extremely sharp blade, the Global G-2 Chef's Knife weighs in at just 6oz, so is comfortable to hold and use for repetitive food prep.
The stainless steel blade is ground straight to a point rather than beveled, resulting in impressive and long-lasting sharpness. This knife is ideal for anything from cutting meat to chopping vegetables and getting wafer-thin slices of fruit.
The stainless-steel, hollow handles are dimpled to ensure a secure grip, but there's no tang – the blade and handle are welded together.
The G-2 Chef's Knife, Global's best-selling model, sits between budget and premium blades when it comes to price, so you are getting excellent value for money with an extremely high-quality product.
4. Wusthof Classic 8-Inch Chef's Knife
Best heavy-duty chef's knife
Specifications
Material: Stainless steel
Type: Forged
Rockwell rating: 58
Size: 8 inches
Warranty: 10-years
Reasons to buy
+
Excellent at any task
+
Comfortable to hold and control
+
Long-lasting
Reasons to avoid
-
Expensive
-
Need to invest in a honing tool to keep it sharp
German brand Wusthof has been around for more than 200 years, and the firm is not only one of the oldest but one of the best knife makers around. Synonymous with strict quality controls and durable blades that can last a lifetime, the Wusthof Classic 8-Inch Chef's Knife is one of their best.
Whether chopping, mincing, dicing, or slicing, this all-rounder will prove a long-lasting and helpful partner in the kitchen. Its versatility means it is as capable of cutting through chicken bone as it is at getting the finest slices of fruit.
This chef's knife has a full tang, giving you great control and balance, while the handle is triple-riveted plastic that looks and feels like wood
This 8.5oz solid piece of cutlery will chop its way through even the densest ingredients, making it our choice for anyone wanting a heavy-duty European-style knife.
5. Zwilling Kramer Euroline Damascus Collection 8-inch Chef's Knife
Best looking chef's knife
Specifications
Materials: Stainless steel
Type: Forged
Rockwell rating: 60-62
Size: 8 inches
Warranty: Lifetime
Reasons to buy
+
Gorgeous design
+
Retains its super sharp blade
+
Ideal for heavy-duty food prep
Reasons to avoid
-
Expensive
-
Could feel too large or heavy for smaller hands
This chef's knife is truly a thing of beauty, and wouldn't look out of place as a piece of wall art rather than hidden away in a knife block.
The exquisite deep-etched chevron pattern on the blade is thanks to the 50 alternating layers of nickel and Damascus stainless steel encasing it, while its Rockwell rating of 63 ensures a tough, durable blade. This is matched by a full-tang tapered handle constructed from linen Micarta laminate, which feels lovely in the hand and comfortable to use over long periods.
The knife also has a decent weight to it at 9.4oz, so it is well-suited for heavy-duty tasks like cutting through hard vegetables or tough meat.
Zwilling teamed up with master bladesmith Bob Kramer to design this chef's knife, so along with the external beauty, you are getting an exceptional cutting tool. The blade maximizes curves, balance, and utility for everyday tasks, while the extra width is ideal for larger hands, cutting through large produce, and transporting food once prepped.
6. Shun Cutlery Premier 8" Chef's Knife
Best chef's knife for a connoisseur
Specifications
Materials: Stainless steel
Type: Forged
Rockwell rating: 60-61
Size: 8 inches
Guarantee : Lifetime
Reasons to buy
+
Versatile
+
Fabulous design
+
Comfortable to use
This premium knife will suit the more expert home chef or professional. With its fine looks and superb cutting abilities, it is ideal for any task you need to undertake – though it is one of the more expensive knives we're recommending here.
Shun knives are handcrafted in Japan, and the Premier range has a thinner blade and is lighter than European models, making it perfect for prepping mounds of vegetables or meat.
The Premier Chef's Knife blade has a super-hard VG-MAX steel core, with 34 layers of Damascus stainless steel cladding, so it not only looks great but stays sharp as well. The 7.3oz knife has a full tang running through the handle, which is crafted from contoured walnut PakkaWood, the wood/plastic composite making it long-lasting and comfortable to use.
Whatever you are slicing, dicing, or chopping, the wide blade with a hammered finish makes this safe to use and is handy for transferring items from your chopping board to pan or tin. The curved belly can also be rocked over fine herbs or spices.
7. Mercer Culinary Genesis Forged Santoku Knife
Best Santoku chef's knife
Specifications
Material: High-carbon steel
Type: Forged
Rockwell rating: 58
Size: 7 inches
Warranty: Lifetime
Reasons to buy
+
Great value
+
Retains sharpness
+
Thin blade, ideal for sushi prep
Reasons to avoid
-
Not the most attractive knife due to plastic handle
A santoku knife is the type of chef's knife you should invest in if you're a fan of home-made sushi. The tapered blade of the Mercer Culinary Genesis Forged Santoku Knife is designed for very precise cutting to get extremely thin slices of meat, seafood, cheese, fruit, or vegetables.
The Santoprene handle offers superior comfort and a non-slip grip, so you can feel safe using this model even with wet hands.
Even though it's not a traditional cook's knife like the others covered here, the usability and cutting quality of the Mercer Culinary Genesis model will help even the knife novice feel like they're slicing and cutting like a professional.
Mercer has built up a reputation for top-quality products at great value prices, and the Culinary Genesis Forged Santoku Knife certainly fits into this category.
What should I look for when buying a chef's knife?
Sharpness and comfort are the two most important criteria when buying a chef's knife. Comfort should be your starting point, as you'll need a knife that's easy to handle for the majority of tasks. Most chef's knives are 8-inches in length, although some Japanese models are slightly shorter at 7-inches.
Balance and comfort come next. The type and material of a knife have a big part to play, with some people preferring the feel of wood, and others man-made synthetic materials. Neither's the right choice and it comes down to personal preference.
A knife's tang is the section of steel that runs through the handle. Full tang knives are more expensive but the metal runs all the way to the end of the handle, which often gives better balance.
For sharpness, all knives will be sharp out of the box but should be maintained with use to keep that sharp edge.
Forged versus stamped knives, which is better?
Knives can be forged (crafted from a single piece of steel) or stamped (cut from a flattened piece of steel using a cookie-cutter like a machine).
Forged knives generally have a thicker bolster (the fat bit where the blade gets wider as it meets the handle), which can make them easier to hold and grip. Stamped knives tend not to have a bolster, but can be lighter and easier to use, and they tend to be thinner cutting through things more easily.
Forged knives often hold their edge for longer, but modern stamped knives using quality materials can be just as good. How hard the steel is has a part to play, measured by the Rockwell rating.
What is a Rockwell rating?
The Rockwell rating is used to define the hardness of the steel used in the knife.
Harder steel will hold its sharpness for longer, but the harder the steel is the less flexible it is. Japanese knives tend to be made from the harder steel, giving them a fine, slim blade. They can cut more easily but be careful, as it's easier to chip or snap off the point on one of these knives, particularly if you cut through bone.
German knives tend to be slightly softer, so need a bit more force. The softer steel is a touch more flexible and the blades slightly thicker, so they're harder to break and can work on tough materials, such as bone.
The knife steel is rated on the Rockwell C scale, noted as HRC. Below 52 HRC is too soft for a good knife; 52-54 HRC is soft but good for budget knives; those looking for a professional-quality knife will need a knife in the 59-64 HRC range, depending on the type.
Are expensive knives worth it?
If you're into your cooking, then an expensive knife is completely worth it. Buying a high-quality model will give you more flexibility when cutting ingredients, and you'll find the job easier, too. More expensive knives will generally hold their edge better too, so won't need to be sharpened as often.
How do I look after my chef's knives?
It's important to note that all knives have to be maintained, and a cheap knife that is sharpened often is better than an expensive one with a dull edge. You should also only ever hand wash your knives to maintain them in the best condition. With a little care, a knife should last a lifetime.
What's the best way to sharpen a knife?
Technically speaking, an old fashioned whetstone is the best way to keep your knife sharp, but it takes practice and skill to get it right. For home use, it's often easier to buy a pull-through knife sharpener (most manufacturers will sell one). These are set up to get a good, sharp edge with the minimum of fuss. From time-to-time, you can take your knife to a professional and have it resharpened.
A honing steel is also a useful tool. This doesn't sharpen your knife but it pushed the edge back straight to keep it in the proper position for accurate cutting.
What knife do professional chefs use?
Each professional chef has their preference, but Zwilling J. A. Henckels, Wusthof, Global, and Shun are all popular choices. Gordon Ramsey is a fan of Wusthof, and Michel Roux Jr prefers the Global range.
Sign up to the Homes & Gardens newsletter
Decor Ideas. Project Inspiration. Expert Advice. Delivered to your inbox.