Best kitchen knives: 7 perfect picks to sharpen your culinary skills
Take your culinary skills to 'Top Chef,' status courtesy of the 7 best kitchen knives – ranked by our team of experts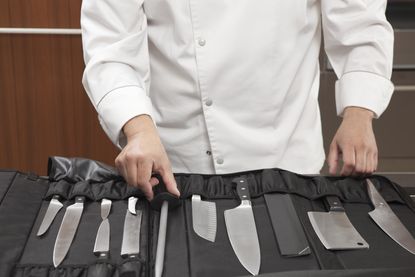 (Image credit: Getty Images)
Are you looking for the best kitchen knives money can buy? Honestly, who isn't? A workman is only as good as their tools – and if you are going to invest in one top-of-the-line piece of equipment? It should most definitely be a knife, and why is that?
If you're someone who's starting to notice that one-too-many kitchen nightmares are recurring on your watch? It most definitely is a result of problematic tools – more specifically, a problematic knife.
See, unlike when you reach for a spoon or a fork (that are bound to give you the same result no matter which one you use), knives are in a league of their own.
Are you looking to use a knife for slicing, dicing, or carving? Or is there a specific length or width you're looking to use? Or, more importantly, are you looking for a butchered knife, or how about a serrated one, too? All of the above questions are as important as the last – and if you're someone who's at a beginner's level? You might not know how (or what) you're looking for knife-wise.
So at the risk of wasting a pretty penny on the wrong knife or reducing the risk of cooking up yet another low-quality meal, the Home & Gardens team is stepping in to save the day. For anyone who's looking to update their current culinary collection, it's time to listen up!
Our team has gone ahead and put a handful of knives to the test. During that time, we've trial-and-tested every single knife out – taking into consideration everything from blade size to length, as well as each knife's functions and capabilities, too.
The result? This comprehensive guide of the seven best kitchen knives money can buy. And, if you're wondering what made our list (and which knives didn't), continue reading.
See more: Best chef's knives: master the art of chopping, filleting and dicing with these professional picks
1. Wusthof Classic 8-Inch Chef's Knife
Best kitchen knives: The best German chef's knife
Specifications
Material: Stainless steel
Type: Forged
Size: 8-inches
Reasons to buy
+
Excellent at any task
+
Comfortable to hold and control
+
Long lasting
Reasons to avoid
-
Expensive
-
Need to invest in a honing tool to keep it sharp
Founded in Germany more than 200 years ago, Wusthof has proven itself to be not only one of the oldest but one of the best knife makers in the business due to its strict quality standards and long-lasting blades. So it comes as no surprise that our choice for the Best German Chef's Knife? We are hands-down crowning this Wusthof Classic 8-Inch Chef's Knife, our top German winner.
Here, this all-purpose knife has all the bells and whistles any cooking enthusiast is looking for when it comes to a top-of-the-line option.
When used, this knife excels at any task you turn its way — including everything from chopping, mincing, dicing, and slicing. And, when it comes to cutting through chicken bones or slicing the finest fruits? Once again, this knife comes out on top — literally.
Plus, if you are someone who needs to be in control of the knife when using it? Again, this option comes out on top. It offers up superior control and even extends that control through the handle. Fantastic — and even more favorable?
This knife offers up a decent weight too. At 8.5oz, this solid piece of cutlery will be able to do everything from chop its way through the densest of ingredients to quickly dicing up an onion in seconds!
2. MAC Professional Series, MTH-80 Knife
Best kitchen knives: The best Japanese chef's knife
Specifications
Material: Japanese AUS8 steel
Type: Stamped
Rockwell rating: 59
Size: 8inches
Reasons to buy
+
Comfortable and lightweight for repetitive tasks
+
Excellent at any food prep task
+
Hollow recesses on blade avoids food sticking
Reasons to avoid
-
Expensive
-
Might feel too lightweight for some tasks
Although the Wusthof and Mac knives are both Chef knives, it's important to note: both versions take very different approaches when compared to one another.
Here, this multifunction chef's knife features hollow recesses on the blade. The reason for this? This feature included avoiding anything sticking to the knife as it glides seamlessly through whatever you happen to be preparing (from root vegetables to soft fruit, and even raw meat!).
Now, if you're wondering how much this MAC MTH-80 weighs? This option comes in at 6.5oz and isn't but heavy or lightweight either. As is often the case with Japanese brands, this knife is light in the hand for repetitive chopping tasks, while its wooden handle is comfortable (and heavy enough) to hold.
Additionally, the thin blade is supreme for delicate slicing; however, you might find you prefer something with a bit more heft for heavy-duty tasking (such as cutting through a bone).
Most favorably of all? This razor-sharp yet sturdy blade will withstand years of use, with just some regular sharpening required. Meaning, the $144.95 price tag is worth every single penny.
3. Global 3.5" Ukon Paring Knife
Best kitchen knives: The best pairing knife
Specifications
Material: Stainless steel
Type: Forged
Rockwell rating: 56 - 58
Size: 3-inches
Reasons to buy
+
Ideal for intricate tasks
+
Hollow, dimpled handle for balance and comfort
+
Lightweight
Reasons to avoid
-
Handle might be too thin for some
-
Hand wash only
This Japanese-made paring knife is a much smaller model than the chef's knives above. It's, therefore, a safer and more usable choice for prepping smaller items and more intricate tasks, such as mincing garlic, peeling fruit and vegetables, or scraping seeds out of a vanilla or chili pod.
This paring knife is forged from a single piece of steel, and with its signature dimple pattern on the hollow handle, you get a comfortable, slip-resistant grip with exceptional balance and control. The Global blade is thin, ultra-sharp, and lightweight, making it ideal for repetitive tasks to avoid hand strain of any sort.
4. Tojiro Bread Slicer 270mm F-687
Best kitchen knives: The best investment/value knife
Specifications
Material: Stainless steel
Type: Stamped
Rockwell rating: 58-59
Size: 10.6
Reasons to buy
+
Good value
+
Sharp
+
Durable
Reasons to avoid
-
Handle could be too big for some
Tojiro has earned a reputation for providing fantastic, great-value Japanese kitchen knives. The long, serrated blade of this bread knife is designed to stay sharp on its own, so you don't need to worry about maintaining it.
The blade is ideal for slicing all kinds of bread – even those with the hardest crust - into as thin slices as you like.
This knife is sturdy without being heavy in the hand, and at just 5.1oz, its wooden handle is comfortable to hold and use, no matter how many sandwiches you're making.
Here, this Tojiro Bread Slicer offers users long-lasting sharpness that is both strong and made from durable steel — which is comfortable to use, and all at a great value price point.
5. Shun Utility Classic Knife, 6 Inch
Best kitchen knives: The best utility knife
Specifications
Materials : Stainless steel
Type: Forged
Rockwell rating: 60-61
Size: 6-inches
Reasons to buy
+
Ideal for mid-range tasks
+
Attractive
+
Sharp blade
Reasons to avoid
-
Expensive
-
Handle won't suit all
Looking for a knife that fits in-between (size-wise) a chef's knife and a paring knife? If so, this utility knife fits the bill — and is essential for anyone looking for everyday use.
The Japanese-made Shun Utility Classic model is sharp, smooth, and precise, so it is ideal whether you want to chop, peel or slice, or cut up larger (or harder) fruit and vegetables.
This narrow, sloping blade will serve you well in the kitchen whether peeling and slicing some red onion for a salad or halving some cherry tomatoes. The slightly curved belly of the blade also lets you apply some moderate rocking cuts.
The handle is D-shaped Pakka-Wood, while the blade is made from attractive Damascus stainless steel, which retains its sharpness.
6. DALSTRONG Slicing Carving Knife - 12"inch
Best kitchen knives: The best carving knife
Specifications
Material: Stainless steel
Type: Forged
Rockwell rating: 62+
Size: 12"inches
Reasons to buy
+
Ideal for all meats and joints
+
Extremely sharp
+
Versatile for other food prep tasks
In need of a long, sharp blade that's ideal for carving meat on (or off) the bone? If so, look no further than the DALSTRONG Slicing Carving Knife 12-inch.
Instead of cutting down into your joints, this blade will do all the work for you — leaving you to ease away the meat —for the smoothest slice possible.
Here, the extra-long blade is ideal for briskets, roasts, ham, turkey, salmon, and any other large cut of meat that crosses your mind. And why is that? It features an extremely sharp blade, which means what exactly?
Simple: you get ultra-thin, uniform slices with every stroke — no matter what type of meat (or fish) you are slicing.
Plus, there's just enough flex in the blade to precisely follow the contours of the meat — all while the 8-to-12 degree, double-bevel edge avoids tearing.
With that being said, although this is our top pick for the best carving life, it's important to note it's not limited to carving.
This knife will also work wonders when slicing bread, peeling or cutting large fruits and vegetables, or even layering cakes. Its endless versatility is one of the main reasons why the higher price-point is worth every single penny.
7. Mercer Culinary Store — Genesis Forged Santoku Knife, 7-Inch
Best kitchen knives: The best santoku knife
Specifications
Material: High-carbon steel
Type: Forged
Rockwell rating: 58
Size: 7-inches
Reasons to buy
+
Great value
+
Retains sharpness
+
Thin blade, ideal for sushi prep
Reasons to avoid
-
Not the most attractive knife due to plastic handle
A santoku knife isn't essential for your kitchen collection, but it's one to invest in if you're a fan of home-made sushi. The tapered blade of the Mercer Culinary Genesis Forged Santoku Knife is designed for very precise cutting to get extremely thin slices of meat, seafood, cheese, fruit, or vegetables.
Even though it's more of a niche model than the others covered here, its ease of use will help even the knife novice feel like they're slicing and cutting like a professional.
The Santoprene handle looks a bit cheap but offers superior comfort and a non-slip grip, so you can feel safe using this model even with wet hands.
Mercer has built up a reputation for top-quality products at great value prices, and the Culinary Genesis Forged Santoku Knife certainly fits into this category.
What should I look for when buying kitchen knives?
You can trust Homes & Gardens. Our expert reviewers spend hours testing and comparing the latest products, helping you choose the best for you. Find out more about how we test.
The sharpness of the blade and comfort of the handle are two key areas to focus on, as this will give you insight into a knife's ability to excel at its core job and how easy and pleasant it will be to use. The Rockwell rating will provide a proper indication of the quality of the blade.
You should explore the weight and feel of the knife, and whether it's suited to the task you have in mind, and also whether you prefer something lightweight or with a bit of heft.
Stamped or forged will help you here – a forged knife tends to feel weightier and balanced in the hand, while a stamped knife is often lighter and so may feel easier to use for some. Forged knives generally cost more and often keep their edge for longer.
What is a Rockwell rating?
The Rockwell rating tells you how hard the steel used in the knife is. Harder steel will hold its cutting edge for longer than softer steel. The knife steel is rated on the Rockwell C Scale, often indicated as HRC.
Anything below a 52 HRC rating would be too soft for a kitchen knife; an HRC rating of 52-54 is soft but would make a reasonable, budget kitchen knife; professionals and home cooking enthusiasts should look for kitchen knives with an HRC rating of 55 or above. Most premium steels are in the 59-64 HRC range.
German knives tend to be a bit softer than Japanese knives. This is because they're more general-purpose tools, and made thicker, so it can deal with things like bones.
Japanese knives are typically thinner, designed for intricate slicing, and sharper; the harder steel can mean that they can break on hard objects, such as bones.
Are expensive kitchen knives worth it?
The simple answer to that is yes, as the more expensive models will offer a more pleasant and comfortable experience chopping, slicing, or dicing, and will save you time too. Though this comes with a caveat: a cheap knife regularly sharpened is better than an expensive knife never sharpened. If you're going to splash out on a premium blade, you need to look after it – hand wash only, dry immediately after use, and invest in honing steel to keep your knife super sharp.