Black Friday luxury Christmas decorations: 10 stylish picks to shop now
Treat yourself to some luxury Christmas decorations this Black Friday, and enjoy an extra glamorous holiday season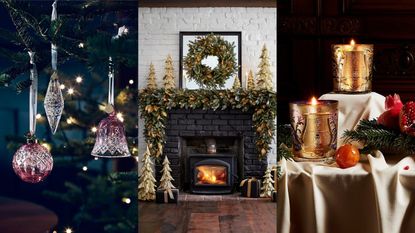 (Image credit: Macy's/Nordstrom/Saks Fifth Avenue)
Luxury Christmas decorations are the ultimate way to make your home feel extra special this holiday season.
Whether it's decking the halls, the doors, the fireplace or the tree, investing in beautiful, high quality decorations for your Christmas decor ideas can make all the difference – especially if you want to keep them for years to come.
Luckily, Black Friday is here to help bring your dream decorations into budget, with some incredible sales on baubles, garlands, candles and more available across some of our favorite luxury brands.
Black Friday luxury Christmas decorations sales
We've brought together some of our favorite Black Friday deals on luxury Christmas decorations to help you make your holiday season affordably fabulous.
1. Dazzle with delicate crystal baubles
When it comes to Christmas tree ideas, nothing says 'luxury' like hand-blown crystal baubles. Reflecting your Christmas lights around the room, these enviable ornaments add elegance and excitement to simple schemes, appearing like giant glinting snowflakes when chosen in a clear white colorway. For a touch of festive warmth, the Waterford Lismore Bell Cranberry Ornament from Macy's (opens in new tab) tints the crystal with a pale berry red.
2. Go for gold with a metallic wreath
Make the three kings proud and lavish your guests with gold decor this Christmas. Set the tone for seasonal luxury from the moment they arrive at the door with gilded Christmas wreath ideas, like this Gisela Graham Fern Leaf Christmas Wreath in Matt Gold from Amara (opens in new tab). A simple design elevated by the use of metallics to signify the special occasion, you can carry on the look indoors by adding the matching garland too.
3. Fill the home with luxury festive scents
Of course, it's not just aesthetics that make Christmas decor feel luxurious. Filling your home with wintry scents by lighting your best candles is a great way to create an immersively Christmassy feel. Choose candles that smell as good as they look and vice versa – this Cire Trudon Christmas Gabriel Candle from Saks Fifth Avenue (opens in new tab) contains notes of leather, cashmere wood, and candied chestnuts, and features a beautiful green and gold holder.
4. Give Santa a prime spot on the Christmas tree
He is the man of the moment, so getting Santa Claus involved in your festive decor is always a good idea – especially if you suspect you might be on the naughty list. To make his presence feel sophisticated rather than kitsch, choose to celebrate him through vintage-style glass decorations, like this Santa in Sleigh Glass Ornament from Bloomingdale's (opens in new tab), and combine nostalgia with quality.
5. Make your guests feel cozy with seasonal cushions
Christmas decor doesn't have to stop at the tree – integrating festive flourishes into unexpected places spreads holiday cheer throughout the whole house. Consider bringing out the seasonal soft furnishes to make your guests feel comfy and cozy and in the spirit of things. This subtly festive Jan Constantine Fir Wreath 'Joy' Pillow in Cream from Amara (opens in new tab)works wonderfully well with an array of neutral blankets and throws.
6. Add a touch of glamor with pearls
For a chic Christmas, look beyond the tinsel and the fairy lights and into the world of fashion. Pearl-encrusted decorations are a great way to add unexpected glamor to your holiday decor, and work really well in both neutral schemes or as pale accents among richly colored Christmas tree themes. These Joanna Buchanan Pearl Tassel Christmas Tree Decoration in Cream from Amara (opens in new tab) go all out with a flow of faux pearls, falling from a jewel-filled crown.
7. Deck the halls with elaborate garlands
If you really want to get your Christmas fireplace ideas feeling merry and bright, fill your mantel with the most elaborate garland you can find. It's unlikely you'll have the fire burning all day, so continue the feeling of warmth with this Balsam Hill Gilded Leaf Magnolia Pre Lit Artificial Garland from Nordstrom (opens in new tab), which features built-in lights, gold leaves throughout and an overall realistic look (without the pine needle droppage). Pre-lit garlands are also great for staircases and decking bare hallway walls.
8. Modernize festive favorites with a gold and silver palette
Santa Claus, Rudolph, an army of elves – these festive characters are perennial favorites, but their bright red and green garb may not fit in with your home decor. If you're keen to stick to a monochromatic color scheme, choose decorations that reimagine these fellows in gold and silver. This Michael Aram Nutcracker Ornament from Bloomingdale's (opens in new tab) dresses up the magical maestro in a metallic outfit, and is available alongside a silver reindeer, a white and gold angel and Santa masquerading as the moon.
9. Pack your decorations with patterns
Maximalism has been one of the biggest trends of the last year, so why not have a pattern-clashing Christmas? Filling your festive decor with bold motifs is a great way to get on trend and creating eye-catching moments throughout your home. This Mackenzie-Childs Tartan Bauble Set from Amara (opens in new tab) mixes black and white chequerboards with tartan, repeating Christmas trees, and squiggling loops in red and green.
10. Go all out with a 16 foot Christmas tree
Now, if you want a Christmas that feels really luxurious, bigger is always better. If you're lucky enough to have a double height space in your home, there is simply no better way to fill it over the festive season than with a colossal Christmas tree. This National Tree Company Feel Real Downswept Douglas Fir Hinged Tree with Dual Color LED Lights from Bloomingdale's (opens in new tab) clocks in at a staggering 16 feet. Luckily, it's pre-lit so you don't need to worry about getting the fairy lights all the way to the top.