Indoor plant mistakes – 10 errors that are killing your houseplants, according to experts
Make these errors and you could be sending your precious houseplants to an early grave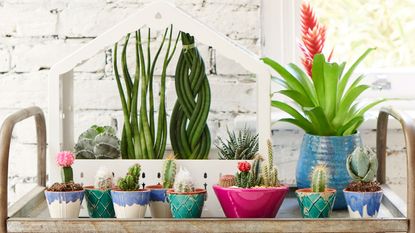 (Image credit: Catherine Gratwicke)
Sign up to the Homes & Gardens newsletter
Decor Ideas. Project Inspiration. Expert Advice. Delivered to your inbox.
Thank you for signing up to Homes & Gardens. You will receive a verification email shortly.
There was a problem. Please refresh the page and try again.
Have you tried tirelessly to join the ever-expanding houseplant community, only to find your new plants dead within months? You're not alone. Growing indoor plants may sound simple on paper, but in practice, there are many things that can go wrong.
From overwatering and underwatering to not giving your plant the right light conditions or pot to grow in, there are simple mistakes that many of us can fall into the trap of making.
If you believe you have a black thumb, you may just be making one of these ten common indoor plant mistakes. Avoid them and your houseplants will hopefully be thriving for years to come.
Madison has turned her years-long passion for plants into a career writing for both digital and print publications. She covers everything from trends to general plant care advice, all while caring for her own ever-growing plant collection. She is a proud houseplant parent and enjoys discovering the best methods to keep them in great health and growing well.
The worst indoor plant mistakes you need to avoid
If you're a fan of decorating with plants, you'll want to make sure you keep your leafy friends looking their best. Avoiding these simple errors is a great place to start your houseplant care journey.
1. Overwatering your houseplants
When it comes to houseplants, one of the biggest killers is overwatering. The worst part is, you may not even know you're making any mistakes until you find your plant suddenly wilting, rotting and turning yellow.
Although many houseplants (especially tropical indoor plants) love growing in moist soil, it should never be soggy. This limits airflow around the roots encourages fungal growth, leading to a condition known as root rot. Plants such as orchids or fiddle leaf figs can suffer from root rot, and in the worst cases it can kill your plant.
Rachel Tenney, co-host of the Plant School podcast, has first-hand experience with this common mistake. 'I think it's just natural for us to see something that's going wrong with our plant, and we assume the first thing it needs is water. Or, we just aren't sure how much water our plant needs and we overdo it. I did this when I first started tinkering around with houseplants. A lot of plants die because of this.'
Watering requirements differ per plant, so start by doing some research on how often to water indoor plants. As a general rule, avoid overwatering when the top layer of soil is still moist and test the lower levels of the soil with your finger to determine moisture levels before you decide when to water again.
2. Planting in pots without drainage holes
While overwatering is a common cause of root rot, this lethal disease can also be the result of a lack of drainage. Drainage is essential in all plant containers – indoors and out – if you want your plants to stay alive long-term.
I already know what you're thinking – what if I just water very carefully, or use gravel at the bottom of the pot to replace drainage holes? When you've found the perfect decorative container with no drainage holes, it can be so tempting to plant in it anyway and hope for the best. But this will quickly lead to root problems, and potentially the death of your plant.
'Pots without drainage holes are an issue. You can have a quick decline because if you don't dump the water out, it will be sitting in a swamp and it's not going to live very long. Especially if you are overwatering it in a pot that has no drainage hole, it's kind of like a kiss of death,' says Amanda Switzer from Planterina.
If you like a pot that has no drainage holes, simply drill a few in the base of the container before you plant. Spread them out evenly so one part of the soil doesn't remain moist while the rest dries out.
3. Underwatering your plants
When watering, gardeners often start out on either of the extremes: watering too much, or watering too little. I used to fall solidly on the watering too little side (and often still do).
Unfortunately, underwatering can be just as deadly. Without water, your indoor plants won't have all the components needed for photosynthesis, stunting growth. The leaves will begin to wilt as the cells lack water, and the roots won't be able to transport nutrients to the parts of the plant that need them.
If you leave the soil dry for long periods, it also becomes compacted and hydrophobic, making it difficult to resolve the problem. To fix this, Kevin Espiritu from Epic Gardening recommends manually aerating the soil.
'You can use chopsticks or a specific aerator and this is replicating what's happening in nature. Soil is not static in nature and so I'm breaking the soil up just like all the soil life would normally do. It's going to be much more ready to take up and absorb water instead of just running right off.'
In severe cases, it's often better to water from the bottom, allowing the soil to soak up as much moisture as it needs. This ensures the roots are fully saturated, rather than remaining dry in some areas.
Incorrect watering can cause plants such as a pothos to turn yellow or an aloe plant to turn brown, so it pays to get it right.
4. Overfertilizing
Nutrients (and by extension, fertilizers) are an important part of plant growth. Often described as 'food', these products promise a growth boost and strong, healthy plants. So, when your plant doesn't look as happy as it once did, many gardeners reach for fertilizer to solve the problem.
This can lead to another common mistake – overfertilizing. Adequate nutrients may be essential, even for indoor plants that are easy to care for, but too much can do more harm than good. Excessive fertilizer use effectively 'burns' the roots, causing stress and damage that is difficult to repair.
Experts at Sheridan Nurseries agree, saying 'while it can be a helpful tool to help keep our plants healthy, too much of a good thing will have poor results.'
Always follow the instructions on the packaging of your chosen fertilizer. To avoid any risks, I always start with a half-strength dose of fertilizer, applying more only if I'm sure my plants need it.
A general all-purpose indoor plant fertilizer, such as this Miracle-Gro one from Amazon, is a good bet for most houseplants.
5. Confusing 'low light' with 'no light'
This is one of the most common mistakes I've seen people make when growing houseplants. The first question I ask when people come to me for advice about houseplant problems is – are you sure it's getting enough light?
Light fuels photosynthesis. Without it, our plants cannot grow. But when we come across labels like 'low light indoor plant' on a houseplant sticker, many assume this means it can survive almost anywhere in our homes.
The phrase 'low light' does not mean rooms with no windows or dark corners of your home shaded by larger objects. In technical terms, it means areas that receive around 100 foot-candles (1000 lux) of light on a regular day. These are usually areas in brighter rooms further away from the light source or spots right next to north-facing windows - not rooms with almost no light at all.
6. Ignoring humidity requirements
Many common indoor plants come from the tropics where humidity remains high year-round. Since matching native habitats is one of the keys to successful indoor plant care, it follows that correct humidity levels are essential.
Beyond the basics of watering and sunlight, houseplant owners often forget to consider other aspects of the environment like humidity that have a huge impact on how your plants perform. Low humidity levels can lead to a lack of new leaves, general stunted growth, and brown leaf tips that won't turn green again (even if conditions are improved).
Houseplant enthusiast Ashley Anita (@lifewithashleyanita) advises that 'if you are a plant parent and you have tropical plants with no humidity, that is a big mistake - especially if you want your plants to thrive and put out big beautiful leaves. Ideal humidity conditions are 60% and above.'
For plants that like humidity, consider having them as a bathroom plant or kitchen plant as these are rooms where moisture levels often tend to be higher.
7. Placing plants in direct sun
While I would say inadequate light levels are a more common issue, giving your indoor plants too much sun is also a risk.
Most houseplants are accustomed to growing in the shade, which is what makes them suitable for growing indoors where light is not as strong. They are also produced by growers under shade cloths that closely replicate conditions in our homes to make them suitable for indoor growth. If you thrust a plant from these conditions into full direct sun, the leaves will quickly burn.
Avoid placing your indoor plants in areas where sunlight is direct and intense. If your houseplants are getting too much sun, you'll see brown spots developing on the leaves close to the light source. They also may begin to stretch and curl away from the sun to protect themselves from further damage. These are all signs that you should move your plant into indirect light immediately.
8. Choosing the wrong plants for your space
Many of these mistakes in care or placement come down to picking the wrong plants for your space. For indoor plants to survive long-term, they need an environment that closely matches their native habitats. If that's not possible, it's better to choose a more suitable plant for your space, rather than one that may look good but will die quickly.
Houseplant grower Abi Bloom (@abi_bloom) made this mistake early on when buying houseplants. 'I didn't consider the environment before I went out and bought the plants. I know that's not always easy, but ultimately if you're not putting it in into the environment where it's going to be happy, there's no point in buying the plant.'
9. Repotting incorrectly
Repotting is a maintenance task that doesn't need to be done often, but does need to be done carefully, so bear this in mind whether you're repotting orchids, spider plants or even repotting a monstera. It doesn't matter what type of plant it is, there are many things that can go wrong, from using the incorrect soil to buying the wrong size pot.
The first mistake in repotting is doing it too early or too often. You may want to repot as soon as you bring your plant home, or repot every season to give the plant more space to grow. However, as plants generally don't like their roots disturbed, this can end up stunting growth rather than spurring it.
Choosing the incorrect pot is another common mistake. Gardeners often assume a bigger pot equals more growth, but that's not always the case. Kev, fondly known as Plant Papi online (@theplantpapi), encountered this problem with his ZZ Plant. 'I would completely submerge her thinking she was underwatered when in reality, she was holding onto too much water because I repotted her in a pot that was way too big. When in doubt, check the roots.'
You also need to ensure you're using the correct soil mix. The easiest way to do this is to make your own soil mix that closely matches the previous mix, limiting changes in environment that can cause stress. Alternatively, look for specialized houseplant soil mixes, such as this one from Amazon, or search at your local garden centers.
10. Giving up too quickly
For those who have made any of these mistakes, it's important not to rush to label yourself a black thumb and give up altogether. Part of growing indoor plants is making mistakes and learning from them. I have collected a large plant graveyard over my years of gardening, but I also have even more plants now that are thriving because I was able to learn from my mistakes.
John Clements, the Director of Gardens at the San Diego Botanic Garden, provides some sage advice for those wanting to give up. 'One of the things that I would say to people about houseplants is if you have it in a spot where it's not happy, try a different spot. You may find that if you move the same plant 10 feet, it's like a whole different world for it. Don't give up. If you're having struggles, just find another happy spot.'
FAQs
How do you tell if a houseplant is stressed?
Stressed houseplants will display signs of struggle such as yellowing leaves, wilting, mushy stems and stunted growth. It's important to identify the cause as soon as these issues show up and resolve it before your houseplant is too far gone.
What do overwatered houseplants look like?
Yellowing leaves are one of the first signs of an overwatered houseplant. The stems will also become mushy and the leaves may start to wilt. A closer look at the soil and the conditions of the roots will confirm whether your houseplant is overwatered or not. Slow your watering and if the plant does not recover, repot into fresh soil.
Sign up to the Homes & Gardens newsletter
Decor Ideas. Project Inspiration. Expert Advice. Delivered to your inbox.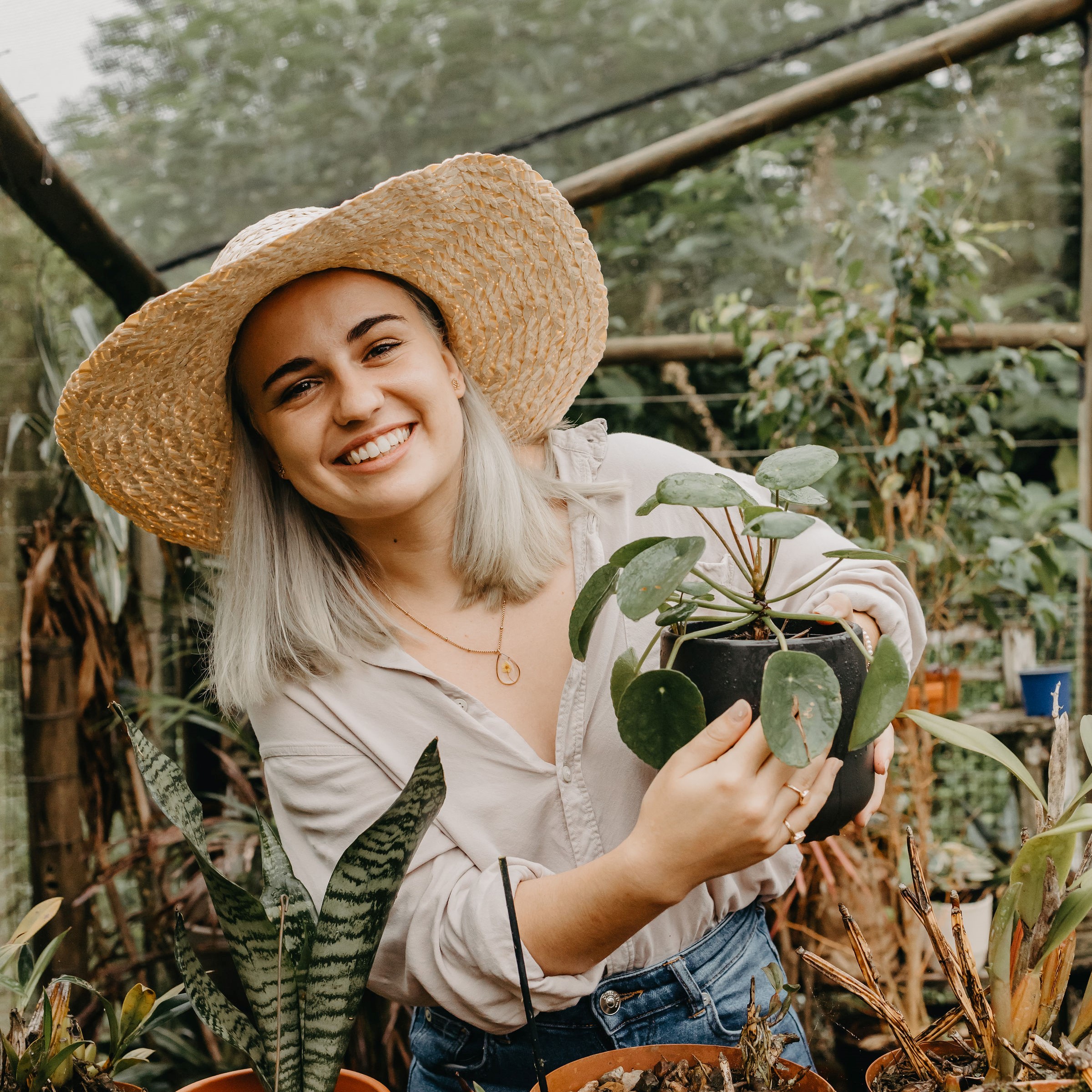 Contributing Editor, Gardens
Madison is a garden writer and editor, covering all things outdoors and lifestyle. After completing a BA in History and Political Science, she transformed her years-long passion for plants into a career writing for both digital and print publications. As garden editor of several print titles, Madison focuses on trends and developments in the continuously expanding gardening industry. When not typing away at her desk, she tends to her ever-growing houseplant collection and travels frequently, photographing and reporting on gardens around the world.