'Should I use pasta water for my plants?': Our gardening experts dish the sauce
There's a trend for feeding house plants with potato and pasta water, but does it benefit them at all, or could it harm them in the long run?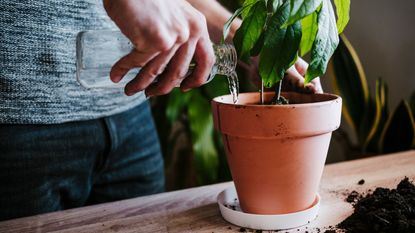 (Image credit: Getty Images)
Q: I've seen lots of social media posts about using pasta water for watering house plants. There are some circulating for potato water, too. Is this something I should be doing? Is it beneficial for house plants or could it harm them?
A: We have also seen social media posts with potato or pasta water being used for watering indoor plants. Of course, it's a great way to cut down on water waste, which we're all in favor of, as long as it doesn't harm our house plants, or attract pests. But is there any benefit to the plants themselves?
We asked our expert gardens team for their advice, input and warnings.
Is pasta water a good fertilizer for plants?
We have to admit, this is a bit of a social media craze, so we didn't take it too seriously, but it did pique our curiosity to find out just how good a fertilizer plants pasta water could be.
So, when you are watering plants, should you be using 'clean' tap water or water you've used to boil pasta, potatoes and perhaps even rice?
'I can see nothing wrong with watering plants with pasta water (provided there is no salt in it), but it shouldn't be used instead of other more specific plant feed,' H&G's Gardens Writer, Drew Swainston says.
What our experts say
Our team of gardening experts were in agreement: pasta water is a good way to save water and, provided it's not salted or seasoned, won't harm your plants. And while it might be able to offer very mild fertilization, it shouldn't be substituted for your usual house plant feed.
'Do not use salted or seasoned pasta water for plants'
Beth, our Head of Gardens, expands on this: 'If you're going to use your pasta water on your houseplants, make sure that you haven't added salt to the water to season your pasta. If salt water gets added to the soil, your plant will become dehydrated as the high salt content actually draws moisture out of the plant.
'While it might not cause it huge harm immediately because the salt is quite diluted, repeatedly adding salted water to the soil will soon kill your plant, either by dehydration or salt poisoning. After all, salt is often recommended as a natural weed killer because of its effectiveness at dehydrating plants, causing them to wilt and die.'
Beth has been an interiors and gardening journalist for over 20 years ago. In 2020, she launched Gardeningetc.com, a website dedicated to gardening and outdoor living. At the start of 2023, she moved to Homes & Gardens as the Head of Gardens, bringing her passion and knowledge with her. She's a keen kitchen gardener and loves adding to her rose and hosta garden at home.
'Pasta water won't hurt plants but you'll still need to feed them'
Holly Crossley, our Senior Content Editor for Gardens, says there's little harm to the hack, but that it won't actually 'feed' house plants as some social media posts suggest:
'The leftover water from cooking pasta is full of starch,' she says. 'According to many gardeners, this is great for giving houseplants a boost in energy and feeding beneficial microbes in the soil. As well as this, pasta water is claimed to contain valuable nutrients such as iron and calcium.
'As long as the water is at room temperature, isn't seasoned with salt, and hasn't been sat out for too long, I don't see why it wouldn't be worth a try. My advice would be that if you are curious, to start by watering just one plant with it first to check for any adverse effects – but you will still need to fertilize your plants as usual during the growing season.'
Over the years, Holly has been an allotment keeper, a professional gardener, and a botanical illustrator. Having worked for Gardeningetc.com for two years, Holly now writes about plants and outdoor living for Homes & Gardens. She has a particular interest in houseplants (of which she has an ever-growing collection), garden design, and the benefits of gardening for mental health.
'Pasta water is fine for watering, but not for feeding'
'House plants, the same as all plants, need the main three macronutrients of nitrogen, phosphorus, and potassium, along with other nutrients such as magnesium, calcium and iron to grow healthy and strong,' continues Drew.
'If your house plant is being grown for foliage, it wants more nitrogen to promote lush, green growth. Plants that are grown for fruits or flowers need a lot of phosphorus to encourage that flowering and they can often require more feed throughout their lifespan.
'A deficiency of any of the big three nutrients can cause any plant to show signs of unhealthiness, including yellowing of leaves.
'Typically, feed for houseplants either comes in water-soluble forms or as granules that will slowly release nutrients over an extended period. Care has to be taken not to overfeed your plants as that can be as, or even more, damaging to the plant than not feeding it. Plants can look scorched if they are overfed and there can be a white crust visible on the surface of the soil.
'My opinion? Pasta water is fine for watering, but not for feeding.'
Drew was a journalist before studying for a horticulture qualification. He worked as a professional gardener for years, growing edibles for the restaurants, deli and cookery school at Soho Farmhouse. Drew is passionate about walled gardens, growing edibles, and producing cut flowers. He has run a blog called Perennial Nerd (opens in new tab) for many years, talking about his life working in and managing walled gardens, fantastic gardens he has visited, his allotment, and projects at home. He's now bringing his expertise and passion to Homes & Gardens as a member of our team.
How to make pasta water fertilizer for plants
To make pasta water for plants (or potato or rice water for that matter), use leftover, cooled pasta water diluted with distilled water in equal parts. There should be no salt or seasoning in your pasta water.
This can be used as part of your house plant watering regime, however it is no substitute for the usual plant feeds you use in the growing season, so keep this routine up.
What are the downsides?
The downsides to using pasta water for plants are that the starch promotes the growth of bacteria; added to a plant pot too often this can result in mold. So, it's important not to overdo the pasta watering, and to keep an eye on the soil health of your container plants. As Holly says, above, experimenting with one plant is a good way to see how this method works for you.
FAQs
What plants would benefit from pasta water?
Any plant that needs watering will benefit from pasta water, with the starchy water providing some nutrients all house plants need. However, while it's a good way to save water, it doesn't offer better benefits than clean water and house plant food.
Do succulents like pasta water?
Succulents are tolerant of starchy water, which can improve bacterial growth in your soil, seeing off some problems these plants typically suffer from. As with all other plant types, it is best to water from the base of the pot rather than pouring on to the top soil. Knowing when to water succulents and when not to is important as they do not tolerate overwatering.
Lucy Searle has written about interiors, property and gardens since 1990, working her way around the interiors departments of women's magazines before switching to interiors-only titles in the mid-nineties. She was Associate Editor on Ideal Home, and Launch Editor of 4Homes magazine, before moving into digital in 2007, launching Channel 4's flagship website, Channel4.com/4homes. In 2018, Lucy took on the role of Global Editor in Chief for Realhomes.com, taking the site from a small magazine add-on to a global success. She was asked to repeat that success at Homes & Gardens, where she has also taken on the editorship of the magazine.