Types of onions – 7 of the best varieties for your vegetable garden
Discover the best onions for your growing zone, together with the recommended varieties for yield, size, storing, and more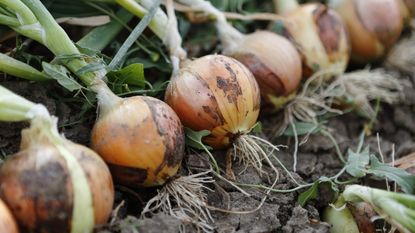 (Image credit: Getty/vusta)
Sign up to the Homes & Gardens newsletter
Decor Ideas. Project Inspiration. Expert Advice. Delivered to your inbox.
Thank you for signing up to Homes & Gardens. You will receive a verification email shortly.
There was a problem. Please refresh the page and try again.
There are many different types of onion you can grow in a vegetable garden. There are short day, intermediate, and long day onions and, when browsing catalogs, you will see varieties described by color, flavor, and storage potential.
Location, climate, and personal preferences should all come under consideration when choosing what types of onions you want to grow. I have grown probably thousands of onions over the years during my time as a kitchen gardener. I found some reliable favorites that worked year-after-year for me, but also enjoyed trialing different varieties.
Knowing how to grow onions opens up a world of potential different varieties to discover to satisfy all your culinary needs. Onions are always a simple, and thoroughly enjoyable, crop to grow and we have identified some of the best types of onions for seven specific reasons.
Drew is a former professional gardener who specialized in growing vegetables and fruit. He worked in kitchen gardens for the National Trust in the UK for several years and then ran a productive walled garden growing vegetables, fruit, herbs, microgreens, and flowers for a high-caliber restaurant in England.
7 of the best types of onions to grow
There are hundreds of varieties of onions to choose between around the globe, so how do you decide what to grow? We want to help, so have picked some of the best types of onions with specific characteristics that are commonly sought-after by growers.
1. Patterson
Best for: Storing
Type: Long day onion
'Patterson' is renowned for being a long-storing onion and can remain fresh for up to a year in the best conditions.
It produces 3-4 inch bulbs that are golden in color with a sweet flesh. It is a long day type that takes just over 100 days to mature and produces high yields of uniform bulbs. Knowing how to store onions properly is key to giving any onion crop the maximum lifespan.
2. Kelsae Sweet Giant
Best for: Size of onion
Type: Long day variety
'Kelsae Sweet Giant' onion holds the Guinness World Record for the biggest onion, weighing in at 15 lb 5.5 oz and with a whopping 33 inches diameter. It is a fantastic option for anyone wanting to show and exhibit huge onions.
It is a long day variety that has a sweet flavor and can either be cooked or is mild enough to be eaten raw. While you may not set a new record, the 'Kelsae Sweet Giant' is a reliable and high-yielding variety that can be grown from onion seeds or onion sets and will take 100 days to grow from transplanting.
3. Sturon
Best for: Reliability
Type: Long day variety
Onion 'Sturon' is a common and flavorsome variety of onion that is grown around the world. It has been a staple in my kitchen gardens and, whenever I have grown 'Sturon' either from seed or sets, I have always enjoyed a good, reliable yield of large yellow onions that store well.
It is a medium-sized variety and its thin neck makes it a good storer. A long day type that is ready in 80-100 days, 'Sturon' has also good resistance to bolting.
4. Crystal White Wax
Best for: Pickling
Type: Short day variety
If you are after smaller cocktail onions, Julia Omelchenko from NatureIDsuggests Crystal White Wax, saying it yields 'small, white bulbs with a mild and slightly sweet taste that works best for salads'.
The variety produces good harvests of 1-1 ½ inch bulbs around the size of a ping pong ball. A short day variety, Crystal White Wax is also regarded as ideal for cocktails and pickling.
5. Walla Walla Sweet
Best for: Northern zones
Type: Long day variety
'Walla Walla Sweet' is perfect for growing in warmer and cooler climates. It was originally taken from Corsica to the Walla Walla Valley in Washington State – where they are the state vegetable.
It is a popular long day variety and can grow sweet bulbs of up to two pounds each. They reach maturity in 90 days and can store well for up to three months. 'Walla Walla Sweet' onions have crunchy white flesh and are mild in taste.
6. Red Creole
Best for: Southern zones
Type: Long day variety
Onion 'Red Creole' is especially suited to warmer and drier climates. A short day onion that produces flat and red skinned bulbs 3-4 inches in diameter, with spicy, red flesh.
'Red Creole' can take around 110 days to harvest and have good storage potential, of up to seven months. It is a variety that can either be cooked or eaten raw.
7. White Lisbon
Best for: Scallions
Type: Fast-growing bunching onion
'White Lisbon' is a highly popular bunching onion that can be harvested in just 60 days, or left to mature for 120 days. Fast-growing and mild in flavor, it produces long white stems with bright green tops and is very slow to form a bulb. It is a variety capable of providing a continuous crop though spring, summer and fall.
Speaking on 'White Lisbon', Graham Rice, a garden expert for Homes & Gardens and Amateur Gardening, says: 'The classic; a well-established salad onion variety that is universally available. Matures well from early sowings and is ideal for successional sowings throughout the season. Pull while still slim – otherwise, fat little bulbs will develop.'
How should I choose between the many types of onion?
Onions are used for culinary purposes around the world and there are a number of different types you can choose from for your vegetable garden. These include yellow, white, and red onions, along with shallots and green onions, also known as scallions. It can be daunting to choose between them.
Yellow onions, also commonly referred to as brown onions, are the most common and could be described as the workhorse of the onion world. Types vary by flavor, for example white onions are milder and red onions are considered sweeter - making both suitable for eating raw. Shallots are smaller and consist of many cloves and scallions are immature onions eaten whole.
While there are many factors to take into consideration when choosing what types of onions to grow and when to plant onions, Julia Omelchenko, expert at NatureID, advises prioritizing personal preferences and circumstances rather than facts and figures you read in catalogs.
'When choosing a variety to grow at home, your taste preferences matter as much as the yield and growth rate,' she advises. 'The season when you want to plant onions is also important since there are different varieties for winter and spring planting.'
What are short day onion and long day onion varieties?
The amount of daily light dictates when an onion plant starts to swell its bulb rather than focus on leaf or root growth. The terms short day, long day, and intermediate refer to the light levels the varieties need to start swelling bulbs.
Short day varieties need at least 10 hours of sunlight each day and are suited to USDA hardiness zones 7 and warmer. Intermediate onions need 12-14 hours and are best suited to zones 5 and 6, though most intermediate types can grow in any zone. Long day varieties needing 14-16 hours are suited to zones 6 and colder.
Location is key to success and failure and hours of sun, together with a plant's days to maturity, need to be considered when planning when to harvest onions.
Sign up to the Homes & Gardens newsletter
Decor Ideas. Project Inspiration. Expert Advice. Delivered to your inbox.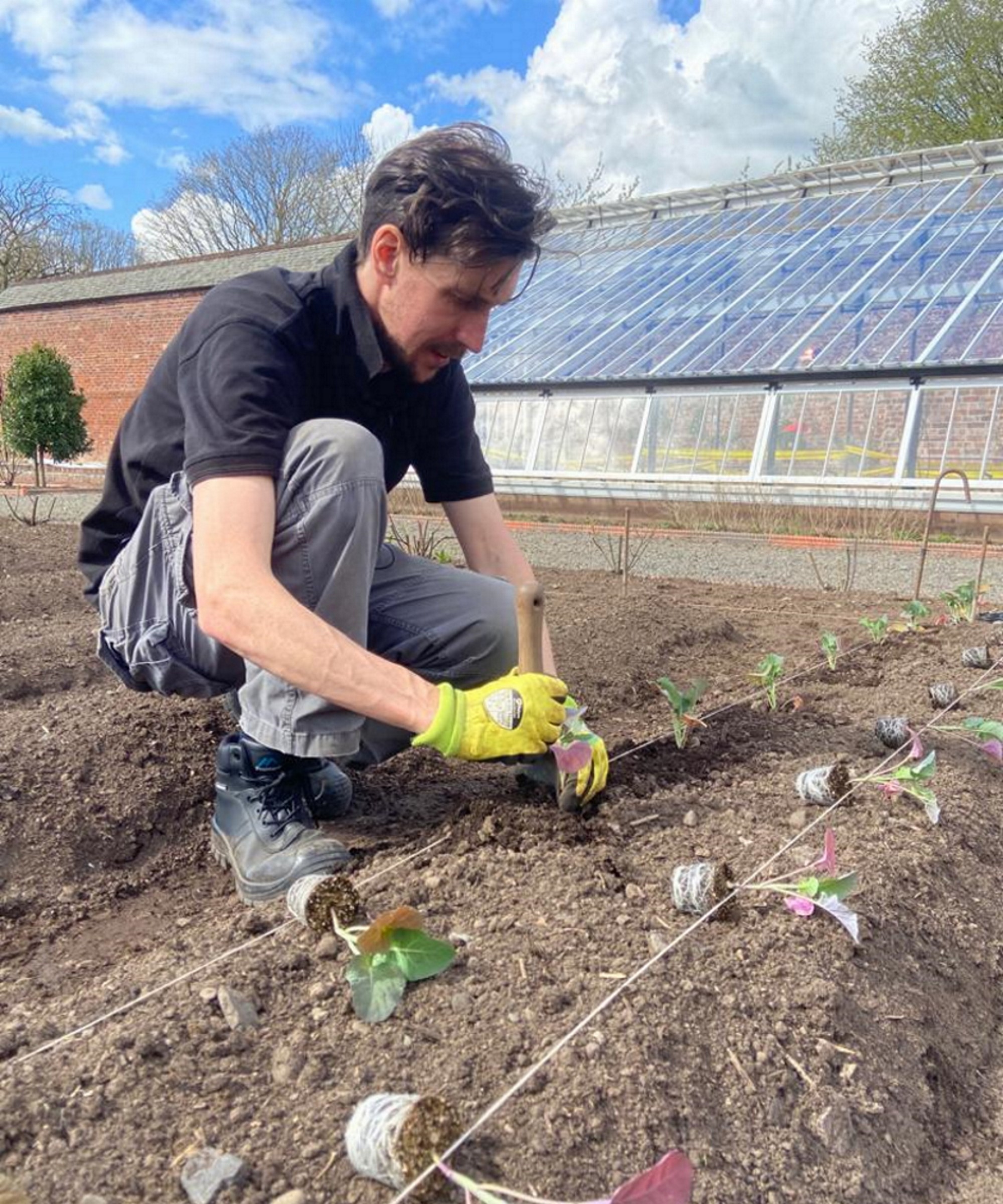 Drew's passion for gardening started with growing vegetables and salad in raised beds in a small urban terrace garden. He has gone on to work as a professional gardener in historic gardens across the UK and also specialise as a kitchen gardener growing vegetables, fruit, herbs, and cut flowers. That passion for growing extends to being an allotmenteer, garden blogger, and producing how-to gardening guides for websites.