15 weeding mistakes our expert says will make your flowerbed invasion so much worse
Your weeding habits might be spreading the problem, not halting it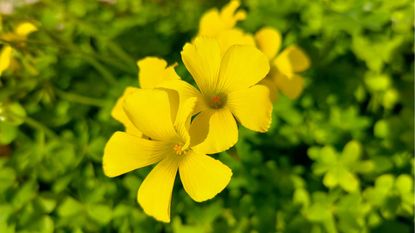 (Image credit: Getty Images)
It's that time of year when our gardens begin to come alive, but along with spring shoots appearing in our borders come weeds.
Getting rid of weeds is a chore that can't just be done once a year, but if you find yourself constantly losing the battle with invasive, uninvited plants, it could be that it's the way you are weeding that's causing weeds to return, time and again, in even greater numbers.
We asked gardening expert Lucy Chamberlain for her tips on the weed control mistakes to avoid. First she explained why weeds need to be kept in check: 'Certain weeds seem harmless and some, like this yellow oxalis (above), even look pretty, but don't be fooled – they can be tenacious and spread rapidly if unchecked. A single fat hen plant can yield 60,000 seeds, and the roots of perennial weeds like dock can survive even if broken into fragments.
'Don't worry, these weeds can be thwarted!' These are the weeding habits Lucy urges gardeners to change, and what to do instead.
Lucy was a Horticultural Advisor at RHS Wisley and has been Head Gardener on a 100-acre estate in England for many years, but writes regularly for titles such as The Garden, Gardeners' World, The Guardian and Amateur Gardening. She's also the author of RHS Step by Step Veg Patch, available from Amazon, which covers 50 types of fruit and veg.
Weeding mistakes all gardeners should avoid
'Weeds steal root space, light, water and nutrients from your fruit and vegetables. They can also harbor pests, diseases and viruses – it's no wonder we're constantly waging a war on weeds!' says Lucy.
1. Not knowing your enemy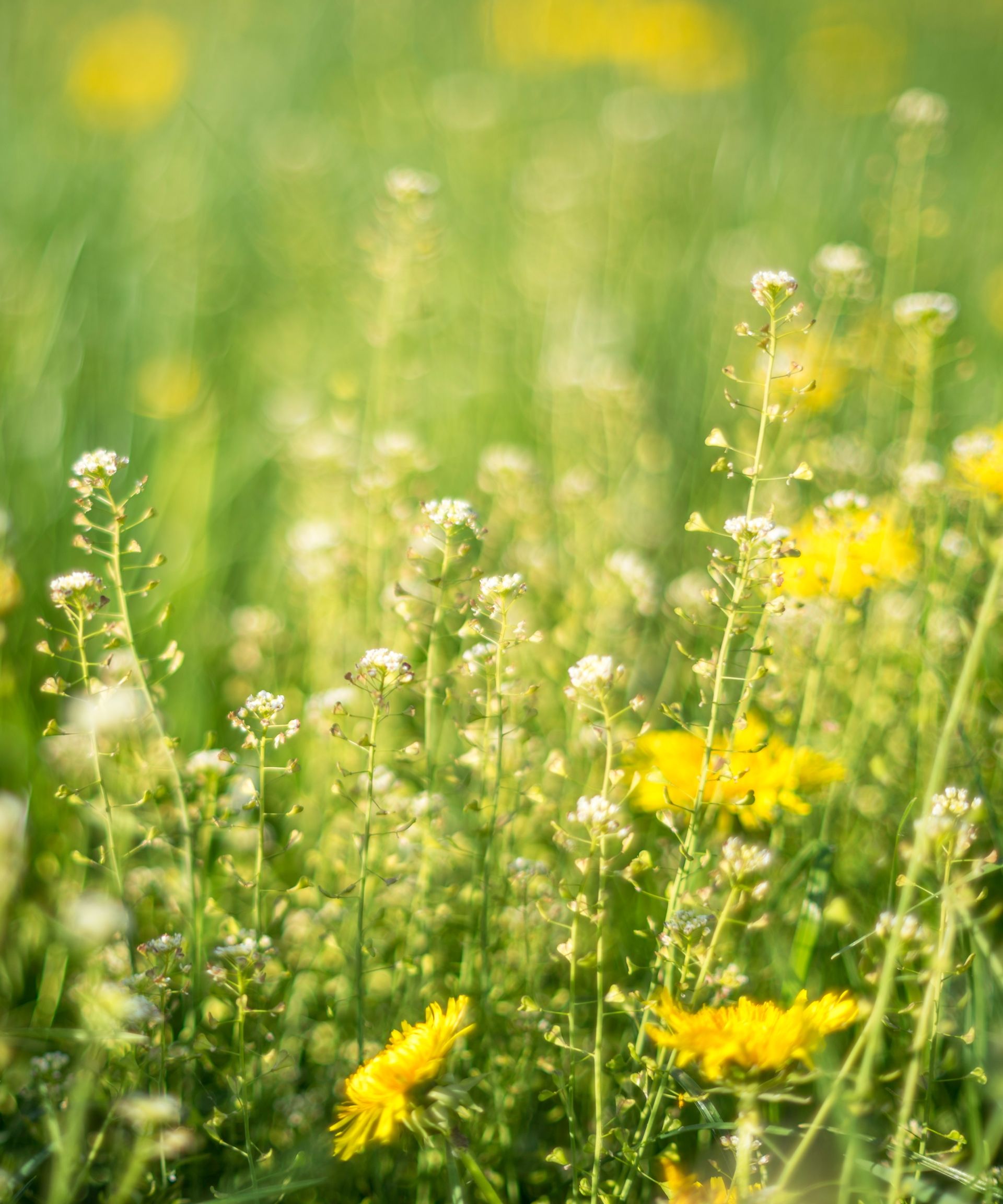 'So how do we get results? First, get to know your enemy – there are two main types of weed: those that attack from above ground, and those that strike from beneath the earth,' says Lucy.
'Annual weeds thrive due to their ability to produce masses of seeds, and their short life cycles. Just one fat hen plant can yield 60,000 seeds, and these can remain dormant in the soil for 20 years. Annual weeds are often termed "ephemeral", meaning they can complete more than one life cycle (germinate, grow, set seed and die) in a year. Good examples of these "live fast, die young" plants include hairy bittercress and chickweed.
'Explosive (oxalis) or feathery (sow thistle) seed capsules that help disperse seeds over a wide area are key traits, as is the ability to quickly germinate in cooler soils. Common annual weeds are chickweed, fat hen, groundsel, hairy bittercress, shepherd's purse, annual meadowgrass, annual nettle, opium poppy, yellow oxalis, prickly sow thistle.
'Perennial weeds have incredible powers of rejuvenation. If you've rotavated a couch grass-ridden plot in an attempt to clear it, you'll understand. Their creeping roots and stems contain numerous buds that burst into rampant growth, even when broken into fragments. Deep roots make the most of soil moisture reserves, and can lay dormant in droughts and freezes.
'Field bindweed roots dive deeper as the plant ages (3ft in the first year, 13ft in the third). Common perennial weeds are horsetail, ground elder, field bindweed, Japanese knotweed, dock, dandelion, creeping thistle, stinging nettle, couch grass and creeping buttercup.'
2. Turning soil
No dig gardening isn't just a fad. Those seeds dispersed in the past can lay dormant in your soil, and what they love is air, water and light. One way you can deprive them of this is not to turn over your soil in spring.
'No-dig plots encourage weed seeds to congregate on or just below the soil surface,' says Lucy. 'While this makes it easy for them to germinate, it's simply a case of hoeing them off (or using a flame gun, below). Deep digging can store up a troublesome weed seed population.'
Instead, lightly hoe out young weeds (not established perennials). On a sunny day you leave the hoed weeds to wither and die on the flowerbed before raking them out or gathering them up.
3. Hoeing the tops off perennials
'Hoeing the tops off perennial weeds makes them worse, as side buds that were laying dormant will be encouraged into growth,' says Lucy.
Instead, getting rid of perennial or established weeds right down to their roots is key.
'Certain perennial weeds are straightforward to dig out, giving total removal if you're thorough (nettles and ground elder are two examples). Deeper-rooted species like bindweed and horsetail can be weakened by scrupulous, repeated removal. Tenacity is key!'
Good maintenance habits are key, this is true of borders, and for killing weeds but not grass.
4. Pulling weeds by hand
Pulling weeds by hand is a real mistake because after a very short time you will tire and lose interest. Plus, if you're going to pull weeds by hand, it's likely that you will snap the weed off at the stem, leaving the roots in place. Instead, tool up.
A hand hoe is best for raised beds, for removing weeds from between pavers or for tight spots, while a long-handled one will suit ground-level weeding, and save you back ache! Light hoeing of top soil should dislodge the roots of most weeds; those that have deeper roots will need digging out with a trowel.
This push pull garden hoe makes weeding safer and more efficient. The hoe's length is adjustable to make it comfortable, whatever your height.
This hoe has a hardwood Handle and cushion grip; at 14in, it's the perfect size for close-quarter hoeing with a push pull motion that cuts through weeds' roots.
5. Pulling weeds at the wrong time
The best time of day to pull weeds is on a morning or evening when the soil is a little looser. Hard, dry or compacted soil will make weeding much more difficult and more likely to result in weed roots being left behind, or you being defeated by the job.
6. Making beds and borders inaccessible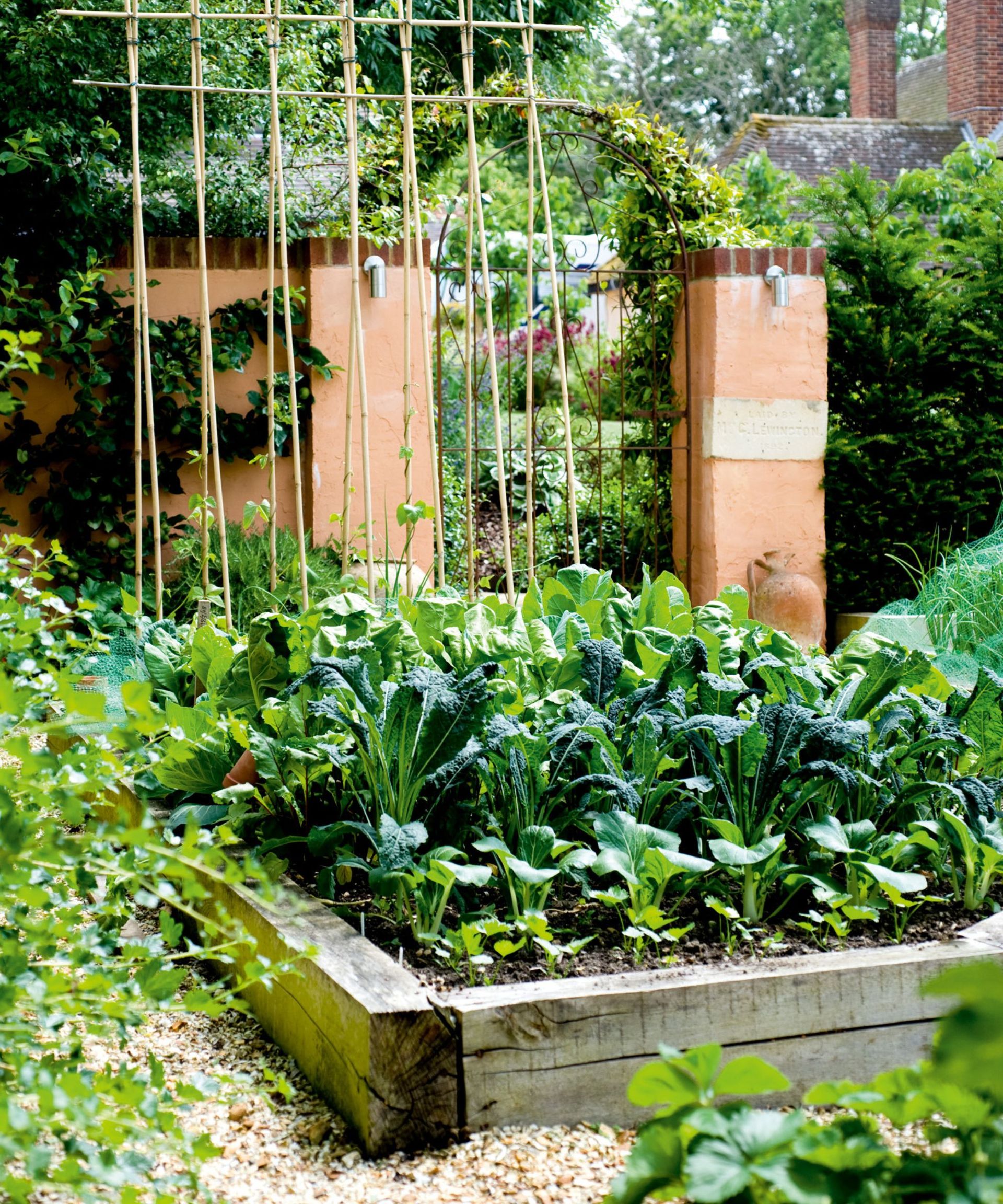 'Keep beds narrow so you can easily access them with a hoe from all sides. Hoeing is an excellent way to get rid of annual weeds – do this while they are still tiny (before any seeds set), choosing a sunny day with a slight breeze.'
7. Not using weed control methods
'Plant crops through sheet mulches (polythene or weed control fabric) or lay down thick (1½in) organic mulches. These make it difficult for weeds to establish, and sheet mulches also provide a physical barrier to stop most perennial weeds emerging,' says Lucy.
Mulching is powerful but you don't need to buy sheet mulches; you can use cardboard for weed control. Be aware that sheet mulches don't totally solve a weed problem, because weeds can take hold in the soil or mulch you lay on top, plus they can make adding new plants difficult, and over time will degrade so will need replacing over time. Sometimes, adding a thick layer of mulch, even using straw in the garden, is enough to deprive budding weeds of the light they need to grow.
Walmart has a wide range of mulches including sheets and wood chips.
8. Not using a flame gun
'Flame guns are a great way to quickly control a rash of annual weed seedlings (perfect for those of us who get bad backs while hoeing). They can be costly, but blow torches are just as effective. Simply wave over the weeds for a second or two, there's no need to cremate them!'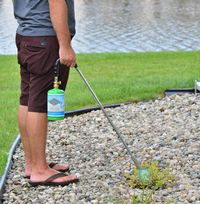 Flame King flame gun, $21.80, Amazon
This lighweight flame gun has been designed to burn weeds, melt ice, light a grill or fire. The flame control valve allows you to easily control flame size, while the non-slip rubber handle makes for an easy grip. There's an integrated self-lighting ignition for quick flame.
9. Watering from above
Be aware that watering plants with a watering can or hosepipe will mean that you are watering weeds, too. So, if you are serious about gardening, considering investing in a soaker hose or drip line which sits beneath the soil and reaches the roots of plants, not those of newly-establishing weedlings.
10. Leaving too much space between plants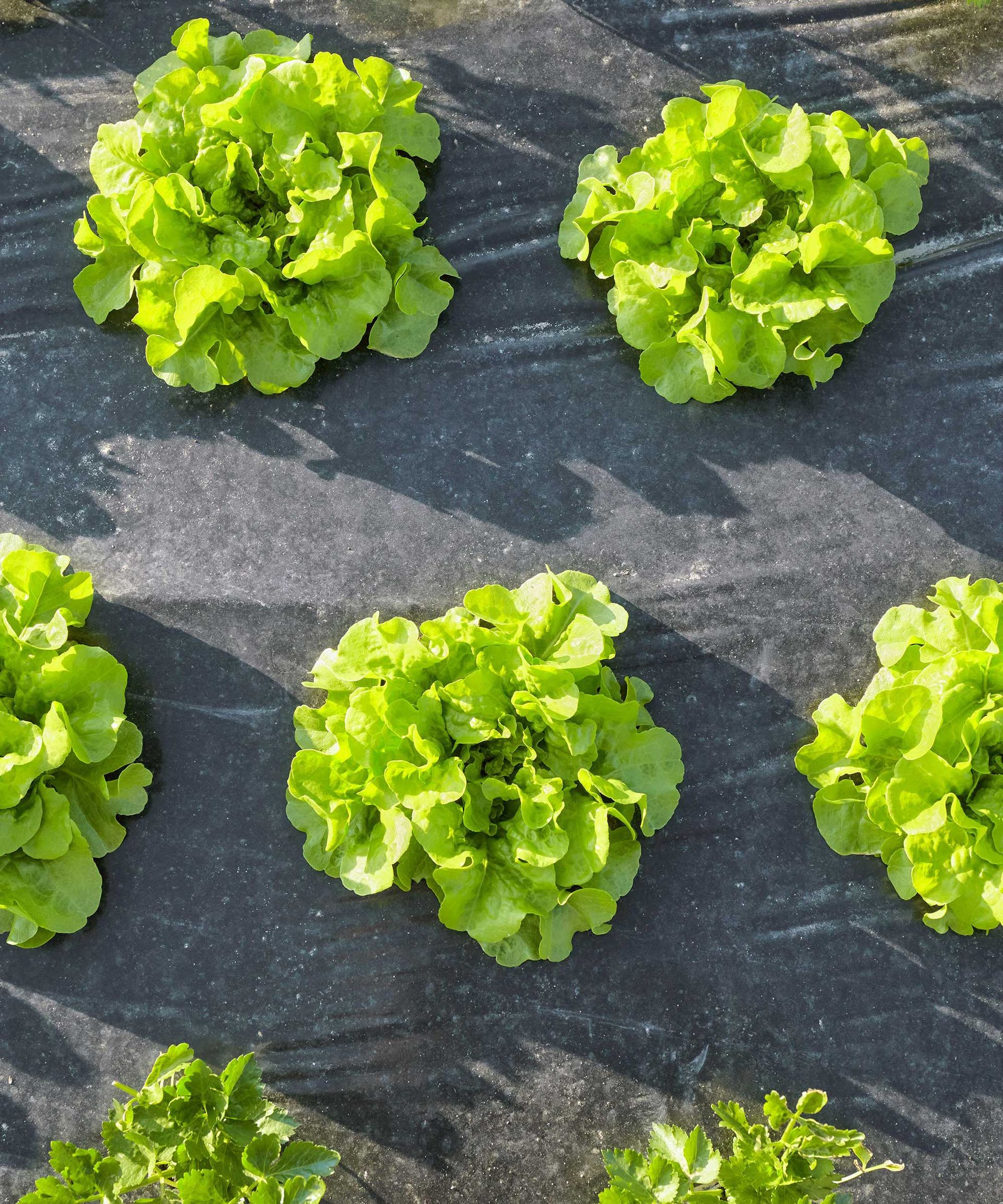 'Transplanting rosette-like crops such as lettuces, chicory and endive in tight grids allows them to quickly form a weed-suppressing carpet of leaves, stopping annual weeds from taking hold. Potatoes and trailing squashes also make excellent cover.'
11. Not using transplants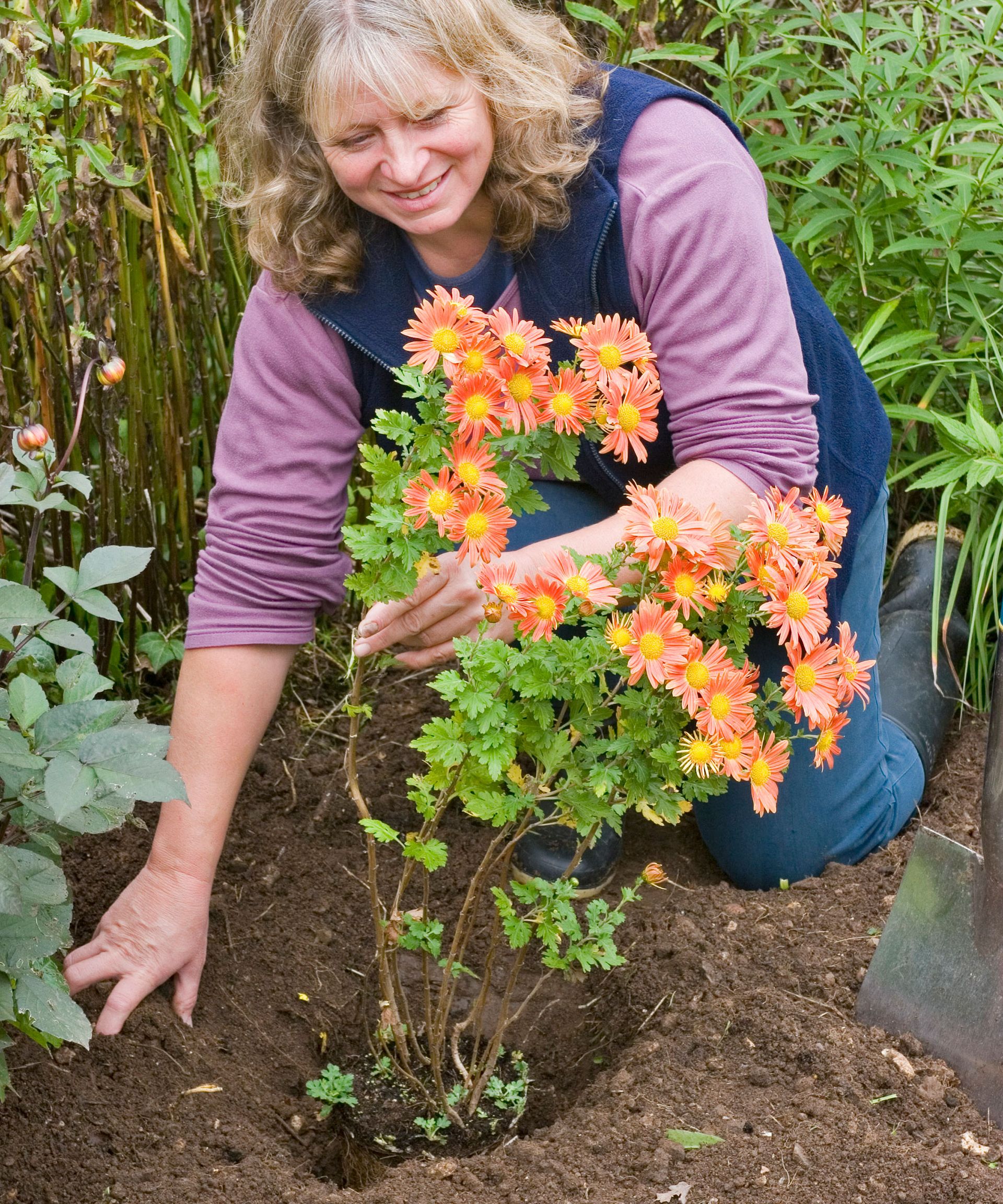 'Steal a march on weed seed germination by using transplants [young plants that establish and grow more quickly than seedlings],' says Lucy. 'These quickly establish and romp away, allowing them to out-compete any emerging weed seedlings. Chitting veg seed before sowing it also helps crops compete for space.'
12. Not using cloches for seedlings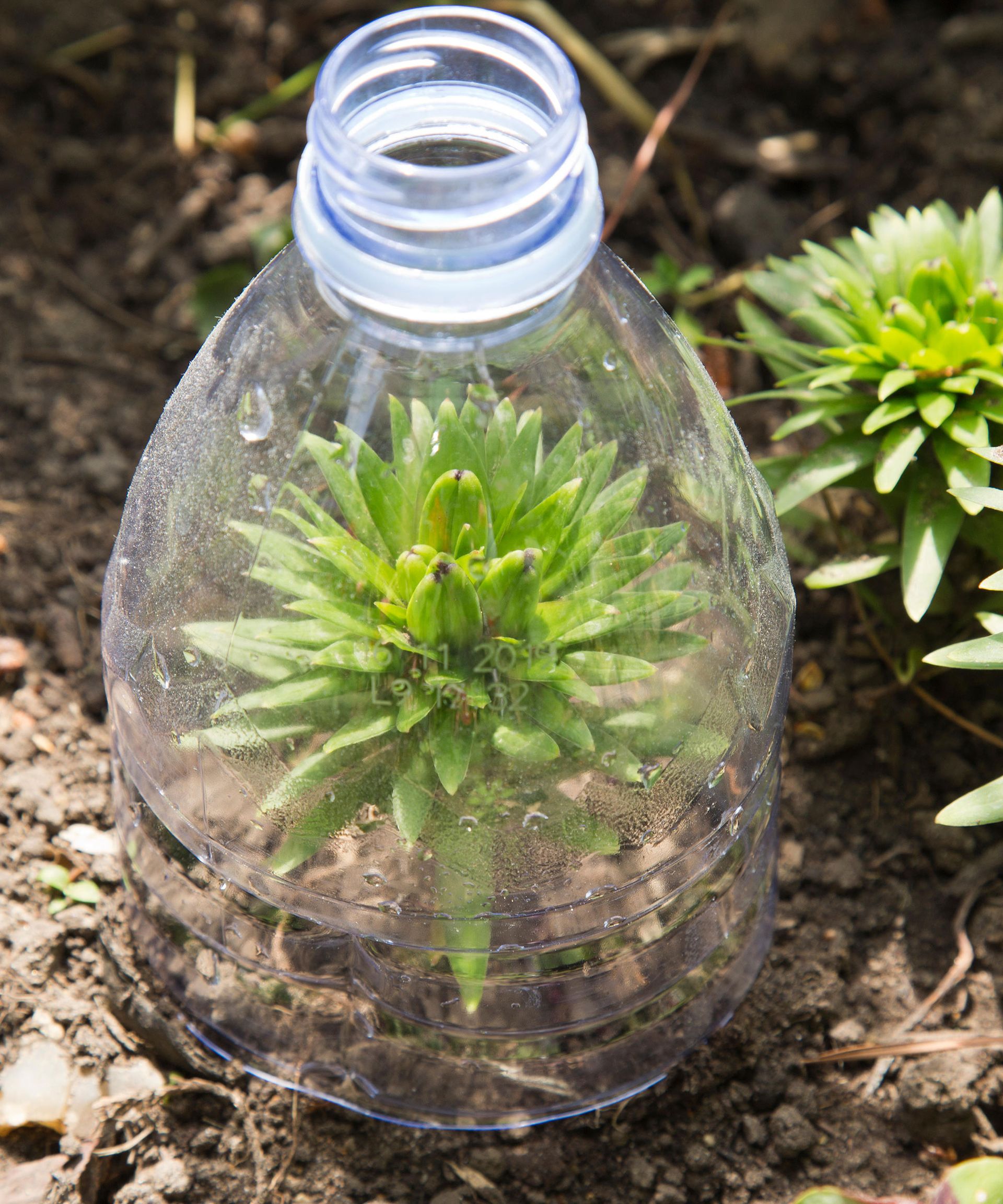 'When sowing directly into the earth, cover over part of the drill with a cloche or sheet of glass. The extra warmth provided forces those few seeds to emerge rapidly. Blowtorch the whole area so all weeds are killed, then the crop emerges unhindered.'
Walmart has a wide selection of cloches in varying sizes and materials.
13. Using weed killers
As you can see, you don't need to use weed killers to get your weed invasion under control. And if you are looking to garden organically, have young children or inquisitive pets, or simply want to avoid using chemicals that pollute soil and waterways (which we would advise), you should try to weed without weed killers.
However, if you do decide to use weed killers, you should first ensure that you protect plants nearby, never use a liquid spray in windy, sunny or wet weather (it will be blown or washed away or will evaporate before it can do its job), and ensure the weed killer you are using is suited to the job in hand.
14. Not protecting borders out of season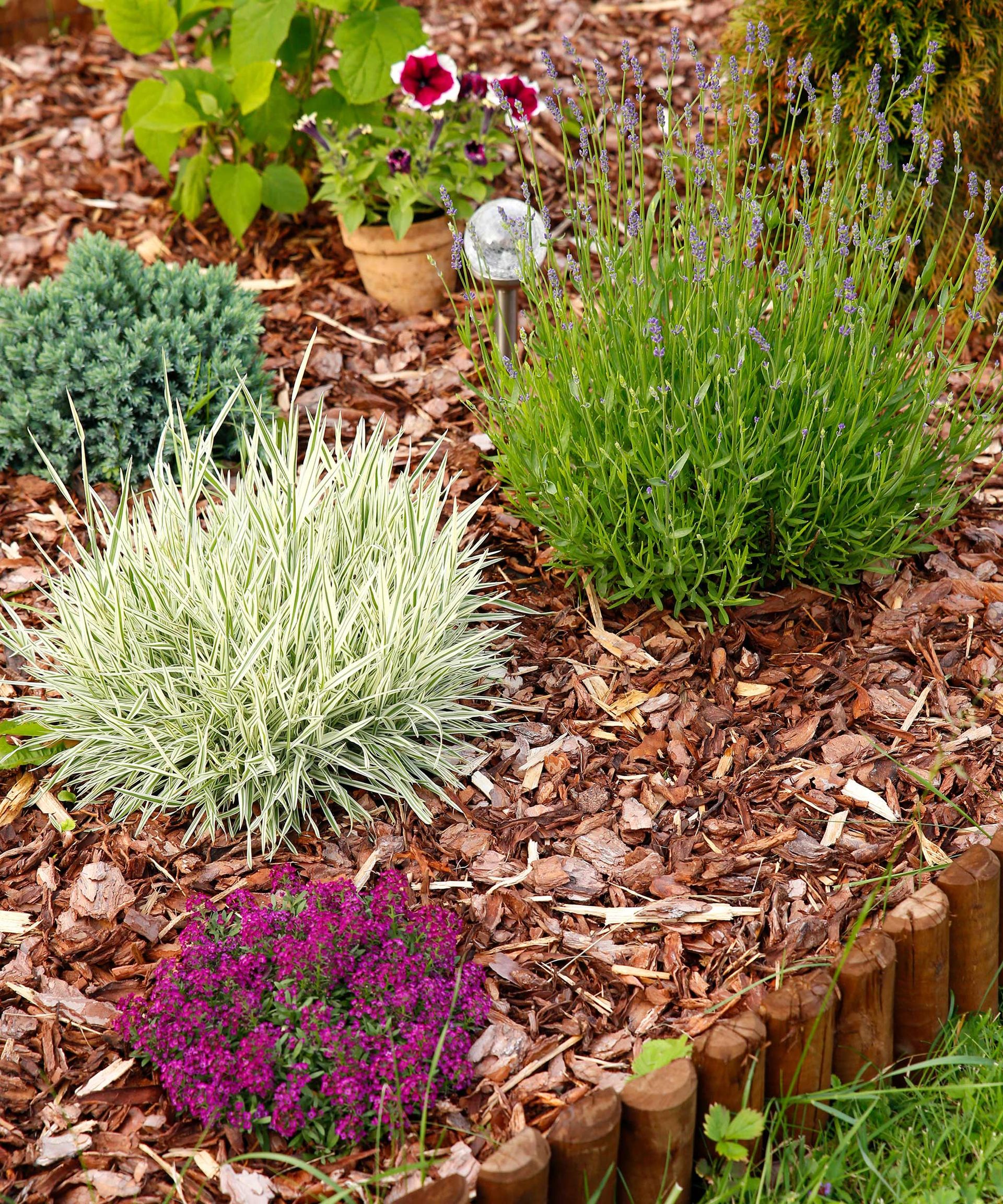 'When clearing your plot in the fall, or if leaving certain beds bare in the spring, sow a smothering green manure such as alfalfa, clover or grazing rye. Annual weeds won't be able to germinate, and your soil benefits from the manure, too!'
15. Leaving it too long
Younger weeds are much easier to hoe or blowtorch out than those that have established, and it's vital to get to them before they flower, set seed and establish a root system, which will make the problem so much worse. So as soon as your garden begins to awaken, get outdoors and start picking off weeds – and keep up the habit.
FAQs
What happens if you do improper weeding?
Improper weeding will not just result in new weeds establishing, but will mean the roots of perennials will spread further. This means your garden will become more weed-filled, and the plants you want to encourage to grow will be overwhelmed and deprived of light, water and nutrients. Like all garden plants, some weeds are toxic if consumed by children or pets, too.
Does pulling weeds cause more weeds?
Pulling weeds incorrectly can result in more weeds. This is particularly true of perennials that have established. If you pull off the top of the weed, the roots below will simply send out more growth elsewhere, multiplying your weed problem. Always ensure you knock out seeding weeds before they establish, and remove every trace of root of established perennials.
---
So, as Lucy demonstrates, making weeding mistakes is easy, but it can result in a much worse problem than you had before. And while it's labor-intensive to get on top of a weed problem, the earlier you tackle it, the easier it will be, and all without chemicals. And while there are some hacks, such as killing weeds with salt or using vodka to kill weeds, old fashioned manual labor is best.
Sign up to the Homes & Gardens newsletter
Decor Ideas. Project Inspiration. Expert Advice. Delivered to your inbox.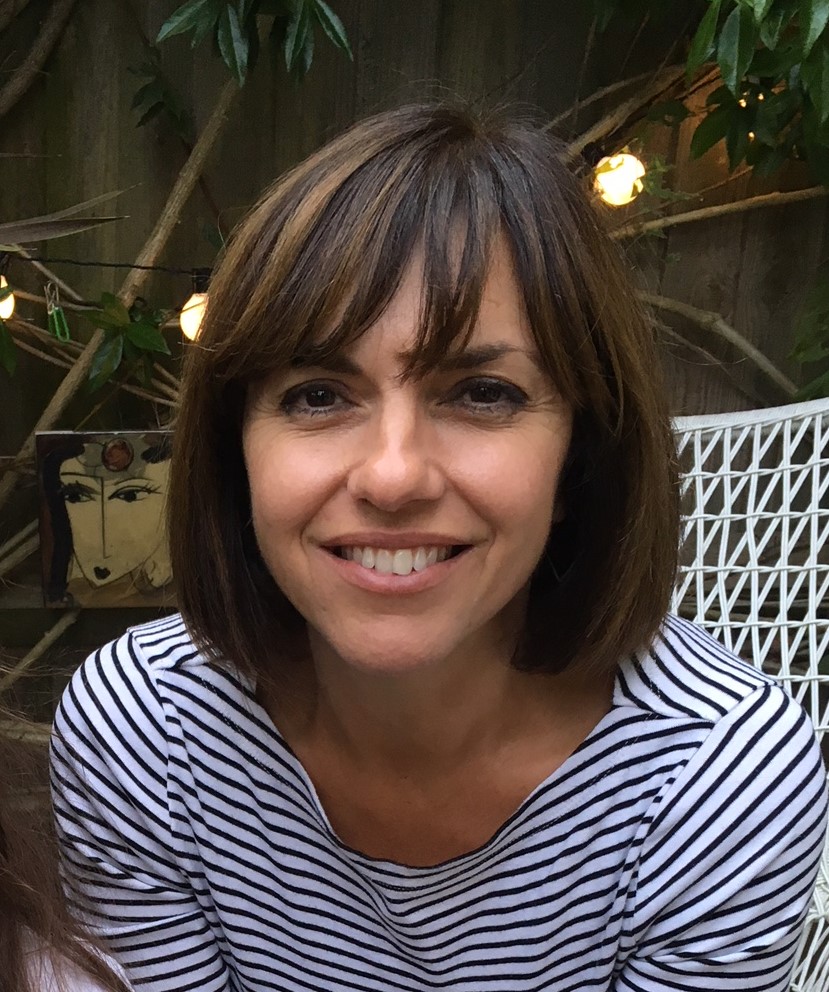 Lucy Searle has written about interiors, property and gardens since 1990, working her way around the interiors departments of women's magazines before switching to interiors-only titles in the mid-nineties. She was Associate Editor on Ideal Home, and Launch Editor of 4Homes magazine, before moving into digital in 2007, launching Channel 4's flagship website, Channel4.com/4homes. In 2018, Lucy took on the role of Global Editor in Chief for Realhomes.com, taking the site from a small magazine add-on to a global success. She was asked to repeat that success at Homes & Gardens, where she has also taken on the editorship of the magazine.