This interior designer's Boston home is a maximalist paradise
Liz Caan's family home is filled with personality, color and even Gucci wallpaper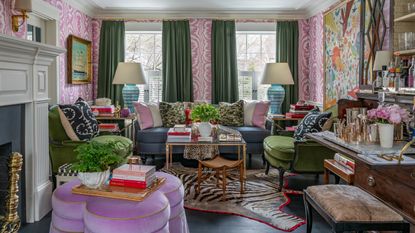 (Image credit: Liz Caan/Eric Roth)
'I live here with my husband, three teen (or young adult) children and two large and happy Samoyed dogs,' says interior designer Liz Caan.
If the Boston-based designer's family life sounds energetic enough, then just take a look at her home. When the time came for Caan to turn her expert eye onto her own Georgian Colonial house in the city's Chestnut Hill area, Caan used it as a chance to go full throttle with her eclectic style.
'It feels just right to me and represents all the things and colors I love,' she said. 'I have room for all my favorite things and I always feel happy in my house.'
The result is a maximalist carnival of color, pattern and curiosity, that is underpinned by a renovation that saw Caan make significant layout changes to improve the efficiency of the space and increase natural light – essential principles in all of the world's best homes.
'To help achieve the cohesive design, color, pattern, high quality materials, and expert craftsmanship were all employed to make this transformation one that will age well and live on for another hundred years,' said Caan.
'Surfaces and materials were carefully chosen to be of the highest quality and the hardest wearing,' she added. 'The furnishings, finishes and the palette are all intended to patina well and stand the test of time, much like this original home has done for the past 96 years.'
Caan took us on a tour of her eccentric and utterly unique home, and shared how she turned it into a highly personal home intended to stand the test of time.
Kitchen
'This is the new kitchen with a pair of vintage steel and brass doors that came from the Liberty of London store,' said Caan. 'One leads to a powder room and one is a coat closet.'
A relative oasis of calm in Caan's scheme for the house, the kitchen is where she has really pursued a desire for natural light and 'creating a stronger connection between the indoors and the outdoors.'
French doors and a window that stretches the length of the sink area allow the outside in are among Caan's light-boosting kitchen ideas. 'Layers of lighting were added to also give this kitchen a warm and inviting feeling,' said Caan.
Her passion for quality materials are also evident in the kitchen. Marble countertops, backsplash and a sink from DeVol are paired with Belgian Bluestone floor tiles and a Waterworks faucet.
'I really love this pendant by the Urban Electric Company,' Caan added. 'It's classic and modern at the same time. I also love the Soane picture lights flanking the La Cornue Range.'
Dining Room
Head through a teal-painted walkway (more on the fitted cupboards later) and you'll find yourself in Caan's colorful dining room, complete with Gucci wallpaper.
'The dining room is small, cozy and intimate,' she said. 'It can be dressed up or down. I intentionally did not place a pendant over the table and opt for candlelight instead.'
This romantic space features animal-inspired artwork, a large teal velvet dining sofa, green dining chairs and a very special table.
'The dining table was custom made in a bleached american walnut with brass patches inlaid in the top, reflecting things we love like gardening, working with our hands and creating things,' Caan explained. The tabletop features brass illustrations of hands, scissors and more, fitted by Sawkille.
Pantry
Head back to the space between the kitchen and dining room, and you'll find two teal cupboards with brass handles. 'I asked Nanz hardware to create these custom dummy cremones that dress up the pantry area,' said Caan.
Inside these are the refrigerator and freezer on one side, and a spectacular pantry complete with an in-built breakfast station. Caan's pantry ideas maximize storage by fitting racks to the interiors of doors, while marble once again graces the hidden counter, which also includes a sink. 'I love the vintage-feeling hot and cold taps,' added Caan.
Powder Room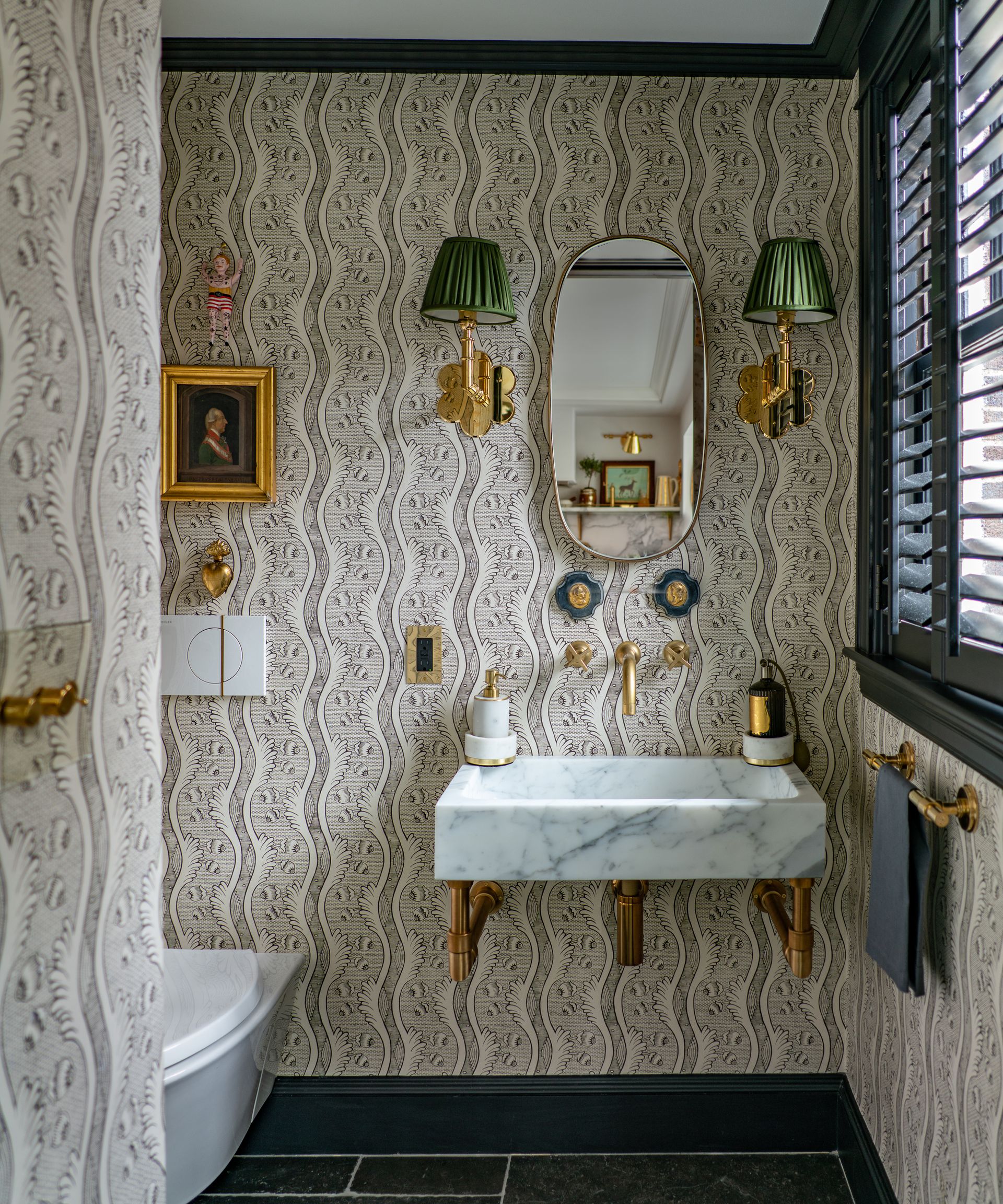 As part of the layout changes made by Caan in the renovation, a must-have was to return the powder room to its original – if unusual – location, accessible through one of the doors off of the kitchen. Caan has bestowed it with substantial grandeur, choosing her 'favorite' wallpaper by Antoinette Poisson for its walls, and adding Soane Daisy sconces above the sink, complementing the brass faucets with sage green lampshades.
Hallway
At the front of the house, the vintage style continues. 'A Farrow & Ball Off-Black entry sets off my art and artifacts perfectly,' said Caan of her hallway ideas. In this space, black walls are paired with crisp white paint on the staircase's woodwork to keep the area feeling light and bright.
While dark colors aren't traditionally a go-to backdrop for art, they actually work really well to gently bring focus to unique pieces. 'I love the vintage walnut chest against the bluestone floors and the black walls,' Caan affirmed.
Living Room
'The living room is my collection of curiosities,' said Caan. It certainly is – this completely unique room is filled to the brim with personality, provided by Caan's eclectic collection of furniture, ornaments, artwork, and a well-chosen backdrop.
'The new wallpaper is hand printed by Raoul in Santa Barbara,' she said of her living room ideas. 'I love the new drapes in army green and the ebony dyed matte floors.'
'My mother-in-law's secretary has been repurposed as a bar where guests can mix up a drink and make themselves comfortable,' said Caan. The antique piece also acts as an area to display a collection of glassware, and is paired with ornate chairs that flank it.
Family Room
'The family room used to be a sunroom and we love it as a place where we can watch a show, or hang out by the fireplace,' said Caan. 'It's colorful, and has lots of patterns atop one another.' The teal blue that pops up throughout multiple rooms comes out in full force here on the walls that lead up to a cloud-like patterned ceiling, and on the velvet foot stool. Patterns and color come in all forms, from mismatched sofas to sunshine yellow side tables.
Master bedroom
Up to the master bedroom, and the bolder colors are tamed by a neutral or two. Pattern, however, still reigns supreme thanks to wallpaper and matching curtains both in Quadrille's Monty pattern in chocolate brown, with a white background. A lime green armchair in the corner is paired with grass green details on the white bed linen, which is covered decadently with a thick fur throw.
First kids' bedroom
In the room of Caan's eldest son, pattern once again holds court from top to toe. This time, it is with a paper-backed cotton gingham fabric that channels punk rock rebellion by covering all walls and the ceiling. The bedding by Leontine Linens is personalised with monogrammed cushions.
Second kids' bedroom
'This is my daughter's bedroom,' explained Caan. 'She loved the lavender and blush combination and chose that as her palette.'
At the center of the design is a chic but typically quirky headboard that turns the corner of the room, upholstered in an elegant pink blush. The delicate color pairing is given edge with a very contemporary pattern used on the lavender wallpaper, and a skull scatter cushion.
Third kids' bedroom
In her youngest son's bedroom, a traditional blue scheme is enlivened with a multitude of blues in different tones and textures. This zany, mismatched approach is boosted by the zigzag wallpaper. 'The Kirk Brummell wallpaper by Brunschwig et Fils gives this room a lot of energy – like my son,' said Caan.
Exterior
The renovation of the home has also seen changes made to the exterior, which are set to expand. Caan added new windows, stone piers and lanterns by the Brass Light Gallery in Milwaukee, where she is originally from.
'We are now working on the landscaping with a landscape architect to help us tie the outside to the inside in a cohesive manner,' said Caan.
Interior Design / Liz Caan (opens in new tab)
Photography / Eric Roth (opens in new tab)
Ailis started out at British GQ, where a month of work experience turned into 18 months of working on all sorts of projects, writing about everything from motorsport to interiors, and helping to put together the GQ Food & Drink Awards. She then spent three years at the London Evening Standard, covering restaurants and bars. After a period of freelancing, writing about food, drink and homes for publications including Conde Nast Traveller, Luxury London and Departures, she started at Homes & Gardens as a Digital Writer, allowing her to fully indulge her love of good interior design. She is now a fully fledged food PR but still writes for Homes & Gardens as a contributing editor.