This rustic barn – with its blend of color and pattern – proves that good things come in small packages
Interior designer Sarah Vanrenen has repurposed a flint barn on the family farm to create a charming escape in the Wiltshire countryside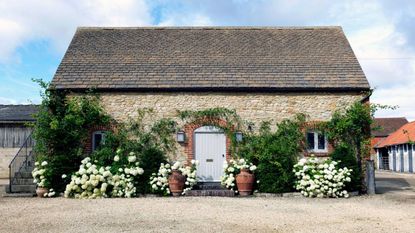 (Image credit: David Parmiter)
When interior designer Sarah Vanrenen and Grant Barker were married seven years ago, they settled in a 17th-century farmhouse that had belonged to Grant's family for generations.
Part of a busy working arable farm, the house is surrounded by a series of outbuildings, including an old flint and brick barn. 'It was almost derelict and hadn't been used for years,' says Sarah.
As an interior designer and co-founder of Vanrenen GW Designs, Sarah saw the opportunity to convert the barn into a farm office on the ground floor, with a flat for guests above.
'We liked the option of extra accommodation – for overflow from our house, perhaps for a nanny one day, or to rent out if we wanted,' explains Sarah.
The couple have three children between them, so life is busy with friends and family visiting regularly.
The first task was to convert the barn. They installed electricity and water, laid a concrete floor for the farm office, then added an upper floor to create the apartment.
Kitchen
The kitchen cabinets are painted in punchy green and finished with brass flower handles bought in India.
Dining area
Restoring the original timber beams was a priority. 'It made sense to use the beams as the best way to divide up the space in the dining room,' explains Sarah. 'Distinct areas allowed me to make the very most of every inch of space, without it appearing cramped.'
Living area
Sarah managed to fit in double doors to separate the living room and bedroom spaces.
While the walls and wooden floor were painted in a gentle shade of white to boost the sense of light and space in the barn, Sarah's love of color and pattern then came into play.
As the daughter of interior decorator and design doyenne Penny Morrison, Sarah says, 'I was literally weaned on decorating. For as long as I can remember, I've been visiting antiques shops and seeing my mother's projects, which is probably the reason I love designing and enjoy having color in my life.'
Unafraid of combining furniture from different periods and fabrics in various hues and patterns, Sarah's goal is to create interiors that look as if they have evolved over time.
'Rooms must be functional, with considered lighting and practical storage, but I also feel they should express personality, with finds that have been collected over the years,' she says.
The emerald green lamp in the living room was a twenty-first birthday present from Sarah's grandmother. Cushions made from vintage fabrics add comfort to the sofa.
Bedroom
'I wanted to create a really cozy flat with room to curl up in comfort in a deliciously big bed, somewhere that would work well for a single person, a couple on a romantic getaway or a small family, as there's also a sofa bed in the living area,' Sarah says.
'I like putting unusual things together because that creates character and makes a house feel like a home.
'Be bold, and not just in terms of using splashes of bright color and pattern, but also in selecting just a few oversize pieces, such as lamps and headboards, which can be much more effective than lots of little things.
'Lay fabrics out on the floor or on a big table, combine them with trimmings and paint swatches, and see what looks good together,' advises Sarah. 'Keep going until you feel happy and don't worry if things don't match – in fact, that can stop a room looking too contrived.'
The pretty shape of the oversized headboard in the bedroom creates a dramatic focal point.
Bathroom
The bath is tucked away as a relaxing spot.
Shower room
Sarah was able to fit in a small walk-in shower room tucked under the eaves. She added joyous color and pattern with one of her own wallpaper designs.
With The Nest, as it was dubbed, complete, Sarah and Grant spent some time living there, while work was done on their own house.
'It felt as though we were on holiday and we loved its cozy feel,' she says.
Then, on the eve of lockdown, their first tenant moved in for a short stay. 'In the end, she loved it so much she stayed for nine months and we became great friends,' says Sarah.
'It was wonderful to be able to pop over to the flat in the evening and enjoy a glass of wine together – it felt like a real escape.'
Interior designer / Vanrenen GW Designs
Photography / David Parmiter
Copy / Amelia Thorpe
Sign up to the Homes & Gardens newsletter
Decor Ideas. Project Inspiration. Expert Advice. Delivered to your inbox.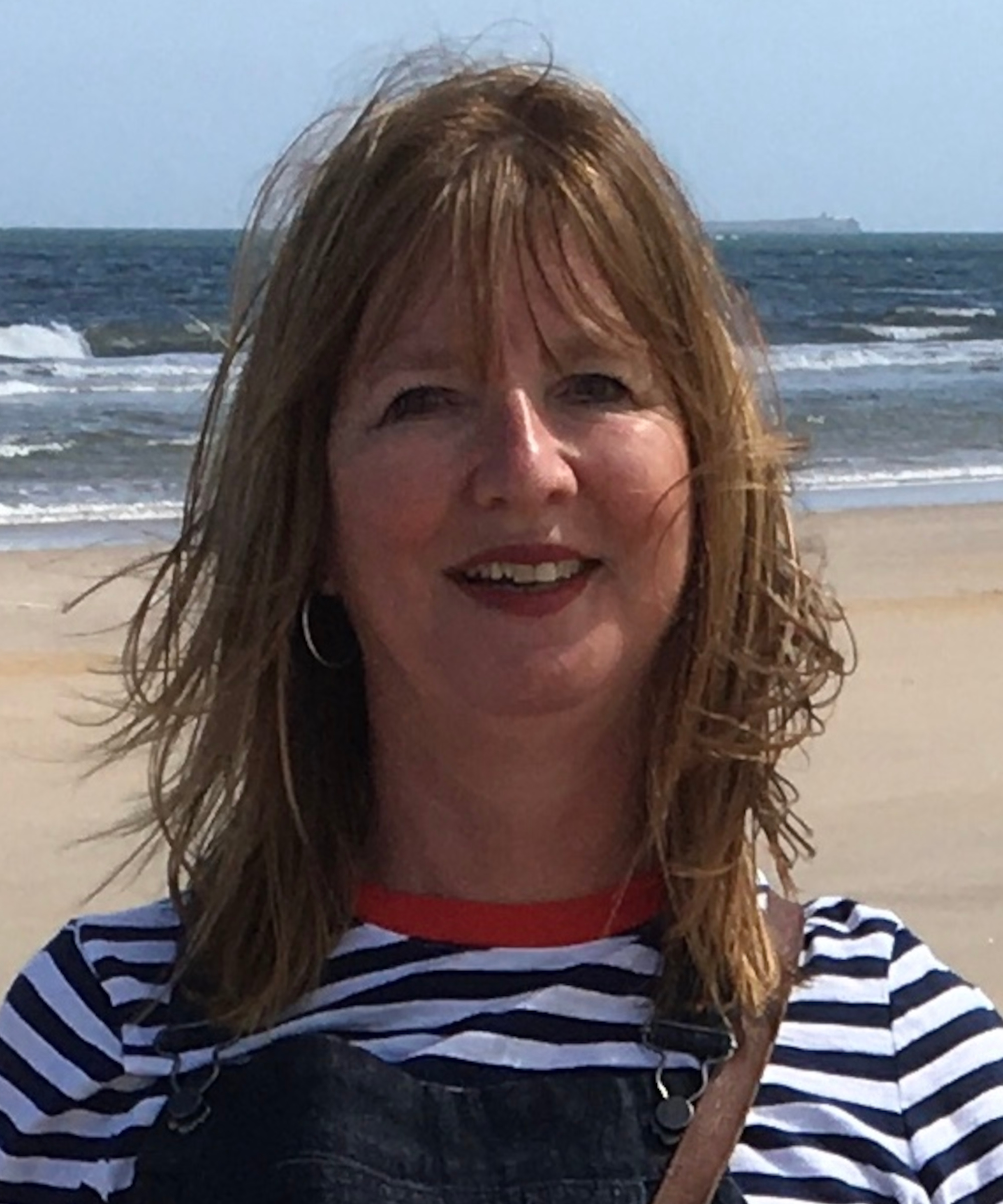 Interiors have always been Vivienne's passion – from bold and bright to Scandi white. After studying at Leeds University, she worked at the Financial Times, before moving to Radio Times. She did an interior design course and then worked for Homes & Gardens, Country Living and House Beautiful. Vivienne's always enjoyed reader homes and loves to spot a house she knows is perfect for a magazine (she has even knocked on the doors of houses with curb appeal!), so she became a houses editor, commissioning reader homes, writing features and styling and art directing photo shoots. She worked on Country Homes & Interiors for 15 years, before returning to Homes & Gardens as houses editor four years ago.