Design house: an elegant Dorset country house proved the perfect rural escape
This Victorian Dorset country house was given a calm and elegant upgrade with the help of interior designer Emma Sims-Hilditch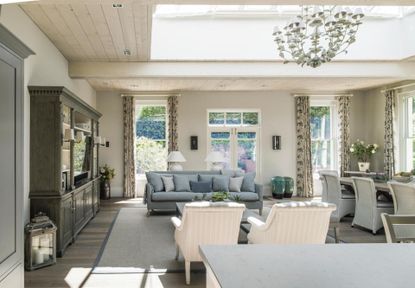 (Image credit: Mel Yates/Future)
The elegant proportions of this Victorian-era Dorset country house, and the large sash windows that fill the rooms with natural light, were what first attracted the owners to the property. But it was the freedom to completely overhaul the house that clinched the deal.
The house is in the market town of Bridport, Dorset. Although it sits in a conservation area, the building itself is not listed – which meant the couple could replace the existing rear extension with a big open-plan kitchen, dining and sitting area.
They commissioned interior designer Emma Sims-Hilditch (opens in new tab) to envision a new layout. 'The answer was to preserve the original, grand parts of the house while opening up and rationalising the secondary spaces that had been added later on,' explains owner Sarah Ainsworth.
The family made the move to the property after living in their former home in Oxford for 10 years. 'We had been thinking a more relaxed pace of life would be good for us and our two daughters, but until we visited Bridport we couldn't imagine making it a reality,' says Sarah. 'Then we came for a weekend to celebrate our wedding anniversary and something about the place just felt right. It convinced us to relocate.'
'Home is very important to us and past mistakes have taught us to wait for the right house,' Sarah continues. This six-bedroom property built in the 1890s from local stone was the place they had been waiting for.
Hallway
The original Victorian tiled floor in the entrance hall inspired the color palette for the entire house. A striped stair runner gives the house visual cohesion by picking out colours from the ground floor and introducing them to the first and second floors. 'The whole house has this wonderful feeling of flow. Each room has its own personality but they fit together perfectly,' says Sarah.
Kitchen
The couple looked at lots of properties, but none of the houses was quite right. 'The problem was nearly always the kitchen, which for me is the most important room in the house,' Sarah explains. 'I was looking at period houses where it is usually a small space designed for servants and because the houses were listed they could not be altered or enlarged.'
The fact that the house wasn't listed meant they could add the large kitchen of their dreams. 'The new kitchen-diner is big enough for us to spend time as a family without being on top of one another and is the most used part of the house,' Sarah says.
An extra-large island connects the kitchen to the rest of the extension and turns it into a social place to prepare food.
This is the Suffolk kitchen in Shale by Neptune (opens in new tab).
Sitting room
The large sitting area in the new extension is a particular success. 'It has a huge roof lantern, two sets of French doors and two big sash windows, which make it incredibly light but it is also cosy thanks to the underfloor heating,' says Sarah.
The sash windows also frame the pretty, sloping knot garden that the couple added once work on the house was complete. This provides year-round greenery and creates a strong link between the outside and inside.
Informal dining area
Adjacent to the sitting area is an informal dining area with a view through the large French door and two generous windows into the knot garden.
The ceiling is clad in rough, whitewash boards to add texture and improve the acoustics. As a showstopping design feature and to prevent the roof lantern becoming a dark spot at night, it has been hung with a 21-light chandelier in a leaf design that echos the foliage in the garden.
This is the Compiegne Leaf Chandelier (opens in new tab) from Vaughan.
Formal dining room
In contrast to the more relaxed eating area in the newly built extension, the formal dining room has been designed for elegant entertaining.
A rich wall colour gives the dining room an intimate atmosphere, while the fabric on the dining chairs and dramatic globe lanterns add notes of glamour and luxury.
Imperial Flowers Blue and Grey (opens in new tab) framed artworks are from Trowbridge Gallery.
Bespoke chairs in Queen's Sampler in Bronze, GP & J Baker (opens in new tab).
The bespoke cabinet is a place to display and store fine china, glassware and silverware.
Reception room
The reception room, which connects the entrance hall and kitchen, has been made welcoming with built-in bookcases and a working fireplace.
Bespoke armchair in Lanark Plaid in Grey, Colefax & Fowler (opens in new tab).
Opposite, an inviting window seat highlights the generous proportions of the bay window.
Drawing room
For the decoration, Sarah and James asked for an up-to-date, fuss-free country look. 'We wanted it to be beautiful, but also comfortable and homely. I didn't want guests to feel they couldn't sit on the sofas.'
This look is a speciality of interior designer Emma Sims-Hilditch, who devised a scheme in her signature palette of soft grays and blues that is refined and luxurious yet warm and welcoming.
The limestone Burlington fireplace by Chesneys (opens in new tab) gives the drawing room a suitably formal focal point.
The curtains are in Morrison in Icy Blue, Larsen at Colefax & Fowler (opens in new tab).
Family room
To take advantage of its low ceiling this basement room has been turned into a cozy space where the family can relax, play board games and watch films together.
Twig mirror in aged plaster, Porta Romana (opens in new tab).
Mud room
The family are keen walkers so this smart and capacious mud room, which was created from three small rooms, is a valuable addition to the house.
Floor in Lubelska reclaimed brick tiles, Kamstar (opens in new tab).
Laundry room
Built-in seating allows Sarah's daughters to keep her company when she is in the laundry room.
Cabinets, paints and table from Neptune (opens in new tab).
Master suite
The main suite has been enlarged and reconfigured to give the couple a private retreat. A warm, textured linen wallcovering is key to its sophisticated look.
Montalin in Mist wallcovering, Stark (opens in new tab). 'Ascona Glass Vase' table lamp, Vaughan (opens in new tab).
A coffee table in dark bronze and a mirror glass console table add interest to the sitting area of the main bedroom without compromising the tranquil atmosphere.
Madison round coffee table, Tom Faulkner (opens in new tab).
Dressing room
The dressing room cupboards have linen laminated glass. This partially conceals the clothes and provides an element of reflection that makes the room feel lighter and larger.
Rustica carpet, Crucial Trading (opens in new tab).
Bathroom
An opulent wallpaper makes this guest bathroom a decadent, indulgent space.
Walls in Indienne Tint in Wisteria wallpaper, Lewis & Wood (opens in new tab).
Guest bedroom
An island bed provides excellent views of the window and frees up wall space for built-in cupboards.
Bedside table with two drawers, Chelsea Textiles (opens in new tab).
Guest bedroom
In the guest bedroom at the top of the house tongue-and-groove panelling has been used to highlight the interesting shape of the ceiling.
Cushions in Beldi in Stone, William Yeoward at Designers Guild (opens in new tab).
Daughter's bedroom
A print of a flamingo inspired the youthful pink accent that runs through the scheme in this bedroom.
Bespoke chair in Cordoba in Madder Pink, Rapture & Wright (opens in new tab).
Daughter's bathroom
The elegant shape of this bath perfectly answers James and Sarah's request for classic bathrooms with a modern twist.
Rydal freestanding bath, CP Hart (opens in new tab).
Interiors have always been Vivienne's passion – from bold and bright to Scandi white. After studying at Leeds University, she worked at the Financial Times, before moving to Radio Times. She did an interior design course and then worked for Homes & Gardens, Country Living and House Beautiful. Vivienne's always enjoyed reader homes and loves to spot a house she knows is perfect for a magazine (she has even knocked on the doors of houses with curb appeal!), so she became a houses editor, commissioning reader homes, writing features and styling and art directing photo shoots. She worked on Country Homes & Interiors for 15 years, before returning to Homes & Gardens as houses editor four years ago.