This Dorset farmhouse renovation revealed a fascinating past its owners were eager to preserve
The dated interior of this Dorset farmhouse was transformed, creating a gracefully refined modern country home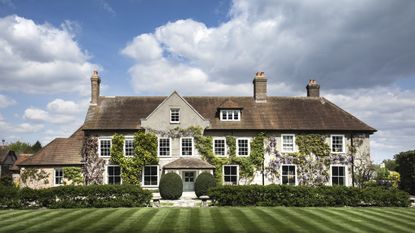 (Image credit: Paul Raeside/Future)
For this 17th Century Dorset farmhouse, its epic age made for a challenging renovation. The property, sat romantically amid acres of British countryside, was never going to be a project for the faint hearted, but the owners Steve and Stephanie Thorne had learnt from the experience of two previous renovations.
'Our previous projects had been more on the industrial style and nowhere near as old as this house, so we wanted help to make sure we got it right. We love muted tones, neutrals and light blues for understated elegance, and we didn't want anything oppressive. The interior would have to be light and fresh with simple clean lines,' Stephanie explains.
Deeds for the house date from the 16th to 19th centuries. The property has connections with Canford Manor, the former home of Lord and Lady Wimborne. It is also linked with the hamlet of Knighton, which was believed to have been a Medieval deer park from at least 1348, during the reign of King Edward III.
The Dorset farmhouse had not been touched for years. 'The roof needed to be repaired, we rewired, put in new plumbing and then discovered we needed to rebuild chimneys, replace the iron guttering and the down pipes, and put in new windows and doors, and re-plaster throughout,' Steve explains.
They also discovered that the ground floor had been laid straight onto dirt so they took up flooring throughout this level and excavated four feet down before installing a new wood floor.
When it came to the decoration, the couple called on the services of interior designer Emma Sims-Hilditch (opens in new tab) to help them realise their vision.
Take a tour of this historic property to see the incredible transformation.
Exterior
The house was built in the late 17th Century but the owners discovered parts of it date back to the early 1600s. The couple had the property delisted to allow for more simplicity in their renovation.
To complement its heritage, the couple did an immense amount of work on the garden which has a traditional English look with well-manicured hedges and lawns.
Entrance hall-library
The entrance-hall library doubles as an informal sitting room and is furnished with a combination of country and industrial inspired pieces that set the tone for the rest of the house.
The Lewis & Wood Adam's Eden wallpaper used in this area influenced the colour choices throughout the house. 'It has blues, light aubergines and a lot going on, which made it hard to put up. In places the pattern had to be cut fastidiously to match the shape of the walls,' says Stephanie.
Adam's Eden wallpaper, Lewis & Wood (opens in new tab). Coffee table from Flamant (opens in new tab). Sofas from Neptune (opens in new tab).
Entrance hall & staircase
Removing the original, dark-wood staircase, which made the entrance hall feel slightly gloomy, opened up the space. A mirror on the landing above helps to bring in natural light.
Living room
The couple wanted the interiors to be light and fresh with simple clean lines. They also wanted some touches of bolder colour and print, inspired by the creations of Kit Kemp and the couple's favourite Crosby Street Hotel (opens in new tab)in New York.
The off-centre fireplace is original and remains a striking focal point in this formal room. Wide, low-backed sofas are arranged opposite each other for a social emphasis.
Juliette 815 chandelier, from Estro (opens in new tab). Banquette upholstered in Layton in Henna from Romo (opens in new tab). Table lamp base in Radicchio Estate Eggshell from Farrow & Ball (opens in new tab).
Kitchen
The kitchen was extended with a two-storey oak frame that included a mud room and a guest bedroom above. When the plasterwork in the existing space was stripped back, an entire tree trunk was found supporting an original wall.
'I love oak frames and since putting in the extension, I have used the same kind of construction to convert the garage, to turn the pigsty into a gymnasium and to build an outdoor kitchen,' says Steve. A rustic inset was added to create interest in the new ceiling.
Two long runs of dark grey cabinetry and masses of white quartz work surfaces meet the needs of the young family as well as being a relaxed area for entertaining. 'Guests can sit at each island, with the person cooking in between, and everything within easy reach,' says Steve.
Suffolk kitchen (painted in Smoke) and lantern pendants, both from Neptune.
See: Kitchen ideas – decor and decorating ideas for all kitchens
Dining room
A favourite painting was the prompt for the rich cobalt blue colour scheme in the north-facing dining room. The simplicity of the table makes a good foil for the more luxurious upholstered chairs.
Artwork, Danielle O'Connor Akiyama (opens in new tab). Oval Lartigue chandelier from Porta Romana (opens in new tab). Henley chairs, from Neptune. Wimbledon table, from IJL Brown (opens in new tab).
Upstairs landing
A new fight of steps links the extension with the original house. Unable to find a handrail similar to the original, Steve called in a set painter from the Downton Abbey television series to paint the new rail to match it instead.
As layers were stripped back from the house, its secrets began tumbling out, to the great delight of Stephanie, a history lover. 'It's my dream just to spend all day rummaging through an old attic looking for treasure,' she says.
The house had been well cleared of the previous occupant's belongings, but Stephanie did find old newspapers lining the shelves. 'We read about Her Majesty Queen Elizabeth II when she was young. There were even pages referring to World War II.'
Main bedroom
More history was revealed in the couple's bedroom. 'Previously the roof had been thatched, but a fire destroyed it in 1947. We discovered some of the charred timbers under the floor board in the master bedroom,' Stephanie says.
The couple brought few items of furniture with them to their new home, preferring to start from scratch with pieces in keeping with the age of the farmhouse and the size of its rooms. The bold colours and patterns were inspired by Kit Kemp's Firmdale hotels.
Headboard and chair in Bordeaux in Pivoine, from Manuel Canovas (opens in new tab). Les Unis linen wallcovering in Beach is from Arte International.
See: Bedroom ideas – designs and inspiration for beautiful bedrooms
Bathroom
The walk-in shower was a modern update to the couple's bathroom. Elegant sconce wall lights and matching sinks bring the luxurious feel of a hotel.
Basins and taps, all Lefroy Brooks (opens in new tab).
Family bathroom
Half-height tongue-and-groove cladding gives the family bathroom a truly country house feel. An elegant muted grey scheme will match their tastes as they mature.
La Chapelle bath shower mixer in silver nickel from Lefroy Brooks.
See: Bathroom ideas – stylish decor ideas for all bathrooms
Children's bedroom
The couple originally planned for their twin daughters to have separate rooms, but the girls insisted on sharing. They decorated the chandelier with fluffy pompoms, butterflies and chicken-shaped bells to help prevent their father from banging his head on it.
Antique Louis XV single beds, The Bed Workshop (opens in new tab), Beds upholstered in Faded dotty Butterfies on White Linen from Peony & Sage (opens in new tab).
Mud room
The brick floor of an old tack room has been restored and combined with hardy units from Neptune for a suitably resilient mud room.
'This room has been brilliant for our three dogs, especially the purpose-built shower area after muddy walks,' says Stephanie.
Gardens
The extensive grounds were a huge attraction for the couple when they first viewed the property. They have landscaped them with lawns and hedges to create a series of outdoor rooms.
'Our neighbour was born here and she has kindly shared with us some of her family photos of the house, with carriages out the front and her family in formal horse riding gear, including top hats for the men, on beautiful, grand horses,' says Stephanie.