A renovated Georgian townhouse in Bath – full of color and quirky fun
Paul and Kate Austin's home renovation had to comply with the regulations that come with its Grade-II listing. Meanwhile, inside, the creative and colorful decor breaks plenty of rules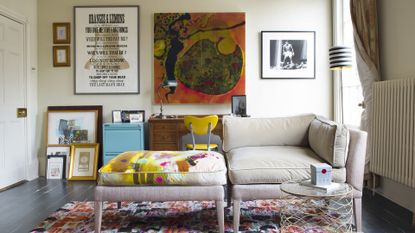 (Image credit: Claire Worthy)
Back in 1989, Paul Austin had been looking to move from London to the beautiful city of Bath – a place that's home to some of the world's best homes. He had seen plenty of properties across the city but knew immediately that this was the one he wanted to buy.
'The house was a real mess. I walked in through this very dull red door and there was a soil pipe running right through the middle of the place. It was beaten up; it felt abandoned and studenty. There was an outside toilet and an ugly 1960s lean-to on the back - but I instantly liked it and completed the sale in six weeks,' says Paul.
Renovation works
Paul set about transforming the house, committing to a full restoration project without any shortcuts. This meant an awful lot of work and, since the property is located in a World Heritage Site, consent was needed for just about everything. The soil pipe that came through the middle of the house was the first thing to be relocated to the back.
In the early 1990s, grants were available from Bath Council and the Bath Preservation Trust, which allowed Paul and Kate to replace the Georgian sash windows and the fanlight above the front door. The white band that frames the arched doorway is only found on certain Georgian streets in the UK.
Back inside, the floor was completely taken up, as the tiles were smashed and flattened. In their place cast-concrete tiles were used, which mimic real flagstones. Every wall was stripped back to the original stone and brick, to install a proper damp-proof course. Bath stone retains high levels of moisture, so damp is common in these old buildings. However, since the walls were tanked Paul and Kate's home hasn't had any issues.
The lean-to and outside toilet were demolished, and the garden was landscaped.
Kitchen
Kate and Paul had the wall removed between the kitchen and dining room to open up the living space and make it more conducive to modern family life. Kate replaced the kitchen with a handmade one from Plain English (opens in new tab), painted in Little Greene (opens in new tab)'s Lead.
The room is packed with Kate's clever kitchen ideas and acquisitions. 'I love to layer it up. I like collections, small toys – the smallness is attractive. I group things together, then it amasses, so I clear them and start all over again,' she says. The tiles around the Aga were designed by artist Lubna Chowdhary, who has installations in the V&A.
When Paul and Kate rebuilt the kitchen they discovered a huge Georgian fireplace surround that had been hidden by a plethora of 1970s cupboards, and today the Aga occupies this space. An original Welsh dresser was also found and restored.
Dining room
At the other end of the kitchen-diner, the back wall of the dining room was replaced with handmade French doors to allow sunlight to flood in, creating a seamless opening between the garden and living space.
Dining room ideas include a dining room table at a farm sale in Norfolk and the 1960s lamp shades above it are from vintage furniture shop Two Columbia Road (opens in new tab). The contemporary resin painting with explosions of bright color was from Edgar Modern art gallery, while the mosaic in the fireplace was handmade by Kate.
Tucked into a corner by the French windows in the dining room is an elegant antique armchair. Kate had it reupholstered in the striking spotted Odin Mercury design from Romo (opens in new tab). The wall lamp is by Artemide (opens in new tab) and the 1940s sideboard was Kate's grandmother's.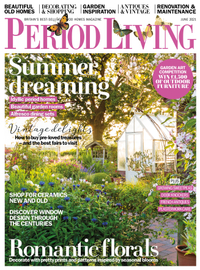 (opens in new tab)
This house is taken from H&G's sister brand, Period Living magazine
Subscribe to Period Living for more inspiration (opens in new tab) Period Living is the UK's best-selling period homes magazine. A subscription provides you with all you need to know about caring for and improving a traditional house and garden
Living rooms
Although the house had been a wreck when Paul and Kate first took it on, many of the period features were, miraculously, still intact, including most of the Georgian fireplaces, all of the internal doors and the ceiling mouldings. A few years ago, however, a flood brought the sitting room ceiling down and the mouldings had to be repaired. The fringe lamps and corner cocktail cabinet belonged to Kate's grandmother. Kate also collects dolls' heads which, she confesses, 'neither Paul or the kids are happy about'.
The second living room (above) contains pops of intense color amidst a frame of calm serenity, which is the hallmark of Kate and Paul's styling. The walls are painted in Dusk by Zoffany (opens in new tab), while the superb print, a much-loved wedding present, by American painter and graphic artist Robert Rauschenberg, is on display above the chic grey sofa from B&B Italia (opens in new tab).
A vibrant print from Nelly Duff is on display alongside sleek white and chrome light fittings by Artemide. The Dansette record player was bought for Paul when he was eight. The curtain fabric is Designers Guild (opens in new tab), while the tea pot on the Habitat coffee table is from the Cley Pottery in Norfolk.
Just as the renovation was complete, life changed direction entirely and work sent Paul and Kate abroad. Rather than selling or renting out the house, they decided to share it with friends. 'We never let it out, so we could come back at any time. Friends used it for a weekend retreat to Bath or if they needed somewhere to stay,' Kate recalls.
Bedrooms
In 2005, they moved back to the UK, putting down roots in London. Kate gave birth to their first child, Zillah, and the three of them would come to Bath every weekend. 'Eventually, we had to decide where to live and we chose Bath,' says Kate. 'The house was bigger and it made sense.'
The couple have updated the decor several times since then, the master bedroom (above) being a case in point. The contemporary artwork was from the Edgar Modern Gallery in Bath. Bedding from Zara Home (opens in new tab) and Anthropologie (opens in new tab), with sumptuous cushions from Heal's (opens in new tab) make for a seriously sophisticated and comfortable chamber. The wallpaper is Salcey from Osborne & Little (opens in new tab).
The yellow armchair from B&B Italia adds to the circus feel in daughter Zillah's room. A Feather & Black (opens in new tab) bed, is dressed with bedding from Urban Outfitters (opens in new tab), and the pillowcase with the crochet trim was made by Kate's grandmother. The curtains are Malabar Silk from Rossiters of Bath (opens in new tab). A bedside lamp base from Fired Earth (opens in new tab) sits atop a junk-shop cabinet. The wooden wall cabinet was custom made by Fiona Clark at Spacehub (opens in new tab), using reclaimed pine with hand stencilling, layered painting and punched metal detail.
A cheerful rug from Habitat and Perroquet (opens in new tab) wallpaper by Nina Campbell are perfect choices for Zillah's room. The yellow chair is from Milan, the mirror came from Kate's grandmother's house.
Interior style
Kate, who worked as a visual artist for many years, relished the process of choosing and transforming the furnishings and décor in the property, developing her quirky signature style. The walls are adorned with modern pieces and prints, alongside Kate's own artwork, and her curious collections of dolls' heads, stuffed animals and passion for numbers, letters, spots and stars.
The house has become a visual diary of Kate and Paul's life together and its meandering path via Asia, Europe, London and Georgian Bath. Their two children, their love of heritage and heirloom furniture, modern art, and their experimental use of color and form, all contrast with this beautifully kept and elegant home.
Feature / Hannah Newton
Hannah Newton is a journalist and editor who has been writing features about the world of arts and interiors for the past two decades, she has written for national newspapers including The Times, The Telegraph, The Guardian and The Observer as well as interiors titles Elle Decoration and Architectural Digest in the UK and across Europe.