I'm an interior designer and this is how I designed my own family home to be practical, yet elevated
Principal designer Trish Lynn's home had to suit a family of five, and her own beautiful design aesthetic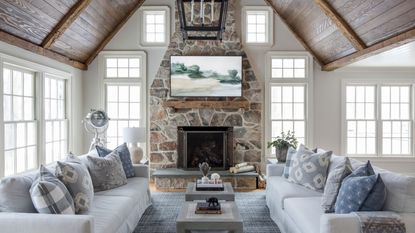 (Image credit: Photos: Raquel Langworthy / Design: Colette Interiors)
It's always fascinating to look inside an interior designer's own home, especially if they have all the challenges of creating a comfortable, practical space for a family that many of the rest of us do.
Interior designer Trish Lynn, Founder & Principal Designer, Colette Interiors, finished the remodel of her Craftsman style house just before the pandemic. Located in Chatham, New Jersey, it was built in 1952, and has a heavily wooded exterior.
'We wanted to bring those environmental elements indoors to highlight our surroundings in organic finishes and natural textures and materials,' explains Trish. 'The open floor plan of the home was what we loved most, but it also presented a challenge in assuring all spaces were complementary and blended together harmoniously.'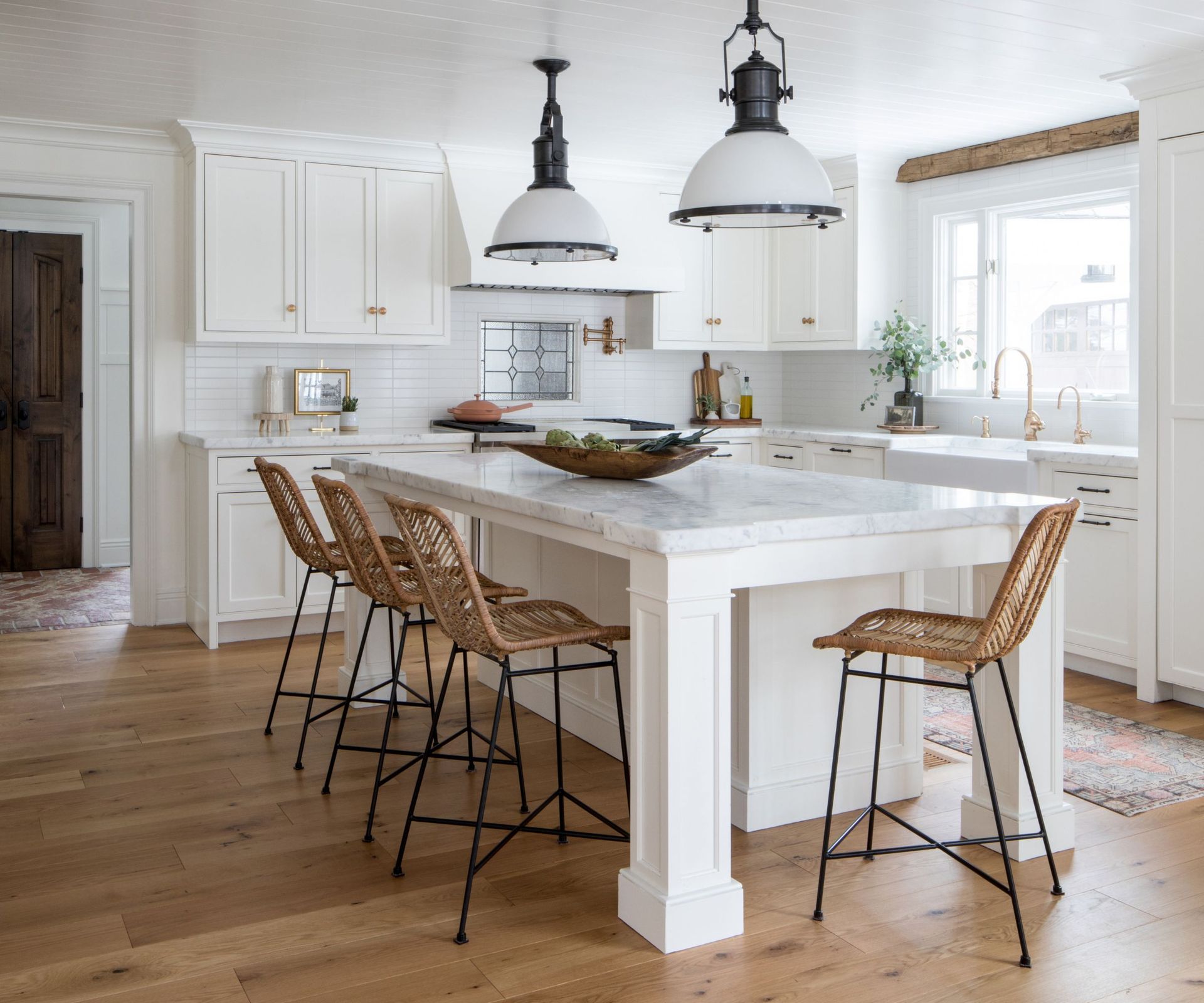 As well as aesthetics, Trish had functionality and practicality to consider.
'We are a family of five so although we wanted the design to be elevated, it had to be approachable. Creating an environment that is functional and livable is always a top priority. One of the key must-haves was renovating a mudroom (below) to be more functional for our family.'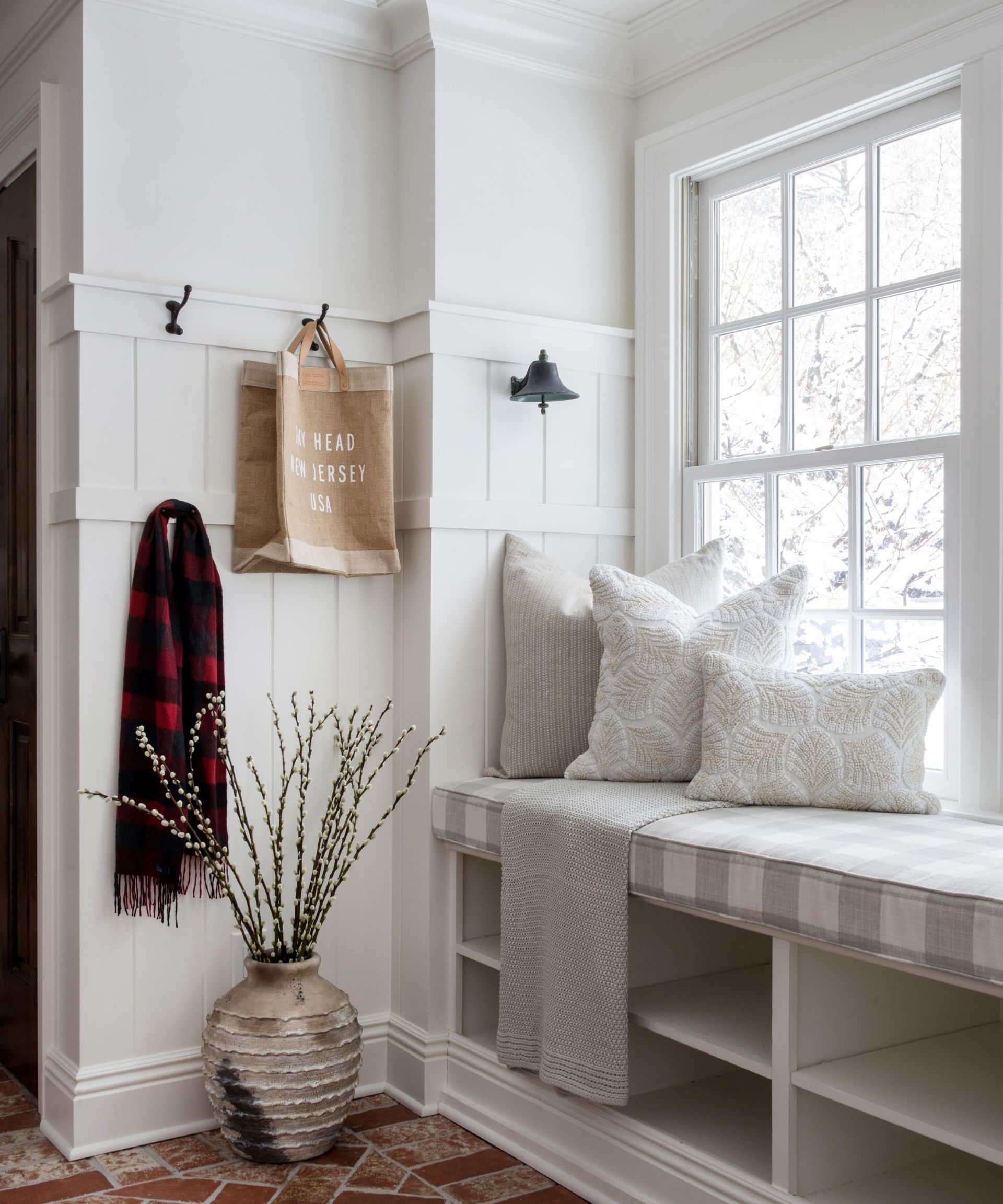 The kitchen (above) was renovated with a clean-lined mindset. 'We wanted it to be bright and airy, embracing the classic white kitchen, while also bringing in organic elements and natural materials to reflect our exterior environment. This was accomplished through the addition of rustic beams and an overgrouted stone wall in the butler's pantry (below). The backsplash was finished in a matte stacked white subway tile.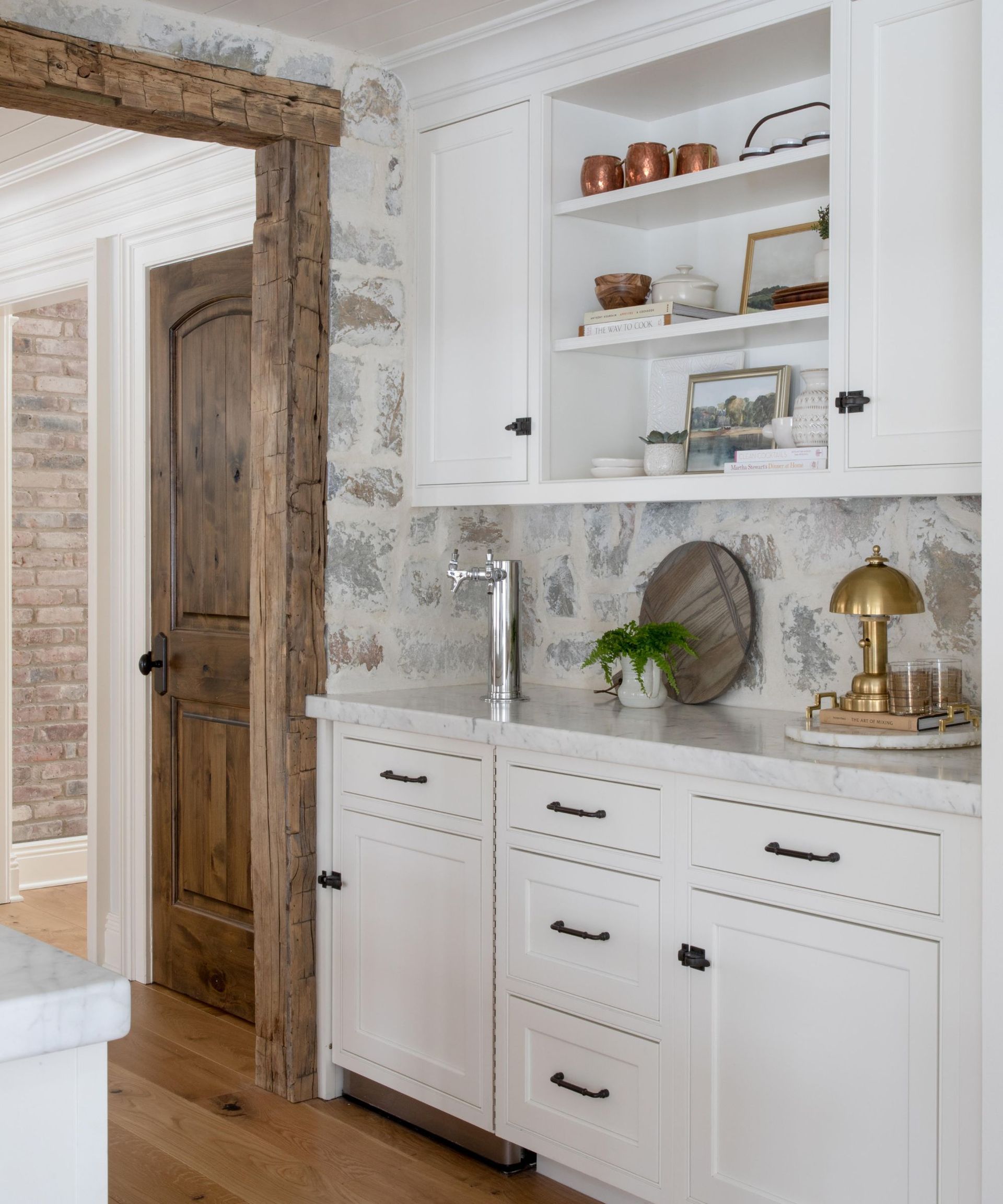 'My only regret would be changing our kitchen countertops when we did the renovation. We left them intact, and my preference would have been to replace with one of my favorite authentic stones.'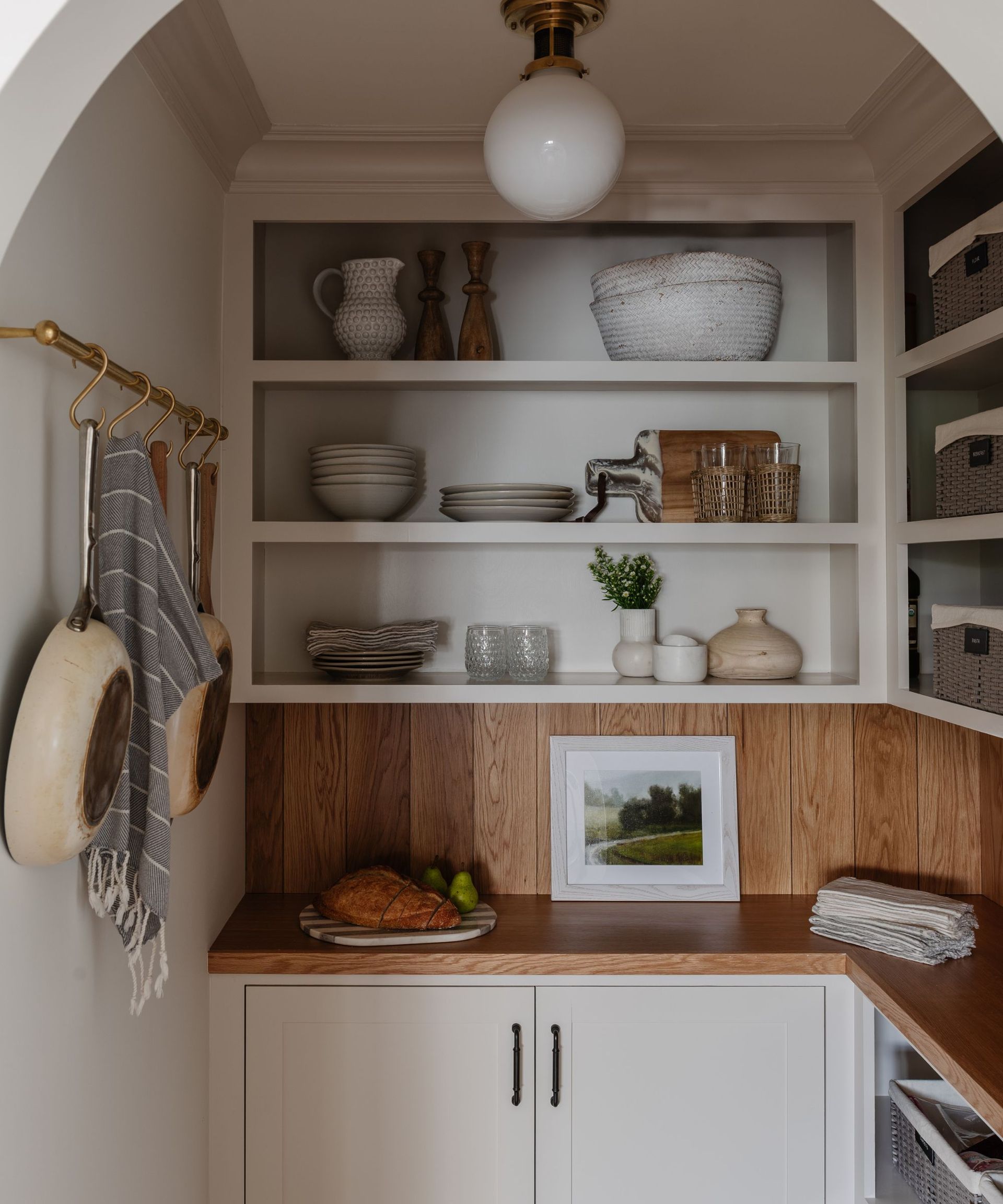 'The initial renovation took about six to eight weeks, with additional one-off renovations taking place since then. The outdoor elements were extremely important as they heavily influenced interior design elements. A key example of this is the butler pantry in the kitchen, which was reimagined in overgrouted stone backplash and a rustic beamed door.'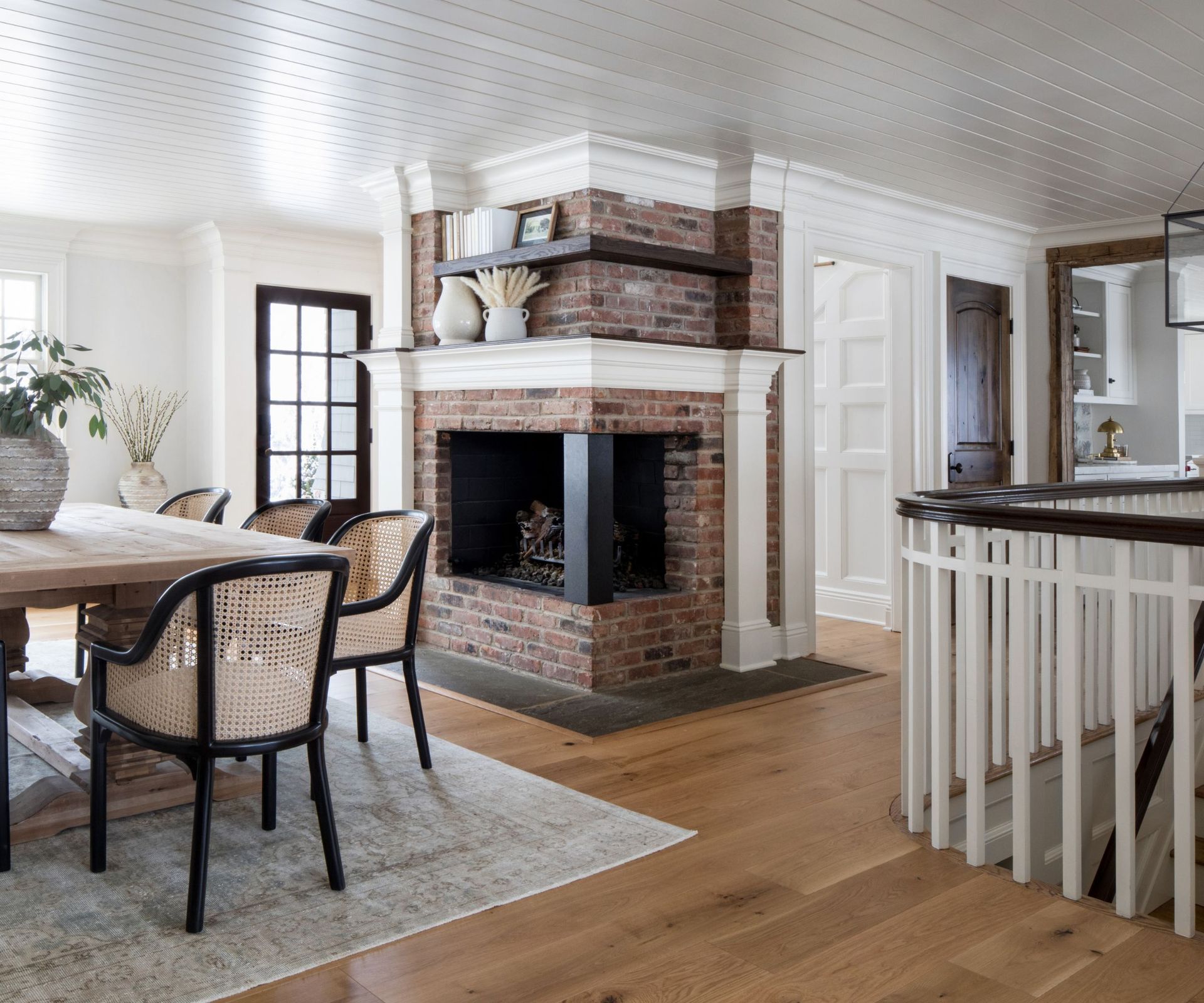 'We intentionally designed the dining room (above and below) to keep the space low-profile, clean-lined, and minimalistic. Furnishings were designed around a balanced horizontal plane to keep the overall schematic feeling approachable, casual, and out of the way.'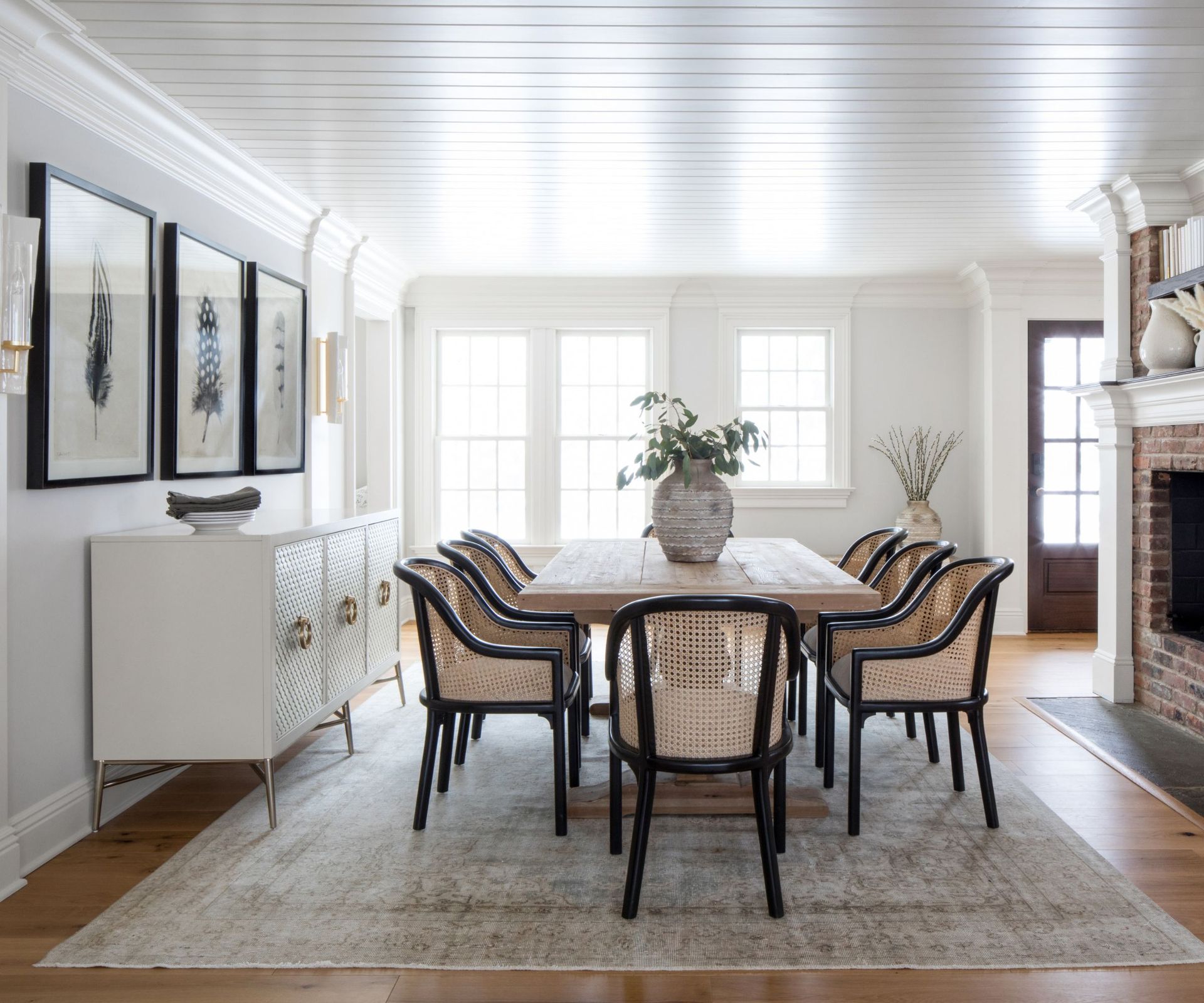 'The goal for the great room (below) was to create a natural, but well-defined space with intentional transitions between rooms and a good amount of negative spaces. The result was a casual and clean-lined vibe.'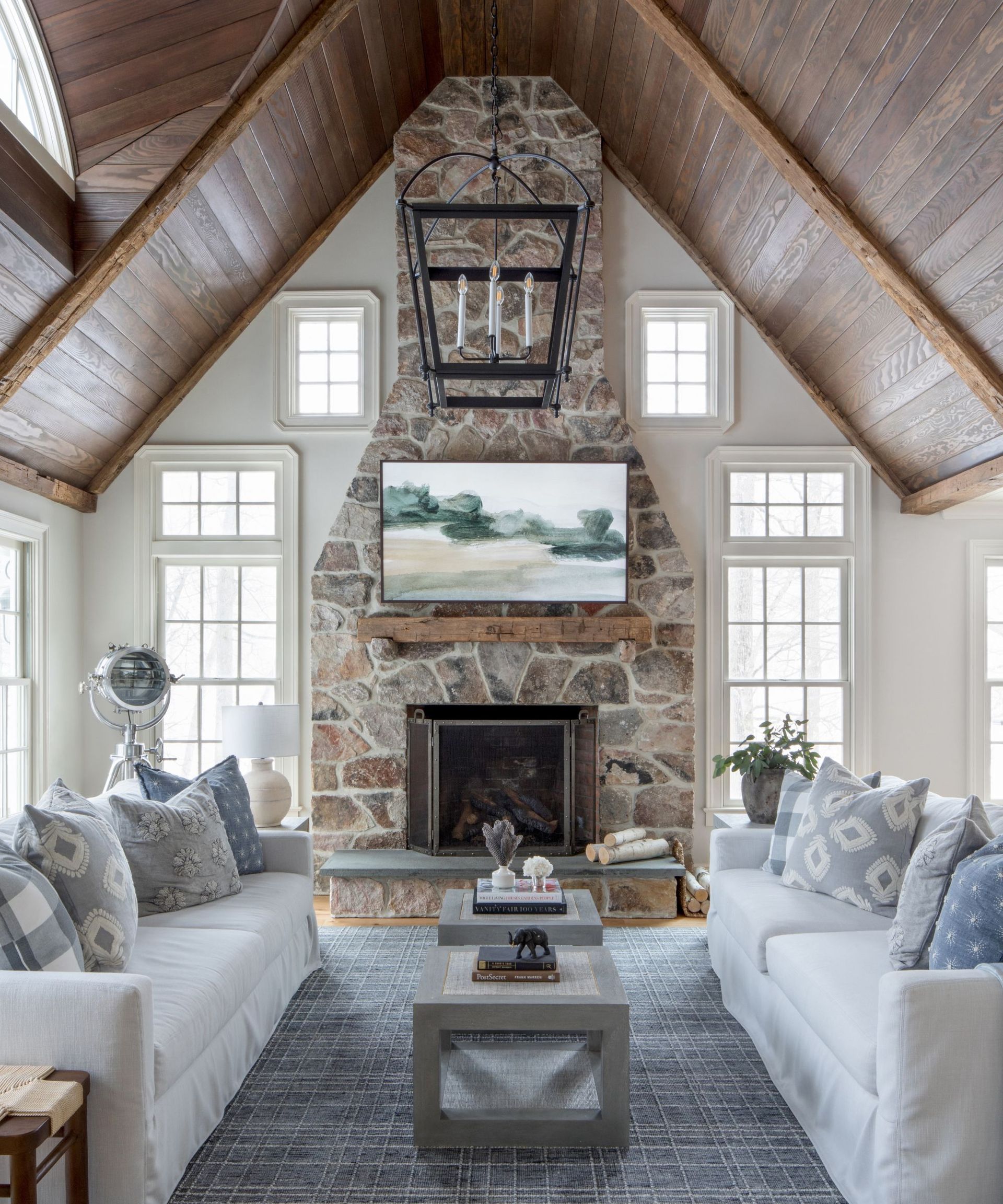 'The living room (below) was designed with a neutral and warm color palette to keep the environment light, bright, and inviting. We wanted to incorporate the wooded exteriors into our interior design elements by introducing rustic woods, textured furnishings, and layered organic materials.'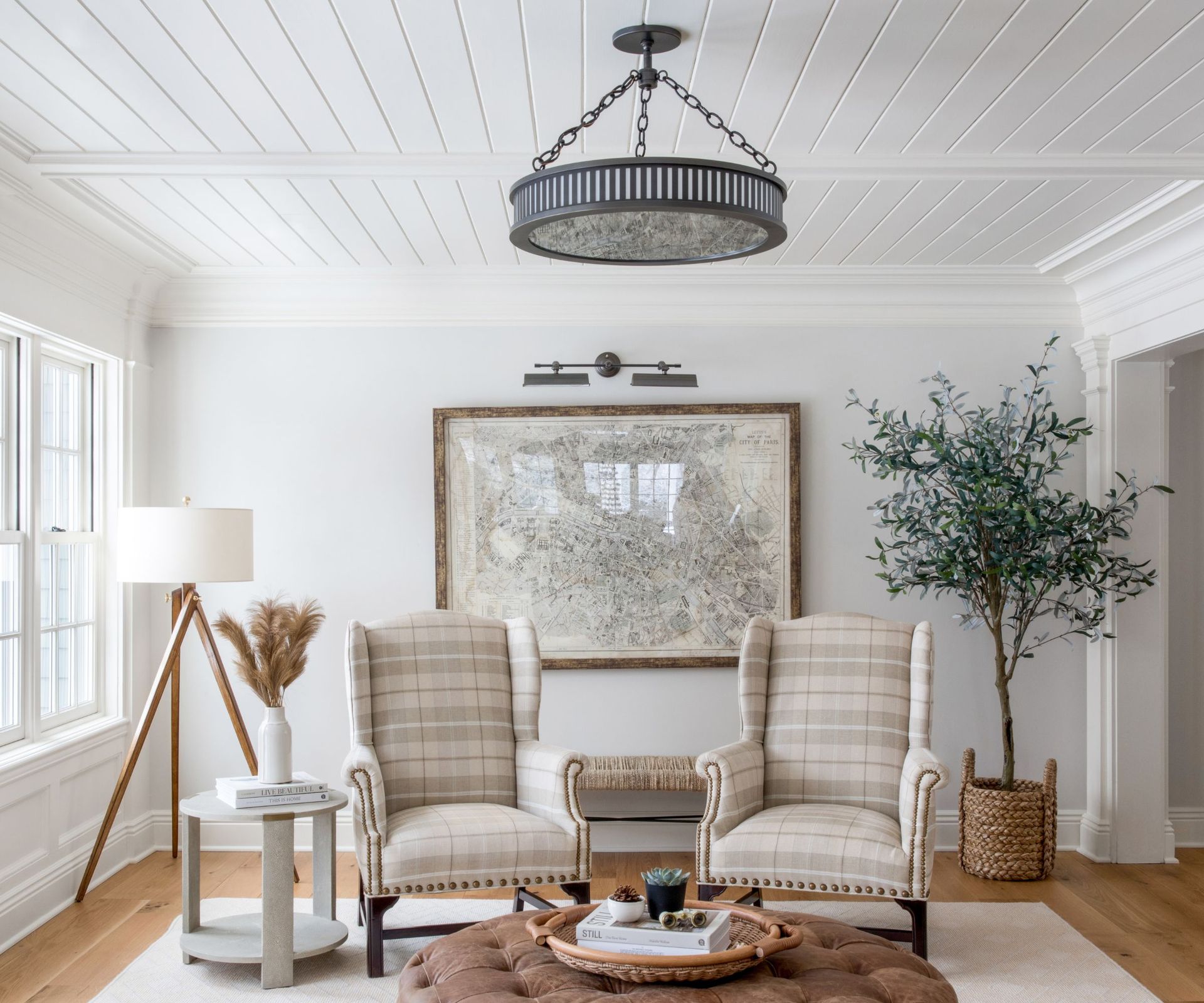 The cozy home office (below) is the one space in the home that is furnished in a darker color.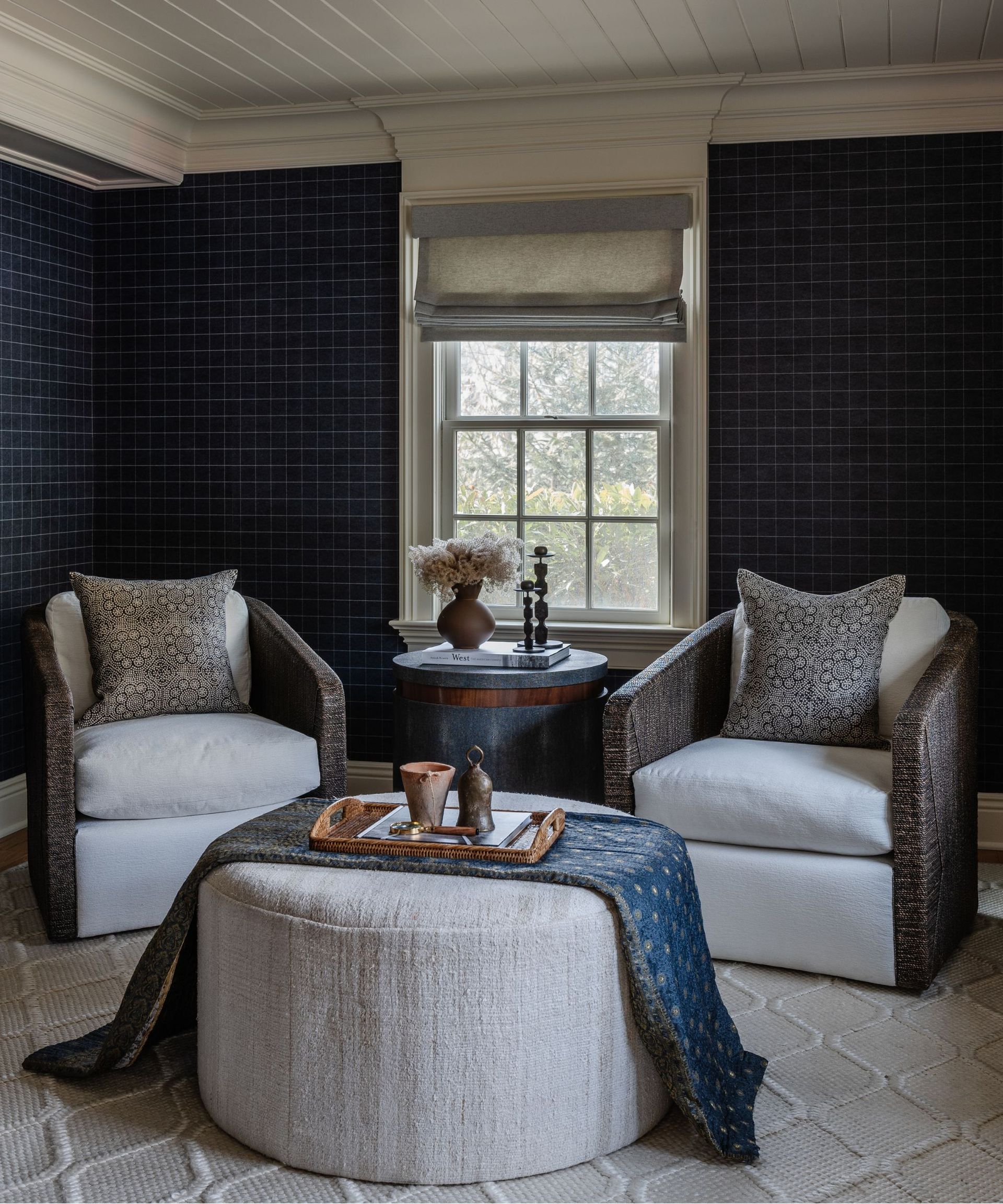 'The primary (below) was designed to keep the focus on the view. I wanted to create an inviting and serene sanctuary that we never wanted to leave. The room was finished in a warm white palette with organic textures and materials like a stone surround fireplace and white washed wood ceilings. The room was painted in Benjamin Moore's Simply White. The stone fireplace surround was achieved with stone veneers and overgrouted joints by a trade mason.'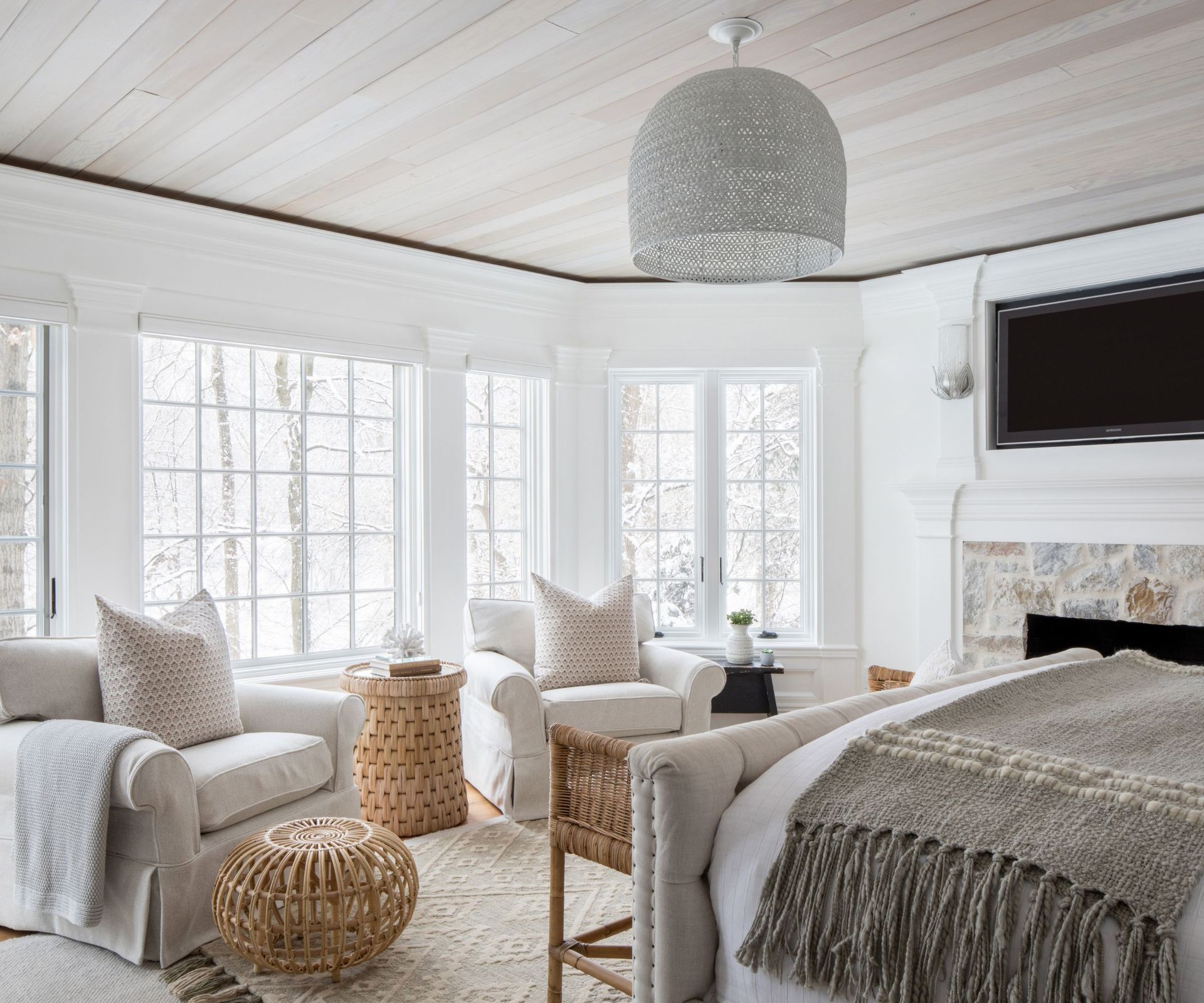 Interior design: Trish Lynn at Colette Interiors (opens in new tab)
Lola Houlton is H&G's long-term intern. Currently student of Psychology at the University of Sussex, she began writing content for Real Homes around the subjects of children's and teenagers' bedroom, in particular covering the psychology of teens and their approach to tidiness. From there, Lola expanded her knowledge of a broad range of subjects and now writes about everything from organization through to house plants while continuing her studies.