Clever design and a considered interior has resulted in this innovative barn home
Alluring minimalistic architecture and striking interiors that celebrate the surroundings ensure this barn conversion is the perfect family home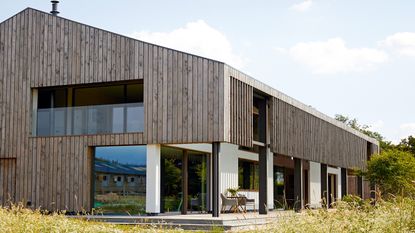 (Image credit: Paul Massey)
With its elegant timber facade ensuring it is one of the world's best homes, it is hard to imagine this building in its previous iteration as a downtrodden barn housing grain and agricultural machinery. Yet its owners, Marnie and Damian Hopkins, who live here with their daughters, Izzy and Cecily, had spotted its potential a while ago.
'We lived in the farmhouse on the same land for 14 years and I'd set my sights on developing it,' Marnie says. 'The building's scale was exciting, plus it has amazing views.'
Having begun her career in management consultancy in the construction industry, Marnie's expertise is now design and project management of residential refurbishments and she had created her own drawings to obtain the initial planning permission.
Together with Damian, who works in the fashion industry, she then approached several architects, alighting on John Pardey's proposal for an arresting external facade made from timber. 'His design incorporated Douglas fir "fins", setting back the southwest facing side behind this structure,' says Marnie. 'This allowed us to achieve a more domestic scale for the interiors, while retaining the purity of the original lines of the A-frame building.'
Kitchen
Marnie and her architect were equally ingenious when it came to internal layouts. 'We were keen to have the sense of an open space but with the ability to close off rooms for intimacy, so the kitchen and the family room at either end of the house can be shut off with pocket doors, while we still have the drama of the central double-height living room,' she says.
A picture window, green cabinets (painted in Invisible Green by Little Greene) and rustic brick slips cladding one wall are among the kitchen ideas designed to celebrate the former barn's surroundings.
Living room
Living room ideas to ensure the double-height space feels intimate include artwork hung low and seating arranged around the focal point wood burner.
Many of the pieces furnishing the house already belonged to the couple and have been refreshed with new upholstery. 'I believe that if you buy wonderful pieces, they can move with you and last a lifetime,' says Marnie, who has also incorporated antiques, including a chandelier and dining furniture that originally belonged to her grandparents.
Key to giving the spaces a more human scale are the materials used, which were informed by the timber exterior as well as the window frames in powdered bronze. On the upper level, a wall of dark oak panels hides a long sweep of doors to three of the five bedrooms and the same wood was used on the ground floor to add warmth to the galleried living room. 'I find that plastered walls can be quite dominant, so I was keen to make them recede,' says Marnie. The minimalist oak staircase, made by a local firm, allows for views through the building.
Family room
'We wanted a natural palette but with guts, hence the use of stronger hues such as this deep inky blue in the family room,' says Marnie.
Paintings – including Marnie's own works – enliven the spaces, as does her collection of ceramics.
Bedroom
This double aspect space offers far-reaching views across the countryside. Bedroom ideas center on emphasizing the natural textures, with wooden retro chairs and the Tom Raffield Urchin pendant linking to the timber façade. Rather than have outdoor furniture on the terrace all year round, the couple prefer to take out a pair of retro chairs when the weather is fine.
Bathroom
Bathroom ideas to create a sense of continuity include selecting the same large-scale porcelain wall tiles in a different marble finish for each bathroom in the house.
Garden
Setting one wall behind a Douglas fir and steel structure created a covered patio. The pond complements the sleek architecture and contrasts with the soft planting.
The family moved in just over a year ago and the house's flexibility has been a big bonus. 'When we celebrated Cecily's 18th birthday last summer, we had all the doors open so that people could flow in and out; recently, I held a big dinner party where I set up a long table in the family room, where the moody blue walls made it really atmospheric,' says Marnie, adding, 'I believe that a good home needs to be adaptable – and I think we've achieved that.'
Interior design/ Marnie Hopkins
Architect/ John Pardey Architects
Photography/ Paul Massey
Text/ Rachel Leedham
Sign up to the Homes & Gardens newsletter
Decor Ideas. Project Inspiration. Expert Advice. Delivered to your inbox.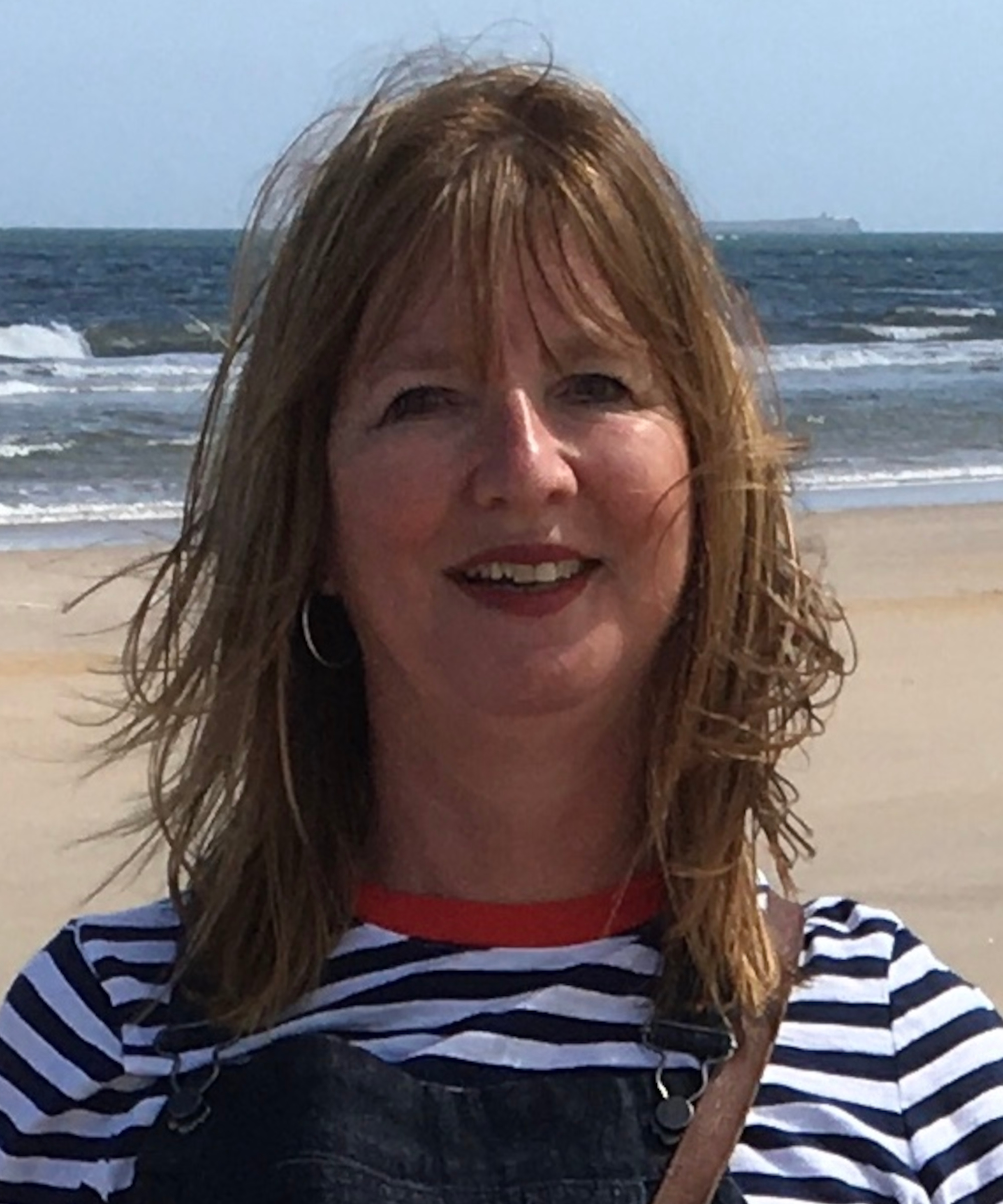 Interiors have always been Vivienne's passion – from bold and bright to Scandi white. After studying at Leeds University, she worked at the Financial Times, before moving to Radio Times. She did an interior design course and then worked for Homes & Gardens, Country Living and House Beautiful. Vivienne's always enjoyed reader homes and loves to spot a house she knows is perfect for a magazine (she has even knocked on the doors of houses with curb appeal!), so she became a houses editor, commissioning reader homes, writing features and styling and art directing photo shoots. She worked on Country Homes & Interiors for 15 years, before returning to Homes & Gardens as houses editor four years ago.