Creating zoned spaces in a modern open plan? This Texas home turns it into a fine art
A contemporary take on a country home, with a smart floor plan that works equally well for togetherness and privacy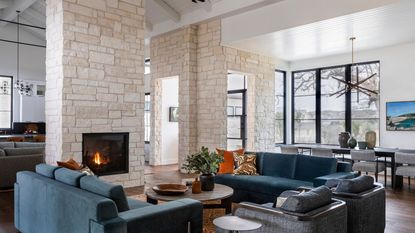 (Image credit: Julie Soefer)
Open plan living is great in theory. You get a sense of space that's not possible with a series of distinct, smaller rooms, and there's that sociable element to an open plan home, too. The whole family spending quality time together in one great big open space. Always. No escape. No quiet time.
But that needn't be the case. This home, in Williamson County, Texas, created a new 2020 vision for open-plan living. There are all the advantages of open-plan living – sociable cooking and entertaining, great spacious and airy through-views to the other rooms – but, thanks to some beautifully executed zoning, this home has none of the disadvantages.
The homeowners worked closely with their architects to plan the space and layout for their new build home, and interior designer Killy Scheer of Scheer & Co arrived on the scene fairly early on in the build. 'We were tasked with reviewing the architectural finish selections that were still in process, pivoting and reconsidering, where needed, and finalizing all selections before moving onto furnishings,' Killy explains.
Stylistically, the house is a contemporary take on a country house. There's a strong indoor-outdoor connection and there's a clear separation between public and private spaces, achieved with a smart floor plan that allows for separation and togetherness, depending on what's desired. Take the tour to discover the new art of open-plan living.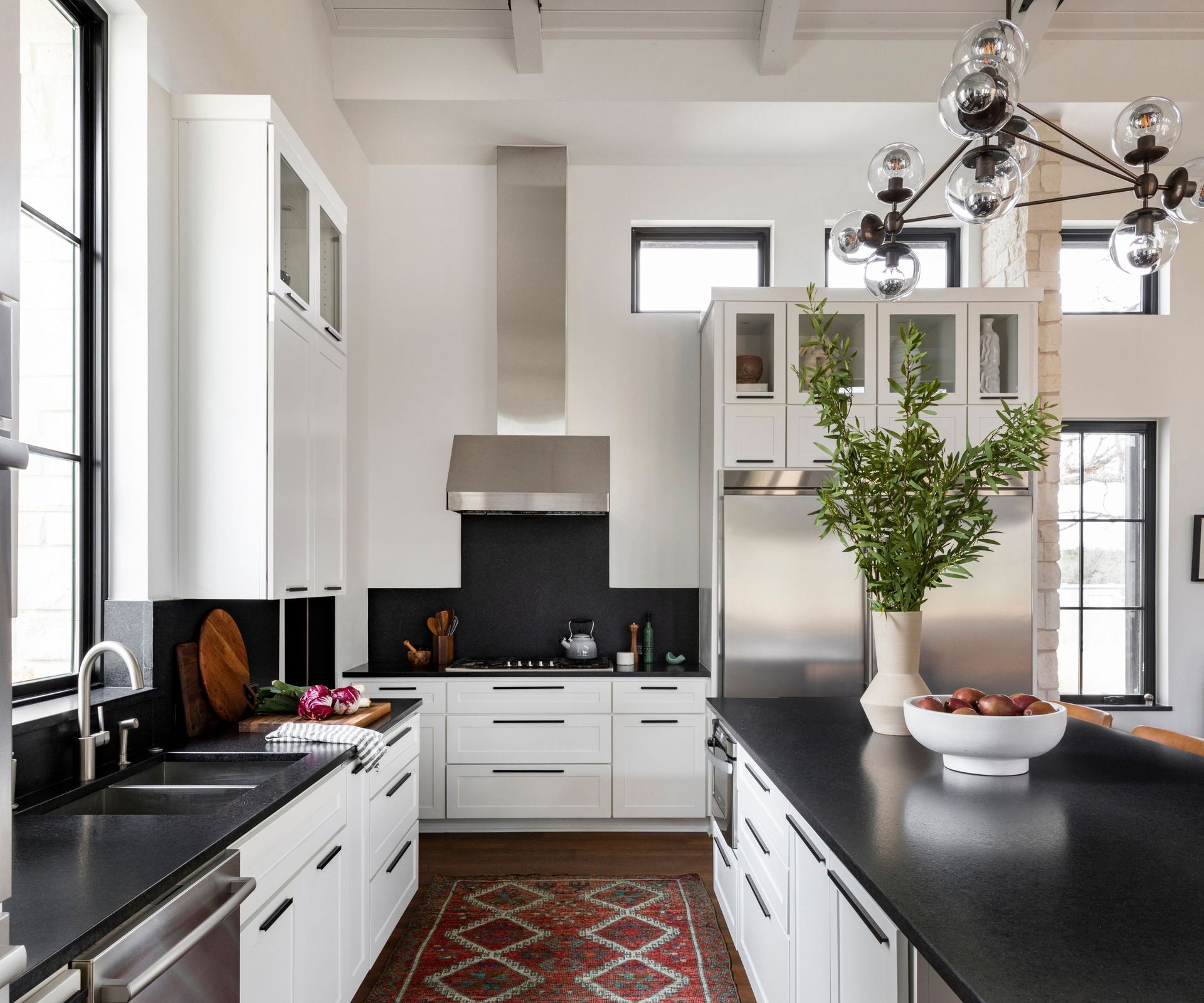 The house is a study in contrasts: dark and light, traditional and contemporary. Black steel tension rods define airy, vaulted ceilings, dark windows, doors and floors pop against crisp white walls and cream-colored stone.
Always a consideration in this home, scale and proportion became even more crucial in the kitchen with the soaring high vaulted ceilings. Designer Killy's kitchen ideas included a giant kitchen pendant chandelier from Roll & Hill, which she says 'simultaneously fills the vaulted ceiling space but maintains a lightness'. It's positioning was crucial too. 'It had to be positioned just right to light that space but also be functional for working. It also had to be big enough to work within the cavernous space but not so big that it stole the show,' she adds.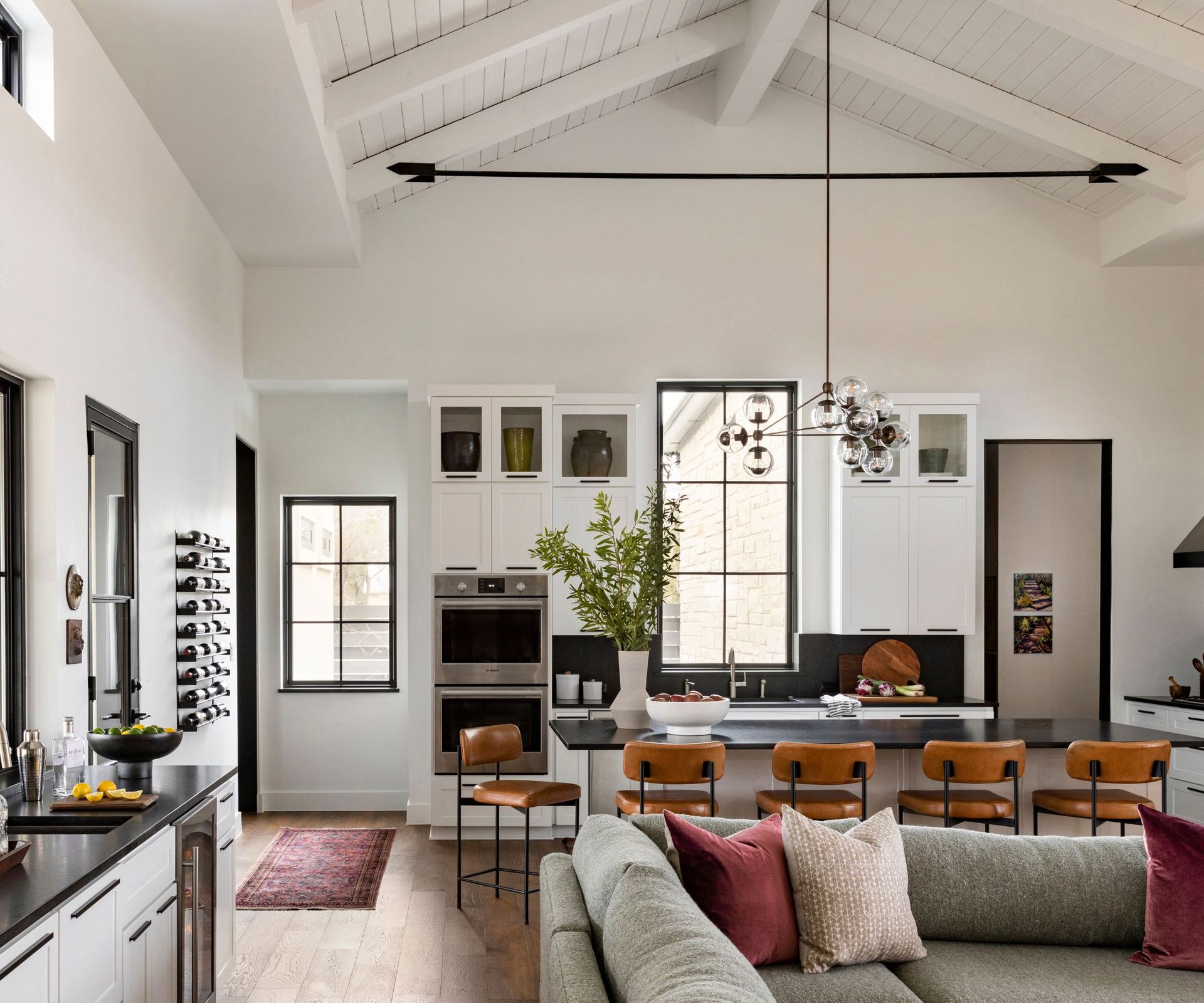 Against the backdrop of black, white and cream contrasts, a warmer element is introduced in the kitchen with leather counter stools, vintage rugs, and soft boucle fabrics, all of which are adjacent to the kitchen in the informal living room.
This relaxed living room is a casual hang out spot. 'We wanted the furnishings to feel comfortable and accessible without compromising clean lines,' explains Killy Scheer. 'It's also part of the bar area, so is a great place for guests to gather; it keeps them near the kitchen but not in it, which is ideal for entertaining.'
Anyone looking for simple home bar ideas will find inspiration in this understated entertaining space. No shiny mirrors or wall-to-wall shot glasses here. All is harmonious to suit the open spaces around; nothing interferes with the flow.
Interior designer Killy Scheer
Scheer & Co is a high-end residential and commercial boutique interior design firm based in Austin, Texas, with projects nationwide. A 14-year industry veteran, Killy Scheer founded Scheer & Co in 2013 with the belief that a home should feel both elegant and familiar – perhaps with a dash of playfulness. The boutique interior design firm takes an intellectual, researched-based approach to design, collaborating with clients to curate spaces that reflect their personal narratives, spirit and aesthetic. That collaboration really shines through in this contemporary country home, where new pieces take their place alongside existing treasures to create a harmonious and fresh look.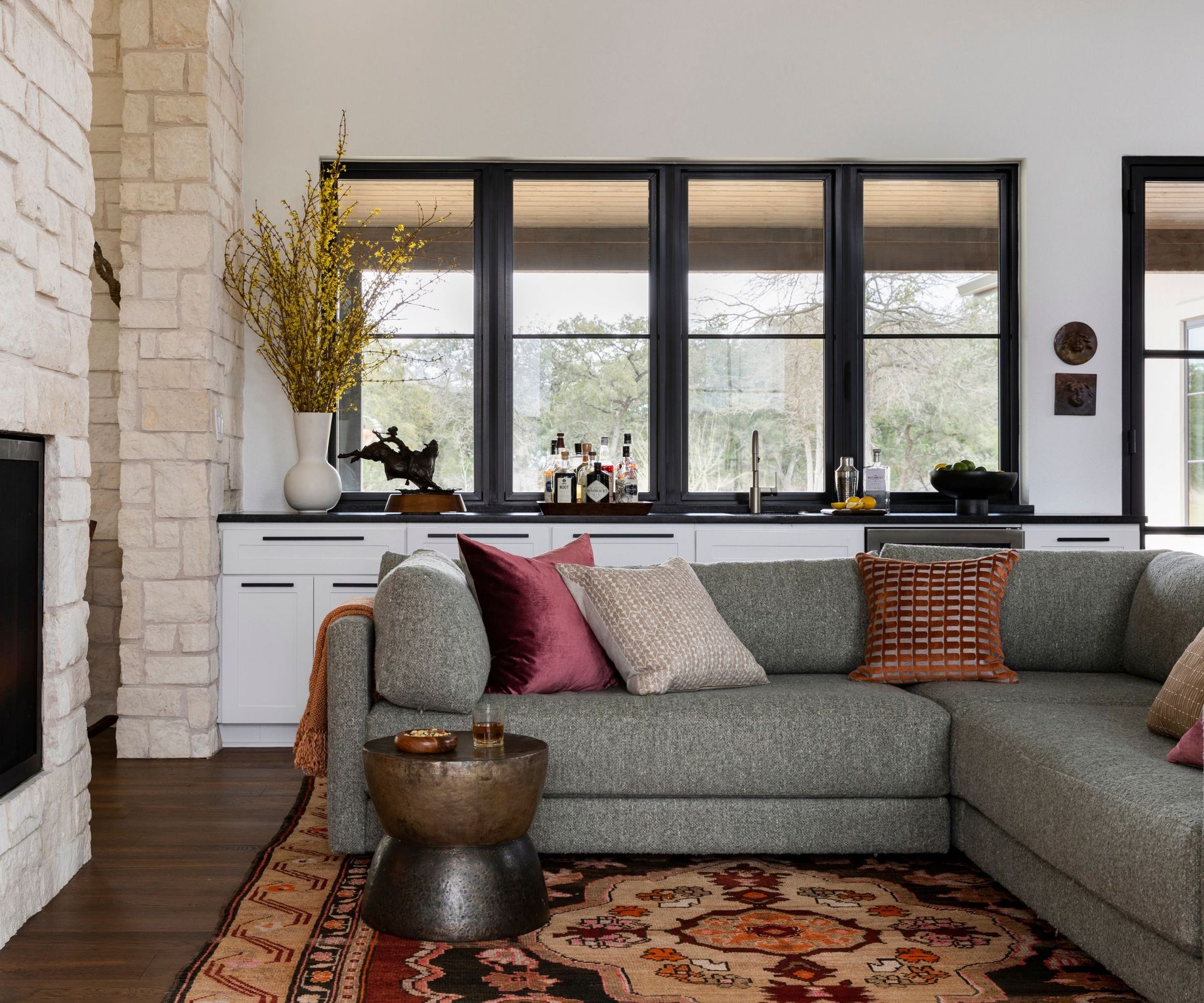 Designer Killy Scheer says that her two biggest sources of inspiration for the interiors were the architectural style of the house and the few pieces of the homeowners' existing furniture that they wanted to incorporate. 'There was an outstanding collection of art to work with too, which was a lot of fun,' she adds.
Overall, the furniture had to be durable and comfortable, while looking tailored but not precious. Living room ideas in this informal space encompass all those elements, with a smart Younger & Co sectional sofa from Caffrey & Co, alongside a timeless rug from Black Sheep Unique, and a selection of pillows in warm accent colors.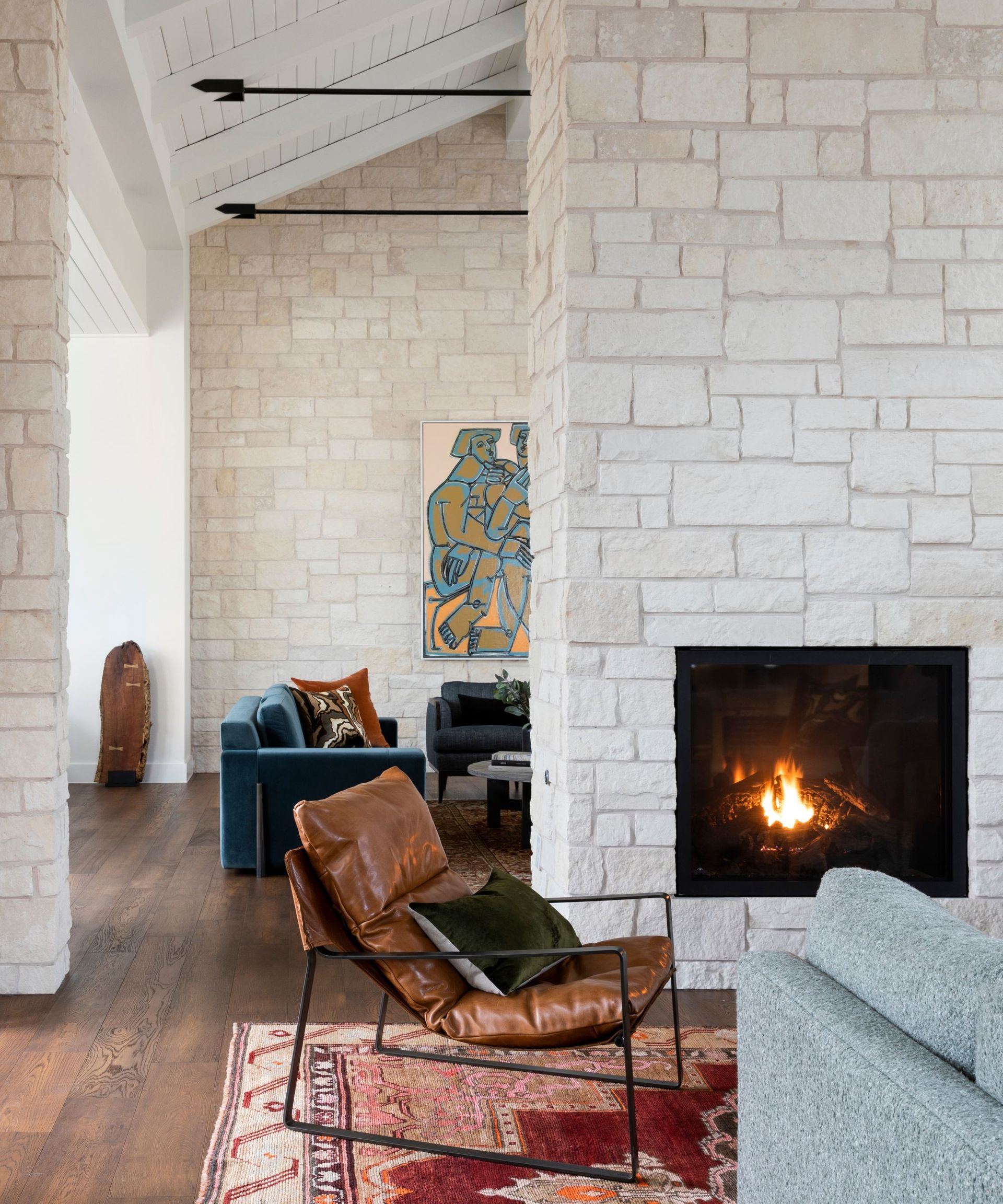 This new style of open plan offers a captivating view through from the informal space to a more formal living room on the opposite side of the fireplace. 'I love the dual living rooms separated by the two-way fireplace and the opportunity it afforded us to make an informal space and a more formal lounge,' says Killy Scheer. The leather sling chair seen here is from Four Hands.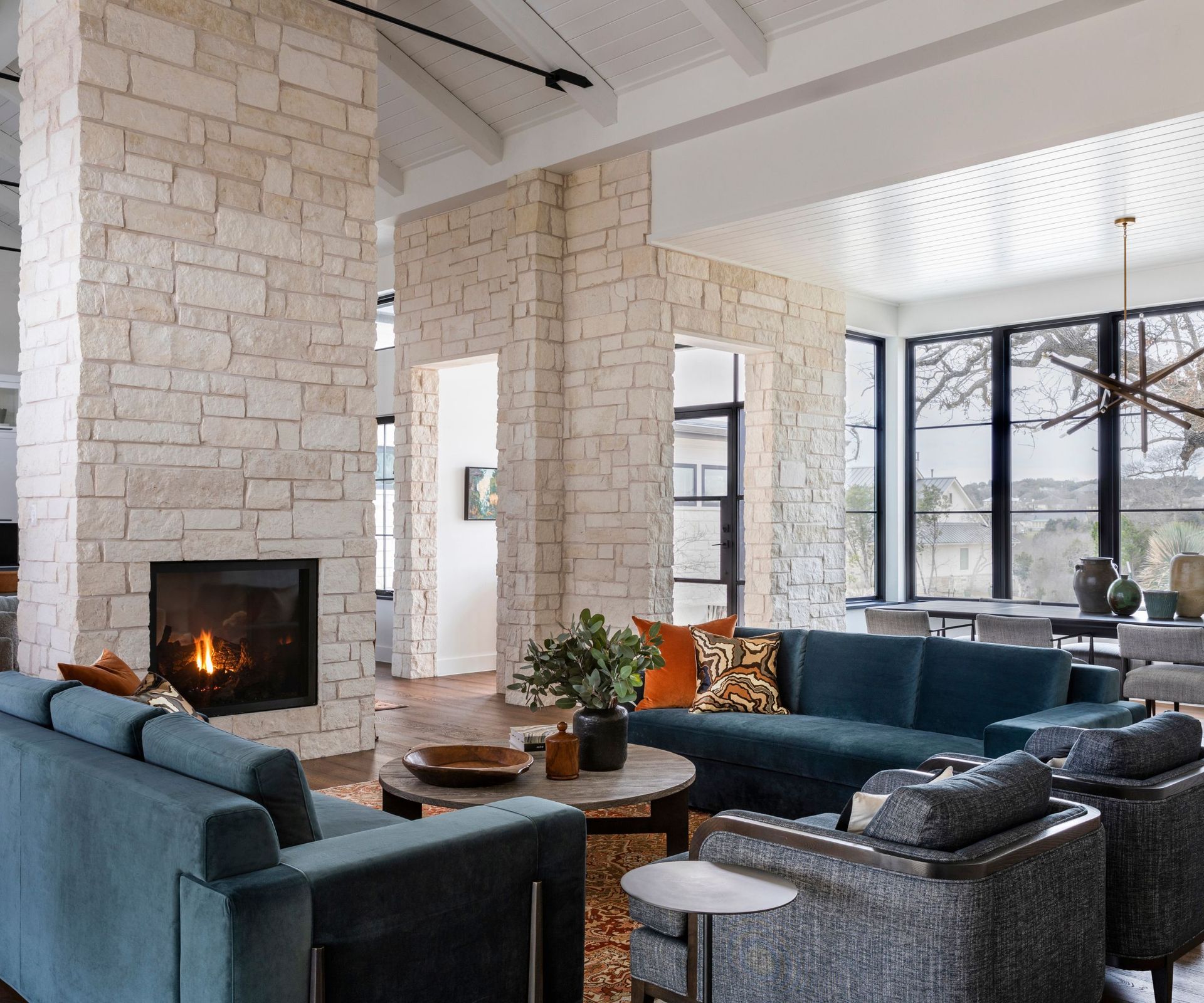 The formal living room is intended for entertaining larger groups, though the homeowners use it for reading at night by the fire. Two large sofas and two lounge chairs, as well as an ottoman offer a range of seating. It was important to create a contrast from the informal living room, so in this space Killy explains that her formal living room ideas still prioritize comfort, 'but it was important to elevate'. The Vanguard Furniture lounge chairs, sourced from Objets, in Austin, are the designer's favorite pieces of furniture. The velvet sofas are from Olivya Stone.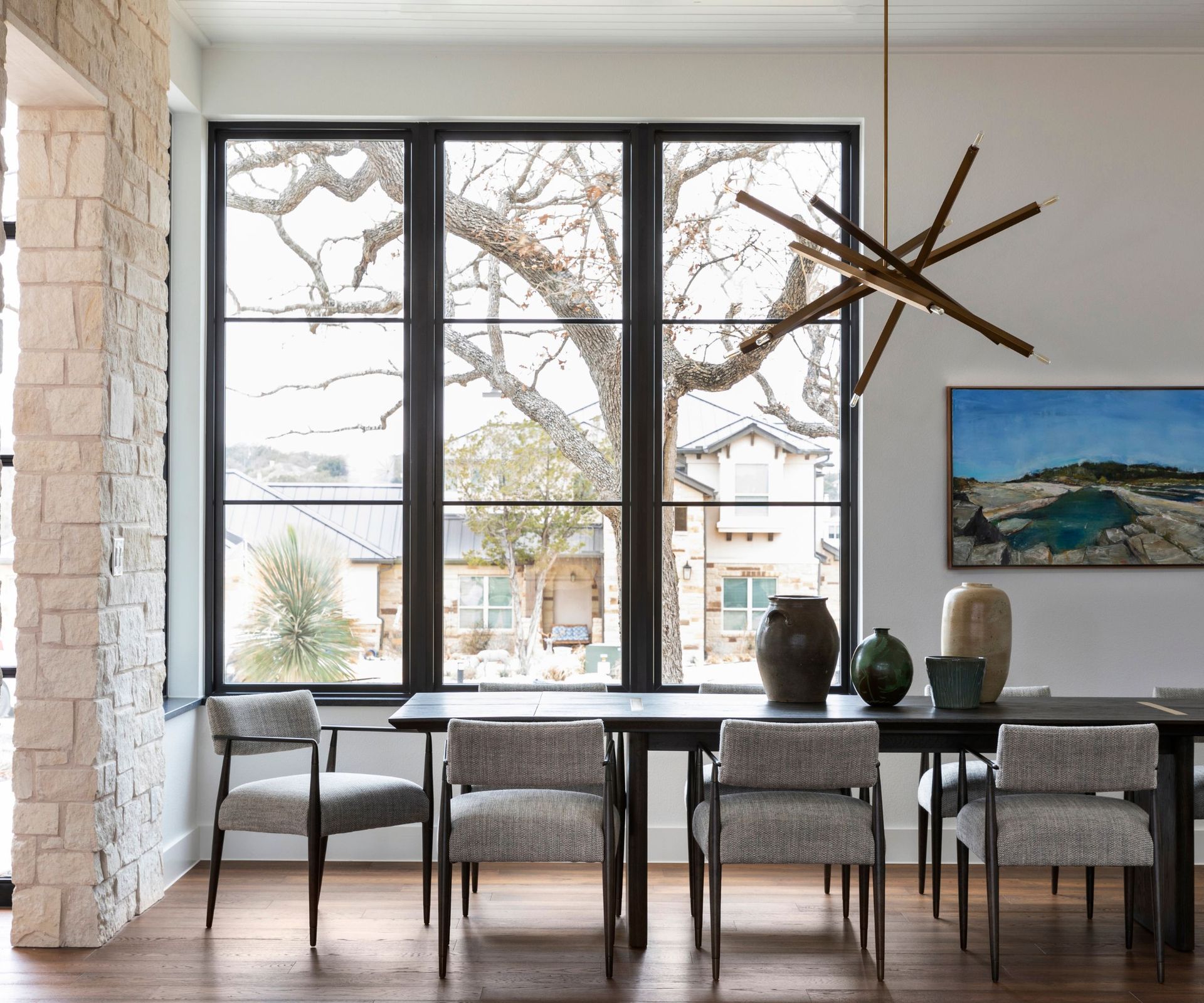 Although it backs right onto the formal living room, the dining room zone is delineated by a dropped, wood-clad ceiling, and so feels at once intimate and airy. We see a return to the calm, sophisticated palette of blacks, white and cream in Killy Scheer's dining room ideas, in a space that melts into the background when it's not in use. The pastel stonework and warm wood flooring adds texture and color to the dining area.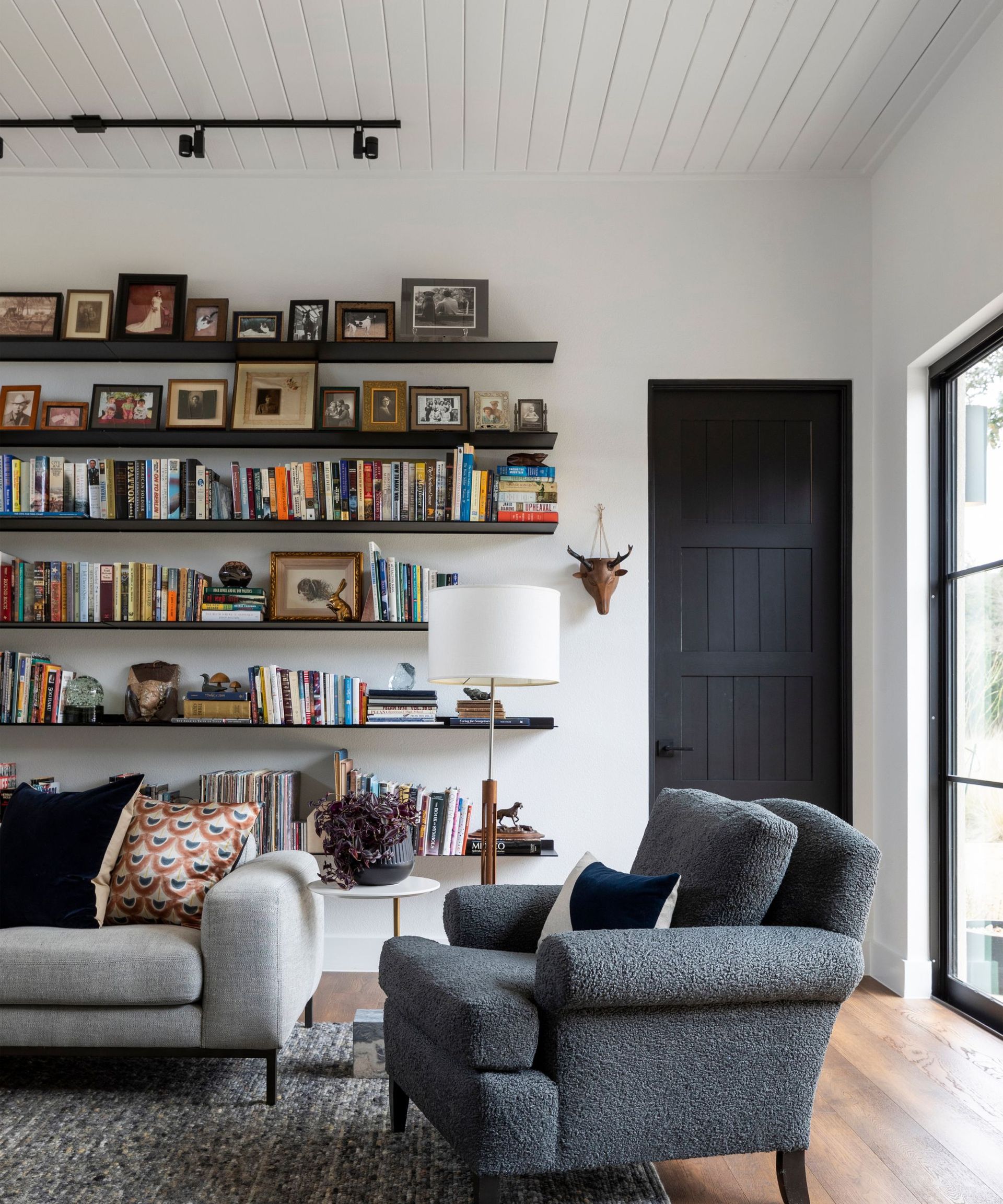 What's better than a home office or a library? Well, a reading room of course! So if you're thinking up your own reading nook ideas, feast your eyes on this dedicated space next to the guest bedroom. It didn't always look this good though, says designer Killy Scheer, 'The builder installed some terrible looking open shelves so we had those torn out and sourced sleek, powder coated steel shelves that, incidentally, saved the clients many thousands of dollars. They love them (we do, too) and they look way better!' Sectional sofa from Four Hands, chair re-upholstered in an Opuzen fabric, rug by Palig Salsa from Black Sheep Unique.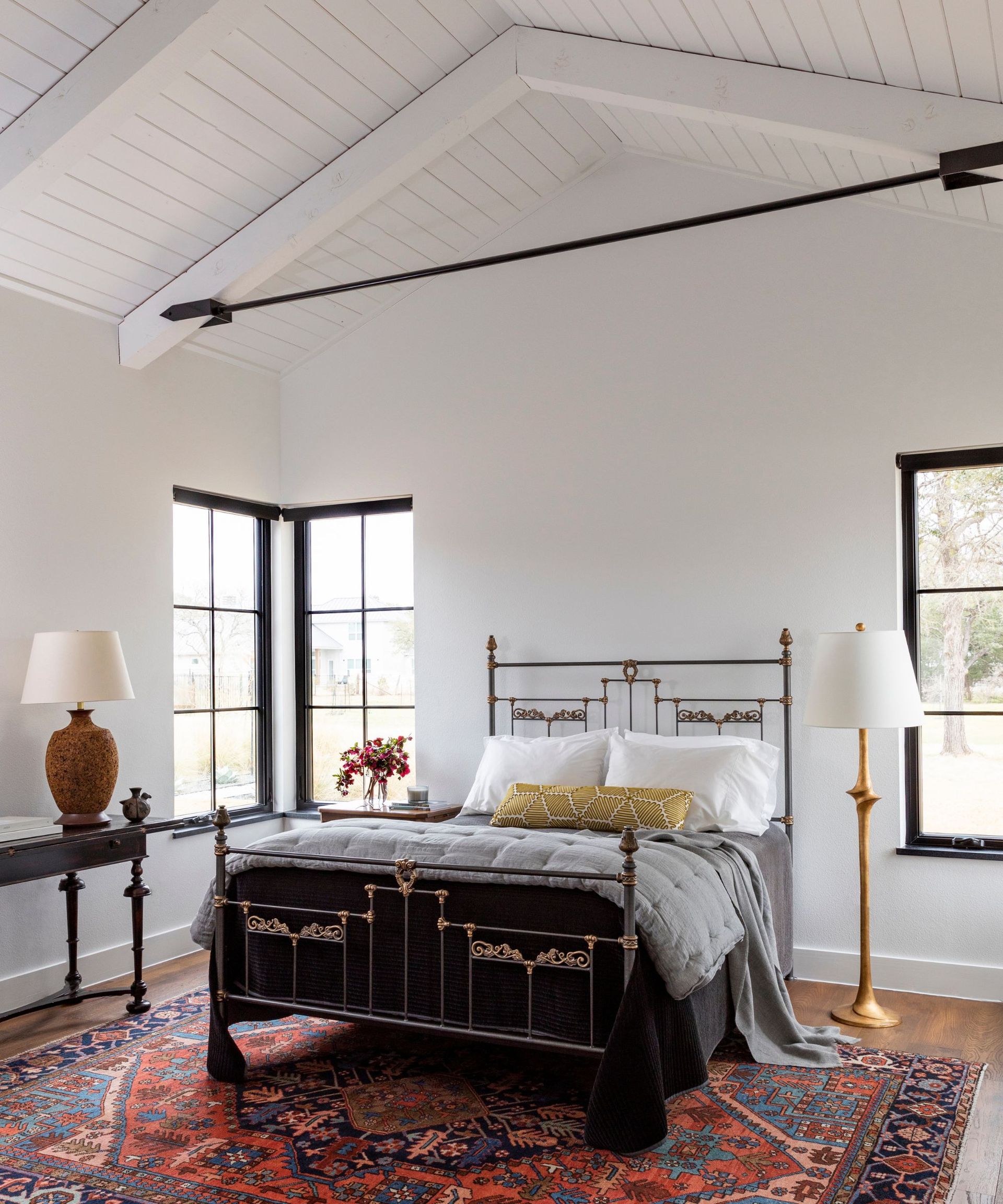 Bedroom ideas for the primary bedroom had to incorporate several existing pieces and find a way of making them look at ease in the newly built home. 'My clients already owned the bed and the console table, which we loved,' explains Killy Scheer. 'We grounded the space with a colorful Turkish rug, new bedding and new lighting. The furnishings style harkens back to our theme of contrasts, as it is highly detailed and decorative.'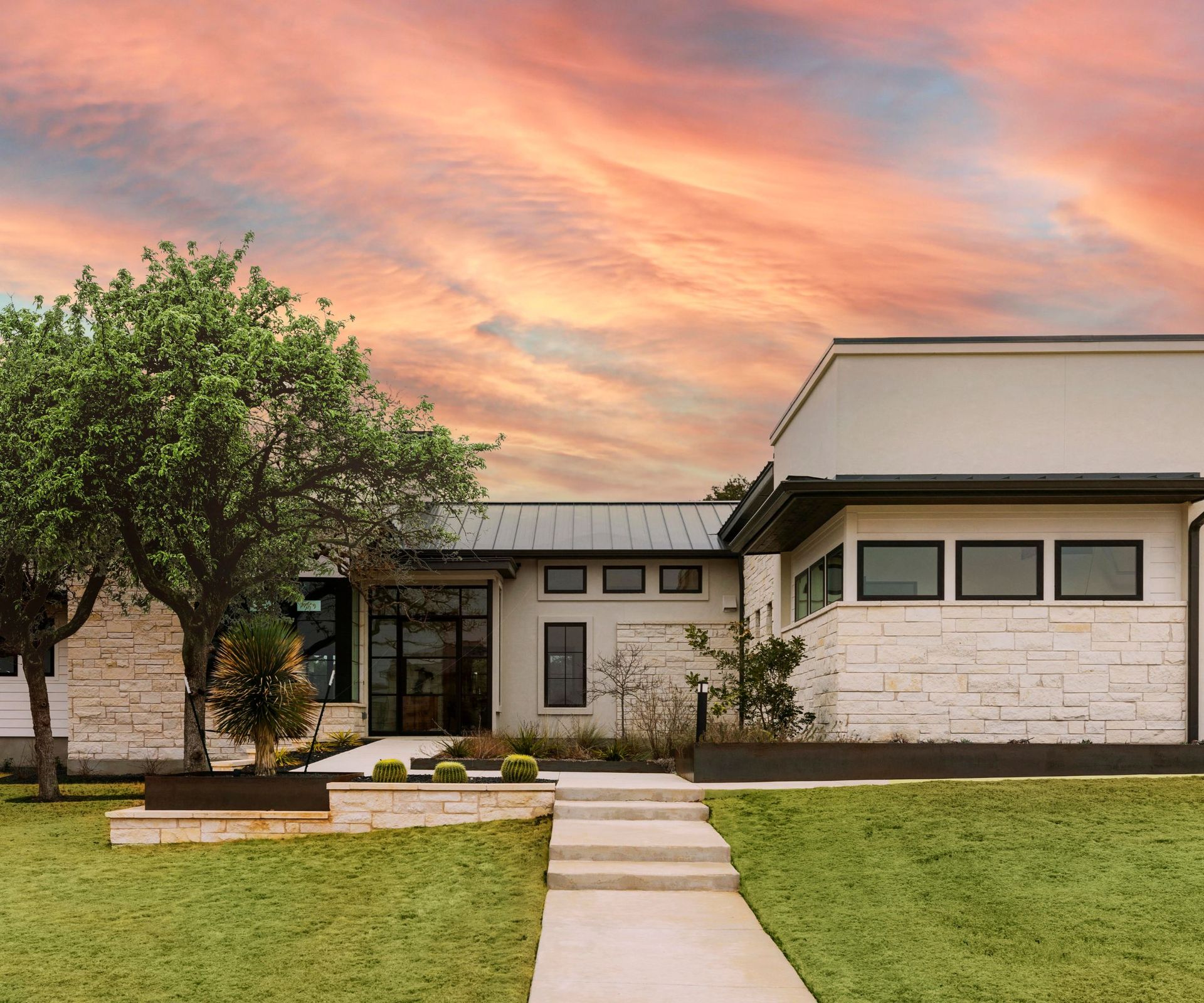 And this home has one more such contrast in store for us on our guided tour – the contemporary low-lined exterior that treads lightly in its plot. It's an architecturally striking, yet somehow unassuming, foretaste of the delights inside, where the mix of contemporary and traditional, urban and farmhouse give open-plan living a stylish and very welcome revamp.
Sign up to the Homes & Gardens newsletter
Decor Ideas. Project Inspiration. Expert Advice. Delivered to your inbox.
Karen is the houses editor for homesandgardens.com and homes editor for the brand's sister titles, Period Living and Country Homes & Interiors, and an experienced writer on interiors and gardens. She loves visiting historic houses for Period Living and writing about rural properties for Country Homes & Interiors, and working with photographers to capture all shapes and sizes of properties. Karen began her career as a sub editor at Hi-Fi News and Record Review magazine. Her move to women's magazines came soon after, in the shape of Living magazine, which covered cookery, fashion, beauty, homes and gardening. From Living Karen moved to Ideal Home magazine, where as deputy chief sub, then chief sub, she started to really take an interest in properties, architecture, interior design and gardening.