White sofa living room ideas – 10 tips for choosing the ultimate neutral statement
From monochrome chic to styling with scatter cushions, make your white sofa a dazzling centerpiece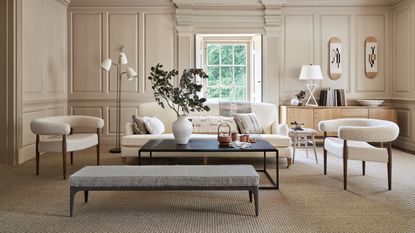 (Image credit: Davide Lovatti)
White sofa living room ideas are not just for the true minimalist: they can act as a contrast to boldly colored wallpaper, or a shining centerpiece to a gently neutral scheme.
Choosing a white sofa is effectively like placing a blank canvas at the heart of your living room ideas – what you build onto it is up to you.
To get your white sofa right, however, you will need to consider a few questions more carefully than when dealing with other colors. Do you want a fabric that's textured or flat? Will a throw be an essential part of the aesthetic? And how do you plan to keep it clean? Do not fret, we have all the answers.
White sofa living room ideas
From chic monochrome schemes to the importance of scatter cushions, we sought out some inspirational white sofa living room ideas and asked the experts for their tips on creating a living room that makes the most of a carte blanche sofa choice.
1. Choose a textured fabric to add interest
Getting the fabric right is important for all living room seating ideas – but when it comes to a piece as pared back (and temperamental) as a white sofa, it's positively crucial.
'In terms of fabric choices, we recommend our brushed linen cottons, Belgian linens and boucle fabrics when choosing white, says Patricia Gibbons, a member of the design team at Sofa.com. 'These fabrics have a naturally textured finish which gives a white sofa more depth and interest. They are soft to touch, but also highly durable, making them some of our most popular fabrics available. The brushed linen cotton can also be professionally dry cleaned, which is helpful and pretty essential for a white sofa.'
2. Select a simple style – but not too simple
It's easy to assume that going white is the most neutral choice you can make with living room sofa ideas – but going that pale can actually make quite the impact.
'White sofas are beautiful statements in a living room, they can lighten and brighten, while adding a relaxing and welcoming appeal,' says Gibbons. 'However, it's important you choose the right shape as not all sofa designs look their best in white. We suggest opting for cleaner, less detailed designs when choosing white.'
While a simple choice works for white's association with modernity, you'll want a little something to make your choice feel purposeful, rather than dull.
'Decorating with white helps to create a timeless and understated scheme, however it is important to strike a balance between being simply sophisticated and just simple,' says Suzy McMahon, Buying Director at Sofology. 'Opting for styles with beautiful details, such as curves, buttons or fluting, will add character to a small space.'
3. Keep it clean
As with all living room furniture ideas, a sofa needs to be stylish, but also practical. Choosing a white sofa may sound like a cleaning nightmare, but it needn't be, according to the experts.
'Often regarded as high maintenance, white sofas can seem daunting to keep pristine; however, there are a number of ways to help maintain a crisp color,' says McMahon. 'Its worth wiping your sofa and hoovering away crumbs once a week and, as with all sofas, rotating your cushions regularly will protect the fabric and maintain an even color. Ensure you leave enough space between your sofa, doorways and radiators to avoid accidental marking.'
'You often won't have to do the whole top-to-toe deep clean, but we recommend lots of spot cleaning to help keep its new, fresh look,' adds Gibbons.
'I love to use terrycloth fabric for white sofas because they can be easily cleaned if you apply a fabric protector or stain protection spray,' advises interior designer Leslie Close.
4. Create depth with an off-white sofa in a pure white room
A pristine white living room isn't just difficult to maintain, it's also pretty dull. For a white scheme with added interest, consider mixing pure whites with off-white shades.
'I love shades of white because a monochrome color palette is so versatile and goes with just about any color vibe,' says Close.
Putting a very pale gray sofa in a living room that is largely pure white gives this design by Claudia Afshar greater depth. Technically a family room surrounded by bright white kitchen areas, the softening of the colors in this area makes it feel cozy and welcoming.
5. Pair with bold shades and patterns
'One way to ensure your scheme isn't dull is to inject color,' says McMahon. 'If you're opting for white walls and floors, contrast with a bright or patterned sofa or accent chair for a statement burst of color. Alternatively, pairing a white sofa with colorful textured walls adds a contemporary touch.'
In this room, some exuberantly patterned living room rug ideas are employed in tandem with a white sofa, which is also contrasted with a richly colored brown leather armchair, blush walls, and robustly colored artwork and cushions.
6. Layer white textures for a summery feel
White sofas are an excellent choice for bright and breezy homes, as demonstrated in the living room of this villa in the Greek island of Corfu.
'Summery coastal style interiors are particularly dependent on layers of white, which add a soothing yet invigorating breath of fresh air into the home,' says McMahon. ' Additionally, layering different textures will help to delineate the space, adding interest in summer whilst feeling comforting in cooler months. A summery white scheme benefits from plenty of natural light to reflect around the space and ensure it feels spacious and fresh; perfect for extending the sunny summer months.'
If designing for a holiday home, consider getting the best sleeper sofa you can find in order to accommodate as many guests as possible.
7. Make it monochrome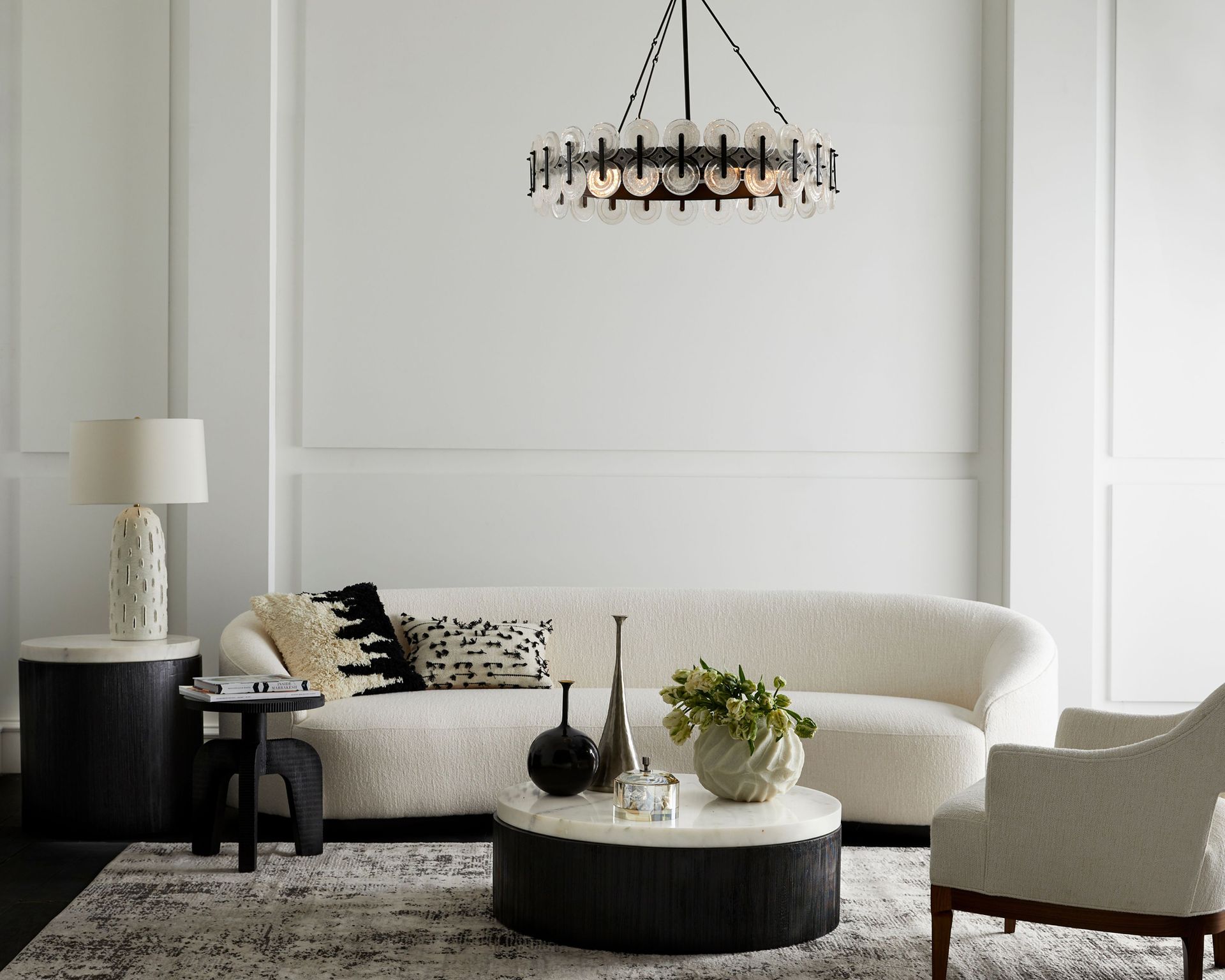 Black and white is a classic interior design combination – and if used wisely, can make for a seriously chic living room scheme. A monochrome aesthetic is easiest built with white at its base and in the majority, like in this room featuring a modern, curved sofa from Arteriors. This is paired with thoughtfully textured black accents, from a black wood, marble-topped coffee and side table set, to black and white cushions, and a black chandelier.
8. Throws and cushions add both interest and protection
'Throws and cushions are a great way to add texture and interest to a white sofa whilst simultaneously adding a layer of protection against stains,' says McMahon.
'Make sure any throws or scatter cushions you add are made from a colourfast fabric and be careful with color transfer from clothing; consider changing out of jeans or dark clothes before you snuggle up for the evening space.'
9. Build a soft color palette around a white sofa
In between stark contrasts and white-on-white, consider gently building a delicately tinted color scheme around your white sofa.
'Style a white sofa with a soft shade color palette to compliment the neutral white color,' advises Close. In this living room, a tonal scheme of taupes and browns are accented with deft flecks of faded gold on the grand Rococo-style doors. Sticking to neutrals is a easy way to expand on a white sofa, but consider bringing in blush pinks and pale blues too.
10. Make life a little easier with leather
'Soft white leather pairs nicely with white oak throughout the home,' says Close. The advantages of white leather aren't just aesthetic – it has functional benefits too.
'Leather styles can be easier to maintain and may be more suitable for those with busy households,' points out Gibbons.
'To protect your leather, using a specialist conditioner from a quality care kit will help to clean and condition your product, reviving the sheen of the leather and preserving its soft suppleness,' adds McMahon. 'To prevent the leather losing its color or from becoming dry, apply this conditioner twice a year.'
What colors go well with a white sofa?
White sofas are highly versatile in their ability to pair with almost anything. Pair them with black or dark wood furnishings for a dramatic look, or with bold colors for a crisp contrast – brightly colored or patterned cushions are always a winner.
Alternatively, a white sofa can be found at the gleaming heart of a soft, neutral scheme. Pair it with tonalities of white, gray and brown for a neutral living room, or even bring in pale blues, greens or pinks as a transition into bolder hues.
What decor goes well with a white sofa?
Cushions and throws are a must with a white sofa – both to add visual interest through color and texture, but also to potentially protect it from messy accidents. For any fabrics with bolder colors, just be sure they are completely colorfast.
Be sure to make sure you have lots of texture running throughout the room to, to avoid the space feeling too simple or clinical. A rug with a deep pile or interesting weave is a great way to channel a cozy vibe, while patterned or textured curtains will ensure the room stays visually exciting from top to bottom.
Sign up to the Homes & Gardens newsletter
Decor Ideas. Project Inspiration. Expert Advice. Delivered to your inbox.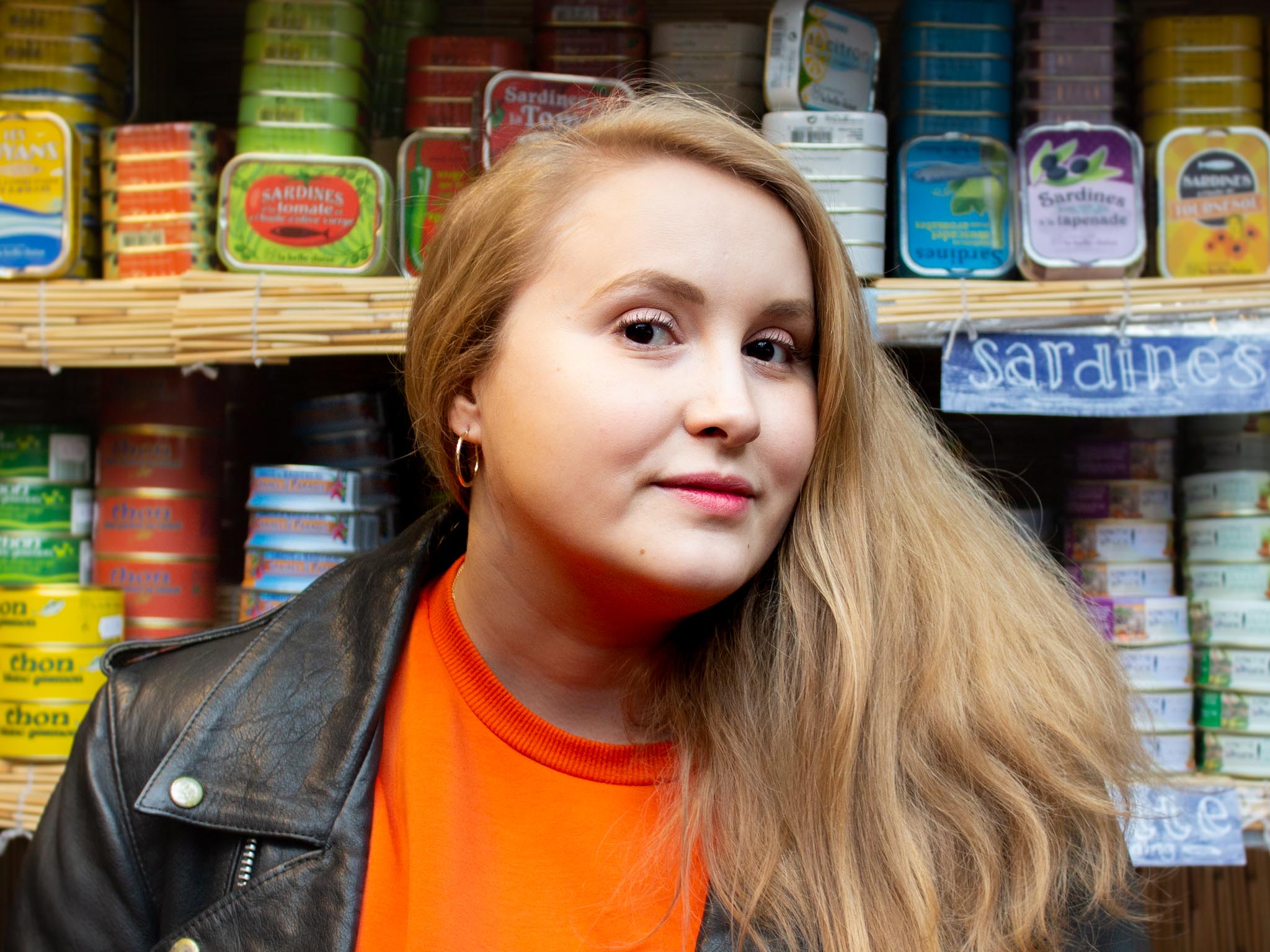 Ailis started out at British GQ, where a month of work experience turned into 18 months of working on all sorts of projects, writing about everything from motorsport to interiors, and helping to put together the GQ Food & Drink Awards. She then spent three years at the London Evening Standard, covering restaurants and bars. After a period of freelancing, writing about food, drink and homes for publications including Conde Nast Traveller, Luxury London and Departures, she started at Homes & Gardens as a Digital Writer, allowing her to fully indulge her love of good interior design. She is now a fully fledged food PR but still writes for Homes & Gardens as a contributing editor.