Dark entryway ideas – 10 designer-approved ways to make this space sing
Be inspired by the latest trend in entryways using dark, moody interiors to create a chic and elegant entryway in your home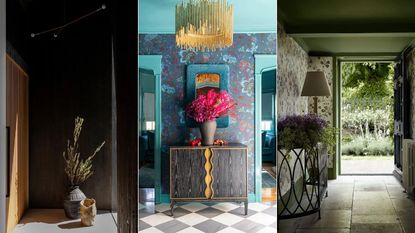 (Image credit: Meghan Eisenberg / MC1R Studio / Little Greene)
Designers are increasingly inspired by dark and moody interiors for entryways, to deliver a dramatic and stunning opening into a home.
Your entrance way is the initial introduction to your home and your unique aesthetic, so it should be stylish and chic. Wow friends and family, from the moment you open your front door by choosing a contemporary approach to styling your hall with intense and elegant darker hues.
What is the best method to achieve a entryway that is dark, chic and elegant? We have spoken to a host of designers to find out how they go about designing a dark hallway to share their tips with you here.
1. Embrace the darkness
If you have a dark entrance hall, now is the time to embrace this naturally dim area and work it to your advantage, as Sarah Davies-Bennion, at Kate Guinness Design, says, 'Do not fear the dark entryway.'
She goes on to explain the benefits of a dark entryway and how these tones can be useful to insert artwork and more character into your home, allowing other objects, lighting, mirrors, or art to stand out from the background.
"If your entrance hall is naturally on the dark side in terms of natural light, embrace this using a dark or full-bodied paint color. This will prevent the space from feeling shadowy and poky as well as provide a fantastic backdrop for artwork, which livens up and personalizes a hallway. Plus, hallways are usually short on floorspace but abundant in wall space so with a solid backdrop, you can go for it with the art and wall lights and pendant light too if you're so inclined.'
2. Add subtle texture
Working with dark tones and materials is not limited to simply choosing a dark paint, you can introduce layers of character using textures, like wallpaper, adding depth to the intense tones. Melissa Lee at Bespoke Only, explains, 'Texture is key in a space with limited natural light. We like using either wallcovering with bolder patterns or specialty paint finish with high-gloss or plaster-like.'
The depths of textures in a darkened area create, 'a captivating atmosphere" says Melissa, she adds, 'Go bold and experiment with rich and sultry elements. A confined space often makes the perfect backdrop for a transportive and theatrical effect.'
3 Invest in plenty of natural materials
Natural materials like wood paneling are a brilliant way to transform an entryway. Be bold and panel the entire space, for a truly dark and dramatic hallway.
If you live in an apartment building, where there is no natural light in the entryway, this is a good option. Entirely paneling the space instantly creates an elegant spectacle. Using a natural material like wood adds an exceptionally warm and tactile element, which will help to create a sense of calm with this look that is both smart and impressive.
Jay Jeffers founder of Jay Jeffers, agrees, 'Wood paneling on the walls is excellent for evoking an intimate and moody ambience.' In this entryway, Jay added a geometric black rug for extra interest.
4. Make a theatre of your entryway
It is an unspoken rule in design that the smaller the space, the bolder some of the design decisions made. Interior designer Meghan Eisenberg explains why it is good to be bold in your hallway.
'Typically an entryway doesn't have to function as anything more than a corridor, so this is an opportunity to play with deeper tones that might not work in a more utilitarian space. These tones not only act as a stunning backdrop to almost anything that is featured on or in front of them but there is something interesting that happens on a psychological level: when you are in the darkness, you are drawn to light.'
This drawing to the light through a dark moody entrance can be a total game-changer for your guests, as they imagine what they will find beyond the hall, and into the rest of the house.
Meghan uses painted paneling, wallpaper, or stained wood to create a dark and moody entrance, which she says should be paired with, 'equally moody artwork and furnishings. You always need highlights, but those should be the exception, that draws the eye.'
5. Pick out architectural details
A rich plum, chocolate brown, navy, deep green, or glossy black paint used on the walls of an entryway will instantly deliver a smart and chic look.
Grander entrances with high ceilings can, according to Helen Shaw at Benjamin Moore, 'take more color,' so don't be afraid to push the boundaries.
To highlight any period or architectural features you have in the hall, pick out these details, such as skirting, dado rails, architraves, or stairs, 'in a complimentary shade which will work beautifully to highlight architectural features.'
6. Go bold with pattern
Pattern is a bold way to create an intense entryway without using specifically dark paint tones. A dark, bold wallpaper will establish an original style in a hallway and will introduce a selection of colors for you to use, inspired by the paper itself, to decorate other details such as doorways, skirting or décor, light fixtures, mirrors, and furniture.
As described by Elizabeth Wilson, co-founder, of MC1R Studio, "Creating a striking dark entryway that exudes both contemporary and traditional charm requires a thoughtful blend of elements. We start by selecting a rich, moody color palette for the walls and complement this with dramatic wallpapers featuring intricate patterns or textures to add depth and interest."
7. Experiment with tones and finishes
First impressions count, so consider what tone to create in your entryway carefully, to set the mood for the rest of the interior. The entrance hall is a high-traffic area so choosing a hardwearing paint is a good idea, particularly on the lower half of the wall.
Andy Greenall, creative director at Paint & Paper Library, suggests, 'If you have a dado rail, it can be used to create a natural color change, but also a change in the paint finish. On the lower half of your wall, opt for a highly durable finish, such as water-based paint with a subtle satin finish that is specially formulated to be durable, then consider a chalky matt finish above.'

Paint is the perfect way to transform a space quickly and easily, defining an area, and adding personality and character to create an inspired interior.
8. Choose dark flooring
To create cohesion from your entryway into the next space, designer Lucy Harris suggests using dark flooring. She explains, 'Dark floors are beautiful, and I would continue any wood flooring into the entry, to maintain the flow between spaces.'
Lucy often uses darker tones in an entryway along with dark wooden flooring, she says, 'I love dark grey, a deep blue, dark greens, and a dark cranberry red or plum purple, these are fabulous colors. For lighting, I would have an interesting pendant or chandelier overhead in brass that reflects light, yet doesn't brighten the room too much. A bench with patterned or textural fabric to stand out in the lower light would be great.'
9. Paint the ceiling
In a bid to craft a beautiful sultry and dark entryway, do not overlook the ceiling. Choosing a rich, dark paint color and using this on the architectural details from the skirting, the doorways, and up above the ceiling will usher in a cocoon-like feeling right inside the hall.
Choosing this as a decorative standpoint offers more choices for the walls, do you decide to, 'color drench' and paint the walls the same color as the ceiling to hasten the cocoon effect, or perhaps choose a tone from the same color palette, or, alternatively, a wallpaper with a print from the same palette, to set off the ceiling and bring the design together beautifully, the choice, of course, is yours.
10. Take a bohemian approach to decorating
If you want a contemporary style, opt for a smokey dark, matt, paint to deliver this impactful look. The visual effect of these tones will naturally create a tranquil environment. This calming but impressive aesthetic provides the perfect backdrop for artworks to really jump out or bohemian styling to be added as designer Anja Michals explains below.
"A dark entrance sparks surprise for those walking into the space but can also create a bohemian calming vibe, especially when paired with natural hardwood, intriguing hand-made ceramics, and complementary soft furnishings."
Julee Wray from Truss Interiors adds, "When you have a warm entryway you need to have it well lit and I would suggest adding a strong case with some form of soft lines, a piece of furniture that is really interesting texturally."
What are the best ways to design a dark entryway?
Creating a dark entryway will instantly deliver a dramatic element to your interiors, if your hallway is without natural light or does not get much natural light, embrace the darkness and use it to your advantage.
Moody and chic tones can be created painting the walls a rich dark tone, if you do not want to color drench, consider picking out architectural details to set off the space. Or consider using patterned and darker wallpapers to bring in depth and pattern, you can then chose colors from within the paper design to use on the architraves or doorways to create a cohesive look, also think about painting the ceiling and the flooring.
Natural materials, particularly wood, will provide a dark environment, if you chose wood be brave and panel the entire space. Add texture and layers with unusual lighting, artworks, a rug, mirrors and sideboards, remember the darker background will really allow these pieces to truly sing.
Sign up to the Homes & Gardens newsletter
Decor Ideas. Project Inspiration. Expert Advice. Delivered to your inbox.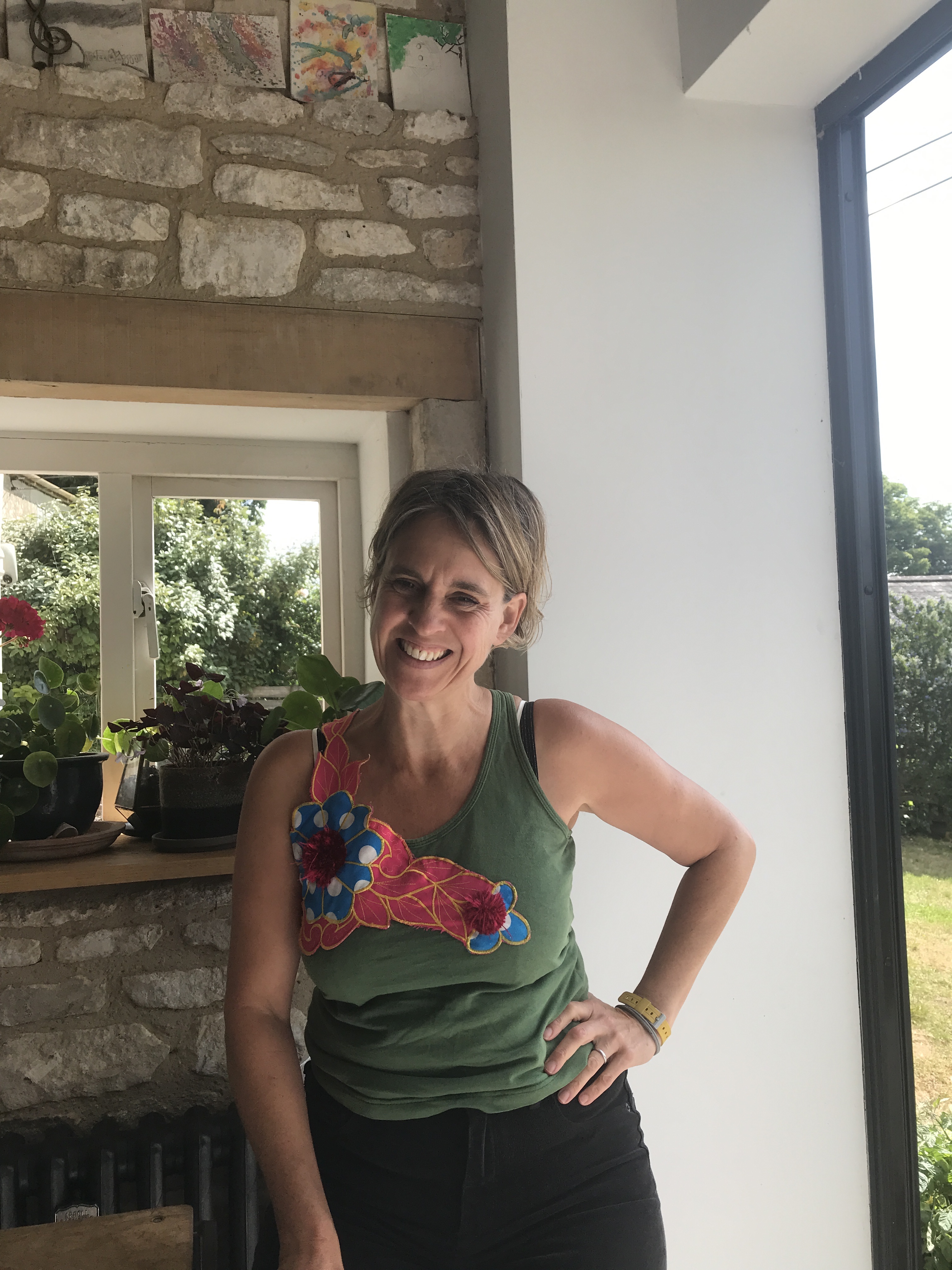 Hannah Newton is a lifestyle, interiors, travel and design journalist and editor who has been writing for the past two decades, she has written for national newspapers including The Times, The Telegraph, The Guardian and The Observer as well as interiors titles Elle Decoration and Architectural Digest in the UK and across Europe, South Africa and Australia.